Letters of the week, May 3
What got you talking this week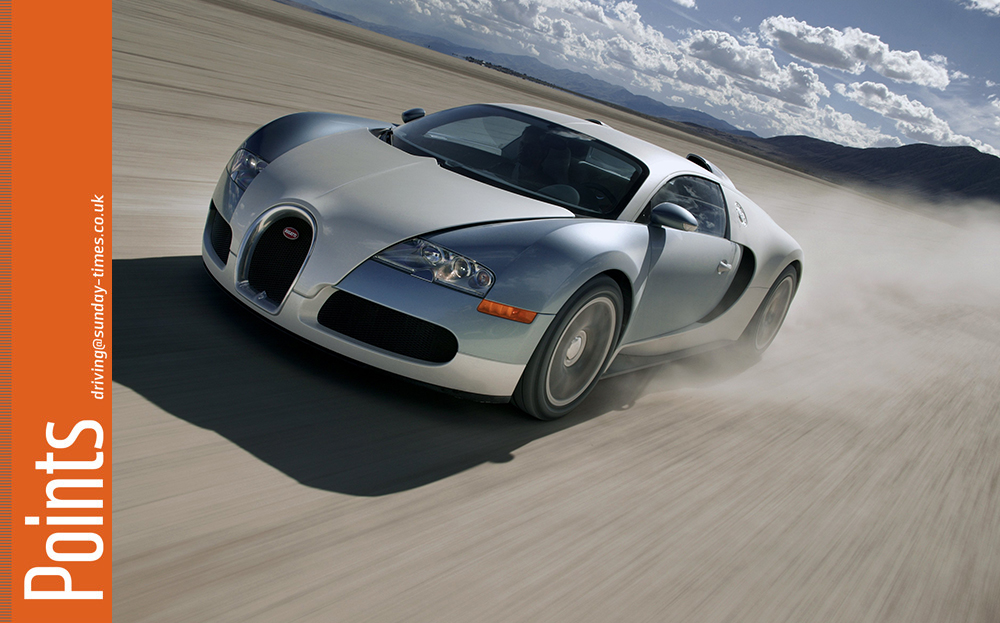 Road to excess
It was a relief to learn that the last Bugatti Veyron has been built ("Concorde of the road roars off into history", April 19). No longer will I be discomfited by its singularly unappealing appearance; there was simply no angle from which it signalled the desirability of the ultimate sports car, and the less said about its appalling snout the better.
That these cars were rarely driven is hardly surprising. The Veyron's fuel consumption, its £17,000-a-set tyre bill, its servicing costs plus the fact it needed 10 radiators to keep it cool — thank goodness it's all over. It was an example of engineering excess, not brilliance.
Hugo Rose, Colchester
---
Search for and buy your next car on driving.co.uk
---
Value judgment
Is the bottom really going to fall out of the cherished-numberplate market ("Number's up", Points, April 19)? I purchased my one — JON — 42 years ago for £75. It is now valued at £25,000.
Jon Johnson, Sheffield
No, m'lady
I'm a huge fan of the original Thunderbirds series and it is always a joy to see pictures of Lady Penelope and the glorious FAB 1 Rolls-Royce (Car Clinic, last week), but please, where was the image's sense of decorum? Her ladyship would never have allowed Parker to perch on the immaculate bonnet of such a fine car. He should have been standing discreetly to one side.
Hugh Trethowan, Bath
In tune
I fear your correspondent Rob Belk gave up on car radios too quickly ("Different wavelength", Points, last week). Our past eight vehicles have not had a selectable long wave; however, all received it. To listen to Radio 4 when out of FM range, tune to 198kHz on AM.
Andy Cole, Cleethorpes
Smart thinking
DAB is obsolete and has been from the day it was introduced . All you need is a smartphone with unlimited roaming data. Then you can listen to any station from anywhere in the world in digital clarity, as long as you have a signal. And if you don't, try podcasts.
Stuart Pembery, Chichester
On the record
In August last year I got a speeding ticket from a police officer sitting in a car parked just off-road. The ticket states that I was driving my Nissan at a speed of 422mph in a 30mph zone . I have pleaded not guilty to the charge , but if convicted, presumably this will be a speed record for the UK.
David Mcdonald, Bonnyrigg, Midlothian
Licence to print money
The Driver and Vehicle Licensing Agency (DVLA) repays vehicle tax for every full month that is unused, but it measures this not on the V5 certificate's sale or transfer date, which has specific legal standing for road offences and ownership changes, but on the date of postal receipt.
So if you submit the V5 documentation at the end of the month you are likely to lose out on the next month's respective repayment because the DVLA will receive the documents at the start of that month. Why does the agency run a system that uses the V5 sale or transfer date for all legal matters yet stipulates the date of the postal receipt when repaying vehicle tax? Perhaps because it makes lots of money in doing so.
Stuart Moore, Bramham, West Yorkshire
Test case
Reader Colin Demmery ("Pressure drop", Points, last week) ought to know that the spare wheel is not examined during the MoT test as there is no law requiring it to be carried. It becomes an issue only if fitted to the vehicle, not when it is being transported.
Melvyn Bunting, Birstall, West Yorkshire
Taking responsibility
Has BMW considered who will be responsible if one of its new 7-series models misjudges its parking space ("Go to bed, clever seven", April 19)? The vehicle's computer or the person holding down the button on the key fob that helps park it?
Chris Cawkwell, Brough, East Yorkshire
---