Do you need to change the name on your driving licence after getting married?
How romantic
---
Published 19 January 2022
AMID THE glitter and romance of any wedding, it's easy to forget the more prosaic, administrative side to things, especially if you intend changing your name, as 90% of British women do after they get married.
There are utilities companies, banks, doctors, the electoral register and a whole host of other bodies to inform if you change your name, but what about your driving licence? Do you need to inform the DVLA and update the name on your driving licence after you get married?
And what if you're part of the 10% who wish to keep their maiden name, particularly for use in the workplace? Does the law require you to update your driving licence after marriage anyway?
Do you need to update the name on your driving licence after getting married?
The DVLA told Driving.co.uk that even if someone adopts their partner's surname, or double-barrels the two surnames, in social situations, there is no obligation to update their driving licence; he or she may still use their previous name. A car's V5C registration certificate that includes the previous name will remain valid, too.
However, if someone changes their name by deed poll, which is a legal change, then they must also update their driving licence, along with other documents such as your passport.
Similarly, if someone changes their gender legally then they must also update their driving licence, and the same goes for changing address — the DVLA must be made aware as soon as you move house.
In any case, you can still drive while waiting for your new documents, provided you're otherwise medically and legally fit to do so.
What are the penalties for invalid documents?
You can be fined £1,000 if caught by the police using an invalid licence. Moving house or legally changing your name (retaining your maiden name excluded) without informing the DVLA can invalidate a licence.
How to change your name on your driving licence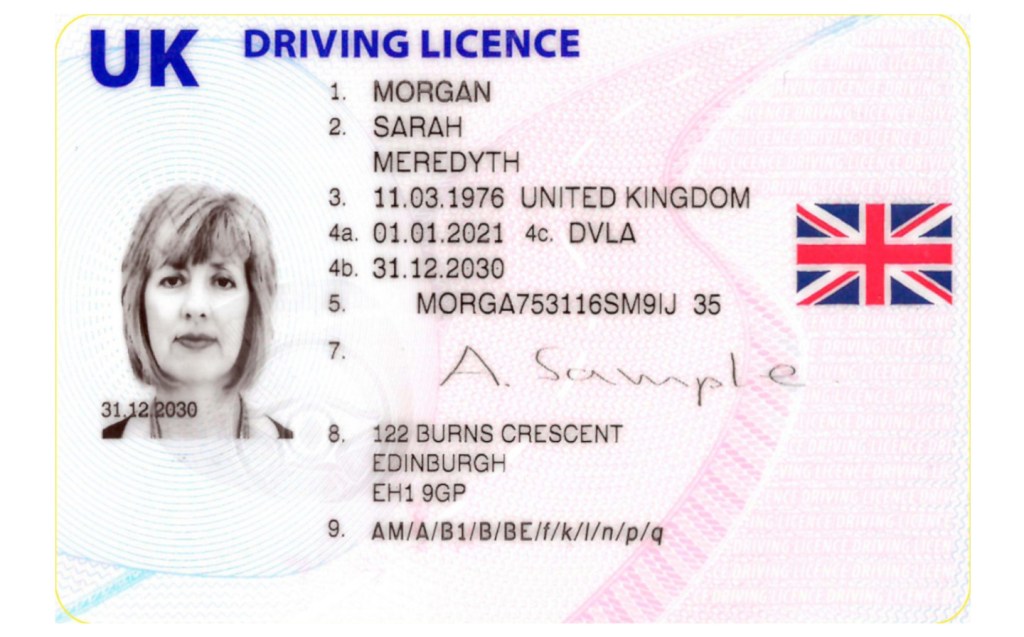 If you do wish to change your name or gender on a standard driving licence (rather than a bus/lorry licence), firstly you'll need a D1 form that can be downloaded online or obtained from a post office.
After filling out a D1 form, you'll need to send it, along with your current photocard or paper licence and any documents that confirm your new name or gender (such as a marriage certificate or deed poll), to: DVLA, Swansea, SA99 1BN.
If you only have an old-style paper licence, you must include a recent passport-style photo with your application and, if you want to change the photo on your licence because you feel it no longer looks like you, you'll also need to include a cheque or postal order for £17, payable to the DVLA.
For those whose licences have been lost, stolen or destroyed and thus cannot be included in the application for a name or gender change, you'll have to include a cheque for £20, also payable to the DVLA.
Section 3 of the V5C registration document includes a form for changing your name and/or address, so, after filling this out, send the V5C back to the DVLA at the above address for an updated one along with any supporting evidence of your changes.
Are the rules the same for Northern Ireland residents?
The rules are slightly different in Northern Ireland; applicants will need to fill out a DL1 form and return it to the Driver & Vehicle Agency (DVA) in Coleraine along with any supporting documents.
How long does it take to update your driving licence?
Although the DVLA says there are no delays to its online services due to Covid-19, postal applications to both the DVLA and DVA are currently processed slower than usual, and because you need to post your old licence you can expect to have to wait for the new photocard to arrive.
You can check the latest on the delays here — at the time of publication, changing a name or address via post could take around three months.
However, as mentioned above, you can still drive while waiting for the new licence.
Tweet to @ST_Driving Follow @ST_Driving
Related articles
Latest articles