Buying guide: Best used coupés for half the price of a BMW 4-Series
Great alternatives for sensible money
---
Published 24 December 2013
Jeremy Clarkson suggested that the new BMW 4-Series is grown-up and a better car for it. Summing up his view on the £42,985, 435i version of the coupe, he wrote "I loved driving this car. I loved being in it as well".
But what if you don't want to spend over £40,000 on a coupé? What if your budget is half that – or less? Well, the expert team at Driving.co.uk has six used coupés to recommend that will be more affordable to buy but just as good at raising the pulse rate from hum-drum to let's-have-some-fun.
Our expert team scanned the classifieds of Driving.co.uk and the used car websites of car manufacturers to pick the most desirable models, and set three price points of £8,000, £15,000 and £20,000. Head-turning style, an entertaining driving experience and robust quality were the main criteria to make it onto our buying guide's shortlist.
---
BMW 4-Series reviews:
---
Cheap chic for £8,000
1. BMW 3-Series Coupé
What you'll pay: £8,416
What you'll get: 2006 BMW 325i SE Coupé, 80,000 miles
To get technical for just a moment, within the corridors at BMW HQ, the recently launched 4-Series is known as the F32, and its predecessor, the 3-Series Coupé, is referred to as the E92. It's the latter that we're looking at here, and what a handsome machine it is too. There is a subtle sleekness about the 3-Series Coupé that is extremely appealing; this isn't a car for drivers that crave attention, it's more sophisticated than that.
The 325i we found was a '56' reg model being sold by a franchised BMW dealer, with under 80,000 miles on the clock. It's powered by a straight-six, naturally aspirated engine that is classic BMW – smooth, willing to rev to the red line and sweet-sounding. And with nearly 220bhp, it's also nippy, going from 0-62mph in 6.9seconds, and keeping the rear-wheel drive chassis on its toes. Factor in a perfectly practical cabin that will carry four adults and their luggage in comfort and this is a lot of car for the money.
Engine: 2996cc, 6-cylinder petrol
Power:218bhp @ 6100rpm
Torque: 199 Ib ft @ 2400-4200rpm
Acceleration: 0-62mph in 6.9sec
Top speed: 153mph
Fuel/CO2: 33.6mpg / 203g/km
Road tax band: K
 Search for used BMW 3-series on driving.co.uk
---
2. Alfa Romeo Brera

What you'll pay: £7,995
What you'll get: 2006 Alfa Romeo Brera 2.4 JTDM SV, 50,000 miles
The three great sages of Top Gear rarely agree on anything other than this: you can't call yourself a true car enthusiast unless you have owned an Alfa Romeo. Therefore, we present the Brera, one of the most distinctive looking coupés on the road and a welcome foil to the countless German marques.
Once upon a time, all Alfas were powered by high-revving four-cylinder or V6 petrol engines, but even Alfa can't ignore market trends; the 2.4 JTDM is the hot diesel that delivers 200bhp and over 41mpg and was one of the most popular models. The road holding is spirited, if a little rough round the edges, the engine packs a punch low in the rev range and the cabin is a triumph of visual flair over ergonomic functionality. But this is an Alfa – you already knew that, right?
We found an Alfa dealer selling a 2006 model with 51,000 miles for £7,995.
Engine: 2387cc, 5-cylinder turbodiesel
Power: 200bhp @ 4000rpm
Torque: 295 Ib ft @ 2000rpm
Acceleration: 0-62mph in 8.1sec
Top speed: 142mph
Fuel/CO2: 41.5mpg / 179g/km
Road tax band: I
Search for used Alfa Romeo Brera on driving.co.uk
---
Catwalk coupés for £15,000
3. Audi A5 Coupé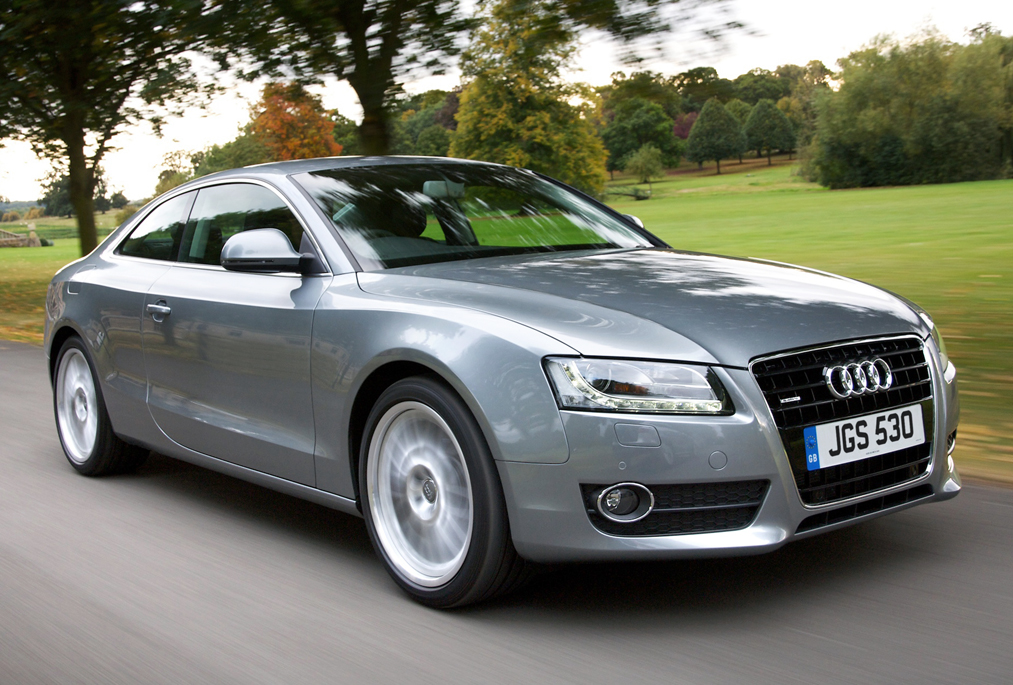 What you'll pay: £16,000
What you'll get: 2010 Audi A5 Coupé S line 1.8T, 35,000 miles
For grace with space, few coupés do as good a job as the A5. The humble versions, such as this 1.8T S Line, are – dare we say it – better to drive than the high-powered S and RS versions which are more at home when conquering German autobahns. This car's suspension is more pliant and its turbocharged four-cylinder engine provides a reasonable turn of speed (0-62mph in 8.6seconds); but of greater significance is the fuel economy, which is nudging 40mpg.
The A5 also pulls off that neat trick of looking far more expensive than it really is, which should keep the Jones' in their place. With a bit of haggling, the price of the 2010 A5 we found at an Audi dealer should come down closer to the £15,000 target price.
Engine: 1798cc four-cylinder turbocharged, petrol
Power: 164bhp @4800- 6200rpm
Torque: 184 Ib ft @ 1500-4800rpm
Acceleration: 0-62mph in 8.4sec
Top speed: 140mph
MPG/CO2: 39.8mpg / 169g/km
Road tax band: H
 Search for used Audi A5 coupé on driving.co.uk
---
4. Volkswagen Scirocco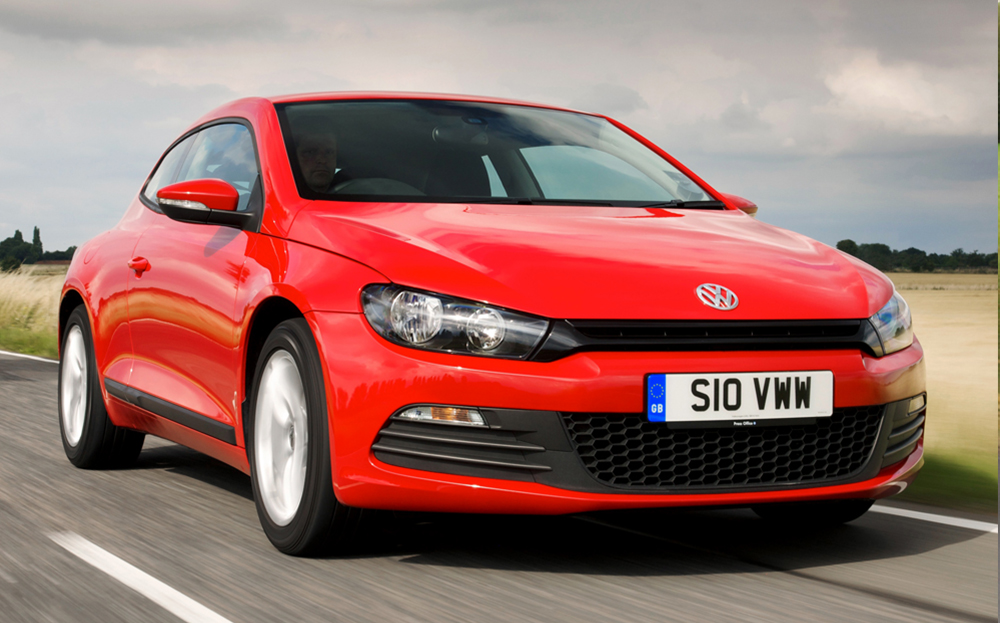 What you'll pay: £15,450
What you'll get: 2010 Volkswagen Scirocco 2.0 TSI GT, 16,000 miles
Underneath this car's squat-looking bodywork is, essentially, a Golf GTI. But it's a GTI that has been set upon by VW's engineers in the quest to make it even more fun to drive. They succeeded. The Scirocco is at its best on a winding road, where its suspension shrugs off lumps and bumps yet keeps this coupé flat and composed when carving through corners.
The 2.0-litre turbocharged direct-injection engine is a bit of a gem, with a crisp sound, punchy performance and good throttle response. Many used Sciroccos will feature VW's dual-clutch DSG flappy-paddle transmission which is impressive but has been known to be unreliable – VW recalled 1.6million DSG models in November. So why not stick to the manual six-speed 'box, which is more involving for the enthusiastic driver?
Well made, reasonably practical – four adults can fit at a pinch – and in good supply (we found a 2010 GT with under 16,000 miles recorded for £15,450 – over £10,000 less than a new version today), this is a great second hand buy.
Engine: 1798cc four-cylinder turbocharged, petrolol
Power: 207bhp @5300- 6200rpm
Torque: 206 Ib ft @ 1700-5200rpm
Acceleration: 0-62mph in 6.9sec
Top speed: 149mph
MPG/CO2: 38.2mpg / 172g/km
Road tax band:  H
 Search for used VW Scirocco on driving.co.uk
---
Guaranteed to blow your mind for £20,000
5. Jaguar XK-R Coupe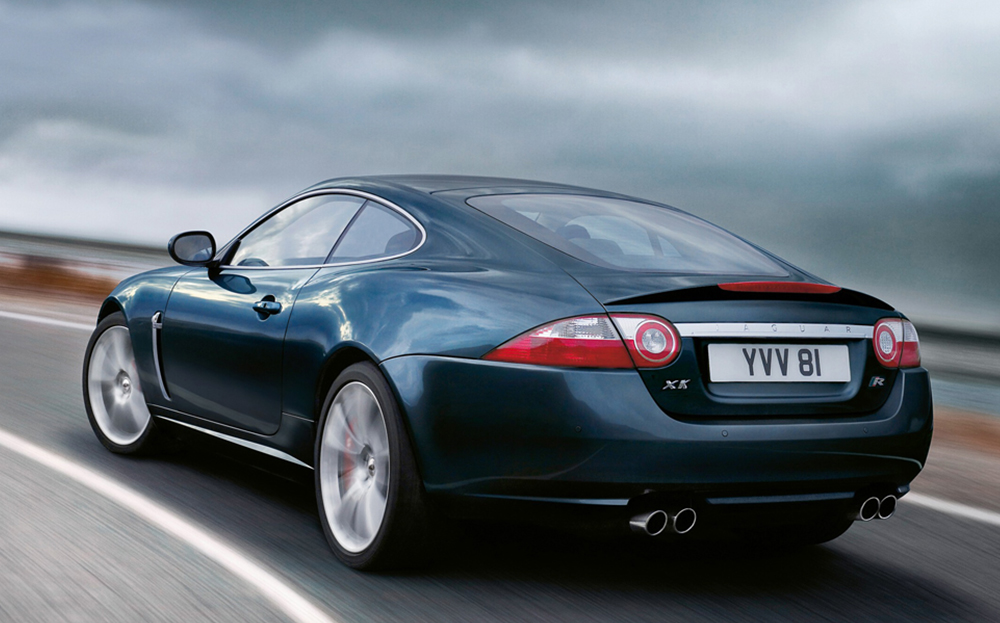 What you'll pay: £20,999
What you'll get: 2007 Jaguar XK-R Coupé, 36,000 miles
The XK-R is true to the spirit of Jaguar sports cars. One moment it might be cruising comfortably and quietly the length of the M1; the next it could be searing across the Scottish Highlands, engine and exhaust blaring and the hairs on the back of your neck standing on end.
Admittedly, the cabin is a little snug – the rear seats are best considered somewhere to stash briefcases and handbags – but you can forgive this car such faults when the surrounding environment feels so luxurious.
Jaguar dealers have a wide range of XK-Rs for sale priced from £17,000, and the 2007 R we liked the look of had covered just under 36,000 miles. Jaguars of this era are robustly built and the car's styling is timeless.
And as for the performance from the supercharged engine, trust us, it will take your breath away. But then, so might the annual £490 bill for road tax. And don't even mention the fuel economy…
Engine: 4196cc V8 supercharged, petrol
Power: 420bhp @ 6250rpm
Torque: 413 Ib ft @ 4000rpm
Acceleration: 0-62mph in 4.9sec
Top speed: 155mph
MPG/CO2: 22.9mpg / 294g/km
Road tax band: M
 Search for used Jaguar XK-R on driving.co.uk
---
 6. Porsche Cayman S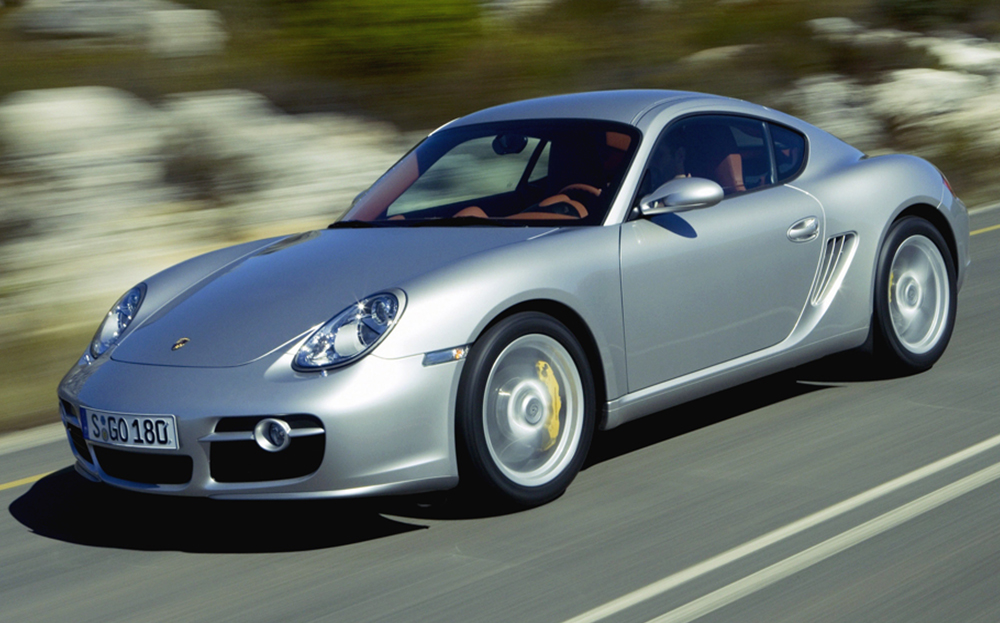 What you'll pay: £19,900
What you'll get: 2006 Porsche Cayman S, 41,000 miles
If there is a £20,000 used sports car that handles as well as the Cayman S – and comes with a solid roof and proper boot – we've yet to drive it. The mid-engined, rear-wheel drive Cayman really is as good as it gets, with a precision and poise to its steering and roadholding that makes every trip an enjoyable occasion.
The 2006 model we found at the Porsche Centre Guildford had covered 41,000 miles and was dressed in a sober 'Seal Grey' metallic paint. It's slightly older than some examples in this price range but has a much lower mileage, and it's worth bearing in mind that all Porsche Approved used cars are backed by a two year warranty. Ordinarily we'd suggest you buy it, drive it for two years and sell it, but there's every possibility you may not be prepared to part with it.
Engine: 3387cc 6-cylinder, petrol
Power: 291bhp @ 6250rpm
Torque: 251 Ib ft @ 4400 – 6000rpm
Acceleration: 0-62mph in 5.4sec
Top speed: 171mph
MPG/CO2: 26.6mpg / 254g/km
Road tax band: M
 Search for used Porsche Cayman on driving.co.uk
---
*Prices correct at time of publication