First drive review: BMW 435i M Sport Convertible (2014)
With its 3-series roots and 4-series designation, BMW's new convertible is a little confusing numerically but it all adds up to something rather fruity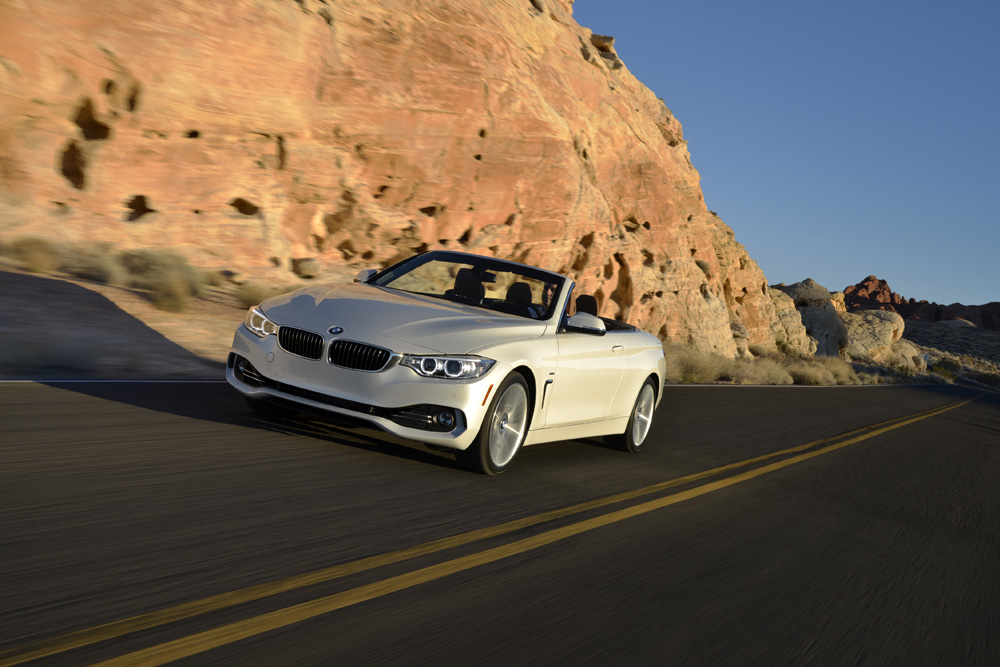 BMW 435i M Sport convertible, £45,470
EVER HAD a hankering somewhere deep inside to own a BMW 3-series convertible — to be aboard a version of this long-renowned sporty charger, with the wind playing joyfully in what remains of your hair while a highly sophisticated lump of Bavarian engineering blurts and crumps through the exhaust?
Well, you don't any more. What you now have is a hankering to own a BMW 4-series convertible. Yet be not alarmed. Nothing has changed about you, your hankering, or the places deep inside you. Nor indeed has anything really changed about the 3-series convertible.
The new 4-series convertible is the latest version of the old 3-series convertible. It's a sister car for last year's 4-series coupé, which was essentially the new version of the old 3-series coupé.
But both cars are directly derived from the latest 3-series saloon, which is still the latest 3-series saloon. And both of them are close relatives of the 3-series Touring, which is still the 3-series Touring. In other words 3 has become 4 except where it has remained 3.
Who really understands this mathematical fudge and the rationale behind it? Possibly only the Spice Girls, who, on their classic smash from 1996, sang so movingly about the moment "2 Become 1". In BMW's case, looking further down the range, 1 has now become 2. But let's not muddy the picture further.
The point, as we understand it, is this: if it looks like a 3-series and it's at the standard, practical end of the spectrum (a saloon, say, or an estate) you can be fairly confident in continuing to refer to it as a 3-series. But if it looks like a 3-series and is something slightly more fruity and with a touch of the completely unnecessary about it (a coupé, a convertible, or a gran coupé) then you have to round up to the nearest whole number.
Opinions on BMW's new range redistribution are divided. It's either overdue rationalising for an increasingly elongated and unwieldy batch of products, or it's a piece of desk-tidying that has had the inadvertent effect of leaving the desk even harder to use than it was before. Whatever, here's the new 3-series convertible, now formally known as the 4-series convertible.
The body shape matches the 4-series coupé as far as the A-pillar, but then cuts one long straight line all the way to the back, like a powerboat, albeit gaining only about 2in of length on the coupé in the process. The retractable hard top lifts and snaps into three above the car in a moment of diverting mechanical theatre. It gives the rain merely a 20-second start and can be operated while you drive at up to 8mph. Anything faster than that and presumably the wind rips it off like the lid on a sardine can, but the system shuts down, so we'll never know.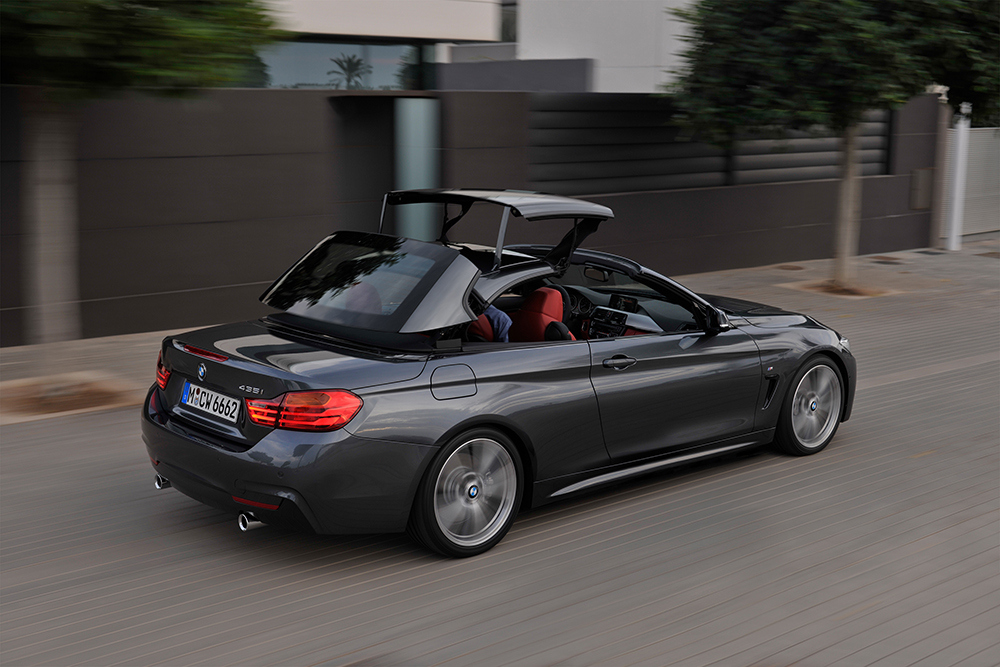 As is traditional, the cunningly sandwiched roof components unhelpfully compromise the boot space, but some canny new electronics will lift those stowed parts out of the way temporarily to make it easier to load your necessarily modest overnight bag. The sole problem with this system is it leaves you peering queasily at an ugly mess of exposed hydraulics, featuring at least 74 places in which it would be possible to trap your own or somebody else's finger, or worse.
Still, whoever bought a convertible for the ease of access to its boot? You buy one to experience the majesty of the countryside, exactly as nature intended: from the leather seat of a sun-dappled, abundantly powerful, precisely cornering, rear-wheel-driven German machine — preferably the M Sport version, with its no-hostages, firm-noted six-cylinder 435i engine and slick eight-speed automatic gearbox.
Note also that this 4-series is pretty much capable of generating its own microclimate. The thoughtful provision — as options — of a heated steering wheel and an "air collar", which breathes warmly on your neck through the headrest at three different temperatures, potentially extends the top-off driving season well into winter.
With the windows up and the rear deflector — another option — in place, the wind is kept magisterially at bay and conversation is possible without effort, although you will probably be of the opinion that if your passenger intends to talk over the absorbingly taut, bass-heavy noise of that 435i engine it had better be something important.
The rear seats will comfortably accommodate two averagely sized adults, provided you beat them flat with a rubber mallet first.
On the topic of passengers, the rear seats will comfortably accommodate two averagely sized adults, provided you beat them flat with a rubber mallet first. The front of the cabin, by contrast, provides a world of minutely adjustable comfort, and a deluxe vantage point from which to view BMW's peerless information screen (the car world's equivalent of a 72in plasma TV) and its equally peerless head-up display option, which beams virtually idiot-proof extracts from the sat nav into your eye line.
There turns out to be nothing in a number at all then. This is the 3-series convertible you hankered for, by any other name.
Verdict ★★★★☆
Plays the numbers game and wins
BMW 435i M Sport Convertible specifications
Engine:
2979cc, 6 cylinders
Power:
302bhp @ 5800rpm
Torque:
295 lb ft @ 1200rpm
Transmission:
8-speed automatic
Acceleration:
0-62mph in 5.5sec
Top speed:
155mph
Fuel:
36.7mpg (combined)
CO2:
180g/km
Vehicle tax band:
I
Price:
£45,470
Release date:
On sale now
BMW 435i rivals
Audi S5 Cabriolet, £46,500
For Cabin is luxurious and larger than in 4-series; four-wheel drive as standard Against Soft-top roof isn't as well insulated
Search for and buy and Audi A5 on driving.co.uk
Mercedes E 400 AMG Sport, £49,635
For Accomplished all-rounder Against As with the Audi, its soft-top roof isn't as refined as that of the BMW
Search for and buy and Mercedes-Benz E-class on driving.co.uk