First drive review: BMW 4-series coupé (2013)
Ha! I play the 11 of trumps
Connoisseurs of cinema will be familiar with the moment in the masterpiece This Is Spinal Tap when Nigel Tufnel, the professionally confused rock guitarist, introduces the puzzled documentary maker Marty DiBergi to his prized amplifier.
The guitarist proudly draws DiBergi's attention to the numbers on the dials, which run not from 0 to 10, as conventionally, but from 0 to 11.
DiBergi asks, "Does that mean it's . . . louder? Is it any louder?"
To which Tufnel, with logic on his side, replies, "Well, it's one louder, isn't it? It's not 10 . . . You're on 10 on your guitar. Where can you go from there? Where?"
DiBergi says, "Put it up to 11."
Tufnel replies, "Eleven. Exactly. One louder."
DiBergi then asks, "Why don't you just make 10 louder and make 10 be the top?"
There's a moment while Tufnel considers this before ending the discussion by replying, "These go to 11."
It's not difficult to imagine an almost perfect replica of this conversation taking place when BMW product people explained to senior management how they were thinking of launching a new 3-series coupé to stand in line with the 3-series saloon and the 3-series Tourer, but that instead of calling it a 3-series coupé they were intending to call it a 4-series coupé.
---
Search for and buy used BMW 4-series on driving.co.uk
---
Senior management: "Does that mean it's . . . better? Is it any better?"
Product people: "Well, it's one better, isn't it? It's not three . . . You're on three in your car series. Where can you go from there? Where?"
"Put it up to four."
"Four. Exactly. One better."
Then senior management would ask, "Why don't you just make three better and make three be the top?"
And from the product people the pause for reflection, followed by the reply, "These go to four."
BMW's decision to place coupé, convertible and Gran Coupé versions of its odd-numbered cars into their own even-numbered subcategories (away, essentially, from the more conventional, less fun stuff) is either a necessary piece of housekeeping or mere brand-strategic window dressing, depending on your point of view.
Either way, it's playing fast and loose with tradition, and fans of the 3-series label and its distinguished history may even feel a little affronted that their coupé has now been rounded up and shunted off to fend for itself in a new catchment area.
Still, it looks like a 3-series coupé, but better, and it drives like a 3-series coupé, but better, so even if the company had decided to call it a 666-series coupé we would be struggling to take exception to it.
Ways in which the 4-series coupé is "one more" than the 3-series coupé: it's longer from tip to toe by the trifling amount of 26mm, yet its wheelbase is greater by almost twice that sum, bringing the wheels further out to the corners. The roofline now lies 16mm lower and the car crouches closer to the ground. Indeed, as you'll be able to tell people at dinner parties, it has the lowest centre of gravity of any current production BMW.
The front and rear track have been widened and the rear wheelarches are muscled up to the extent that they are now the widest point of the vehicle, stretching even past the wing mirrors.
The car has been stiffened, its suspension has been reappraised and, despite its bodily expansions, it has managed to lose 25kg of weight, which most of us would be lucky to achieve in three years on an entirely carb-free diet.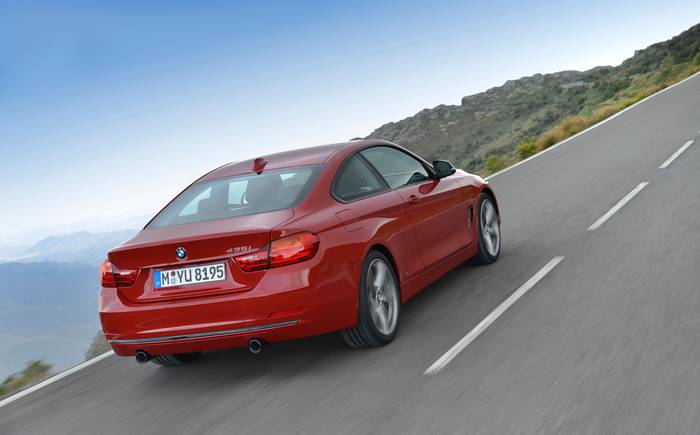 Meanwhile, a mean-looking black air intake wraps the front end, from foglight to foglight, funnelling the wind through to the bladed "air breathers" on the flanks. The ridge that runs the length of the bodywork creates more interestingly waxing and waning reflections, and the signature twin "kidney" grilles now tilt forward from their bases and make a bigger effort to get attention than ever. (To examine the evolution of the 3-series's front end into this one is to notice the ever more extreme "kidneyfication" of the front grille. Many scientists now speculate about a time — not too far distant — when BMWs spontaneously grow a third kidney.)
We drove the 3-litre 435i with the eight-speed automatic transmission — first, sensibly, on Portuguese roads, and second, in a state of high anxiety and to a soundtrack of keening tyres, on the Estoril racetrack. It was quick, firm, quiet and well mannered at low speed, and perfectly capable of going up to 11, if pushed.
All the usual high-end BMW gubbins will be on board — the brand's peerless colour screen and head-up display — along with the slob-friendly High Beam Assistant, which allows you to leave your lights idly on full beam without blinding oncoming drivers.
We can also report that the back of the car contains two finely sculpted leather seats and those most unfashionable items in a coupé: workable head and legroom for a person of 6ft, with the extended offer of an acceptable window view. Although, of course, you'll still have to snap yourself in two to get in and out of there. But otherwise it wouldn't be a coupé, would it?
Reason insists that BMW's mid-range coupé has never been more competitively sporty, more fun to drive or more handsome. It's never been more expensive either. Stands to reason, though. These go to four.
Smith's verdict

★★★★☆
Factfile
BMW 435i coupé
Release date:

On sale now

Price:

£40,795 (Price correct at time of publication)

Engine:

2979cc, 6 cylinders, turbo

Power:

302bhp @ 5800rpm

Torque:

295 lb ft @ 1200rpm

Transmission:

8-speed automatic

Acceleration:

0-62mph in 5.1sec

Top speed:

155mph

Fuel:

35.8mph (combined)

CO2:

172g/km

Road tax band:

H 
The Rivals
Audi TTS quattro Black Edition, £37,155 (Correct at time of publication)
For Still looks good; classy cabin; benefits from four-wheel drive traction; good value Against Less practical than the 4-series; not as much fun to drive
Check used Audi TT prices on driving.co.uk
---
Mercedes-Benz C 350 coupé BlueEfficiency AMG Sport, £38,005 (Correct at time of publication)
For Manages to be both smooth and sporty; seven-speed automatic as standard; high-quality and practical cabin Against Relatively low-key to look at — but that could be a bonus for some buyers