How can I be sure to pass my car's MoT? (video)
Saving a fortune in 120 seconds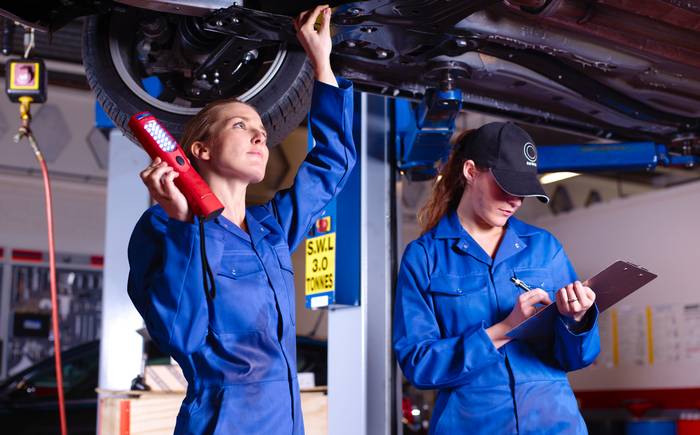 IF THE reception area at your local garage has an air of exam tension about it, it may be because one in three cars gets an MoT failure certificate — a total of 8m cars a year. Now a new, tougher test is expected to raise that figure further.
---
Search for and buy your next car on driving.co.uk
---
You might think that new cars are more reliable than their predecessors, but up to now the MoT failure rate has remained at around 30% since current records began six years ago. The problem isn't down to shoddy workmanship, say mechanics, it's the fault of drivers.
In at least one in five cases, failure is down to a basic fault such as a blown bulb or bald tyre that could easily have been spotted — and fixed  — before the car went in for its test. This adds up to about 1.5m MoT failures a year. Another 2.5m cars pass after having minor repairs during the test itself such as changing a bulb.
The cost of repairs can be high too. Some garages charge £40 for 30 minutes' labour to fit a bulb, even if the job takes five minutes. If the car isn't fixed within strict time limits, owners are also liable to pay for a retest, costing up to £54.85.
"We have seen an increase in cars coming in with basic faults," says Mark Davison of Essex Ford in Basildon. "Some people are getting lazier and lazier, but others do find it can be tricky to change a bulb and get us to do it. They can be charged extra in labour — as an average, you are looking at around £40."
Davison's dealership has joined a campaign by the Society of Motor Manufacturers and Traders (SMMT), the industry body, encouraging motorists to carry out a short two- minute check on their vehicle before it goes in for an MoT (see video below). It covers areas such as tyres, bulbs and windscreen wipers, which must be in working order to pass the test. Many of the faults can be repaired by owners.
"An MoT fail could easily be avoided if a simple visual check is carried out beforehand," says Mike Baunton, interim chief executive of the SMMT, which compiled the figures showing the large number of basic faults that cause failures. "It is important for vehicle owners to understand the advantage that a few simple checks could make to the outcome of their test."
"An MoT fail could easily be avoided if a simple visual check is carried out beforehand"
The advice shows just how far modern motoring has come since the days when failing to maintain your car meant breaking down.
"Cars rarely go wrong, so people just jump in them and expect them to work — like a watch," says Jim Punter, chairman of the MoT Forum, which acts as a voice for MoT testers, and owner of Punters Garages in west London. "There has been a move away from a DIY culture, and when people open the bonnet, they see a plastic cover, not the engine. It's no wonder people are doing less work on their cars."
Punter warns that the number of failures could soar in the coming months as a combination of factors makes it much more difficult for motorists to pass.
The average age of a car registered in Britain has crept up to 7.6 years — the oldest since 1982. This is thought to be largely down to tough economic conditions, which mean that car sales are 15% lower than before the banking crisis began in 2007.
Drivers are also cutting back on maintenance to save money. A survey published by Kwik Fit last week estimated that 5m drivers knew their vehicle had brake problems but had not fixed them. The RAC says that a third of motorists are leaving longer between servicing to save money. Halfords says it is already seeing the results of this trend, with a 1% increase in MoT failures last year.
Last month the MoT became more difficult than ever, with more than a dozen new ways to fail your car introduced. The changes included checks on components such as airbags and stability control systems — if fitted — that have not previously been tested during an MoT. The cost of repairing such items can be between £1,000 and £2,000, in effect making some older cars write-offs.
"I'm expecting there to be more failures because there are more reasons for the cars to fail," says Punter. He adds that the MoT is good for motorists, though, as it takes dangerous cars off the road. Every year 800,000 vehicles fail their test with dangerous defects in components such as tyres and brakes.
So, as the test grows more stringent, here is Driving's guide to avoiding the most common MoT pitfalls.
The most common reasons for MoT failure
Since March 20, new checks on dashboard warning lights have become part of the MoT. Any indication that there is a problem with fitted items such as airbags, power steering, electronic stability control or an electronic parking brake, and your car will fail the test.
The new rules are expected to lead to a large increase in MoT failures, and in vehicles being scrapped because the problems may be too expensive to fix.
The latest figures on the most common failures only cover 2011-12. Jim Punter right, head of the MoT Forum, a motor trade body, gives his view on the problems he comes across most frequently.
Boost your car's chances of passing its MoT
One in five failures are caused by basic faults that could be checked on your driveway or while parked at the side of the road. This video will show you how.
What to do if your car does not pass its MoT
If a quick repair is needed — such as fitting a new windscreen or replacing tyres — you can drive away and return before the end of the next working day for a free retest. This applies for faulty components on a list drawn up by Vosa, available below.
If your car's MoT has expired, Vosa says that you may only drive to a pre-booked test. Drivers are also entitled to a free retest for every type of failure if the car is left at the testing centre and fully repaired within 10 working days. Try to get a written quotation for repairs. This is a promise do the work for a set price.
If you get only an estimate, the price can go up. Ask your mechanic to call you and let you know the price before they carry out any work. Better still, get to know your local garage. Some motorists advise going to a council-run testing centre for the MoT, as they don't carry out repairs, so have no incentive to fail your car, but this can mean that the car must be repaired elsewhere if it does fail.
Garages insist the theory is a myth: they point out that all MoT testing centres are subject to covert visits by inspectors in order to maintain standards. You can challenge the result of an MoT through Vosa by appealing within 14 days. You'll have to pay for another test but this can be refunded if the appeal is successful.
Even if your garage does not offer a free retest automatically, you are entitled to one if certain faults – such as a crack on the windscreen or bald tyres – have caused your car to fail. You can take your car away but it must be returned for a retest before the end of the next working day. This applies to the following components:
Bonnet, bootlid, brake pedal anti-slip, direction indicators, doors, dropsides, fuel filler cap, hazard warning, horn, lamps (excluding headlamp aim), loading door, mirrors, rear reflectors, registration plates, seatbelts (excluding body around anchorage points), seats, sharp edges or projections, steering wheel, tailboard, tailgate, towbars (excluding body around anchorage points), vehicle identification number (VIN), windscreen and glass, windscreen wipers, windscreen washers, wheels and tyres (excluding motorbikes and motorbikes with sidecar)
---
Search for and buy your next car on driving.co.uk
---