Jeremy Clarkson on 30 years of writing for The Sunday Times ... and why he 'can't be bothered' to understand electric cars
EVs, cyclists and the future of his car reviews ... maybe
Reflecting on 30 years of writing about cars for The Sunday Times has put Jeremy Clarkson in a sombre mood. When the renowned petrolhead badly cut himself during filming for Clarkson's Farm, audiences watching on Amazon Prime could have been forgiven for expecting super-unleaded to course from the wound. Over the last three decades he's demonstrated again and again that he's a man who revels in the fastest, loudest, most extreme combustion-powered machines.
And so discussing the rise of hybrid and electric cars, along with increasingly-nannying safety technology, has caused him to whip out his well-worn soapbox.
"I don't think anything's changed for the better [since 1993]," he tells Driving.co.uk. "Most cars now are terrible. I struggle to review a hybrid or an electric car because I'm just not interested in kilowatts per hour.
"I signed up to talk about noise and power and styling and sexiness and all of those things. And now it's just like reviewing fridge freezers or microwave ovens or tumble dryers. An electric component is a household appliance."
Unfortunately for Clarkson and fellow internal combustion enthusiasts, governments around the world are clamping down on noisy, petrol-powered cars and in Britain, sales of new models powered exclusively by fossil fuels will be outlawed from 2030. New hybrids will be banned five years after that (not that Clarkson will miss those), leaving only zero emission electric (or potentially hydrogen) cars hitting showrooms.
"If that's what they want to sell us, well, fine, but it's not something I understand," he says. "I can't be bothered to understand any of it. Because I'm never going to buy an electric car. I'm not interested in electric cars.
"There always used to be the noise, and the noise is gone. Without noise then the car is not a car."
Thirty years ago electric cars were milk floats and golf carts, and if you'd have suggested to the motorist of 1993 that they would return to our roads as passenger vehicles — and eventually displace petrol cars — they'd have laughed in your face.
And the first car Clarkson reviewed for The Sunday Times was about as far removed from a modern EV as one can imagine: an Aston Martin Vantage, powered by a twin-supercharged 5.3-litre V8 engine.
He wrote: "Unless your name is Ayrton Senna, you will not have felt, or heard, anything like it in your life before. At 2,000rpm it is breaking windows. At 4,000rpm your ears begin to bleed. At 6,500rpm people from the noise abatement society come round and give you a summons."
In other words, it was just his sort of car.
"There always used to be the noise, and the noise is gone. Without noise then the car is not a car."
Clarkson can't remember who offered him a job writing for The Sunday Times because "it's too long ago", but the man who has become the most famous motoring journalist … in the world … clearly recalls the excitement of receiving the call.
"I couldn't think of anything more amazing than being The Sunday Times' motoring correspondent," he recalls. "I used to look at Ray Hutton, who held that position when I was an uber-junior, and think, 'My god, that man is a sort of automotive journalistic god, because he's in The Sunday Times.'"
Clarkson, now 62, cut his teeth as a journalist at the Rotherham Advertiser before setting up the Motoring Press Agency (MPA) — selling car reviews and features to local newspapers — with friend Jonathan Gill (see separate story).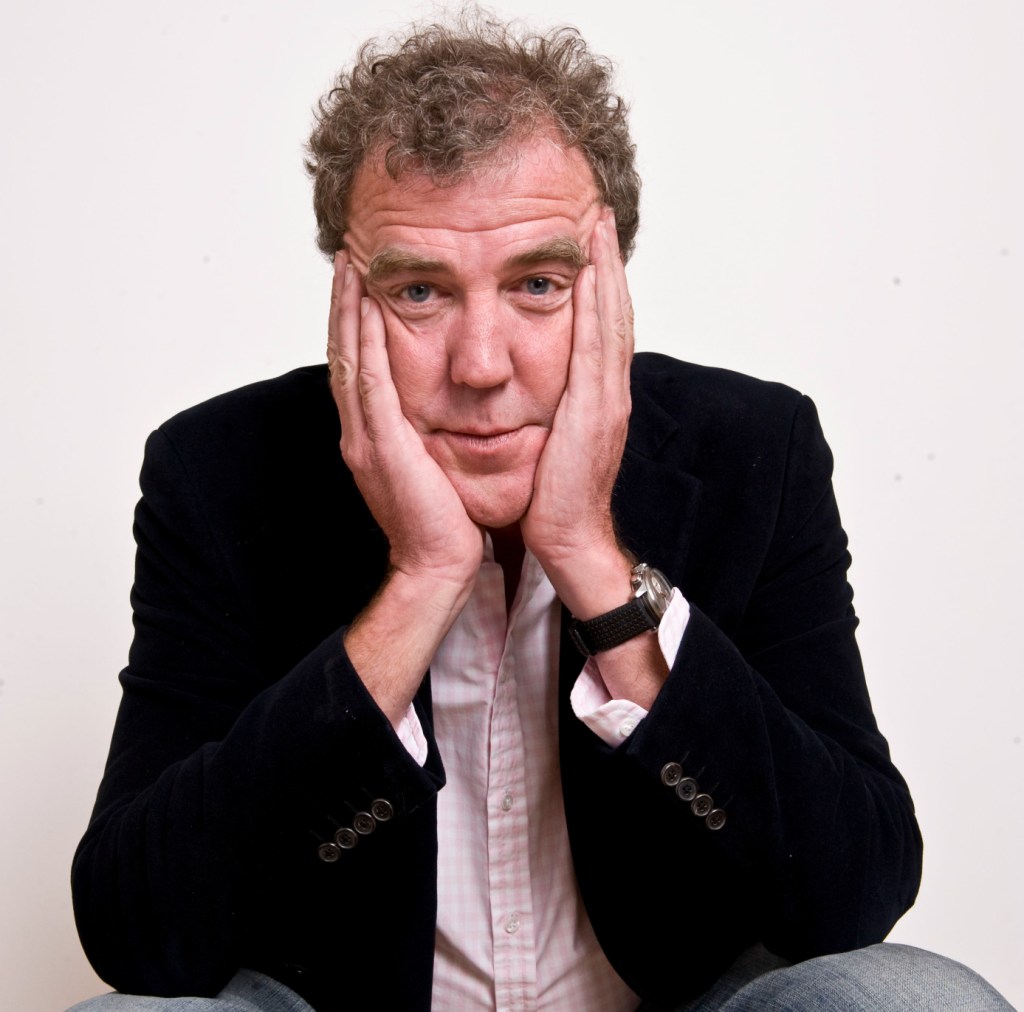 He landed a column for Performance Car magazine in 1985 and in 1988, while still working for both MPA and Performance Car, Clarkson got the call-up to audition for the BBC's Top Gear TV show. It was that mainstream exposure that brought his fresh style and irreverent opinions to the attention of The Sunday Times, which signed him as car reviewer in 1993.
"The Sunday Times was it," he tells Driving.co.uk via the phone, for once while travelling in the back of a car (en route to catch a plane to the Bahrain Grand Prix). "As the ads said back then, 'The Sunday Times is the Sunday papers'. And it still is."
But that brings us back to the subject of modern cars, because if The Sunday Times hasn't changed, times certainly are a-changing for motorists. And it's not just that the types of cars being made these days is turning off Clarkson; the increasingly nannying safety tech is a constant bugbear, too.
"I had a car the other day that I hated — the Lexus NX. That was a bad one. You can't open the door! It decides whether you can open the door or not based on whether a cyclist is coming, but a cyclist is always coming so you just can't open the door. I can't understand it. It's stupid."
Oh dear, did we get onto the subject of cyclists? Okay, in for a penny… what does he really think about our two-wheeled road companions in 2023?
"I mean, they've got it into their heads the roads are theirs," Clarkson says. "Well, if I'm being generous, I'd have to say that they're everybody's, really. But everyone has to get on, and that doesn't involve pedalling along in the middle of the road to actually physically stop cars overtaking.
"And there's also this business that the Mail Online is particularly guilty of, when there's an accident, and it's somebody in an Audi or a Porsche or a BMW, it's their fault. But If they're driving a Ford Kuga, it's not their fault. There's a sort of bitterness to nice cars. It's all just gone awful. It's all just awful."
So driving's no fun at all any more?
"I think it's possible to have fun in a car, but you have to go and seek it out. You can't just think, 'I'll have fun on the way home from work tonight,' like we used to be able to do.
At the same time as his love for new cars has veered off the road, Clarkson's passion for farming has evidently grown. Series two of Clarkson's Farm, in which the titular presenter continues to learn the basics of the farming business and struggles to make any money from his estate in Oxfordshire (named Diddly Squat after an expert told Clarkson the land he'd bought was "the shittiest" they had ever seen, and financially barren), is currently the most popular programme for Amazon in the UK.
And while a few locals have been causing issues in terms of planning applications for Diddly Squat (as covered extensively on the show), the farming community itself has been strongly supportive of his efforts to bring the struggles of farmers to the masses, as he highlights the frustrating bureaucracy and plain hard work involved in the industry; something he continues in a farming column within the Sunday Times Magazine.
Can he ever see a time when he hangs up his driving gloves to concentrate full time on being a farmer?
"No, no, no, god no," he tells me. "No, because I need another income source; farming doesn't pay. But I may have to switch to writing about classic cars. Well, they won't be classic but you know, it won't necessarily be the latest new car.
"That might not be something The Sunday Times wants somebody to write about. So they might sack me, I don't know. But I don't feel qualified to write about the new electrical Volkswagen, because I don't know what I'm talking about. I don't know what f***ing kilowatts per hour are, or joules or whatever it is they run on. I have no understanding or interest in it.
"It would be like making — god rest his soul — Adrian Gill [The Sunday Times's late food critic AA Gill, who died from cancer in 2016] only review vegan fast food restaurants. He would just say, 'Well I have no interest in this.' So there's no point."
"I may have to switch to writing about classic cars. Well, they won't be classic but you know, it won't necessarily be the latest new car."
When Driving celebrated 20 years of Clarkson's car reviews in The Sunday Times, a decade ago, Jeremy was still working for the BBC (the "fracas" that led to his sacking was still two years away). At the time he told us bringing Top Gear back from the dead was his greatest achievement… is that still the case?
"Well, actually, weirdly I do feel probably this farming show has kind of done more," he confides. "Because it's the first time I can actually be me on camera, rather than playing a role, which is quite nice. And also it seems to have really struck a chord with people.
"I mean when Top Gear was at its peak and 350 million people were watching us all around the world every week, that was pretty spectacular. But I think the farming show is probably as satisfying as that."
You can read Jeremy Clarkson's farming column and car reviews in full at The Sunday Times. Click here to find out about the latest digital and print subscription offers: https://www.thetimes.co.uk/subscribe/