Be the best: climbing coach and entrepreneur Belinda Fuller on how you can help mind, body and soul reach the summit
Belinda Fuller tells Lizzie Catt how she found love on the rocks as she trained the GB paraclimbing team — and gives her verdict on the versatile new Kia XCeed crossover
---
Published 21 October 2019
IF YOU had told Belinda Fuller's parents that their energetic daughter would grow up to be a climber, they would not have been surprised. From the moment she learnt to walk at just nine months, Fuller — known as Be — was on the move, making early attempts to scale the stairs then, as soon as she was able, shinning up trees at her family's farm in Surrey.
Despite being "half monkey — I need to be climbing stuff", Fuller, 31, had not planned a career in climbing. She fell in love with every activity she tried: "If I went ice skating, I'd be like, 'I love ice skating, I'll do it forever!' If I did football, it'd be, 'I love football, I want to be a footballer!' Anything I did, I just had such a passion for. So my parents just let me enjoy everything while I was young."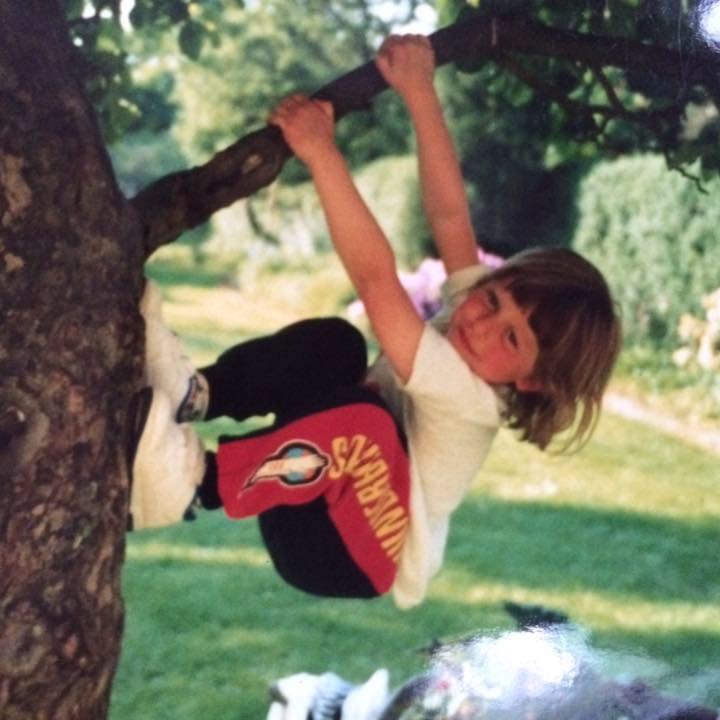 A young Fuller climbs a tree at her family home
Thanks to the proximity of High Sports, an indoor climbing wall she first scaled at friends' birthday parties, the love of climbing stuck. "Luckily, when I was about 16, my best friend Ben Read — who's now my business partner — got me a job at High Sports. Because I was only 16, I wasn't really old enough to work there. But then a cleaning job came open, I got it and it was genuinely one of the best days of my life.
"I didn't care that it was as a cleaner, I just knew that that was my way in to be a climber. It was brilliant. I vividly remember finishing college, cycling to work, doing the toilets, doing my cleaning, and then just climbing. I guess I haven't really stopped since then."
It wasn't long until Fuller was able to work as an instructor. While it would have been easy to stay at High Sports, rising through the ranks, she wanted to do more and headed to Chichester University for a degree in outdoor and adventure education.
"My degree covered loads of different aspects of the adventure world and management. It really helped me solidify what I wanted to do. When I finished, I did a year's travelling around New Zealand, which was awesome. I climbed, went snowboarding and just had a great time. I came back ready to knuckle down and follow my passion for climbing," she says.
Despite being ranked in the top 10 in the British Bouldering Championships 2009, competitive climbing did not appeal to Fuller. She found it too nerve-wracking, and, for somebody who prized the social and collaborative aspects of climbing, competing against friends felt unnatural.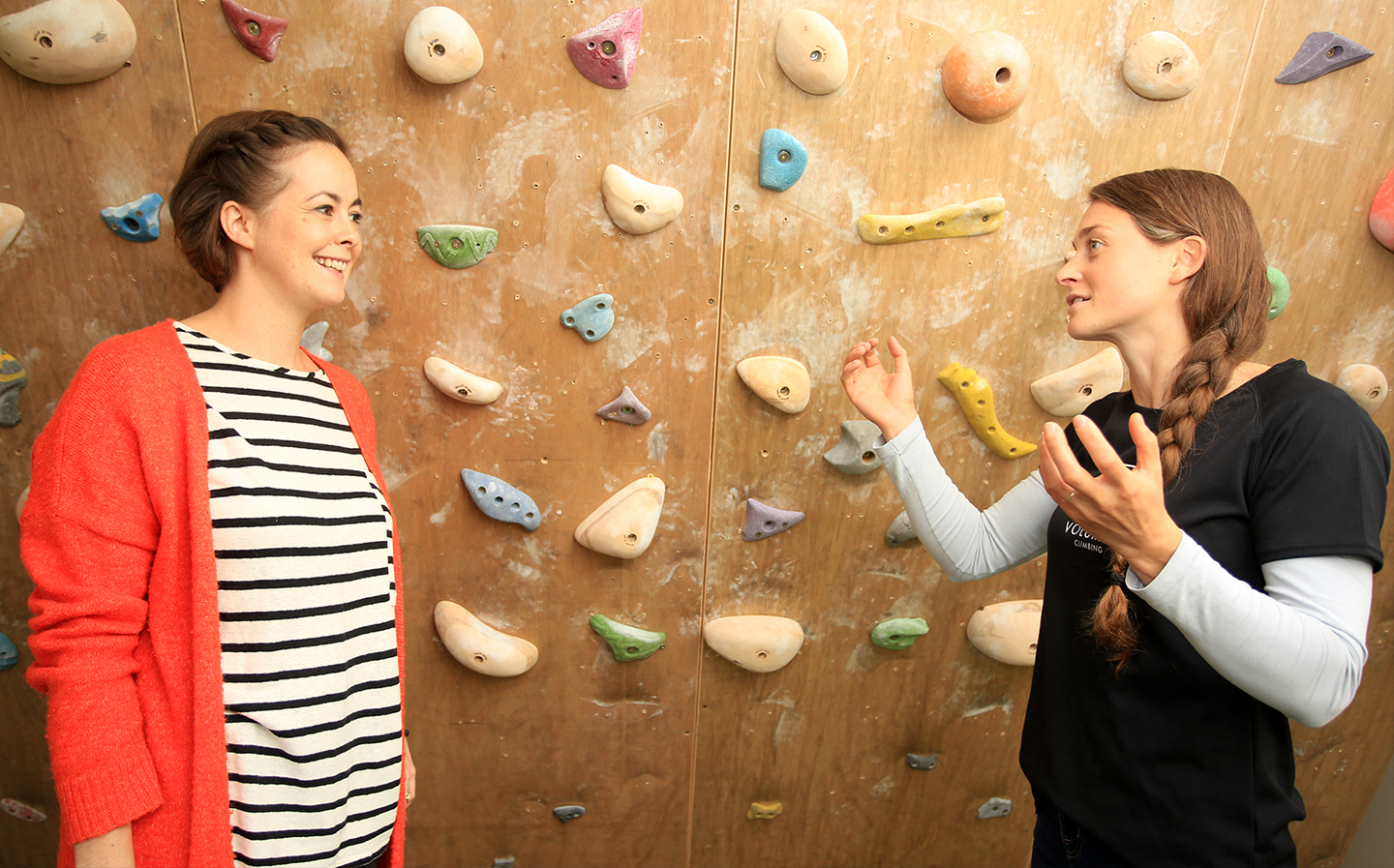 Lizzie Catt (left) speaks to Be Fuller next to a training wall at the climber's home
While Fuller didn't — and still doesn't — think of herself as a technically brilliant climber, she realised that working hard to improve made her a great coach. Setting up on her own was a logical step and Fuller launched her first business, one-to-one coaching under the banner Be Climbing, in early 2013.
"I think most people would say I'm a successful coach as I'm able to create bonds and relationships with people, to give them information in a really clear way," she says. "I've come to the conclusion that it's because I'm dyslexic, and in school I found taking on information really quite hard.
"My dyslexia has been a blessing in disguise for me as a coach — understanding that everybody learns differently. I wasn't a natural-born climber in a technical sense. I had physical ability and intuition but climbing is an incredibly technical sport. When you look at the people who've got to the top level, their understanding of their body is just incredible.
"As much as I can do it to a certain level, if I hadn't started playing the drums when I was 10, I think I would have absolutely no co-ordination. But luckily I wanted to make a loud noise and hit things," Fuller says.
As she was setting up Be Climbing, her best friend Clare died suddenly, shortly before her 25th birthday.
"I thought, I'm either going to completely mess up everything now, crumble and just cry, or do something good in my life and make her proud. It's been hard doing it without her but I thought, I can't waste my life. I've got to do this for both of us."
One of the few places where Fuller found solace after Clare's death was on the climbing wall. "When I was physically moving on the wall, in that flow state, I didn't feel the pain. For me to have that for five minutes or even 30 seconds at a time, I swear, it got me through that first year."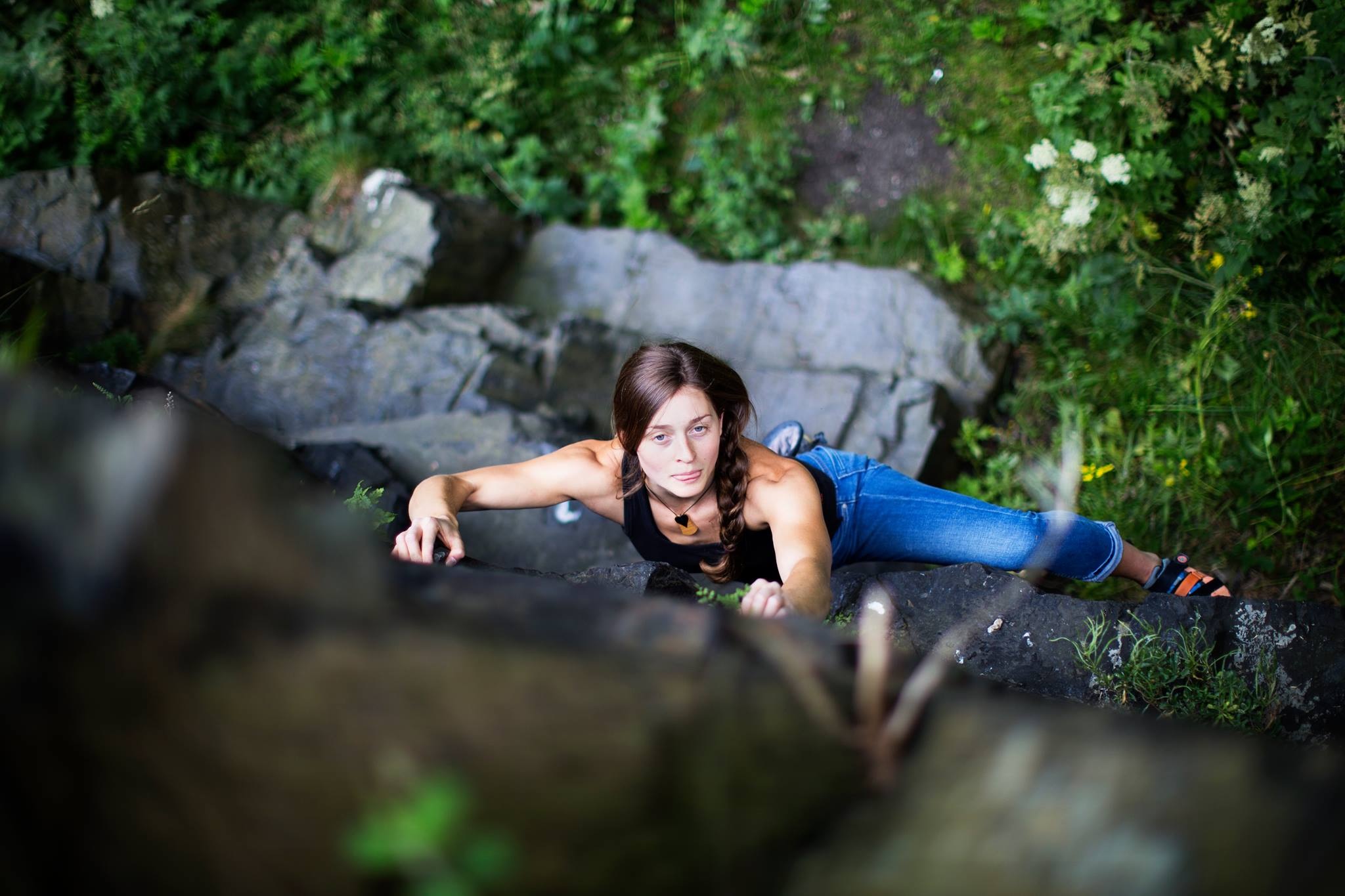 Fuller found solace while climbing after the death of her best friend (Photo: Paul Buttle)
Tragedy struck again when Fuller's brother George lost his girlfriend, Katie Kemp, to suicide. The pair had met on one of her climbing courses and, determined to celebrate Katie's life in a positive way, Fuller founded a charity in her memory called Climbing Out of Depression.
"As well as the mental respite you find on the wall, when you add in the social aspect of climbing, the emotional bond you get with your climbing partner, learning to trust somebody who literally has your life in their hands, you build strong relationships. You're part of a community. You feel like you belong, that you have a place in this world and life is worth living."
Fuller's quest to help students of all abilities led to her next career move. After coaching one student who had one arm, and another who used a prosthetic leg, Fuller was offered a role coaching the GB paraclimbing team.
"For me, the ultimate challenge is to find someone's ability, not allow a disability to stop them," she says.
Her work with the GB team wouldn't change only her professional life but also her personal life when she fell in love with the world champion paraclimber Hannah Baldwin. Fuller had previously been in straight relationships and her feelings for Baldwin were unexpected, but she knew they were right.
This summer, not long after Baldwin, 26, had been crowned world champion for the second time at the International Federation of Sport Climbing world championships in France, Fuller proposed.
"It wasn't just getting a job with the GB team, it was a completely life-changing experience," says Fuller. "It's been a really crazy, exciting journey. I genuinely didn't see any of it coming."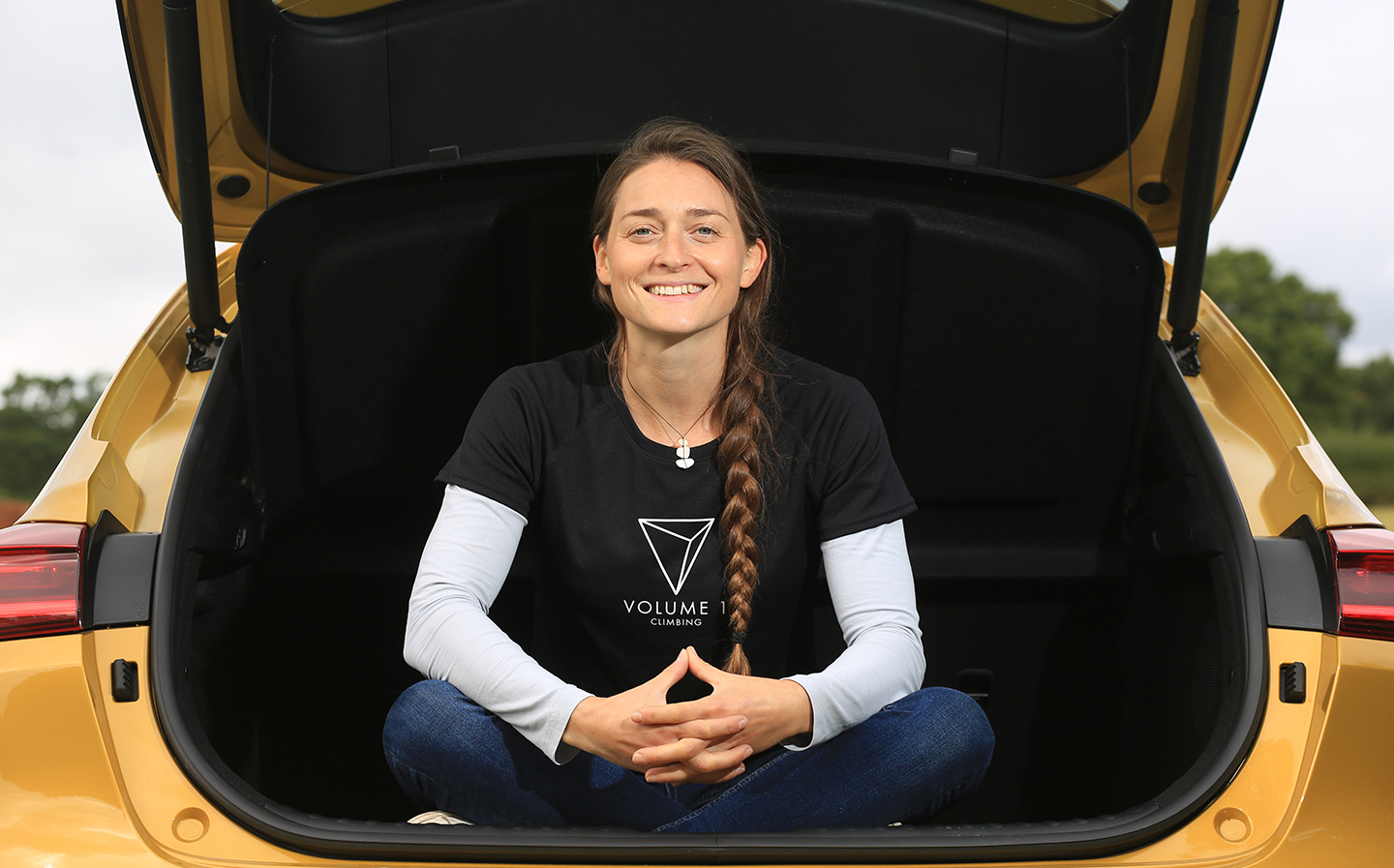 Fuller tries out the Kia XCeed's boot for size
Her next venture is one that brings her full circle — setting up a climbing wall, Volume 1, in Felbridge, East Grinstead. High Sports, where she started, closed 10 years ago.
Fuller and Ben Read have designed the climbing walls of their dreams and are now waiting for the big day when they'll be installed. Fuller says there's no exact opening date just yet, but there will be updates posted to the Volume 1 Instagram and Facebook accounts later this year.
"We can't wait to start inspiring the next generation of climbers," she says.
Be Fuller climbs into the all-new Kia XCeed
We gave Fuller an early taste of the all-new Kia XCeed crossover utility vehicle to find out how the sporty, higher-riding stablemate to the Ceed hatchback, Ceed SW estate and ProCeed shooting brake fits in with her life launching a business and training the UK's top paraclimbers.
When did you pass your test?
Even though I could cycle to work, I was out in the car with my parents on my 17th birthday. I passed my test as soon as I could.
What was your first car?
An old white VW Polo — basically a box. The police once found it overturned in the road and contacted my dad, who phoned me in a panic. It turned out somebody had thought it would be funny to push it over. We flipped it back, replaced a broken wing mirror and it was good to go.
What's important to you in a car?
Safety is so important in climbing, it's second nature, so safety features are important. [The XCeed has six airbags, lane-keeping assist, driver attention warning and forward collision avoidance assist as standard, with pedestrian and cyclist detection on upgraded models]. The XCeed's parking sensors are great — I don't want to be running over clients in the car park. I do worry, though, that if people are swapping from cars that have features like blind-spot indicators to ones that don't that it could lead to accidents.
For me, a car needs to be comfortable and that was the first thing I noticed about the XCeed — it's got the electric adjusters on the side of the seat which make it really easy to get the right position. I drive a lot of hire cars abroad and I'm very used to getting in a car and it not fitting me at all. My little legs can't reach the pedals.
As I travel a lot, having the sat nav on the 12.3in split screen is really great and being able to connect easily to make calls on the move is important, too — the fact that you can connect two phones at once is brilliant.
What kit do you need to carry with you?
I have a very full car when I'm coaching — I can have five ropes, seven helmets, a large kit bag; it takes up a lot of room. I thought the XCeed had good bootspace.
What did you think of the XCeed's interior?
Because my name is Be, the obvious association is bumblebee, so the black and yellow interior of the First Edition model was perfect.
Tweet to @Lizzie_Catt Follow @Lizzie_Catt