Closed: Win one of 10 signed copies of James Bond DB5 book and chance for money-can't-buy tour of Aston Martin factory
James Bond DB5 includes storyboards, rare photographs and incredible details about the car, with forewords by Daniel Craig, producer Michael G. Wilson and Aston Martin's Chief Creative Officer Marek Reichman.
---
Published 02 February 2022
– This competition is now closed –
TO CELEBRATE the launch of James Bond DB5, Hero Collector Books is giving away 10 copies signed by Marek Reichman, creative director of Aston Martin, and one lucky winner will receive an exclusive money-can't-buy tour of Aston Martin Works, the heritage home of the prestigious car maker.
The definitive book about one of the most significant and coveted cars in movie history, James Bond DB5 includes storyboards, diagrams, design materials, and many rare and beautiful photographs that cover every detail of the car, from the over-riders to the exhaust.
James Bond's DB5 has forewords by Daniel Craig, producer Michael G. Wilson and Aston Martin's Chief Creative Officer Marek Reichman.
In addition to the bumper crop of Bond books, one of the 10 winners and a guest of their choice will be given a private tour of Aston Martin Works in Newport Pagnell, Buckinghamshire.
Aston Martin Works is the historic home of Aston Martin with a heritage stretching back more than 65 years, and tours of the factory are extremely rare, even for Aston Martin customers.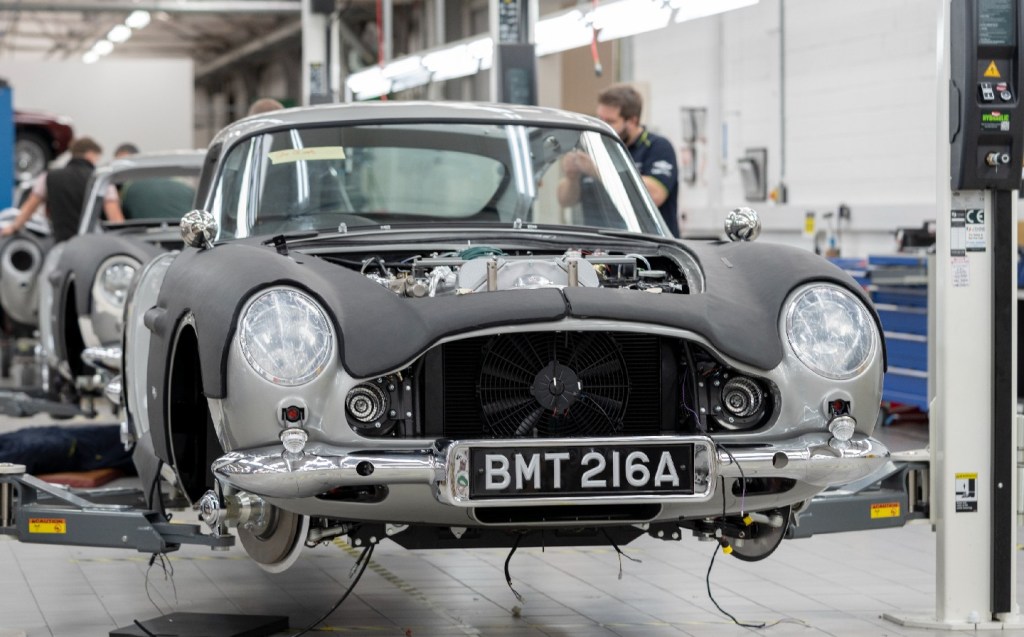 Newport Pagnell has an even longer association with bespoke and luxury vehicle-making being the home to Salmon's Coachworks since 1830: a carriage builder and later a coachmaker. These skills were the primary reason for the move from Aston Martin's former factory in Feltham, Middlesex.
During the 50-plus years that Aston Martin sports cars were made at Newport Pagnell, a total of just over 13,300 cars left the factory, destined for customers all over the world. Among the many iconic models designed and built at Newport are: DB4, DB5 & DB6, V8 Vantage, William Towns Lagonda and original Vanquish.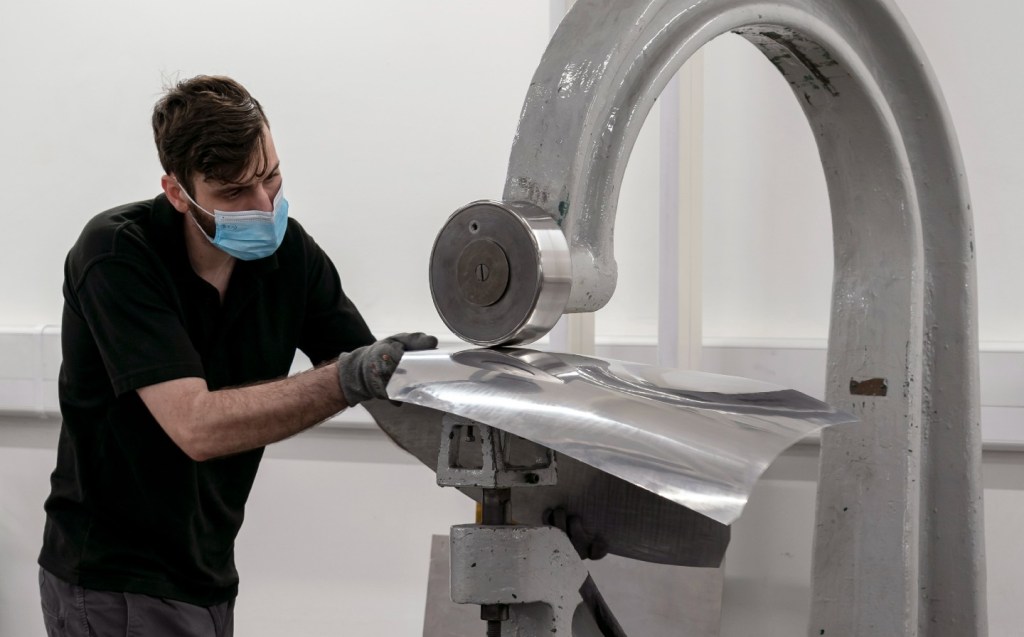 Subject to car availability, the competition winner will also have the chance to see an example of the last Continuation car made at Newport Pagnell: the DB5 Goldfinger Continuation. Twenty-five of these cars have been made for Aston Martin collectors and 007 enthusiasts worldwide with each one retailing for £3.3m in the UK.
Aston Martin will endeavour to show off the car's gadgets to the tour winner, which include those seen in the original James Bond film Goldfinger.
Enter prizedraw
Fill in your details below and click enter to be in with a chance of winning. The closing date is 00:01 on Sunday, April 30, 2022. For more terms and conditions, see below. Good luck!
Entry form removed as this competition is now closed.
Tweet to @ST_Driving Follow @ST_Driving
JAMES BOND DB5 AND ASTON MARTIN WORKS TOUR COMPETITION TERMS AND CONDITIONS
Open to United Kingdom and Republic of Ireland residents aged 18 or over only, except employees of the Promoter, News Corp UK & Ireland Limited, and their associated, affiliated or subsidiary companies, their families, agents or any other person(s) connected with the competition, including third party promotional partners.
Competition is open from the date of publication of this article (the "Start Date").
Competition closes at 00:01 on Sunday, April 30, 2022 (the "Closing Date"). Entries received after the Closing Date will not be counted.
One entry per person. Bulk, automatically generated or third party entries are void.
To enter this competition you must enter your details via the online form above before the Closing Date.
There will be one overall winner and nine runners-up. The overall winner will receive a tour for two of Aston Martin Works, Newport Pagnell, as well as a copy of the James Bond DB5 book signed by Marek Reichman, while the runners-up will each receive one copy of the James Bond DB5 book signed by Marek Reichman (The Prize).
Anyone found to use multiple entries to enter will be ineligible.
The winners will be notified via email or phone within 10 days of the Closing Date. All reasonable endeavours will be made to contact the winner and the runners-up during the specified time. If a winner cannot be contacted or is not available, the Promoter reserves the right to re-draw from the valid/correct entries that were received before the Closing Date.
The Prize is non-transferable and there are no cash alternatives to the prize in whole or in part.
The winners may be required to participate in reasonable publicity relating to this Competition.
The promoter of this competition is Times Newspapers Limited (the "Promoter").
GENERAL TERMS AND CONDITIONS
These terms and conditions apply to all competitions (unless and to the extent that) the competition states otherwise.
The winner is responsible for ensuring they are able to accept the Prize as set out and in accordance with these terms and conditions, in the event they are unable to do so then the Promoter reserves the right to redraw the prize.
Entrants should be aware that they may be subject to data charges depending on their own individual arrangements for Internet access if entry is online or by email.
An eligible entrant must be an individual, must enter on their own behalf, and must submit an entry in the form requested by the Promoter under this promotion including their name, address and e-mail address.
By entering, all eligible entrants agree to abide by each and all these terms and conditions. Misrepresentative or fraudulent entries will invalidate an entry. Where a competition involves a voting process: offering or receiving any incentive for voting is not permitted and will invalidate the vote, and may disqualify the recipient of the vote. The Promoter reserves the right, with or without cause, to exclude entrants and withhold prizes for violating any of these terms and conditions. The Promoter reserves the right to amend these terms and conditions. Any amendments will be published on the Promoter's website (the Website).
The Promoter reserves the right to publish entries (including parts of entries) other than the winning entry and publication does not necessarily mean the entrant has won a prize.
Entrants will retain copyright in their submitted entries, however, by entering, all entrants licence the Promoter a worldwide royalty-free perpetual licence to edit, publish and use each entry in any and all media (including print and online) for publicity and news purposes. The Promoter reserves the right to publish entries (including parts of entries) although publication does not necessarily mean the entrant has won a prize.
There is no cash or other alternative to the prize stated and the prize is not transferable and no part or parts of the prize may be substituted for other benefits, items or additions.
Winners may be required to submit valid identification before receiving their prize.
The Promoter's decision is final and binding on the entrants. No correspondence will be entered into.
The Promoter will not be liable for technical, hardware, or software failures of any kind or lost or unavailable network connections that may limit or prohibit an eligible entrant's ability to participate in the competition. Other than death or personal injury arising from the acts or omissions of the Promoter or its employees, the Promoter will not be liable for any loss or damage arising out of the winner's (or their guest's) enjoyment of the prize.
By entering, any subsequent prize winners agree to allow the free use of their names, photographs and general locations for publicity and news purposes during this and future promotions by the Promoter or any associated or subsidiary company of News Corp UK & Ireland Limited.
Uses of personal data received by the Promoter in the course of the promotion are subject to the privacy policy found on the Website. Winners' names may be published on the Website.
Completion and submission of a registration slip or e-mail will be deemed acceptance of these terms and conditions.
The Promoter reserves the right at any time to cancel, modify or supersede the competition (including altering prizes) if, in our sole discretion, a competition is not capable of being conducted as specified. The Promoter reserves the right to substitute a prize of equal value in the event that circumstances beyond their control make this unavoidable.
For a list of winners please send a stamped envelope to News UK, Competitions Department, 1 London Bridge Street, London, SE1 9GF stating for which competition you would like winners' details.
Competition rules published in publications of the Promoter (including social media if applicable) or on the Website form part of these rules.
ABOUT HERO COLLECTOR BOOKS
Hero Collector Books, a division of Eaglemoss, is focused on publishing entertaining, in-depth books based on the world's leading film and television properties. The books are designed to shed new light on some of the world's most beloved and iconic brands. They include lavishly illustrated encyclopedias, in-depth behind the scenes books, official histories, and new and light-hearted takes on classic characters.
ABOUT NO TIME TO DIE
No Time To Die is the official title of the 25th James Bond adventure The film, from Albert R. Broccoli's EON Productions, Metro Goldwyn Mayer Studios (MGM), and Universal Pictures International is directed by Cary Joji Fukunaga) and stars Daniel Craig, who returns for his fifth film as Ian Fleming's James Bond OO7. Written by Neal Purvis & Robert Wade (Spectre, Skyfall), Cary Joji Fukunaga, and Phoebe Waller-Bridge (Killing Eve, Fleabag) The film will be released globally from 30 September 2021 in the U.K. through Universal Pictures International.
In No Time To Die, Bond has left active service and is enjoying a tranquil life in Jamaica. His peace is short-lived when his old friend Felix Leiter from the CIA turns up asking for help. The mission to rescue a kidnapped scientist turns out to be far more treacherous than expected, leading Bond onto the trail of a mysterious villain armed with dangerous new technology.
ABOUT EON PRODUCTIONS
EON Productions Limited and Danjaq LLC are wholly owned and controlled by the Broccoli/Wilson family. Danjaq is the US based company that co-owns, with Metro Goldwyn Mayer Studios, the copyright in the existing James Bond films and controls the right to produce future James Bond films. EON Productions, an affiliate of Danjaq, is the UK-based production company that has made the James Bond films since 1962 and together with Danjaq controls all worldwide merchandising. The twenty-fifth OO7 film is currently in post-production. For more information, visit www.007.com.
ABOUT MGM
Metro Goldwyn Mayer is a leading entertainment company focused on the production and global distribution of film and television content.The company owns one of the world's deepest libraries of premium film and television content. In addition, MGM has investments in domestic and international television channels and is the majority owner of and distributor for United Artists Media Group (UAMG).
For more information, visit www.mgm.com.
ABOUT UNIVERSAL
Universal Pictures International (UPI) is the international marketing and distribution division for Universal Pictures. In the United Kingdom, Ireland, Spain, Italy, Germany, Switzerland, the Netherlands, France, Russia, Korea, Australia, Mexico, Brazil, Hong Kong, India and China, UPI directly markets and distributes movies through its local offices, creating campaigns and release strategies that respond to the culture and market behaviour of those territories. In other parts of the world, UPI partners with Paramount and Sony in the distribution of all three companies' films. Universal Pictures is part of NBCUniversal, one of the world's leading media and entertainment companies in the development, production, and marketing of entertainment, news, and information to a global audience. NBCUniversal is a subsidiary of Comcast Corporation.
ABOUT UNITED ARTISTS
United Artists Releasing, a joint venture between Metro Goldwyn Mayer (MGM) and Annapurna Pictures. (Annapurna), is a U.S. theatrical releasing company. Built upon the legacy of the iconic United Artists motion picture studio, the joint venture provides a home where filmmakers are supported by thoughtful approaches to marketing, publicity and distribution. United Artists Releasing offers content creators an alternative distribution option outside of the studio system and supports Annapurna and MGM's film slates as well as the films of third-party filmmakers.