World rallycross: doing for motor sport what Twenty20 has done for cricket
The rules? Put your foot down and go like stink
THE ACCELERATOR doubles as a self-destruct button as the revs rise, shaking the car to its core. Over the angry roar of the engine there's a groan as 500bhp strains against the handbrake. A flick of the anti- turbo lag switch and there's an explosion of crackles from the exhaust as if someone has poured nitroglycerine on their Rice Krispies. Then the brakes come off.
---
Search for and buy your next car on driving.co.uk
---
Bang. I'm punched back into the passenger seat and it's already time to change up. Bang, second, bang, into third. At nearly 100mph, the brakes are slammed on and I fly towards the windscreen before the seatbelt grips and I'm suspended over the footwell.
This is no normal Mini Countryman. With a 500bhp 1.6-litre turbo under the bonnet, it's tuned to go from 0 to 60mph in 1.9 seconds — faster than a Formula One car — and it will be competing in the most exciting new racing series around: the world rallycross championship. Its promoters believe that the formula of flame-spitting cars, roaring engines and crashes galore is the future of motor sport.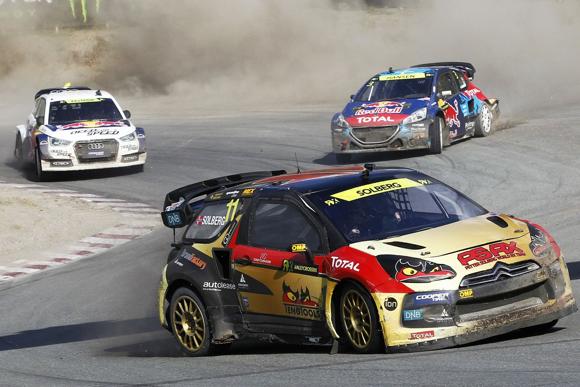 Behind the wheel of the Mini is Dave Mirra, a superstar BMX rider in America, who has swapped his handlebars for a steering wheel to become a top-level rallycross driver. As we accelerate and brake around the twisting track in Barcelona, it feels as if he's attempting a series of wheelies and stoppies. Mirra turns his head and grins as if to say: it's child's play. The real test comes when he does this against as many as five other drivers trying to barge past.
"There's no non-overtaking bits; there are no team orders. It's war for four laps"
Just as the Twenty20 cricket format appeals to audiences turned off by five-day Test matches, so world rallycross is aiming to entice a new generation of fans into motor sport. You won't find any talk of tyre strategies, drag reduction systems or allocations of hybrid power components. You certainly won't see anyone slowing down to save fuel. With races lasting just four laps (or six in the semi-finals and final), every corner has to be taken flat out, every gap is an overtaking opportunity and driving sideways is the way to go.
"It's got the crashing, the banging, the noise, the flames, the speed and the excitement, all wrapped up into a little short race so there's no chance to get bored," says Liam Doran, Britain's leading rallycross driver. "There's no non-overtaking bits; there are no team orders. It's war for four laps."
Since it was launched last year the world rallycross championship has been on a roll. Eighteen cars will compete in every round of this year's series — up from 15 last year — plus one-off entries in some races. Big crowds are expected at the British round at Lydden Hill in Kent on May 23-24; ticket sales were boosted after James May raced against some of the sport's stars in the final Top Gear episode before the series was taken off the air.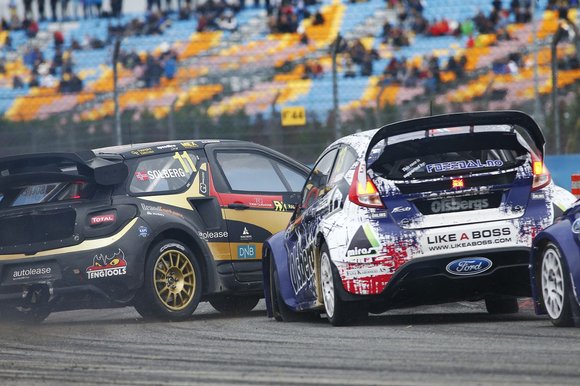 The 2015 championship gets under way in Portugal this week. Each of the 13 rounds has dozens of races on tracks that are part-tarmac and part-gravel, and include a jump for more drama. Drivers must use an extended section of the circuit once during each race, which is known as the "joker lap", and they use spotters watching the action to help them decide when to do it.
"The championship's built for the YouTube generation," says James Rumsey, head of the JRM Racing team, which runs the Countryman. "There are short, sharp, exciting four and six-lap races happening over and over again, so it's easy for people to understand. Other sports like F1 are trying to promote technology and fuel economy. We have a 500bhp Mini spitting flames out of the back. It's not very politically correct."
---
Search for and buy your next car on driving.co.uk
---
He's right — and it's not just the cars. Other championships have stopped using grid girls to parade around the vehicles and drivers. Here they were surrounded by long-legged models with low-cut tops and skirts made of less material than the drivers' baseball caps.
The relaxed atmosphere means that spectators can get close to the drivers, but suggest to them that it's more about having fun than a proper sport and they'll cast you a pitying look. "The driving's at a very high level," says Petter Solberg, a man who should know. The Norwegian 2003 world rally champion switched to rallycross and won the inaugural world championship last year. "We have a lot of good drivers coming in and pushing on your door handles — literally. I get a lot of offers from other motor sport areas but I choose to do this."
"Other sports like F1 are trying to promote technology and fuel economy. We have a 500bhp Mini spitting flames out of the back. It's not very politically correct"
The race strategy is simple: get through the first corner ahead of the field. "You have to go in with full commitment," says Doran, Solberg's team-mate. "You know you might destroy the car and end your whole event but you know that if you don't go in with full commitment then you're going to finish last."
The Finnish driver Toomas Heikkinen, second in last year's championship, says the first-corner melee is terrifying. "Everybody wants to be first. You never enjoy that moment, you never know if you are clear — you think you are and then you get hit by another car. Contact is part of it — without it, there wouldn't be a sport."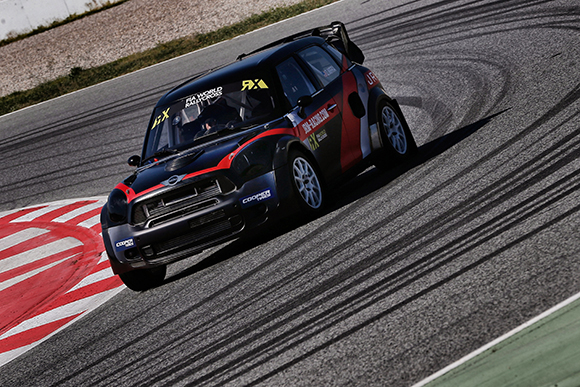 The series is also a challenge for engineers. The cars look a bit like road-going models but are made of carbon fibre and have highly tuned engines and hi-tech transmissions to handle up to 600bhp.
Not that you'll hear much about the technology at the races. "It's got to be entertaining," says Martin Anayi, the world rallycross managing director of IMG Motorsports, which runs the championship. "It's entertainment with sport at the centre of it. People want to see screeching tyres and 600bhp cars."
Bernie Ecclestone should be worried.