Watch Jeremy Clarkson reveal his cars of the year at Sunday Times Motor Awards
And Guy Martin is named motoring personality of the year
---
Published 02 October 2019
AFTER PICKING the fast and furious Lamborghini Huracán Performante as his car of the year at the 2018 Sunday Times Motor Awards, Jeremy Clarkson upped the ante for 2019 with even more horsepower, crowning not one but two cars.
Announcing his picks in front of industry chiefs at the awards ceremony in London tonight, the Driving columnist and TV presenter named the Ferrari 488 Pista his "Supercar of the year" and the Bentley Continental GT V8 his "People's car of the year".
Speaking of the Pista, he said: "It's an exceptional car. I mean, genuinely unbelievable. Ferrari on the race track, mercifully [over] the last couple of weeks have been getting better. On the road their cars don't feel like any other supercar. They feel lighter and more dainty somehow.
"But what I particularly like about this one, is that it renders at a stroke the previous model — the 458 Speciale — utterly worthless. This is a car [fellow Grand Tour presenter] James May owns. It's not even worth its weight in scrap now. So that car [the 488 Pista] has ruined James May, which delights me."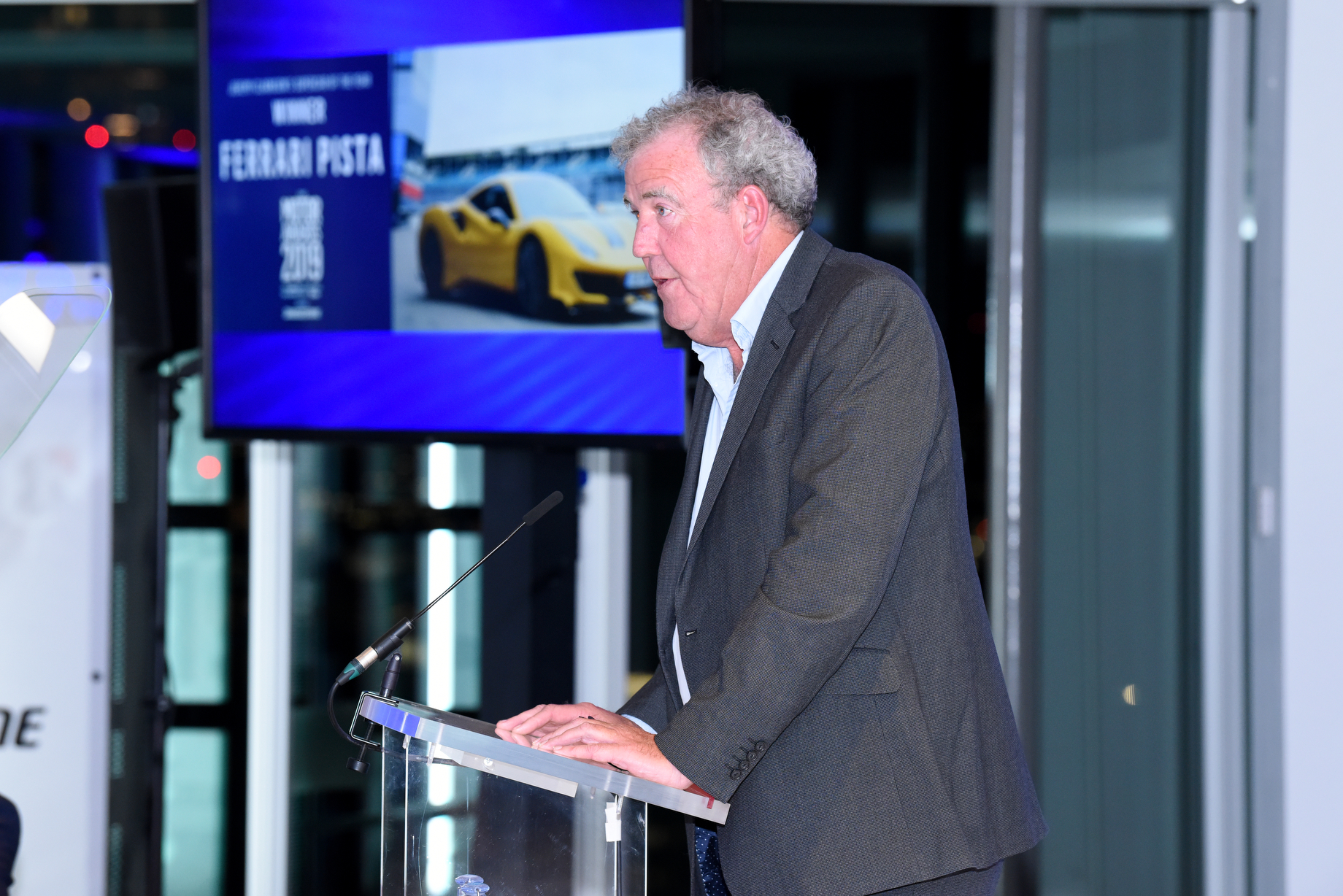 Recognising that calling the £148,800 Bentley Continental GT V8 a "people's car" might be thought of as a bit of a stretch, and receiving a few laughs from the audience, Clarkson quipped:
"Number one, Bentley is owned by Volkswagen, and as we know, Volkswagen means 'people's car'. Second reason is, around where I live, there are people and they all have helicopters. So it is a people's car. I'm always slightly amazed when I review a car and look at how much it costs … [it's amazing] how little the Bentley costs compared to how much I was expecting it to be. They're always much cheaper than you think they're going to be, particularly when you sit inside and they are exceptionally good. It's a wonderful, wonderful car, and I want one."
Clarkson also announced The Times and Sunday Times's motoring personality of the year: motorcycle racer, TV presenter and daredevil Guy Martin.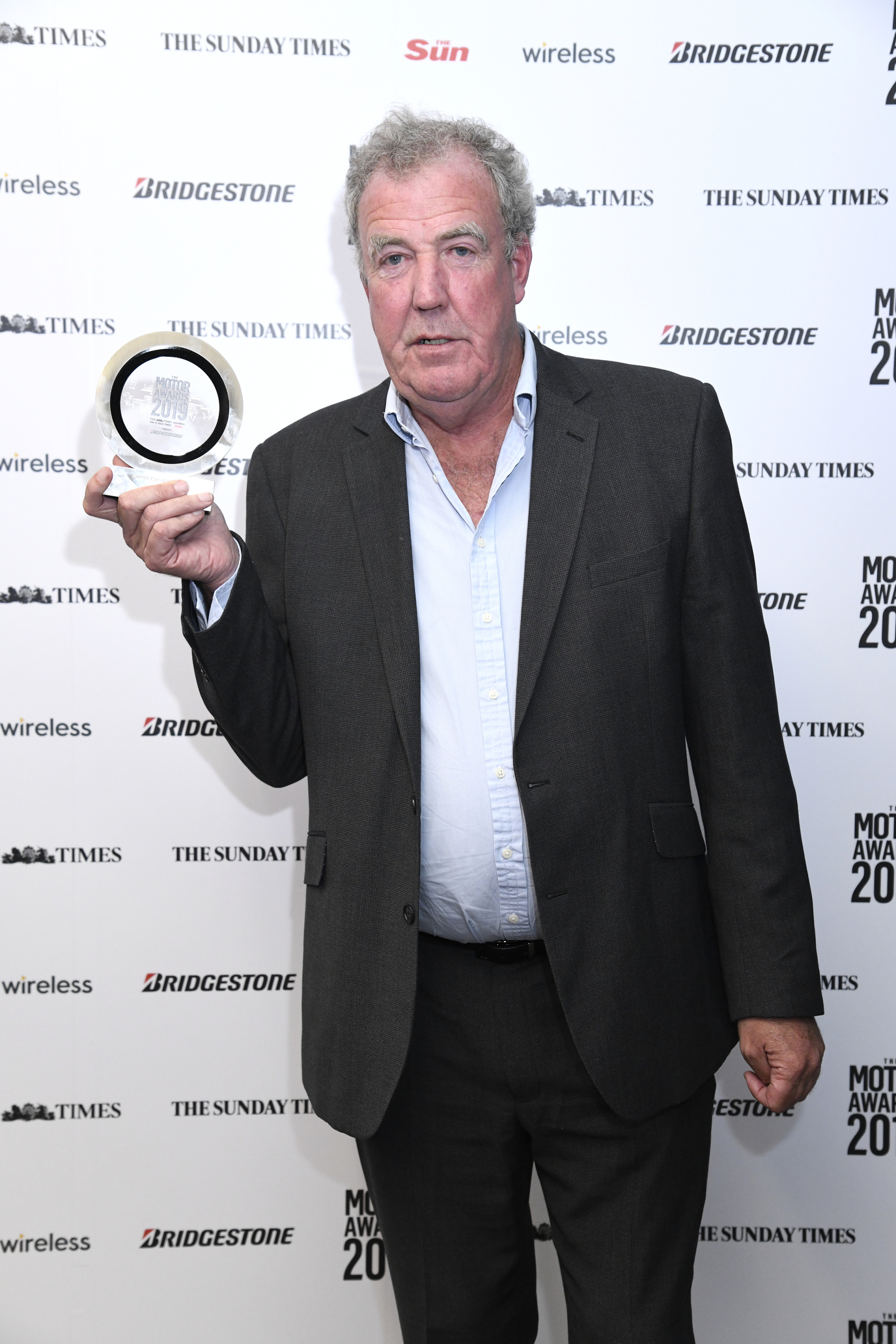 Pointing out that his Grand Tour co-hosts were not attending the awards ceremony this year, a delighted Clarkson grinned, "Well, we know it's not May and Hammond. I won this last year so you'd imagine it was going to be May or Hammond, but as we know they don't have personalities."
Clarkson was even happier with the Sunday Times' choice. He said of Martin:
"He's a truly brilliant human being, really. Unbelievably, he still works as a lorry mechanic, even though he's a television presenter, motorcycle racer, speed record-holder, daredevil extraordinaire. And yet he seems to have a down-to-earth way about him.
"If you like, he's almost an amalgamation of the three of us on what was Top Gear, now the Grand Tour, in that he's a professional northerner, which I sort of am, and he really likes nuts and bolts and has a shed, which means he's James May, and he goes upside-down and breaks bones, so he's also Richard Hammond."
Clarkson said he even liked the way Martin "hasn't bothered to come to London to collect the award, because he doesn't like to leave Grimsby. I respect that."
Although unable to make it to the event, an almost speechless Martin sent his thanks via video message.
For a full list of winners, go to driving.co.uk/news/motor-awards/motor-awards-2019-the-winners/
Can't see the video? Click here.