New York show: Porsche Boxster Spyder set to sizzle this summer (video)
Snap it up quick; previous version was a sell-out success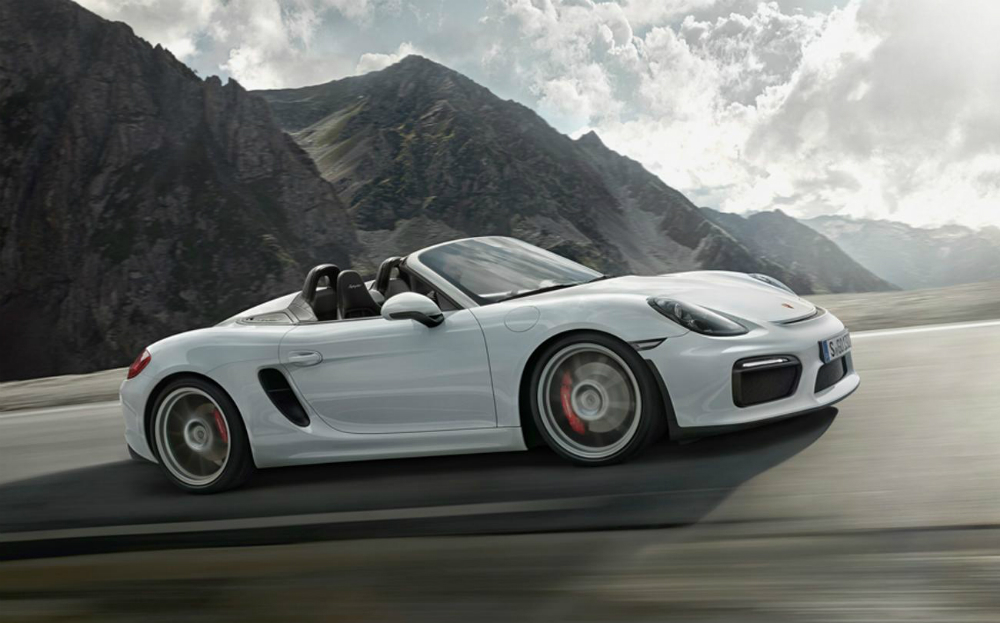 PORSCHE IS on a roll right now. The recently introduced Cayman GT4 – reviewed by Driving – already has a waiting list as long as the longest of them all: joining the Top Gear audience. So we've little doubt the new Boxster Spider will also be tempting the driving enthusiasts, car collectors and sports car speculators alike.
It is a brilliant concept – you take a standard Boxster, remove around 100kg of unwanted mass and bolt in the more powerful engine from a 911. If any car costing £60,459 can be a bargain, this might just be it.
---
Search for and buy your next car on driving.co.uk
---
Crowbarred into the space behind the cockpit is a 370bhp version of the 911's 3.8-litre engine. To put that into context, the second most powerful Boxster, the GTS, has just 325bhp. It's only available with a six-speed manual gearbox to fulfil the Spider's brief as the choice for drivers who wear string-backed leather driving gloves – purists, in other words .
To help shave 105kg from the kerbweight of the Boxster GTS on which it's based, Porsche has even thrown out the sat nav and air-con, although both will be available as no cost options.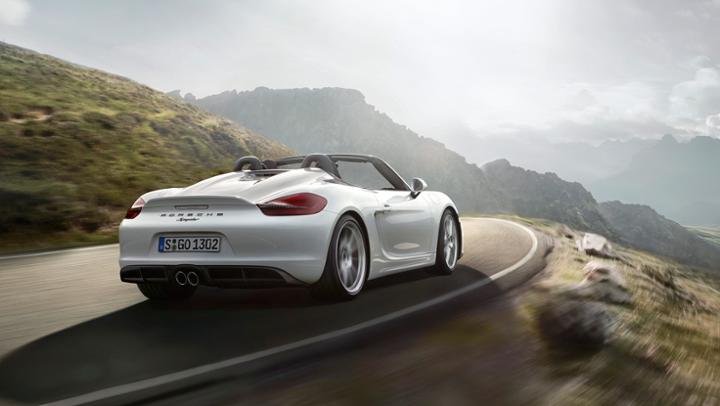 Not surprisingly, performance is much improved – Porsche says the Spider is good for 0-62mph in 4.5sec, compared with 5.0sec for a GTS. Top speed rises from 175mph to a very windy 180mph. To cope with all this thrust, the suspension has been uprated and lowered by 20mm.
The previous generation Porsche Spider had a token hood that was a faff to erect and would blow away if you drove too fast. The new model's roof is still opened and closed by hand, but it's much more integrated and user-friendly than before. You'll no longer need to live in California for a Spider to make sense.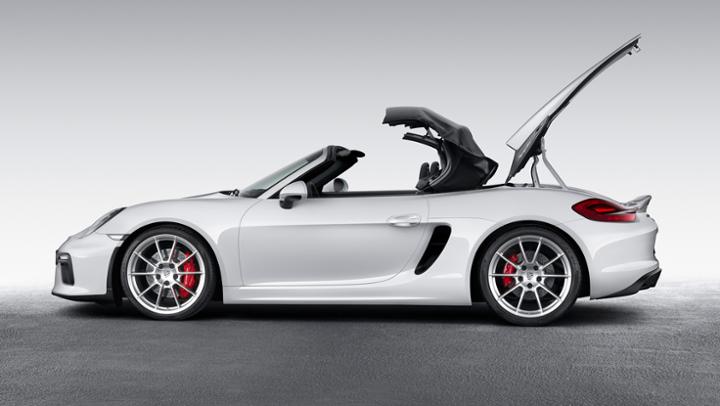 Unlike the Cayman GT4, the Spider wasn't developed by Porsche's specialist Motorsport team but we're assured that they've been consulted throughout the process.
Technically neither car is a limited edition, but Porsche simply can't build them fast enough to satisfy demand, which is why the waiting lists are expected to grow. That should also help to ensure that this Spider, like its predecessor, is a future classic.
Available to order now, cars arrive in July, in time for summer. Watch the video to hear and see the new Spyder in action.