Final episodes of Formula 1: Drive to Survive season four won't change your mind over 2021 F1 season result
Netflix show should be enjoyed as a season-long thrill ride rather than for answers to the Abu Dhabi showdown mess
Motorsport fans looking to the new series of Netflix's Formula 1: Drive to Survive for further insight into the controversial conclusion of the 2021 F1 season will be left disappointed, though as an insider view of the extraordinary rivalry between the Mercedes and Red Bull teams, the show is unbeatable.
Each episode of the 10-part series once again focuses on specific teams and characters, though the final two episodes zero in on Mercedes and Red Bull as the crucial drivers' and constructors' championships are decided.
In episode nine, Red Bull team boss Christian Horner describes the season-long "cauldron of pressure".
"It's insane; since Silverstone it's just gone up and up and up," he says, referring to Max Verstappen's heavy crash at the British Grand Prix. The Dutchman had hit the wall hard after coming together with championship rival Lewis Hamilton around the high-speed Copse corner.
The show then reminds us of the terrifying accident between the two drivers at Monza, Italy, when Verstappen's car ended up on top of Hamilton's Mercedes. Inspecting the damage back at Mercedes HQ in Brackley, Northamptonshire, Wolff praises the halo safety device, which forms a protective barrier about the drivers' heads, and clearly saved Hamilton's life.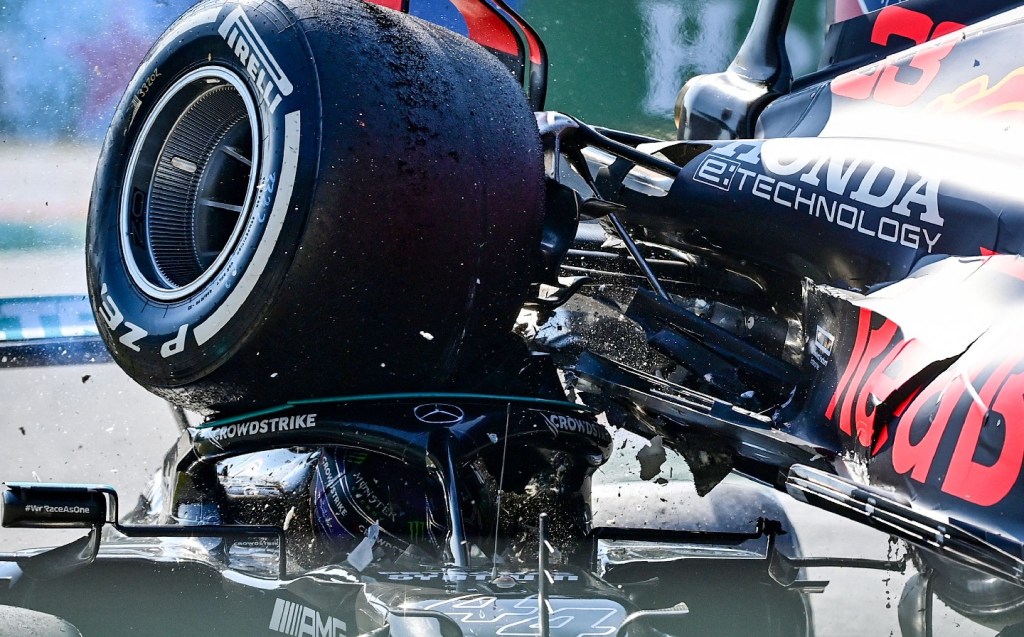 When the halo was first introduced in 2018, Wolff had said he wasn't impressed by it, mainly on aesthetic grounds, and joked he would take it off with a chainsaw if allowed. He changed his mind within months after a number of incidents proved its value as a safety feature.
The beauty of Formula 1: Drive to Survive has always been the behind-the scenes footage and insight, and it's clear that viewing Hamilton's crumpled carbon fibre air box up close is a sobering moment for Wolff. He also makes it clear that he believed it was an avoidable accident, and entirely Verstappen's fault.
"In a hard fight," he tells the cameras, "winning in the right way is as important as the winning."
The other revelation brought by Drive to Survive is its shattering of the previously clinical, squeaky-clean image of F1, proving that its protagonists are just as emotional – and foul-mouthed – as the rest of us. Perhaps more so.
In footage from the Brazilian GP we hear Wolff shouting "F***ing a***hole!" into his radio headset, after Verstappen appears to push Hamilton off the track.
When Verstappen hits the wall on a potential pole position lap at Saudi Arabia, we hear the Dutch driver say on the radio, calmly: "Fuckin' hell."
Then, after Hamilton wins in Saudi, Horner is heard telling his engineers: "We'll get the f***ers next weekend."
The Saudi Arabian GP was highly controversial, with two red flag incidents and a moment in which Hamilton hits the back of the Red Bull, after Verstappen is penalised for gaining an advantage off track and, in Hamilton's word, "brake tests" the Mercedes driver.
Watching Wolff on TV describing the incident, Horner says: "Oh, shut up. F***ing idiot. The guy has no f***ing idea."
You don't get any of that on the Channel 4 or Sky TV coverage.
Drive to Survive makes it clear that the animosity between the two team bosses goes both ways, and Wolff accuses Horner of playing up to the TV cameras. The Austrian tells us: "Christian is like a Jack Russsell Terrier, snapping at your heels. Whining in the press is something we've seen before; this year it's taken to a new level."
Episodes nine and 10 ratchet up the tension, though not much effort would have been required on their part — the drama was there for all to see even on the sanitised TV coverage.
Netflix shows the frosty press conference involving Horner and Wolff at Qatar, with the latter describing the evolution of the championship: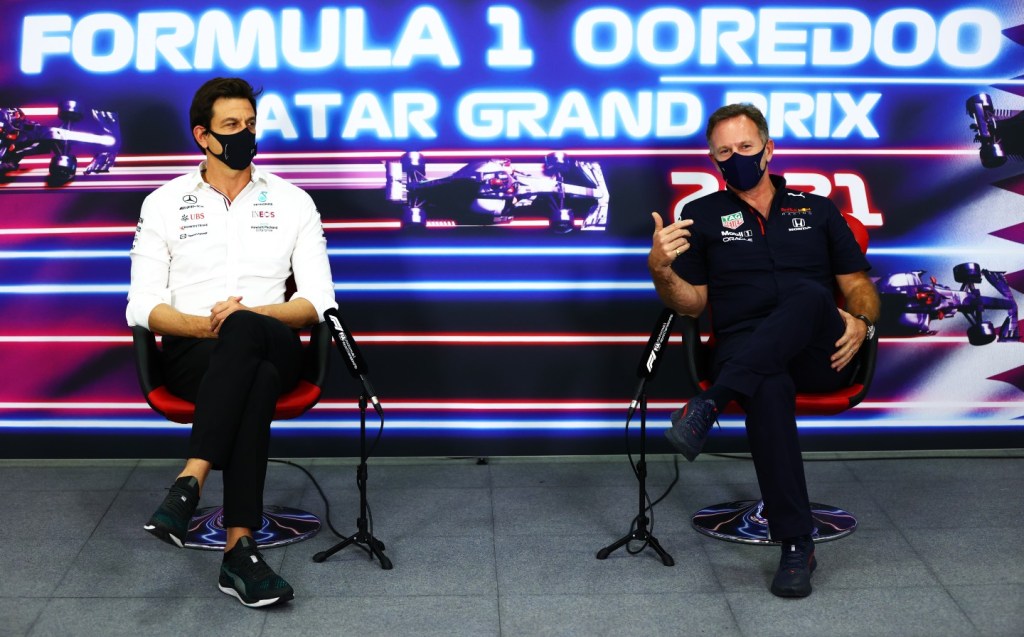 "It started as Olympic boxing, it became pro boxing and now it's MMA [mixed martial arts, or 'cage fighting']."
The show touches briefly on the Red Bull protest over a perceived illegality regarding Mercedes' rear wing but quickly moves on to the Qatar race. The jeopardy here is as much about Bottas' opportunity to help Mercedes clinch the constructor's championship as the battle for the drivers' title.
The politics behind this are laid bare via a meeting between the Finnish driver and Wolff at the team boss's Monaco flat, at which the two men profess great respect for each other despite Bottas having already been given his marching orders. It's a clearly manufactured moment, though great PR for the driver who, despite being cast off, goes on to score a podium in the race to help Mercedes win the team title ahead of the final round.
All of which sets the scene for episode 10 of Drive to Survive, which is devoted entirely to the Abu Dhabi Grand Prix – one of the most controversial F1 races of recent memory.
We hear reflections about the season as a whole from drivers such as Pierre Gasly, Lando Norris, Daniel Ricciardo, George Russell and Lewis Hamilton, as well as predictions for the race from F1 chief Stefano Domenicali, journalist Will Buxton and the ever charismatic Haas F1 team boss Gunther Steiner.
This is all good stuff. Slightly hammy, though, are the symbolic "gloves are off" slow-mo shot of Lewis dropping his gloves on his car and Buxton talking about fine margins being the difference between winning and losing. Well, yes.
We get a calm before the storm moment at the pre-race party, then Horner and Wolff talk to their kids on video calls on race day morning. Horner tells us he feels the nerves, and he's clearly on edge during a chat with wife (and former Spice Girl) Geri Halliwell.
"After the last seven years of pain, we've got to do whatever we can to get this over the line," he tells us.
Then the controversial race itself is covered, with the producers of Drive to Survive adroitly boiling it down to its most salient moments: Perez doing a great job keeping Hamilton behind him after first pit stops, fighting with Mercedes driver until Verstappen catches up behind.
Then Lewis pulls away. It looks like he has the race – and the championship – in the bag.
"We're going to need a miracle," we hear Horner say over the radio.
Then the fateful Latifi crash with seven laps to go. The safety car comes out. "Hamilton was just moments away from winning the championship," the commentator explains. We see Wolff shaking his head in exasperation. But worse was to come for Hamilton and Mercedes.
Verstappen pits for tyres, with five lapped cars between him and Hamilton when he rejoins. Race director Michael Masi decides lapped cars are not allowed to overtake.
Then, Drive to Survive delivers something we hadn't already seen: Horner on a pit wall declaring, "They may as well give this f***ing championship to Hamilton."
But then he lodges a protest with Masi, who makes the extraordinary decision to allow the five cars ahead of Verstappen to overtake Hamilton and unlap themselves… but not all the cars.
"When you look at it in isolation, Max was the only beneficiary," Buxton tells us, with hindsight.
"F***!" shouts Wolff.
Then a voiceover from Hamilton: "I've always had a target on my back, since I started racing. It does feel like people are out to get you."
Verstappen wins, and takes the title. We hear Horner shout, "F***ing yes!" before informing Verstappen that he's the world champion. "We love you. We absolutely f***ing love you."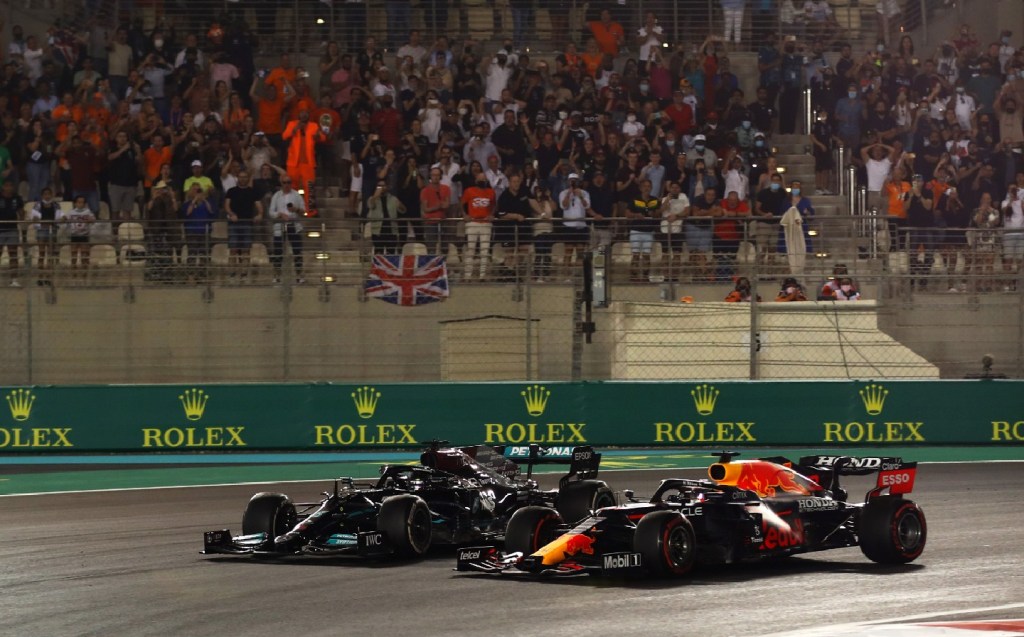 A powerful bit of editing involves a sustained in-car shot of Hamilton after he pulls into parc ferme, clearly coming to terms with what just happened and in no hurry to exit the vehicle.
In the post race interview with Netflix, Wolff tells us: "The decision was wrong, and it's clear that this is gonna leave some scars, on Lewis and the team."
As a warning for 2022, he adds: "There is nothing better that they could have done to motivate us."
With the depression come jubilation, as Horner tells us: "Because of the intensity, because of the struggles that we've had throughout the year, because of the seven years of struggling and perseverance, it was just the most unbelievable feeling."
Ultimately, Formula 1: Drive to Survive season four doesn't shed much light on the events of that final race. Interesting background, yes, but there are no major revelations.
Still, it's the mix of what we we've already seen, what was withheld from us in the live broadcasts and new insights that makes Drive to Survive such an engaging programme.
Its access to drivers is unrivalled, and if you weren't aware that Verstappen had refused to take part in the show, due to "manufactured" rivalries in a previous season, you wouldn't know; Drive to Survive blends TV interviews with team radio and garage audio (clearly the producers used long-distance mics to eavesdrop on Max from afar), to offer almost as much insight as you get from those who've agreed to go on camera.
Some will watch for the Wolffisms: "I love the Saudi track; it's fast, it's dangerous. A track where you have to put your balls on the dashboard," he tells us at one point. It's quite the mental image.
And without Drive to Survive, we wouldn't know that Japanese driver Yuki Tsunoda is the most prolific swearer on the grid. It's also unlikely many fans would have learnt that "Checo", Sergio Perez's nickname, means "big dick" in his native Mexico. Thanks to Christian Horner for that one.
So while we don't gain much insight into the on-track events of the 2021 F1 season, Formula 1: Drive to Survive remains absolutely essential viewing for its off-track access. It's a winning formula not only for die-hard fans but also those who previously haven't shown any interest (there are fans of the Netflix show who don't watch the live races at all).
You can watch Formula 1: Drive to Survive season four on Netflix from today (March 11).
Related articles
Latest articles