Top Gear Live: What to expect
Roll up for motoring's big top . . . and three clowns
---
Published 11 February 2015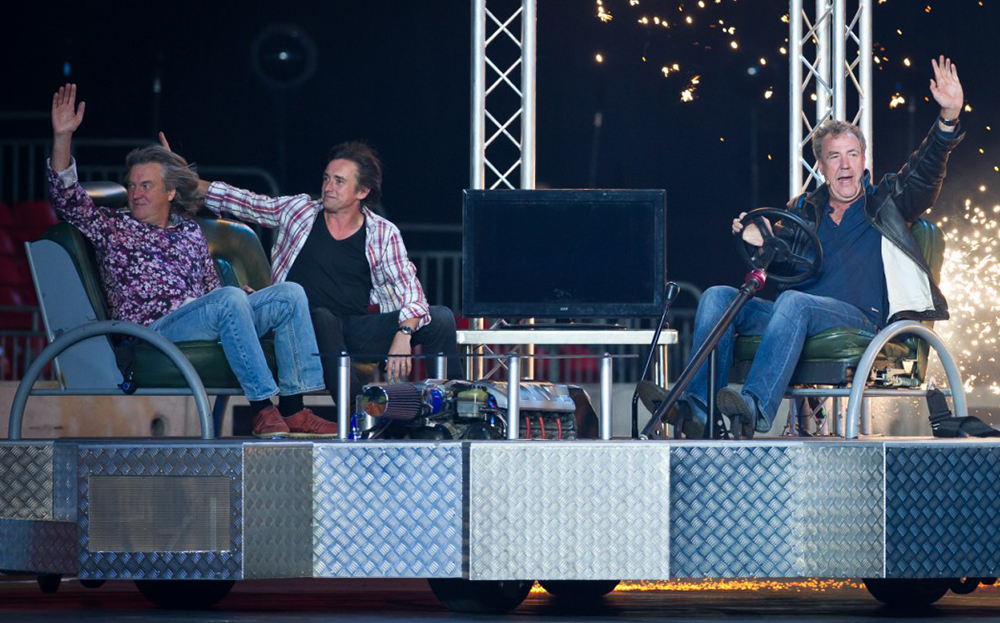 COMPLETE CHAOS. That's what happens when you bring together a roomful of precision stunt-drivers and hi-tech performance cars, then enlist three self-confessed buffoons to act as ringmasters.
---
Search for and buy your next car on driving.co.uk
---
Top Gear Live returns this week for a near sellout stadium tour of Britain, bringing the anarchy and action of the TV show to the stage. The first show starts in Liverpool this week, and the caravan will then go on to Newcastle upon Tyne, Belfast and Sheffield before ending up in London in November.
The show will be hosted by Jeremy Clarkson, James May and Richard Hammond — as well as special guest the Stig — and aims to recreate the informal and slightly unpredictable atmosphere of the BBC2 show. However, rather than cutting to films of the three presenters putting cars through their paces in Australia, Argentina or at the Dunsfold aerodrome in Surrey, all the action takes place in the arena.
What can audiences expect? We are reliably informed that this year the producers have found some extra money to ensure that the shows go off with even more of a bang, which means there will be everything from Reliant Robin racing to competitive drifting, and a rare appearance of Clarkson's P45 microcar (Hammond and May will also be building their own tiny runarounds, which will be put through a variety of ludicrous tests to see which is best).
There's only so much calamity that a 90-minute show can take, though, which is why the three presenters will also be making way for some truly talented stunt riders and drivers who will make your jaw drop. The choreography involved in these sections of the show — which see motorbikes and cars whizzing past each other with only inches to spare — wouldn't be out of place at Sadler's Wells.
Of course, this wouldn't be Top Gear without a smattering of supercars, and fans of exotic metal can look forward to seeing some of the greatest cars around being driven in anger. These will include the McLaren 650S, Nissan GT-R and Aston Martin Vanquish.
So buckle up and get your earplugs at the ready as we guide you through the highlights of what Clarkson modestly calls "probably the greatest show on earth".
What, where, when and how much
What
Top Gear Live is a live-action stage version of the TV show, hosted by Jeremy Clarkson, Richard Hammond and James May, complete with stunts, supercars and the Stig.
When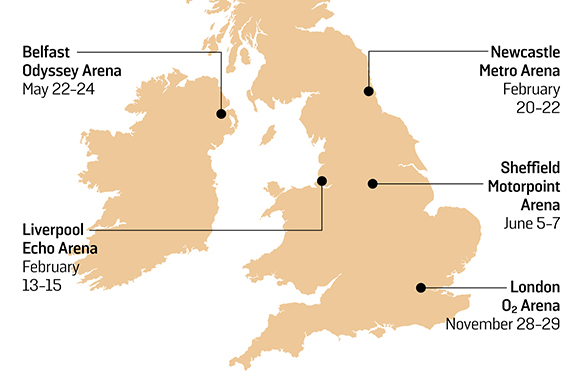 How much
Prices for the 90-minute show vary between venues and are based on how close you dare sit to the arena. Tickets start at £35. You will pay from £45 for a "good" seat and from £55 for a "great" seat. Prices for the first three rows start at £95. All tickets are subject to a booking fee and a handling fee and are available from livenation.co.uk.
Children under the age of 16 must be accompanied by an adult. Loud explosions make the show unsuitable for under-fives. Visitors are advised to bring earplugs.
For more information go to topgearlive.co.uk
Read more: Top Gear Live: A special preview 
---
Search for and buy your next car on driving.co.uk
---