The drivers' champion: meet Britain's new traffic watchdog
...and how he thinks an app will keep drivers moving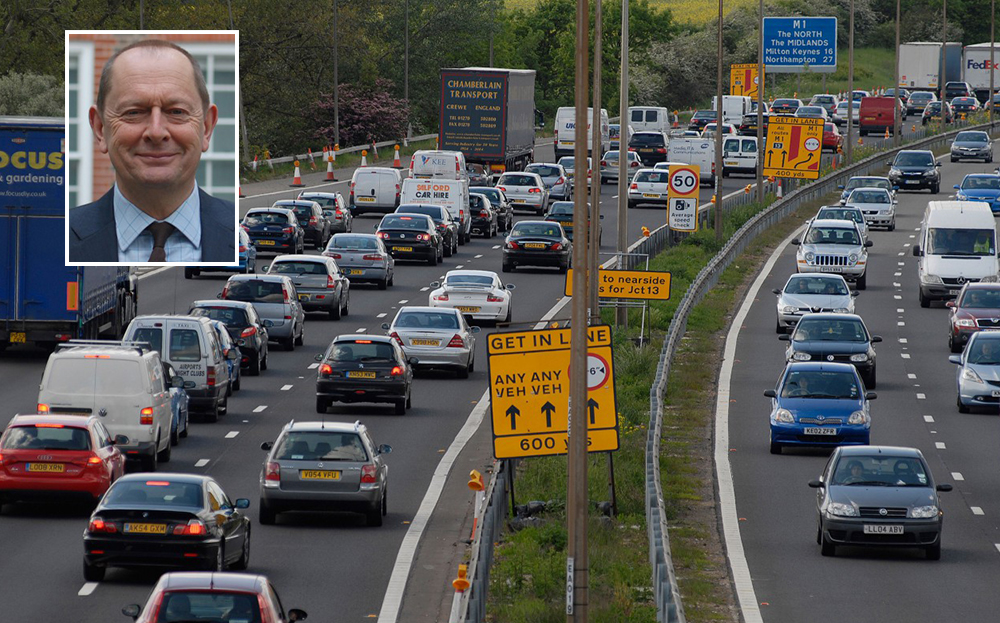 DRIVERS REJOICE — we have a new champion. His name is Anthony Smith, he's 54 and he drives a Nissan Almera Tino people carrier.
---
Search for and buy your next car on driving.co.uk
---
No, he's not a new Top Gear presenter, he's Britain's first official roads watchdog. As head of a new quango called Transport Focus — set up by the Department for Transport (DfT) — he will have a direct say on how the roads across England are run and he promises to make drivers' opinions count.
The new role is part of a reorganisation of motorway and trunk road supervision, which the government says will see £15.2bn spent on improvements in the next five years. The Highways Agency, which is part of the DfT (stay awake at the back), is being spun off into a private company owned by the government and rebranded Highways England from Wednesday.
Smith's job is to keep an eye on it. Driver satisfaction ratings must hit 90% within five years. If they don't, fines can be issued by a separate body. Smith has no power to impose penalties of his own.
"We all drive on these roads, it's a big part of our lives and it really matters," says Smith."Our only interest is in getting things better for users."
Motorists will be able to bring concerns to Transport Focus, which has already conducted research into the top causes for complaint. Unsurprisingly, they are roadworks, congestion, clearing accidents quickly and lack of information. "If you have a piece of road coned off and you can't see people doing stuff, the natural presumption is nothing's happening and you're being inconvenienced for no good reason," he says.
"Our only interest is in getting things better for users."
"You've got to explain what's going on. Maybe it's as simple as a sign, saying, 'We're getting this road ready for roadworks overnight, sorry for the inconvenience'."
Smith wants to work with Highways England to build an information service to detect when drivers are approaching congestion and send alerts and suggested diversions to their smartphone or sat nav. "We are going to help solve this," he says.
One task could be to introduce signs around Birmingham that let drivers know whether the M6 is running freely. At the moment, drivers are informed only whether the M6 toll is clear.
"It's a classic example where you want to offer people information so they can make an informed choice," says Smith. "The decision you make might cost you money."
Later this year Transport Focus will begin recruiting volunteers from Britain's 32m drivers to take part in surveys. The exact details of how this will work are still being decided, but it is likely that motorists who sign up will have their journeys monitored by a smartphone app that they will be invited to download. If they use roads on which feedback is needed, they will be asked to rate their journey. The results will determine whether Highways England is doing its job.
Smith says that forcing the highways authorities to justify every coned-off section of road would be likely to reduce the length of closures.
He says most drivers on motorways simply want to forget about their trip. "A good journey is one that you don't notice," he says. "It's the absence of disruption, hassle and concern that makes for a good journey."
---
Search for and buy your next car on driving.co.uk
---
Does he have what it takes to represent angry drivers? He is meek almost to the point of being apologetic about his Nissan people-carrier and reveals that his past rides were much racier. "My first car was a Triumph Vitesse," Smith says. "I got it for £100 in 1980. It was fantastic. It had an inline six, rear-wheel drive and it was enormous fun."
Smith admits he cycles or catches the train to his central London office each day. Can he really share the pain of commuters who face daily traffic jams as they struggle to reach work in their cars? Smith insists he can. "My pet hate has got to be seeing brake lights in the distance and the sinking feeling 'I could be here for hours'," he says.