Ford gets approval for hands-free driving on UK motorways
Drivers will still have to remain alert and 'eyes on'
Ford drivers will be able to take their hands off the wheel legally while driving following the approval of its BlueCruise technology for use on the UK's motorway network.
Initially available only on the electric Mustang Mach-E, BlueCruise uses numerous sensors to watch surrounding traffic, road markings and speed signs to steer, propel and brake the vehicle without the driver needing to touch the steering wheel or pedals.
BlueCruise can maintain lane position, keep a safe distance from other vehicles and even bring the car to a complete stop in traffic jams. The system will have functionality on 2,300 miles of motorways in England, Scotland and Wales that have already been pre-mapped. These are designated as Blue Zones.
It's not full self-driving, yet
While the BlueCruise technology can manage most motorway driving up to speeds of 80 miles per hour, the driver is still required to be "eyes on", and an infrared camera mounted below the instrument cluster continually monitors their face and eyes to ensure they're paying attention to what's happening on the road ahead.
This 'Level 2 plus' hands-free system still requires the driver to be alert and ready to take control at any moment. That means drivers won't be able to use their mobile, read a book, watch a movie or look away from the road while using BlueCruise.
For the Ford system to work, it must first detect and confirm that lane markings are visible and that conditions are suitable. Once activated, blue lighting cues and text displays signify that BlueCruise is functional.
If the car detects that the driver isn't paying attention it will display a warning message followed by an audible alert. Should the driver ignore those it will dab the brakes in case the driver is drowsy, and as a last resort it will safely bring the car to a halt, Ford says.
A similar series of interventions are required for the 'handover' when the car is leaving one of the Blue Zones.
Available on subscription
Existing owners of the 2023 model year Ford Mustang Mach-E can activate BlueCruise via a subscription. The first 90 days of use are included with the vehicle purchase to allow owners to experience it, and they can cancel at any time.
Beyond that period the subscription will cost £17.99 per month. Ford is also working on a possible software update to enable BlueCruise on Mustang Mach-E models built before 2023 with the Tech Pack or Tech Pack + option.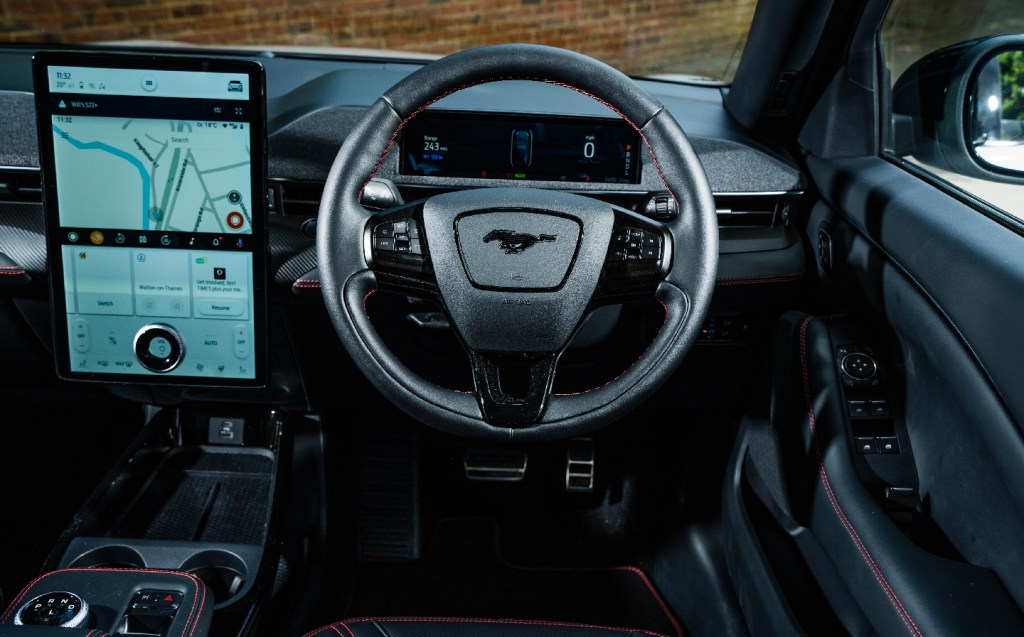 "Today marks a significant moment for our industry as Ford BlueCruise becomes the first hands-free driving system of its kind to receive approval for use in Great Britain," said Lisa Brankin, managing director Ford UK & Ireland.
"We have always strived to make technology accessible for our customers, and BlueCruise is this next step on this journey, making motorway driving a more comfortable experience."
Jesse Norman, UK Transport Minister, said: "It is great news that Ford has chosen us for the European launch of its BlueCruise technology, and I am delighted that this country is once more at the forefront of innovation.
"The latest advanced driver assistance systems make driving smoother and easier, but they can also help make roads safer by reducing scope for driver error."
To date, Ford engineers have covered 100,000 miles of testing on European roads to validate the BlueCruise technology prior to its introduction. That is in addition to more than 600,000 miles of testing in Canada and the United States.
Since introducing BlueCruise in those markets last year, drivers have covered more than 64 million miles of 'hands-free' driving.
Related articles
Latest articles