This real-life Grand Theft Auto parody is as hilarious as it is impressive
Grand Theft Barbers
OF COURSE, stealing cars for real is no laughing matter but if you've spent many hours doing just that in the virtual worlds of Vice City, Liberty City or San Andreas, you'll appreciate just how hilariously accurate is this real-life parody of the game series.
The owners of the Red Light Barbers in Kaunas, Lithuania, have set up a video account on YouTube and began creating viral videos about their techniques before branching out into parody videos at the end of last year.
The first (below) was inspired by the ability to visit a barber shop in the incredibly popular Grand Theft Auto game series, where you can dramatically alter the appearance of your character. As a way of raising the profile of their own barber shop, it was a smart idea.
---
Browse NEW or USED cars for sale
---
The video brilliantly captures some of the quirks of the game, including the awkward mannerisms during cut scenes and a laugh-out-loud moment when, after exiting a car, he mistakenly jumps on the spot.
The second, in the main film at the top of the page, involves holding up a burger joint but also includes a few more street-based activities, such as bike riding and even pulling an FBI officer out of his SUV before driving off in it.
There are the requisite awkward moments, too… this is perhaps our favourite: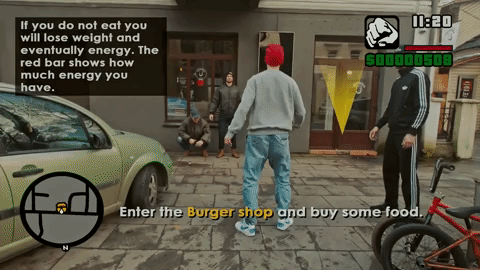 Here's some Grand Theft Auto V gameplay for comparison (warning: swear words included):
Red Light Barbers' latest video is a parody of another popular motoring franchise: the Pimp My Ride TV show. But, they're not pimpin' cars; they're pimpin' boyfriends.

Tweet to @ST_Driving Follow @ST_Driving
Video credit: Red Light Barbers via Storyful