Buying Guide: Pressure washer buying guide with the most popular models reviewed
Which performs best under pressure?
THERE IS a simple way to distinguish a true car-lover from the general motoring public: pick out the person who is lovingly hand-cleaning the car at the weekend rather than paying the chaps in the Asda car park to do it.
A recent survey, for the AA, suggested that many Brits are too posh to wash, when it comes to cleaning their car. Of over 19,000 drivers questioned, one third said they never rolled up their sleeves and washed their car, preferring to leave it to the local hand car wash or automatic wash at the nearest petrol station.
One reason behind this could simply be that it's hard work when it comes to busting grime.
---
Browse NEW or USED cars for sale on driving.co.uk
---
Sean Longworth-Smith of Ultimate Finish, a car detailing supplier, based near Brands Hatch, in Kent, says a pressure washer is the most important piece of equipment any driver could own if they're serious about caring for their car's paintwork.
"The power of the high pressure water is the only way to break dirt's bond with a car's paintwork before you wash it." Sean adds that a hose won't manage to properly shift dirt before washing a car – which means you'll just end up rubbing minute particles of grit and dirt all over the paintwork. That is why paintwork ends up covered in 'swirl marks' – minute scratches cut in the protective lacquer of the paintwork.
Happily, technology has made it easier to get a top quality DIY clean without applying quite so much elbow grease. The latest range of pressure washers are affordable, portable and powerful, and come with a variety of attachments that are specially designed for the art of cleaning your car.
Driving has reviewed some of the most popular pressure washers on the market, to help buyers sort the strongest performers from the weaker washers. And we'll continue to update this Buying Guide with more reviews, as and when new products hit the shelves.
Kärcher K2 Premium Home and Car Pressure Washer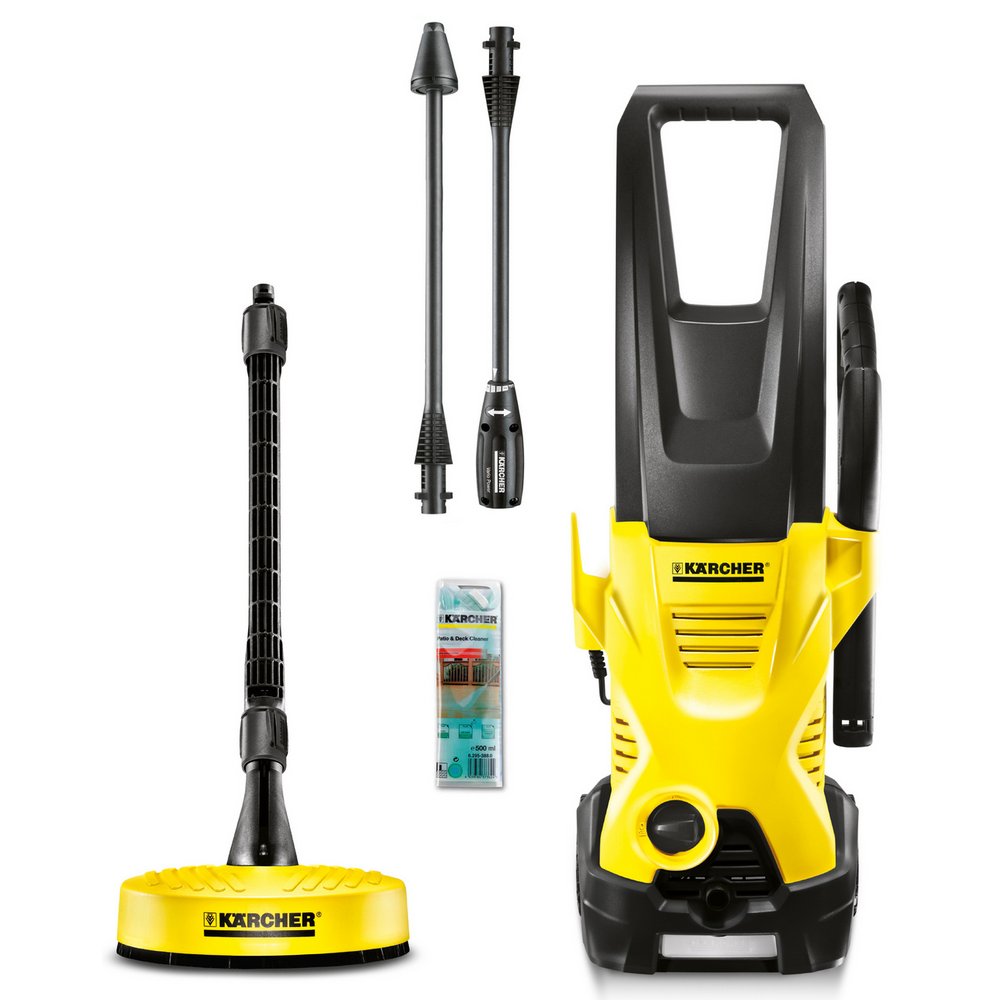 This 1400W Kärcher packs a hell of a punch for such a diminutive package. It's small, portable (it weighs just over 4kg) and very easy to assemble: simply clip on the plastic wheels, insert the handle, attach to an outdoor tap or water butt and away you go.
A water inlet filter means it's safe to use with run-off from the gutters, while the 6m hose makes reaching the tough spots easy. There's also a side storage section to store the plastic trigger gun when not in use.
Overall construction isn't the greatest, however, as some of the plastics feel a little flimsy. In fact, the handle on the model we tested came off a few times and the gun feels like it wouldn't withstand being dropped.
However, the 1400W motor pumps water through the lance at 360 litres per hour and at 110 bar pressure, so it's very easy to remove stubborn bits of dirt that often accumulate during these winter months.
Better still, the Home and Car package includes a soft brush, which clips to the trigger gun for deep scrubbing, as well as a 0.3-litre foam nozzle that can be used with a detergent formula to apply a thick layer of cleaning foam to the car.
Our routine involved a quick blast with the lance to remove the worst of the dirt, a solid covering of detergent with the foam nozzle, followed by a scrub all over with the soft brush. Finally, another clean with the high-pressure lance left the car shimmering and ready for a dry with the trusted chamois leather.
It's quick, easy and requires less effort than the old-fashioned bucket and sponge. The only qualm is the noise. That 1400W motor causes a racket, which neighbours didn't appreciate at 9am on a Sunday morning.
Bosch AQT 37-13 High Pressure Washer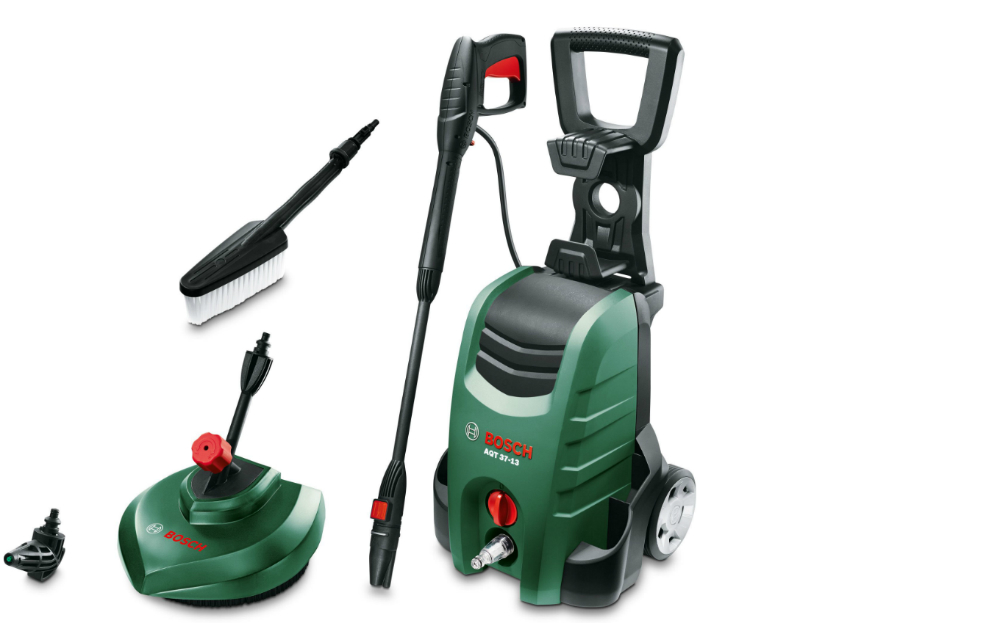 The Bosch model instantly feels like a sturdier unit, with the handle and wheels fashioned from chunkier plastic and the exterior casing built to withstand the occasional avalanche of old bikes or falling paint pots when the shed reaches bursting point.
The downside is the weight and at 9kg, it's twice as heavy as, say, the Kärcher (reviewed above) and can prove tricky to manoeuvre around the car, despite the free-rolling wheels and robust handle.
Said handle is also placed very low, meaning a bit of back work is required to lug this thing in and out of storage.
But customers won't be disappointed with the performance. The 1700W motor delivers a 370 litres per hour water flow at 130 bar, meaning even the toughest dirt is removed from paintwork with ease. The unit is compatible with any outdoor tap or water butt via a special connection and water filter that's included in the box.
Bosch also includes a clever 3-in-1 nozzle, which can be twisted to select a high-pressure fan for removing dried dirt, a rotary jet for scrubbing off soap or a low-pressure detergent delivery via a small pipe located at the back of the unit for creating thick suds.
Unfortunately, the really smart attachments are sold separately but it's worth considering the 90-degree high-pressure nozzle (£16.99) for easily cleaning wheel arches and under-body areas, as well as the soft brush nozzle (£9.99) if you want to get a top quality finish.
Regardless, the Bosch unit is definitely more robust than the Kärcher and its power delivery is awesome. The 1700W motor is also a lot quieter than the Kärcher, which pleased the neighbours greatly.
Vax Power Wash 3 Complete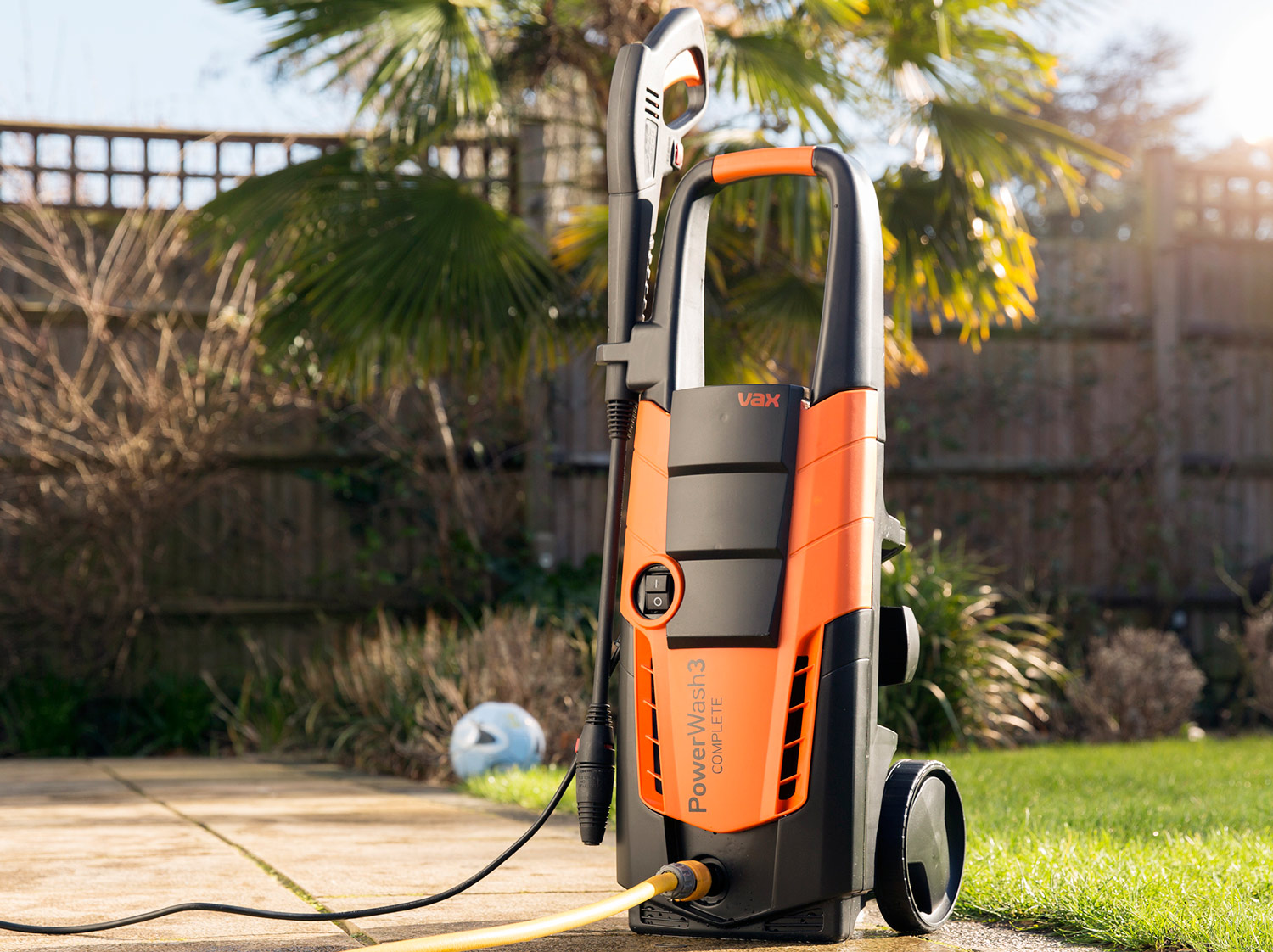 The Vax Power Wash 3 Complete lives up to its name. This is both an impressively powerful unit, with a 2500W motor that generates up to 180bar of pressure and a flow rate of 510l/hr, and it comes dressed for battle, with a wide range of accessories included.
There's an additional turbo nozzle, soap solution nozzle, a bag of soap concentrate that makes five litres (which lasts a good while), a patio brush and combined water jet head,car cleaning brush and an extension tube for the lance.
So, it's eye-candy on the shelf. And the price, £119.99 at the time of writing, is equally enticing. There's even a two-year warranty and free delivery, via Vax. So does it prove a sparking performer, as its specification suggests?
The instructions are some of the best we've encountered, with clear illustrations accompanied by intelligible text instructions. (Surprisingly, this is often not the case.) This makes it quick and easy to assemble, and all the parts are clearly labelled.
The motor is quiet, the unit is wieldy, and there's an impressive amount of power from distinctly styled orange and black box of tricks. Off to a flying start, then.
However, there are flaws that can't be overlooked. The regular lance nozzle lacks any adjustment. This makes it difficult to clean the chassis and under the inner edges of wheelarches, where gunk builds up over time, holding moisture and, ultimately, promoting rot of steel panels. It also makes it more time consuming to rinse down the bodywork.
Worse, the 10m pressure hose is forever getting itself in a tangle, like some sort of malcoordinated snake.
If Vax could address these relatively simple but fundamental issues, it would be on to a winner. As it is, in practice this isn't quite the complete package.
Hozelock Pico Power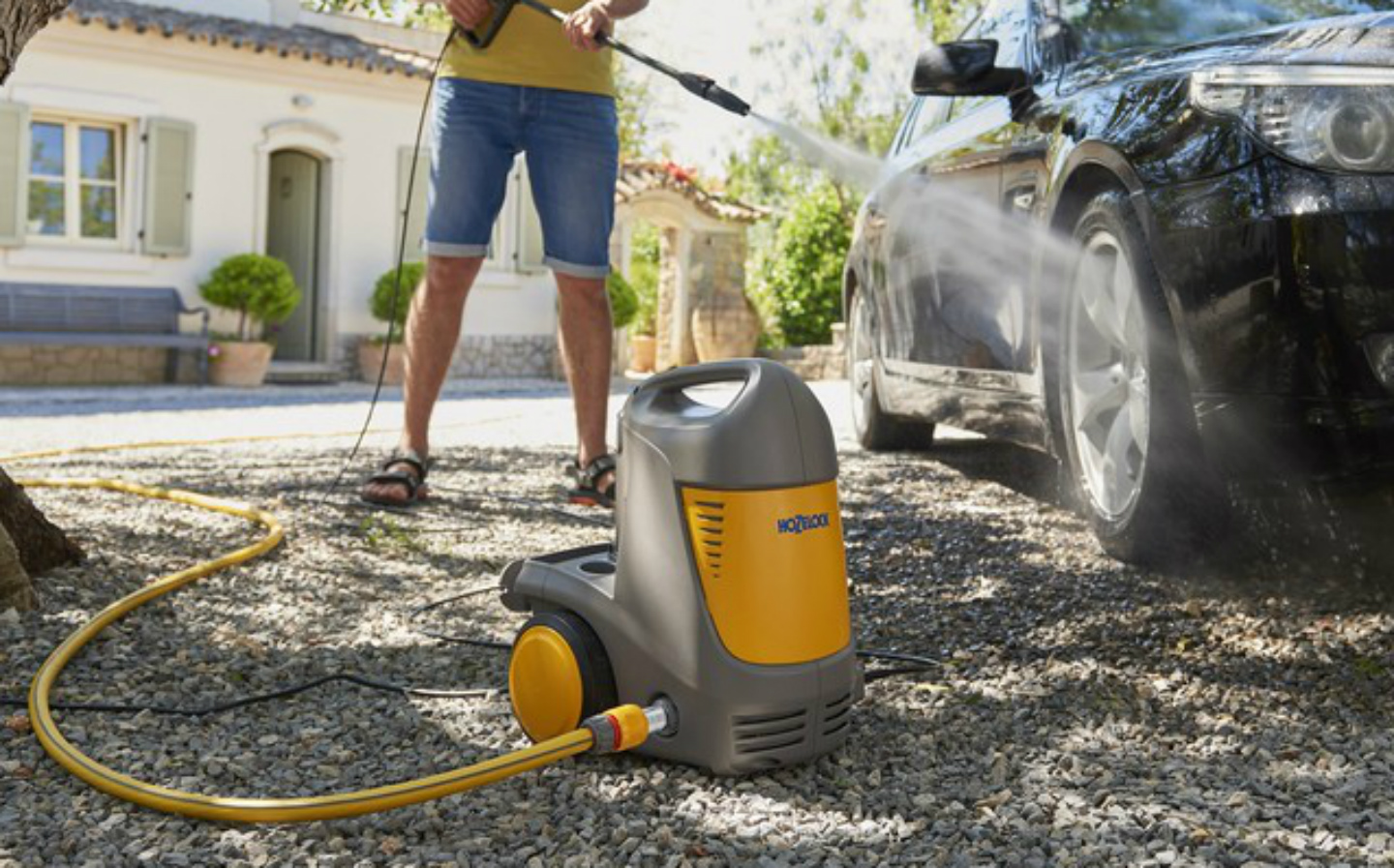 You've probably heard of Hozelock. The British company is best-known for producing hoses and accessories that keep green-fingered Brits busy in their gardens. Now it's digging in to new areas, including pressure washers.
The pint-size Pico Power comes frustratingly close to a four star review. In fact, it's ideal for those looking for a pressure washer that's easy to lift and move around and which won't take up much space in the shed or garage.
It costs £149.99, and weighs 7.2kg, which makes it one of the lightest pressure washers we've tested. Yet because its weight is low in the structure and it has a relatively square stance, it's surprisingly stable. We were also impressed by the length of the power and pressure washer lines – the latter being a thin, 6mm type which doesn't curl or tangle.
It's possible to pay more (£179.99) for a patio cleaning accessory, but we didn't test that. As it is, the price seems a little expensive when you look at the unit's water pressure and flow rate of 330l/hour, and so it proves when getting stuck in and cleaning a car. This feels like one of the least powerful in this group, but if you're just washing the car, it's more than up to the task, and is helped by having an adjustable lance.
The way that the Pico packs away is rather ingenious. It's obvious that a lot of thought has gone into keeping the unit as small and light as possible, as the lance doubles up as a handle when wheeling the Pico about and the hose accessories and shampoo dispenser have their own compartments. And it comes with a two year warranty. It's a good package for those after a small wonder.
Makita HW111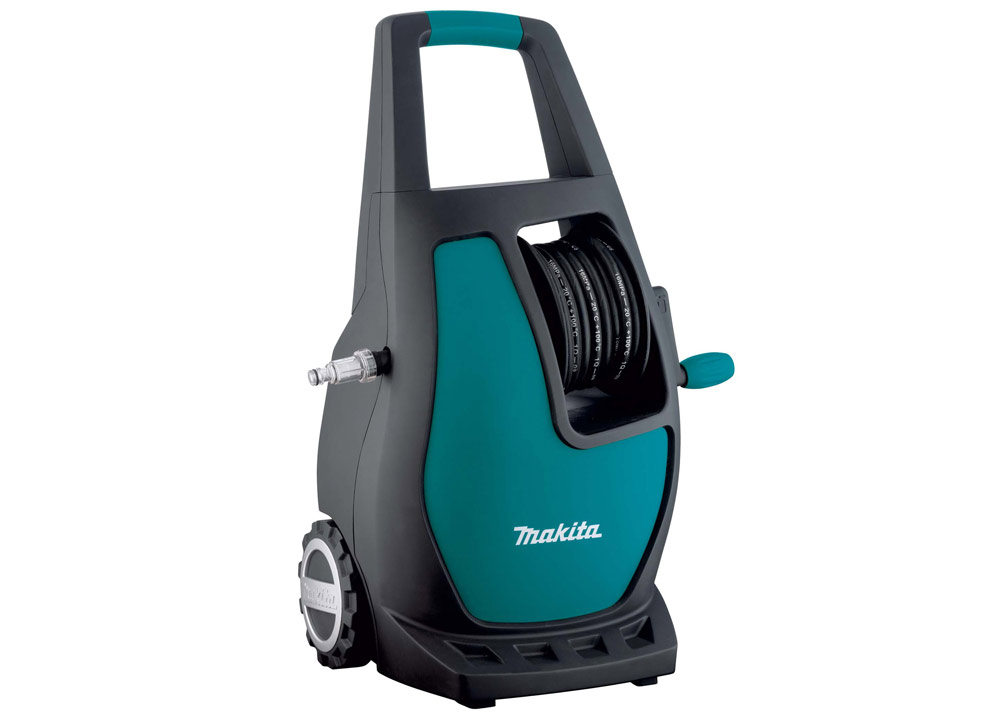 The Makita KW111 is an odd looking thing. It's short, stocky and green, and looks a bit like Yoda on wheels. Is the Force strong in this one?
The specification is par for the course in this company. It features a 1700W motor, which can muster 110bar of water pressure and a flow rate of 370l/hour. Compared to the Vax, Karcher and Bosch pressure washers reviewed here, the Makita is missing an obvious component which makes it less versatile: a patio cleaning unit. So that's a docked score before the box is even unpacked.
The instructions are poor. Makita should pick up a Vax manual to see how things should be done, and to make matters worse none of the attachments are labelled, so it's all a bit of a guessing game as you assemble the HW111.
From there, though, the Makita begins to claw back lost ground. It's quiet but competitively powerful, and because the mass is nice and low, it doesn't topple over as you move around. Also helping is a pressure hose which, conveniently, is reel-mounted and never coils itself into a knot, unlike the Vax's line.
The standard lance nozzle comes with a wide range of adjustment, making it realy easy to tackle wheelarches and under the chassis, and the attachments (a turbo nozzle, car brush and soap dispenser) all work well. It's just a shame that the patio cleaner is absent, given the price. Still, Makita does include a three-year warranty, and it's worth noting that we found it for sale with some retailers for under £120.
What it does, it does well. But in such a competitive market, buyers are looking for value and versatility as well as performance.
Draper 2200W Pressure Washer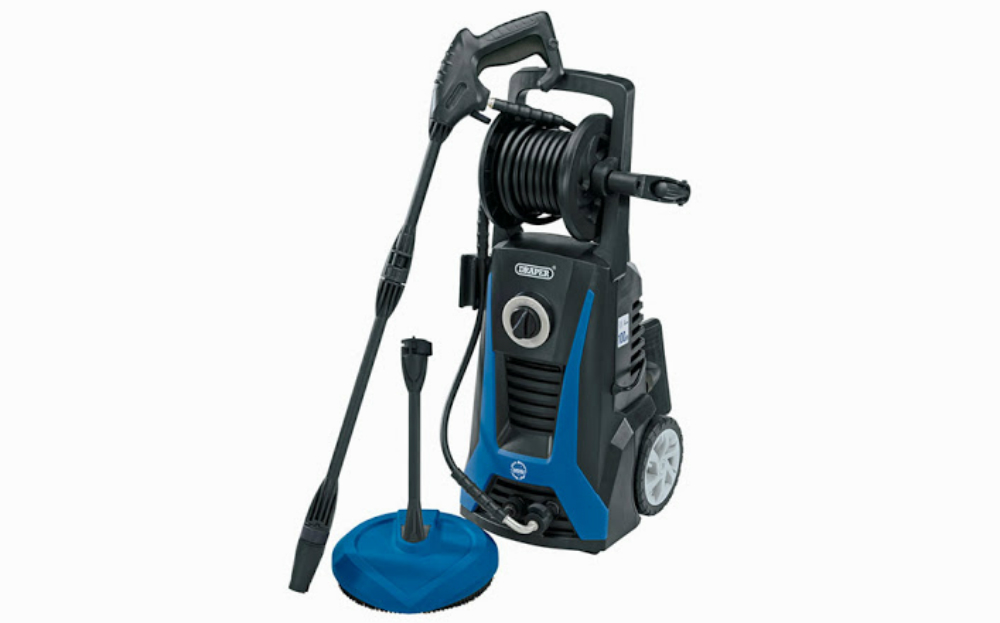 Draper Tools is a family business that first began when Bert Draper began flogging Government surplus and tools at the markets of Kingston Upon Thames, in 1919. From any hands-on, family business, you'd hope for a certain high level of attention to detail, and judged on first impressions, the Draper 2200W pressure washer delivers.
Its specification is competitive, as is the price (£144.95, at the time of writing). Included in the package are all the attachments you could ever wish for, with handy extras such as a 90 degree nozzle that is great for washing down the underside of cars or even cleaning out guttering.
Putting it all together is clear, thanks to easy instructions and clear labelling of all the parts. A feature that's appreciated is the 'hose wheel', which the pressure hose winds around and is turned using a fold-out handle.
However, it's a hefty unit, and prone to toppling over, and there are no instructions on how to operate the integrated soap dispenser. What's more, the Draper may have an adjustable nozzle, but the water power never quite feels like it's packing the punch its specification suggests it should.
So it's frustratingly close to scoring a four star performance. If you can overlook its minor faults, this should be near the top of your shopping list.
RAC HP221 2000W Pressure Washer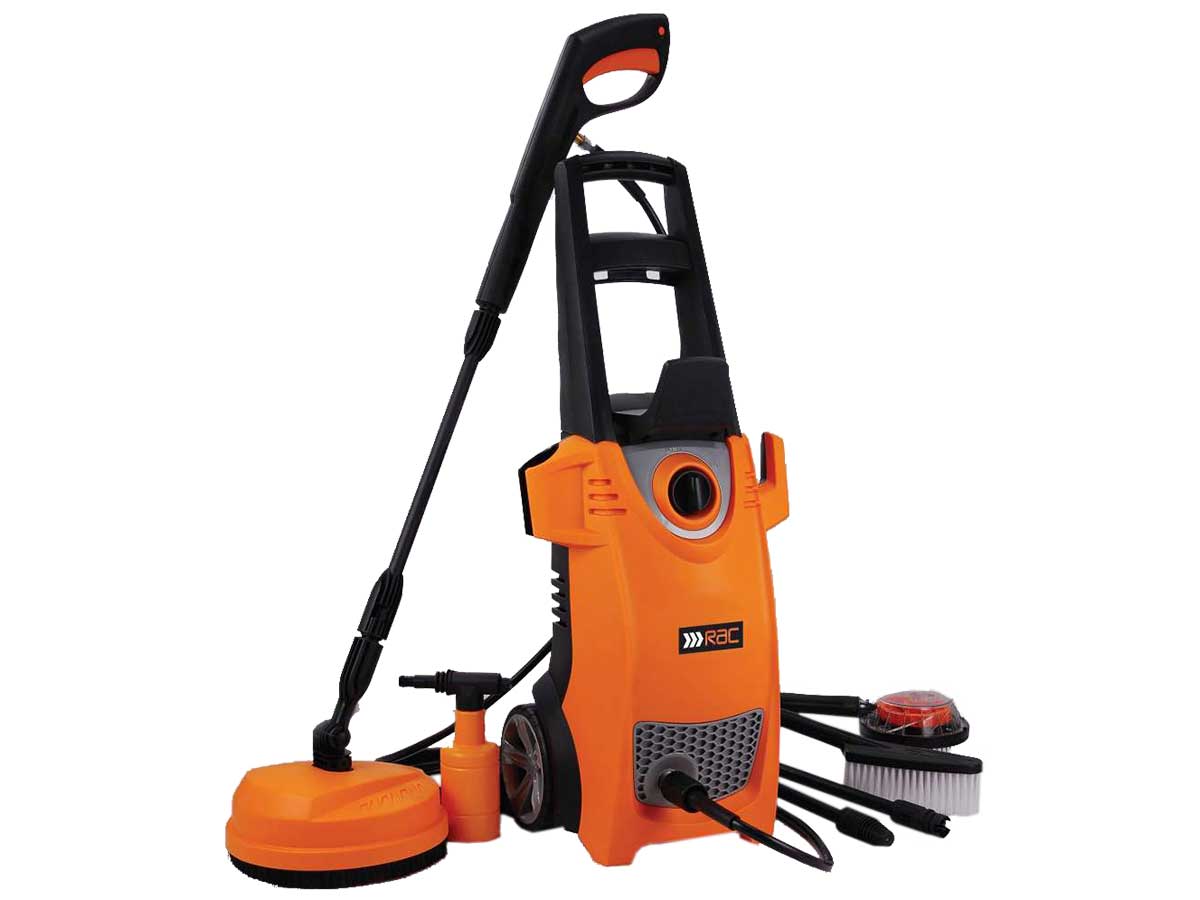 Not content with rescuing damsels in distress at the roadside, here comes the RAC, sailing to the rescue of drivers whose car paintwork is hidden under months, or possibly years, of accumulated dirt.
Its offering is the 2000W Pressure Washer – another imaginatively titled product to join the pressure washers available on the shelves of your local Halfords or the virtual shelves of the world wide web.
It gets off to a promising start. There are enough accessories included to have even the most stubborn man admit defeat and open the instruction manual to identify what does what.
In addition to the usual lance with an adjustable nozzle, there's rotary car cleaning brush, regular car cleaning brush, rotary patio cleaner, turbo lance and a soap dispensing adapter.
However, there are things missing, such as a lack of a winding wheel for the lance's hose and the bullet-proof build quality that you get with the best pressure washers. You also have to use a spanner to attach or remove the hose to the trigger gun; most simply clip into place.
It's prone to toppling over in use, as it's tall and narrow, but manoeuvrable thanks to wheels. It's also prone to setting off a distinctly unpleasant vibration through the handle – the only pressure washer tested here to do so.
The power and performance are there, as are the accessories, but there are too many annoying practical flaws that make it feel like the 2000W Pressure Washer is in danger of conking out on the hardshouler. As it is, the competitive price saves it from an even worse rating.
Clarke Power Washer JET 9000B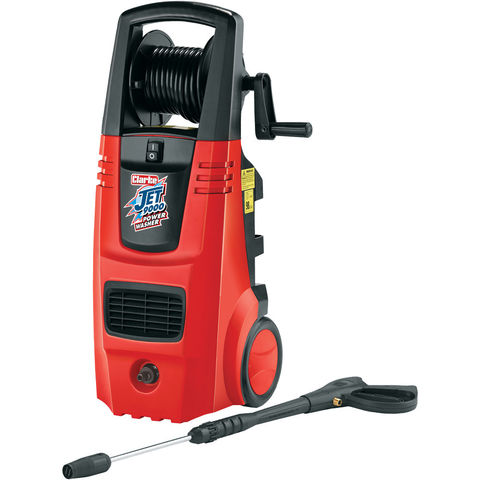 At Driving, we're not ones for red tape making things difficult for drivers, but on this occasion, the 9000B is badly in need of being covered in red tape, warning of the dangers of trying to lift it.
Weighing in at a frankly flabbergasting 23.6kg – around twice the typical pressure washer – removing it from the packaging is a back-breaking exercise. It's far from a lightweight, portable jet wash that's ideal for cleaning the car and paths or patios.
On the subject of paths and patios, Clarke includes nothing other than an adjustable lance and an integrated soap dispenser; a seven piece accessory kit is available, for £47.98, but considering the 9000B costs £191.98, that's a raw deal.
Still, the wide track and sheer bulk mean it's sturdy in use, and there's a wheel for winding in the high pressure hose. It's also not short of power, as you'd expect for a 2600W machine that can reach a peak of 200bar and fire water out at a rate of 7.75l/min.
But ultimately, the 9000B is so heavy, poorly equipped and expensive that we recommend buyers avoid it.