Buying Guide: In-car headrest DVD player reviews
Banish the "Are we nearly there yet?" blues
AT SOME point most parents will have to hit the road on a lengthy car journey. And, in all likelihood, it will be a form of four-wheeled torture. Infants scream, toddlers whinge, young children either get bored or pick a fight with their siblings, and adolescents soon start to resent being trapped in the family people carrier with their uncool parents for the best part of a day, when they could be hanging out with their mates back home.
For the adults? After 20 minutes of I-Spy or the 20th rendition of Row, Row, Row Your Boat, there aren't many places left to go for salvation.
Fortunately, in this digital media-saturated world, the solution is simple: in-car DVD players. Yes, DVDs won't be around forever (streaming is already here, of course, so you could can splash out on a tablet PC and a suitable mount for the headrest) but in-car DVD players are available for a comparative steal, you will no doubt already have a vast collection of discs to play and the quality is still good enough to keep the kids entertained for hour after hour.
And unlike streaming services from the likes of Netflix and Amazon, which depend on good mobile data signals, your DVDs will play wherever you are in the world (subject to jammy finger marks).
Nextbase Car 9D in-car DVD player review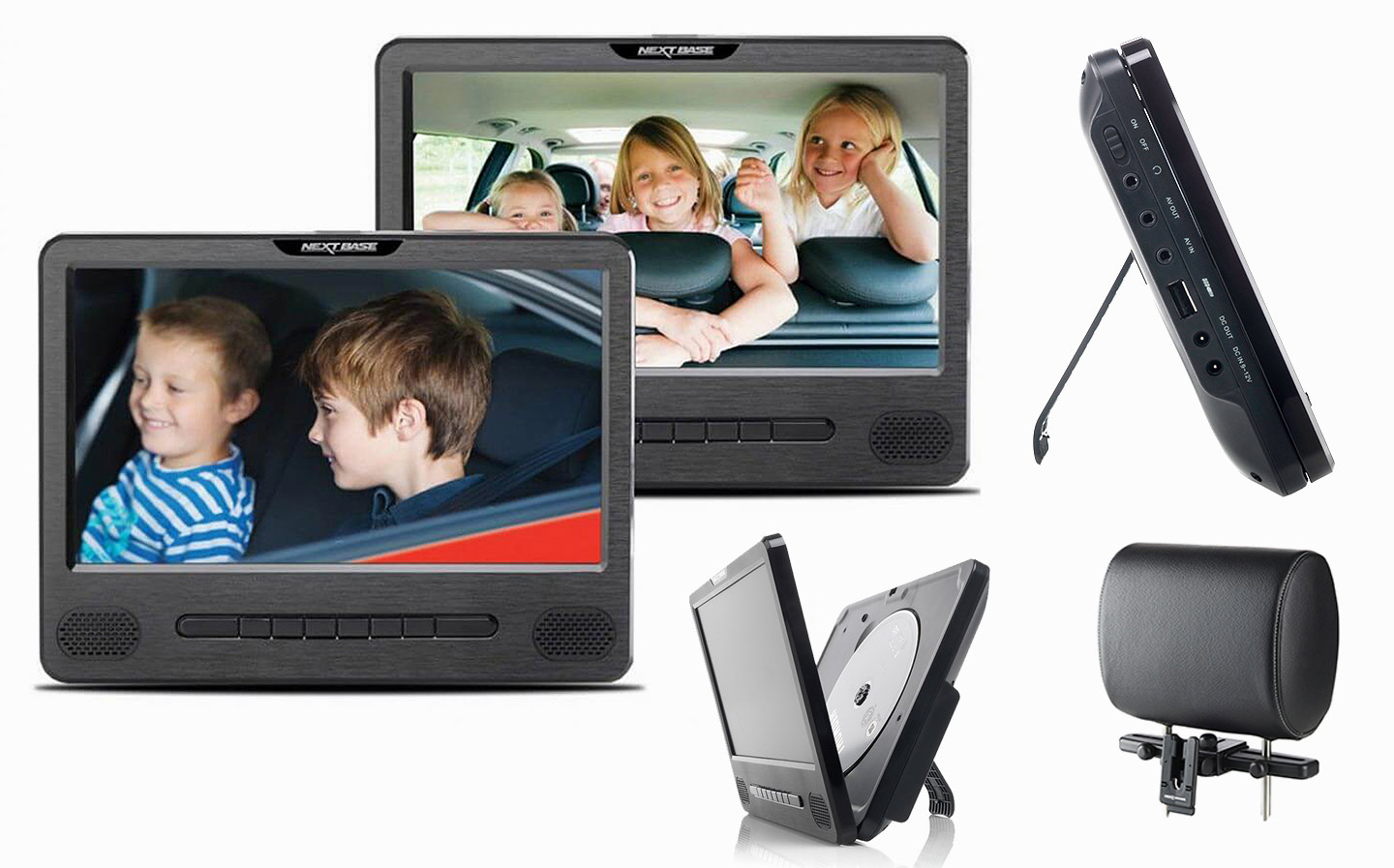 In 2015 we tested the Nextbase Car 7D and this version is very similar, except of course it has a larger, 9in screen. Nextbase didn't just stretch the picture, though: the image is higher resolution at 800 x 480 pixels, up from 480 x 234, which improves the playback quality despite the larger canvas. Of course, it's not high definition, but then DVDs don't play HD films, so there would be little point. The picture is crisp and bright, with rich colours.
In addition to DVD playback, the Nextbase comes with both a USB slot and an SD card slot (supporting up to 16Gb), allowing playback of video files in DivX, Xvid or MPEG4 format (as well as MP3 music files and JPEG picture files), which means those who've downloaded films to memory card will be able to watch them without carting around physical discs.
It comes with brackets that are virtually identical to the ones used by Voyager (below) that are simple to attached by hand (no tools required), and the screens slide onto the bracket and fix in place with a click. The design is marginally better, particularly when it comes to the controls on the unit itself, although differences are few.
Power is provided to one screen via a 12V cigarette lighter cable and a further cable can be run from the first screen to the second should you wish to show the same video across both screens. Our 19-month-old took to kicking the cable out of his screen (wrapping it tightly around the headrest mount resolved the issue) and the various cable make the rear of the car messy, though.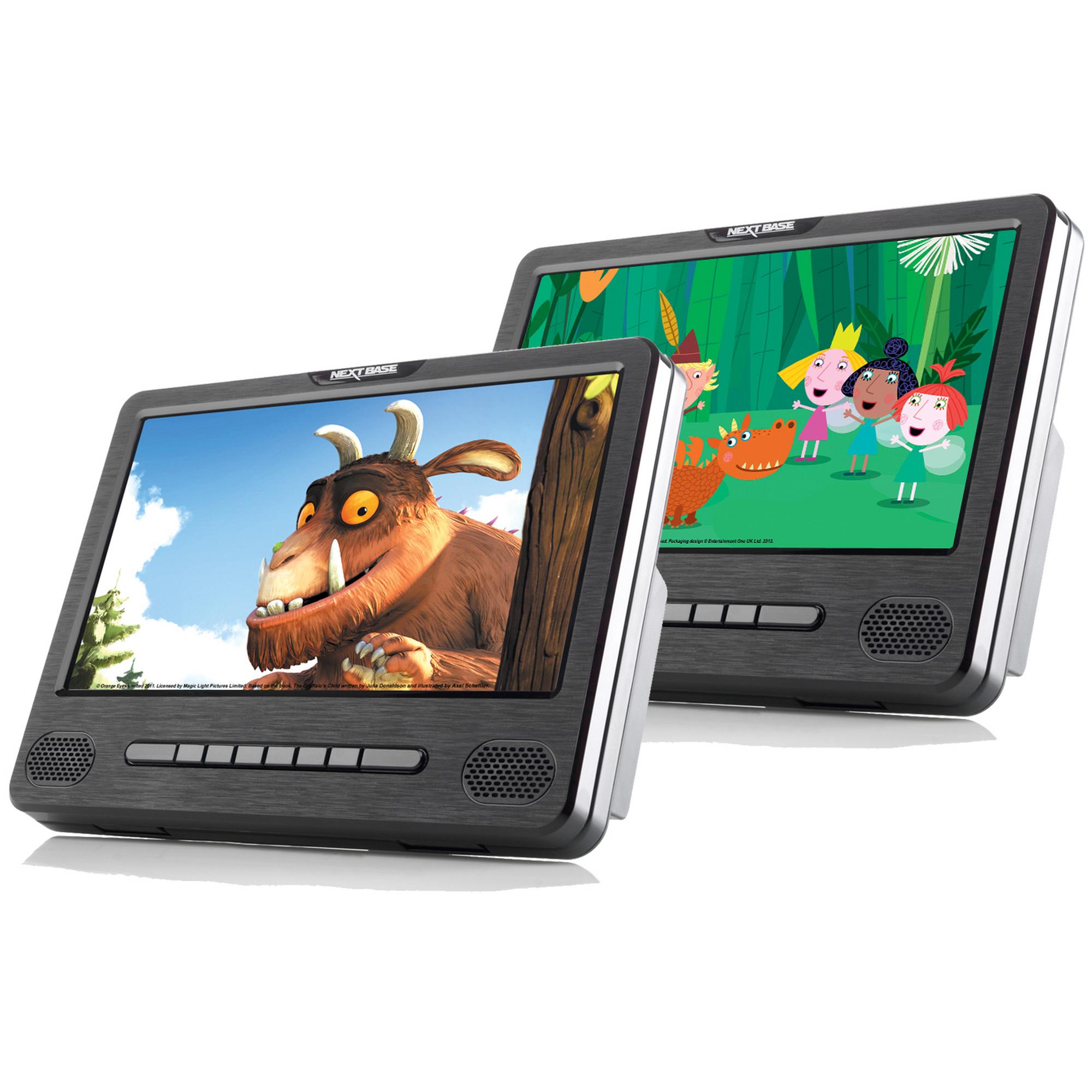 When leaving the car for an extended period you will need to unclip the players and take them with you (or hide them), which is a bit of a bore, especially given the various cables.
As with the Voyager, if your children demand different films or shows, which, again is quite likely if they're different ages, both screens open up from the top and can run separate DVDs instead.
A handy auto-resume feature means shows will pick up where they left off after a coffee or lunch stop en route to your destination, and each screen comes with a remote control. As with the 7D, we found it a little tricky to find a good angle to make it work by reaching behind the seat but persistence paid off and when operated from the rear seats there is no such issue.
The controls are identical so if parents are in charge of both, remembering which is for which screen is a little irritating; we'd have preferred one control for both screens. We also couldn't find a way of accessing the DVD menu using the buttons on the screens themselves, so losing the remotes is a bad idea.
Sound comes courtesy of the in-built stereo speakers, which were sufficient for our toddlers to hear their favourite shows, but it does mean the adults will have to endure endless episodes of In the Night Garden or Charlie and Lola. Arguably, that's a small price to pay for a happy child on a long drive, and there are 3.5mm jacks for when the children old enough to use headphones. The units support wireless headphones, too, but are supplied with basic earbuds.
We hear Nextbase is working on a new player, which may resolve many of the issues outlined above and should be more "future-proof", but if you can't wait the 9D is an excellent choice.
Voyager 7 PP Dual in-car portable DVD player review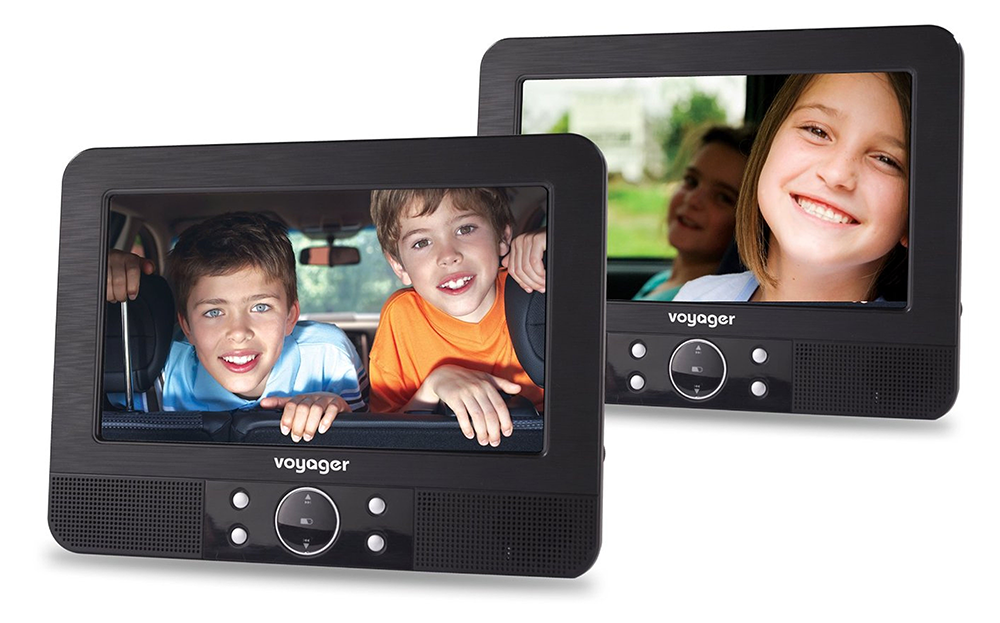 Take care when choosing your Voyager 7 in-car DVD player as the company sells a version that is capable of playing only a single movie across both screens (officially known as the Voyager 7 PM) or two different movies at the same time (the Voyager 7 PP), which is the version we tested here. While it's a little more expensive than the PM, it's the only type of player that makes sense for multiple children of different ages (try getting a 12-year-old to watch their younger sibling's Octonauts DVD and you'll understand why).
Similar in almost all respects to the Nextbase above, the Voyager 7 PP's main difference is the design, with a four controls positioned around a central ring that houses two buttons to the skip forwards/backwards or navigate up/down in the menus. It's a little less intuitive than the Nextbase — we found ourselves pressing the stop button when we were trying to lower the volume, for example.
Mounting doesn't require tools and is quick to set up. Again, power comes via a 12V cigarette lighter cable and a further cable can be run from the first screen to the second should you wish to set up two screens. The hardest part is keeping the cables tidy.
Picture quality is 480 x 234 pixels, so acceptable rather than first rate and no worse than the others we tested. Again, this unit includes an auto resume function so your children can pick up from where they left off after breaks in the journey.
The in-built speakers are decent for children too small to wear headphones, but for larger children there are earbud headphones included in the box, along with the ability to connect wireless headphones (sold separately). As well as DVDs, USB and SD card slots are included and the players support CD, CD-R/RW, DVD+/-R and DVD+/-RW disc formats, and MP3 and JPEG file formats. Each screen has its own remote control, too.
Philips 9in portable DVD Player (model PD9030) review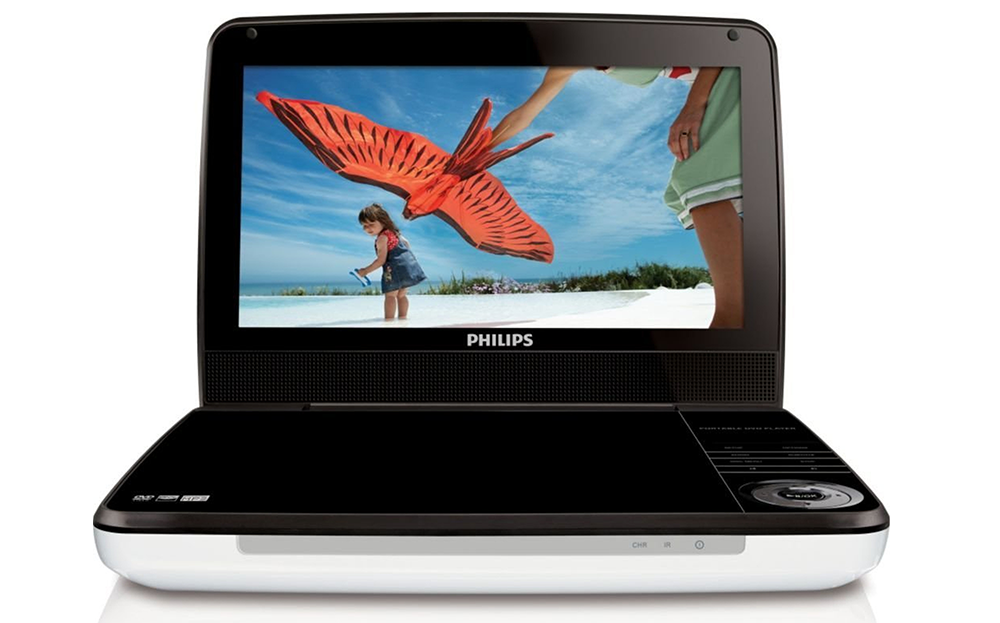 At first glance it seems like an odd solution to dangle a single, portable DVD player from the back of your car seat but the major advantages soon become apparent: the built-in battery makes the unit a little heavier than one of the Voyager screens but it allows for up to five hours of battery life when unplugged (it comes with a three-pin plug charger for use at home and a 12V cigarette lighter cable for use in the car). Actual battery life will be more like three hours, so enough for your child to finish watching their film or Peppa Pig marathon from the comfort of your holiday villa after arrival.
The screen unclips from the headrest mount, which has to be fixed in place with the use of the four screws provided and a screwdriver, which is less convenient than the other two models we tested, both of which can be installed without the use of a screwdriver, meaning you can detach the mounts at any time by hand.
The picture quality is not great by modern standards — the 640 x 220 pixel display is on paper superior to the two other models tested but its larger screen means it also has clear pixellation that would be considered unacceptable on a tablet or mobile phone screen. Having said that, it's perfectly watchable, the blacks are deep and the playback is smooth. The 9in screen is also fairly large for a car-based player.
The LED power light is quite bright when driving at night in a dark car but it does at least point downwards when mounted to a headrest, and so doesn't shine in the viewer's face or distract the driver.
Volume and playback controls are easy to adjust on the unit itself or with the remote control, while the Philips comes with a USB port for viewing of DivX or VOB video files, MP3 music files or JPEG images.
There's a single headphone port, so if you want two children to share they will either need to play audio through the in-built speakers or you'll need to buy a splitter separately. There is an AV Out port for connecting the player to a TV, there is no option to connect it to another portable player so that two children can watch the same movie — you'll need two players and two DVDs.