Seven-seat family cars tested by mum to keep everyone happy
Silence the back-seat squabbles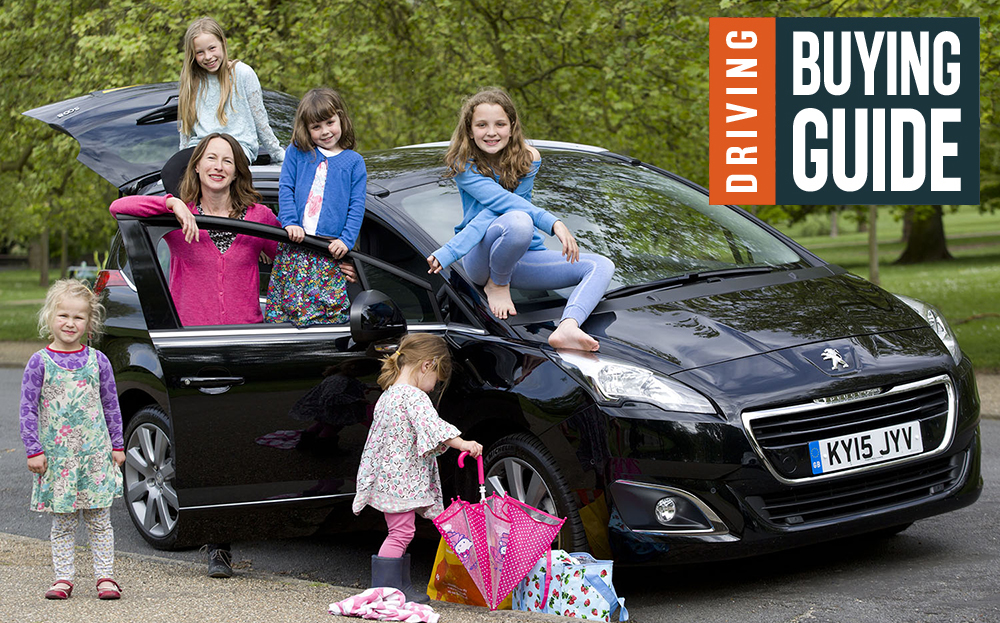 THERE WAS a horribly empty space where I'd parked my Fiat 500 the night before. The police who came to investigate the theft were kind, but it wasn't long before they told me there was not much more they could do. And so it was that the car thieves achieved something that my friends and family could not, despite hints, nudges and logical argument. They forced me to admit it was time to buy a bigger car.
---
Want to buy any of the cars on this page? Search for a new or used version on driving.co.uk
---
Had my beloved Fiat not been stolen, I would probably have carried on squeezing three children, their scooters, bags, toys, pushchair and all the food shopping into it for a while longer. It was stylish, fun, cheeky. It was girl-about-town. It had racing stripes! And my husband had become used to having to catch the train, meeting us at our destination. Quite possibly he preferred this arrangement.
But now I had to concede it would be silly not to upgrade to something more appropriate. Something roomier. And that would mean seven seats rather than five. Because as well as my own pesky kids, there are other people's offspring wanting lifts: lifts to Brownies, lifts home, lifts to the seaside. No, you can't eat your ice-cream in the car.
The thought of a bog-standard people carrier, however, filled me with a dull ache. Was this what my life had come to? Hell, I might as well have got one of those "Mum's taxi" car stickers. Nope, the new car would have to have attitude as well as attention to kiddie-friendly detail; personality as much as practicality. And with that in mind I set out to test seven seven-seaters.
---
And if you need nine seats …
---
Kia Carens
£17,295-£25,655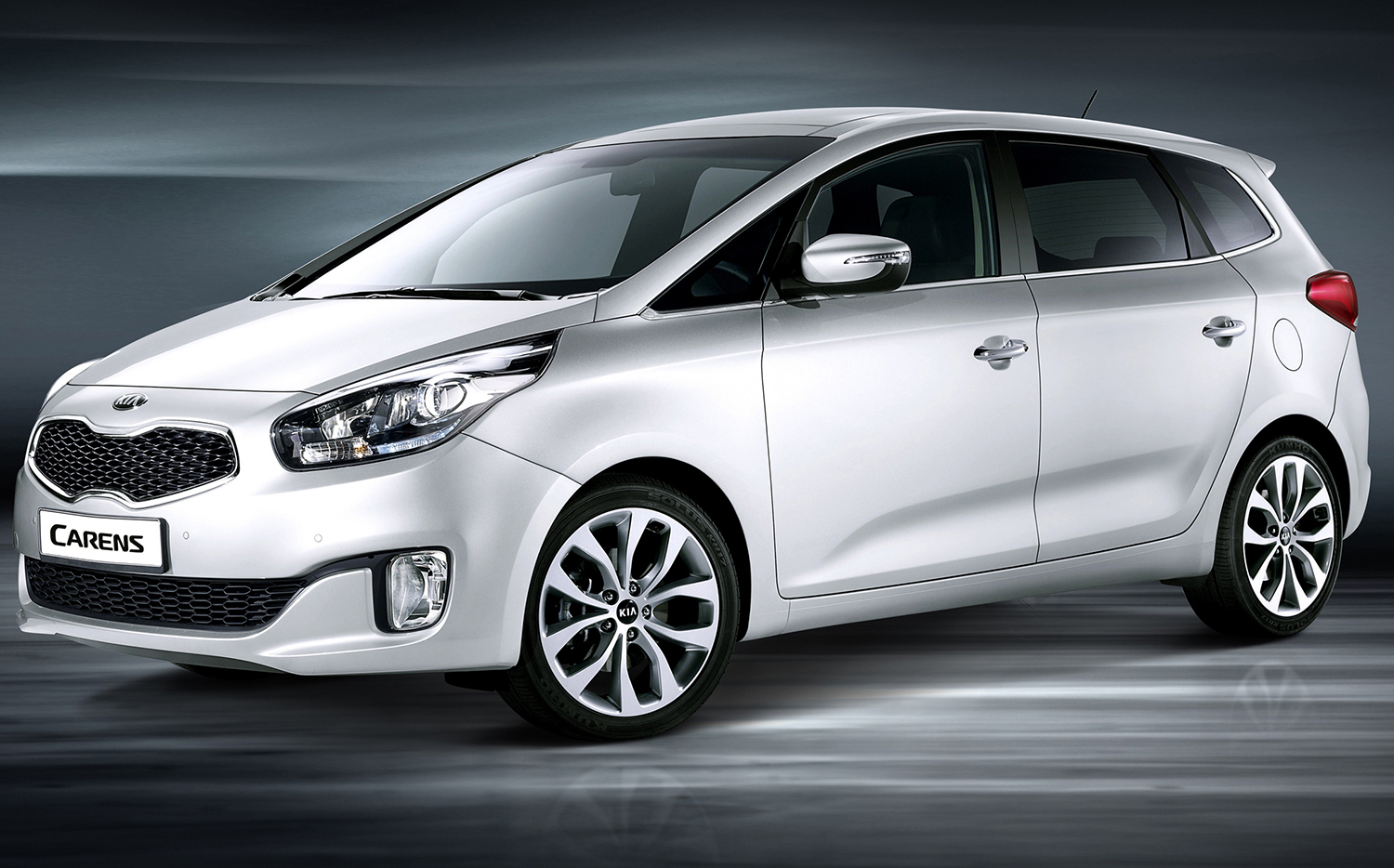 Devoid as it was of flashy design features, the Kia did not scream for attention — my fellow road-users ignored it. Instead, like a cheap and cheerful nanny, it got on with things without making a fuss. There were plenty of decent mum-friendly touches: loads of storage cubbyholes and a neat overhead mirror you could flip down to keep an eye on passengers in the back. The children loved having fold-down tables with cupholders, though they got cross when they couldn't break them.
The rear-most seats weren't very big (even the 10-year-old looked a little cramped in the back) and they were directly over the wheels, so every speed bump could be felt. With the rearmost seats in position, the boot space was not huge; with them folded, though, there was plenty of room for all your paraphernalia plus a weekly shop.
Kia hopes that the Carens (relaunched in 2013) will do for the MPV what its Sportage does for the SUV: offer drivers premium design on a budget. It is certainly cheap, but it doesn't manage to stand out from the crowd.
All in all, it was fine, if not terribly exciting. Special mention for the good acceleration and manoeuvrability, which made driving it akin to driving a surprisingly nippy tank.
Yummy mummy factor 6/10
Totally dependable; not much fun.
The one we tested
Kia Carens 1.7 CRDi specifications
Price: £19,590
Engine: 1,685cc four-cylinder
Power: 134bhp @ 4,000rpm
Torque:  244lb ft @ 2,000rpm
Transmission: Six-speed manual
Performance: 0-60: 12.6sec
Top speed: 112mph
Fuel/CO2: 56.4mpg; 132g/km
---
Browse the used Kia Carens for sale on Driving.co.uk
---
Renault Grand Scenic
£20,590-£23,715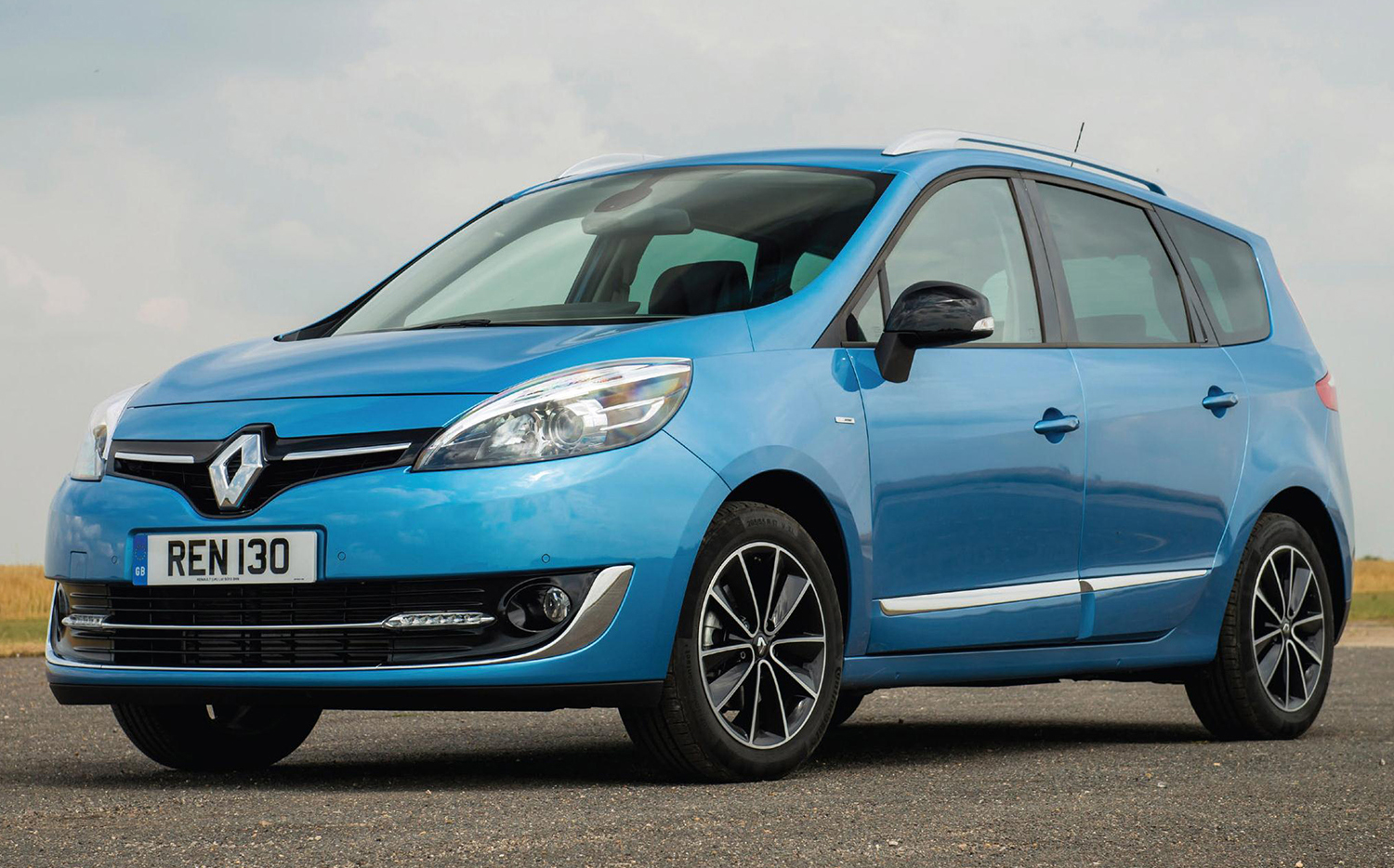 Almost worth buying for the name alone, with its promise of dazzling foreign holidays — you imagine yourself and your family cruising along the Riviera, children gasping at the turquoise sea and holding hands as they sing French nursery rhymes in tune and with impeccable accents.
But sadly we are in a traffic jam in London with the children complaining about the tiny amount of legroom in the rearmost seats compared with that in the middle row. After a while we figure out that you can move the middle row forward (and also recline the seats) but this just causes more problems, with the children playing crush the rear-seat passenger. Unlike some other cars tested, the middle seats don't fold flat (you have to take them out of the car, a procedure I avoided.)
I'm guessing a tall man did the driver ergonomics — the stretch involved when changing gear soon irks. Also the glove compartment is tiny and compared with the Carens there are too few cubbyholes.
One other word of warning: when I tried to unload the shopping from the back, the boot door opened towards me to such an extent that I had to take evasive action and came close to falling across my neighbour's car bonnet.
Yes it looks (and sounds) nice, in that French way, but it is not the best.
Yummy mummy factor 5/10
Decent but dull, possibly a clothing catalogue model.
 The one we tested
Renault Grand Scenic Dynamique Nav dCi 130 specifications
Price: £23,715
Engine: 1,598cc, four cylinder
Power: 130bhp @4,000rpm
Torque: 236lb ft @1,750rpm
Transmission: Six-speed manual
Performance: 0-62 11.1sec; 121mph
Fuel/CO2: 64.2mpg/114g/km
---
Browse the used Renault Grand Scenics for sale on Driving.co.uk
---
Land Rover Discovery Sport
£32,395-£41,195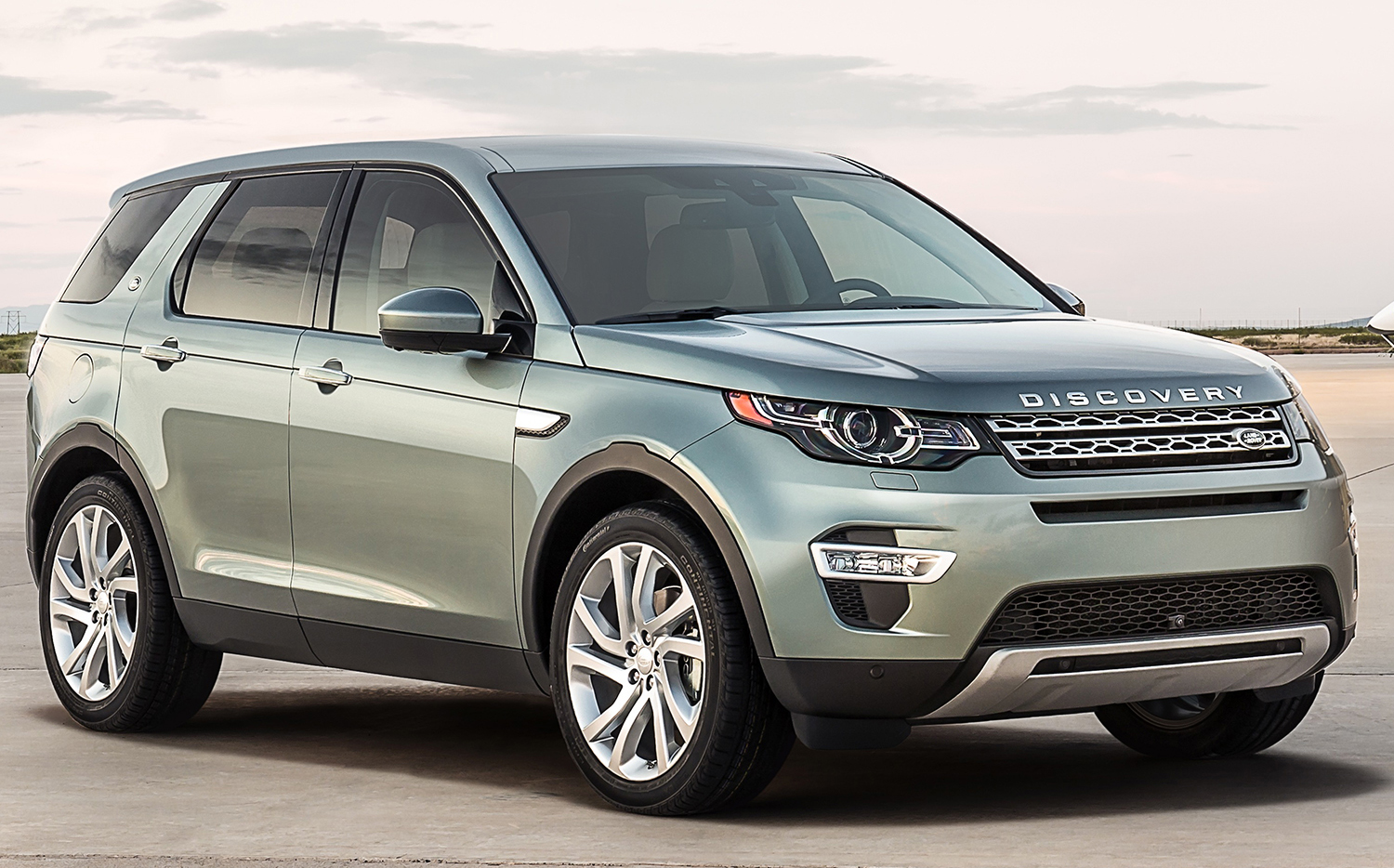 Quality, full stop: the grained leather seats; the view — you are in a penthouse on wheels.
This is an expensive car that makes you feel expensive, certain you're behind the wheel of a superior and utterly solid beast. Fellow Land Rover drivers nod their approval. You do not need to impress anyone because you are already impressive, not to mention enjoying superb lumbar support. Small changes to your daily habits occur — I bypassed my usual Tesco without a thought and found myself buying venison steaks in M&S.
The Discovery's features included climate control for the third row of seats and two USB ports in the second row, so at least two children can be content in their own little screen bubbles while parents retain the power to blast them with cold air-con should they dare to find something to complain about.
Yummy mummy factor 10/10
Out of my league but anyone can dream.
The one we tested
Land Rover Discovery Sport 2.2 SD4 SE Tech specifications
Price: £33,895
Engine: 2,179cc, four cylinders
Power: 187bhp @ 1750rpm
Torque: 310lb ft @1750rpm
Transmission: Six-speed manual
Performance: 0-60mph 9.8sec
Top speed: 117mph
Fuel/CO2: 46mpg; 162g/km
---
Browse for a used Land Rover Discovery for sale on Driving.co.uk
---
Nissan X-Trail
£23,195-£32,345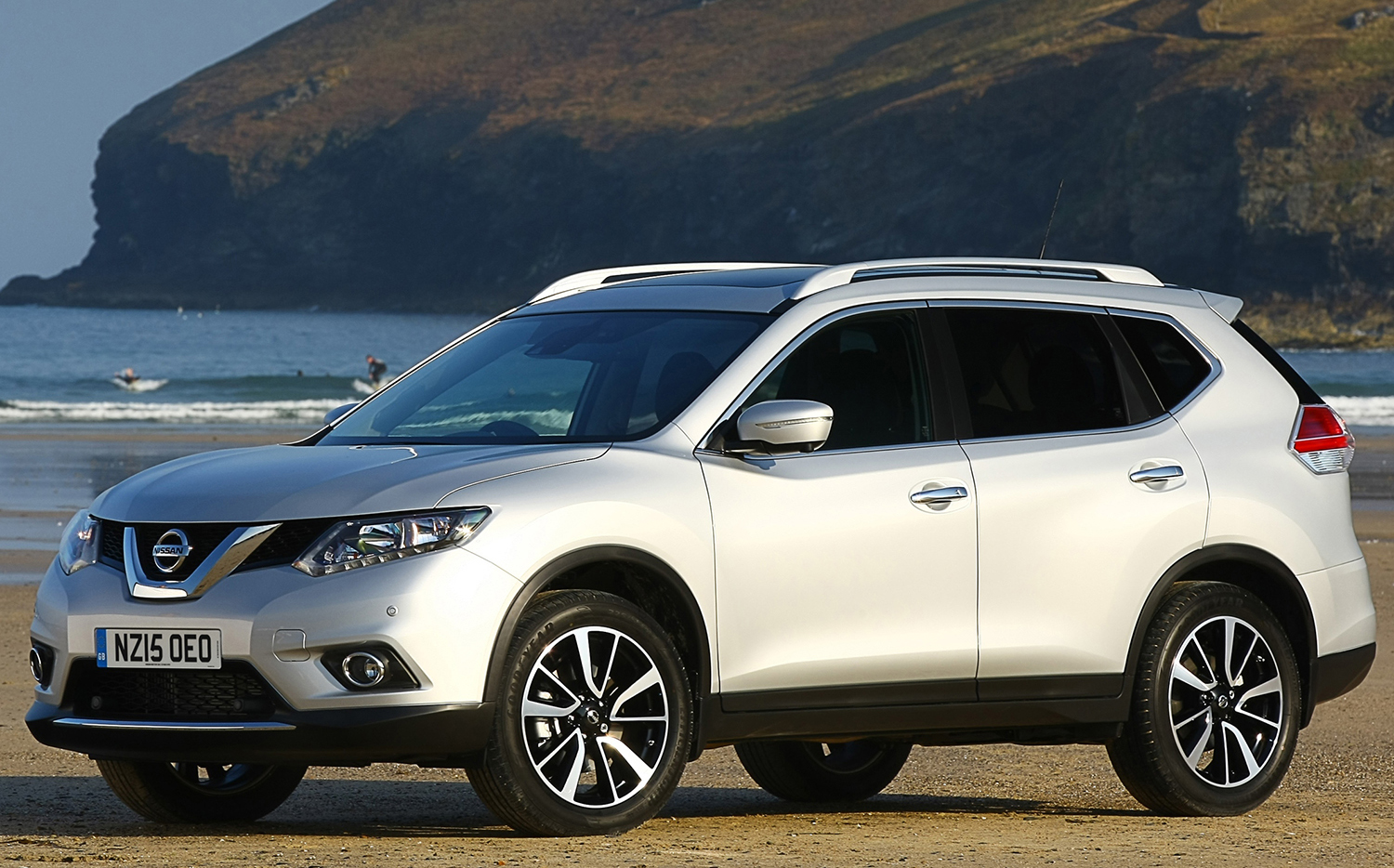 Like the Land Rover, this is a proper 4×4, a Chelsea tractor. And like the Landie it is more expensive than the MPVs I tested. But does the road presence and high-up driving position alone make it a suitable family car?
I am not so sure. In the area of London where I live the Nissan simply felt too big to manoeuvre properly, let alone squeeze into one of the rare-as-unpolluted-air parking spaces. Its sheer bulk makes it alarming to drive on narrow city streets, meaning it managed the strange trick of making MPVs such as the Peugeot 5008, often accused of being terrible to drive, feel nimble in comparison.
Things were different out of town. I took it up to the Suffolk coast and it was a joy to drive on the open road. I felt properly countryfied in a workhorse 4×4 rather than a suburban MPV.
The dashboard is a little confusing, with tiny buttons you have to take your eyes off the road to operate, and while the children in the middle row had plenty of space, the two seats at the back are really suitable only for small children on short trips. And with them in use, there is virtually no space for buckets, spades and beach towels.
Yummy mummy factor 6/10
Maybe one for young farmers with no more than two children.
The one we tested
Nissan X-Trail Acenta specifications
Price: £25,795
Engine: 1598cc, four cylinder
Power:  128bhp @ 4,000
Torque: 236lb ft  @1750rpm
Transmission: Six-speed manual
Performance: 0-62 10.5sec
Top speed: 117mph
Fuel/CO2: 57.6mpg/ 129g/km
---
Browse the used Nissan X-Trails for sale on Driving.co.uk
---
Peugeot 5008
£21,995-£26,095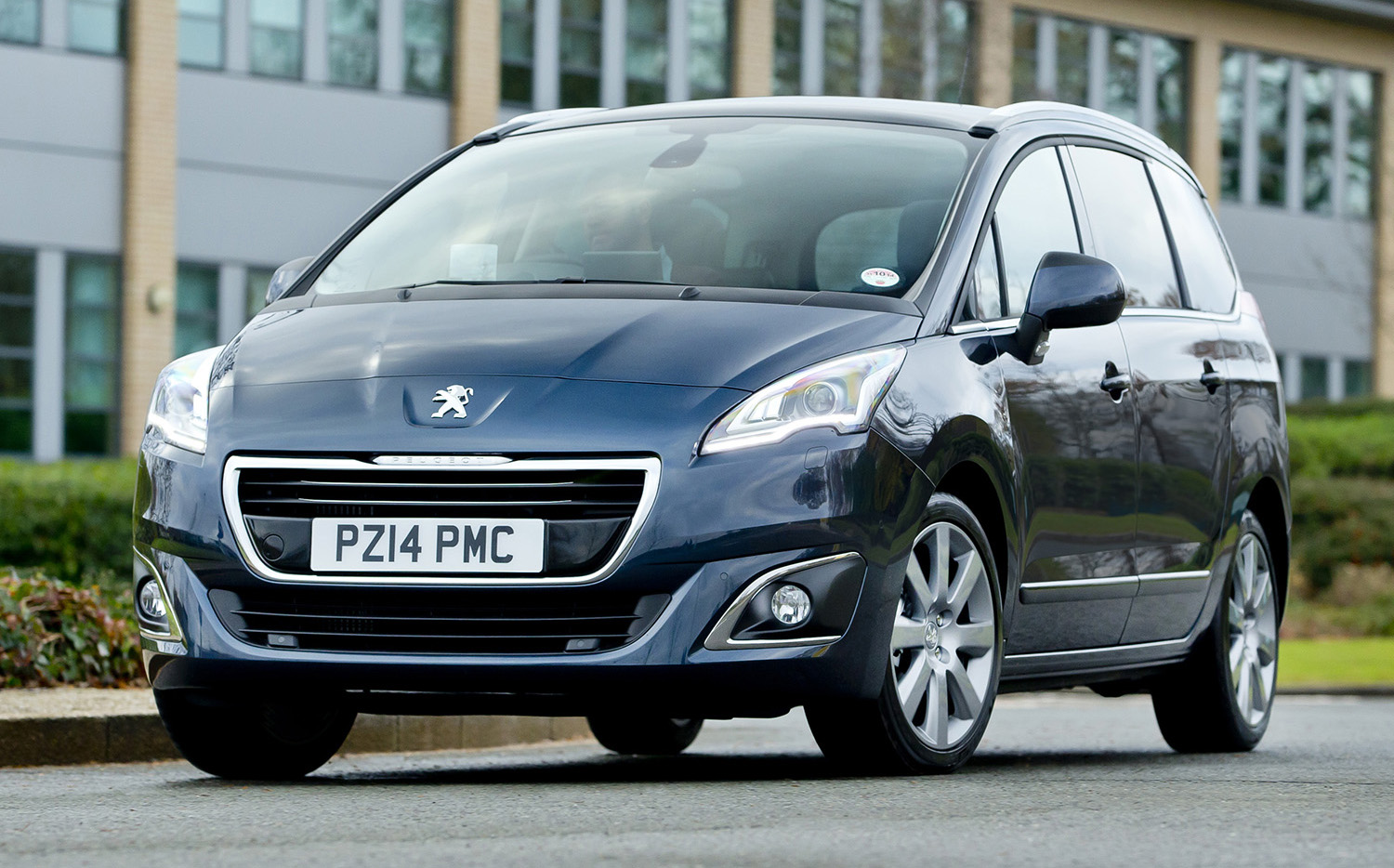 My favourite of the MPVs (multi-purpose? Isn't there just one purpose: getting you and the children from A to B without crashing because of the squabbling in the back). The seat is positioned rather high, which is great for visibility but meant I bumped my head on the door rim getting in and out until I got used to it.
The interior is roomy enough without being vast, avoiding the minibus feel, and the overall look of the car is pleasantly un-mumsy. The mechanism whereby you pull the sixth and seventh seats into place is a joy to use — smooth and easy. I did it several times, just because I could.
Just one beef: the enormously distracting speedometer, which is an illuminated floating thing, projected, head-up style, on the windscreen. Otherwise the styling is great — understated but evident.
Yummy mummy factor 7/10
Responsible, yes — but still in the game.
The one we tested
Peugeot 5008 1.6 BlueHDi 120 Access specifications
Price: £21,395
Engine: 1560cc, four cylinders
Power: 120bhp @3500rpm
Torque: 221 lb ft @ 1750rpm
Transmission: Six-speed manual
Performance: 0-60mph 13.7sec
Top speed: 114mph
Fuel/CO2: 67.3mpg / 109g/km
---
Browse the used Peugeot 5008s for sale on Driving.co.uk
---
Citroen Grand C4 Picasso
£19,460-£28,110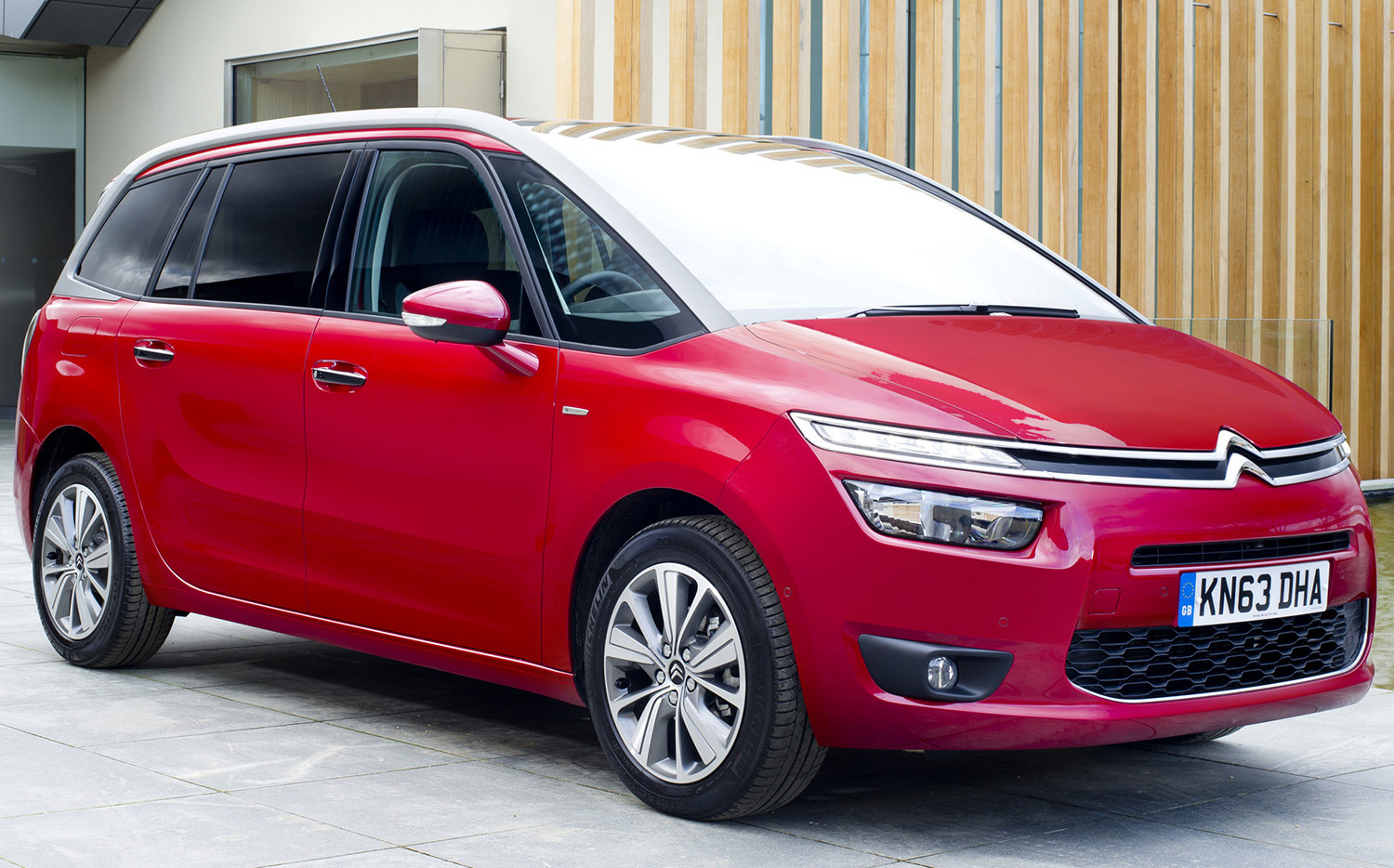 A surprisingly quiet ride, and the future is always bright thanks to the huge sunroof. The steering seemed oddly light but otherwise there was nothing wrong with this machine. It's useful. It's big. I really wanted to love it, but something about the spaciousness left me feeling like Jonah inside the whale.
A big plus point was that the middle row properly accommodated three child safety seats, which is rare — often only two seats fit properly and the older child is squished between them, grumbling. So you can comfortably transport the whole family, and because this is such an important element of the overall driving experience — which, with children, is less about the driving and more about minimising passenger tensions — I'd probably buy one.
Yummy mummy factor 7/10
Not the most glamorous but comes through every time.
The one we tested
Citroen Grand C4 Picasso  Exclusive BlueHDi 150
Price: £25,710
Engine: 1997cc, four cyclinders
Power: 148bhp @4000
Torque: 272lb ft  @ 2000
Transmission: Six-speed auto
Performance: 0-60mph: 10.2sec
Top speed: 128mph
Fuel/CO2: 62.8mpg / 117g/km
---
 Browse the used Citroen Grand C4 Picassos for sale on Driving.co.uk
---
Tesla Model S
£52,680-£79,080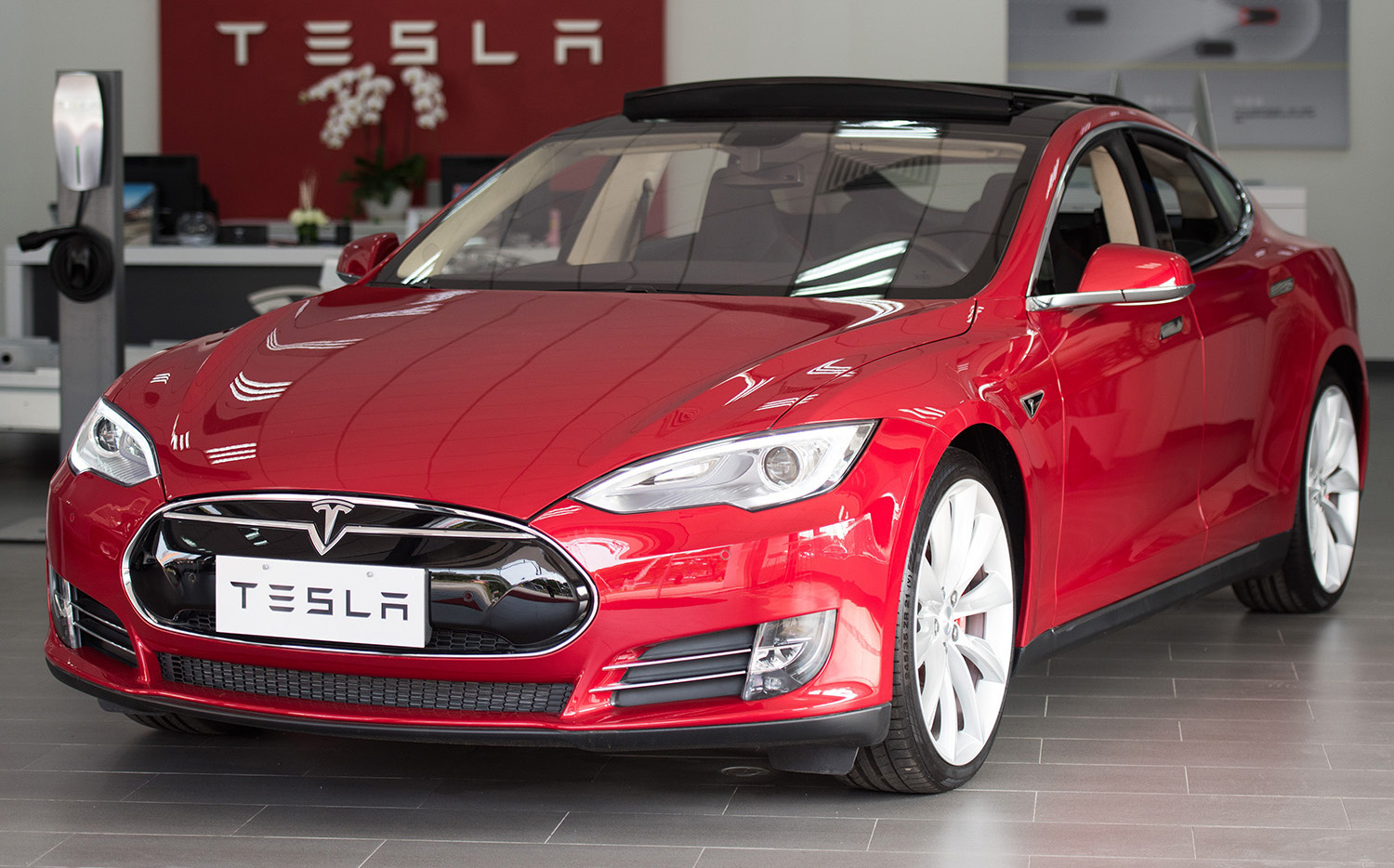 This is the wild card entry. A space-age electric sports car that also offers seven seats, it is exciting beyond belief to small and big children alike. Being electric, it's also virtually silent, like a stealth vehicle in which to prowl your neighbourhood, perhaps taking out cartoon criminals as you go. Young men throw admiring glances, some even stop and stare.
The children are wowed instantly by an all-singing, all-dancing gadget — the enormous touchscreen that does the job of the dashboard. Open the sunroof, you say? Sure, I'll just move my finger down the picture like this and ta-da! It's open. Fingerprints make the screen hard to read when the sun shines on it, but this is a minor quibble.
You adjust surprisingly fast to odd features such as the fact that there's no gearlever, no handbrake, no engine under the bonnet . . . just more space for the shopping you've done while the Tesla was charging. The tweenager and her friend enjoyed waving at people from the rear-facing sixth and seventh seats although they were too far away to hear my telling-off. I got my revenge by flooring it on an empty stretch of road, telling them, educationally, that that's what 0-60mph in just over five seconds feels like.
Yummy mummy factor 9/10
Beautiful and fast — will keep you on your toes.
 The one we tested
 Tesla Model S 85 specifications
Price:  £59,000 (includes £5,000 plug-in grant)
Engine: 85kWh battery with rear wheel drive
Power: 380bhp
Range: 310 miles
Performance: 0-60mph 5.4sec
Top speed: 140mph
---
 Browse the used Teslas for sale on Driving.co.uk
---
---
---
And if you need nine seats …Ford Tourneo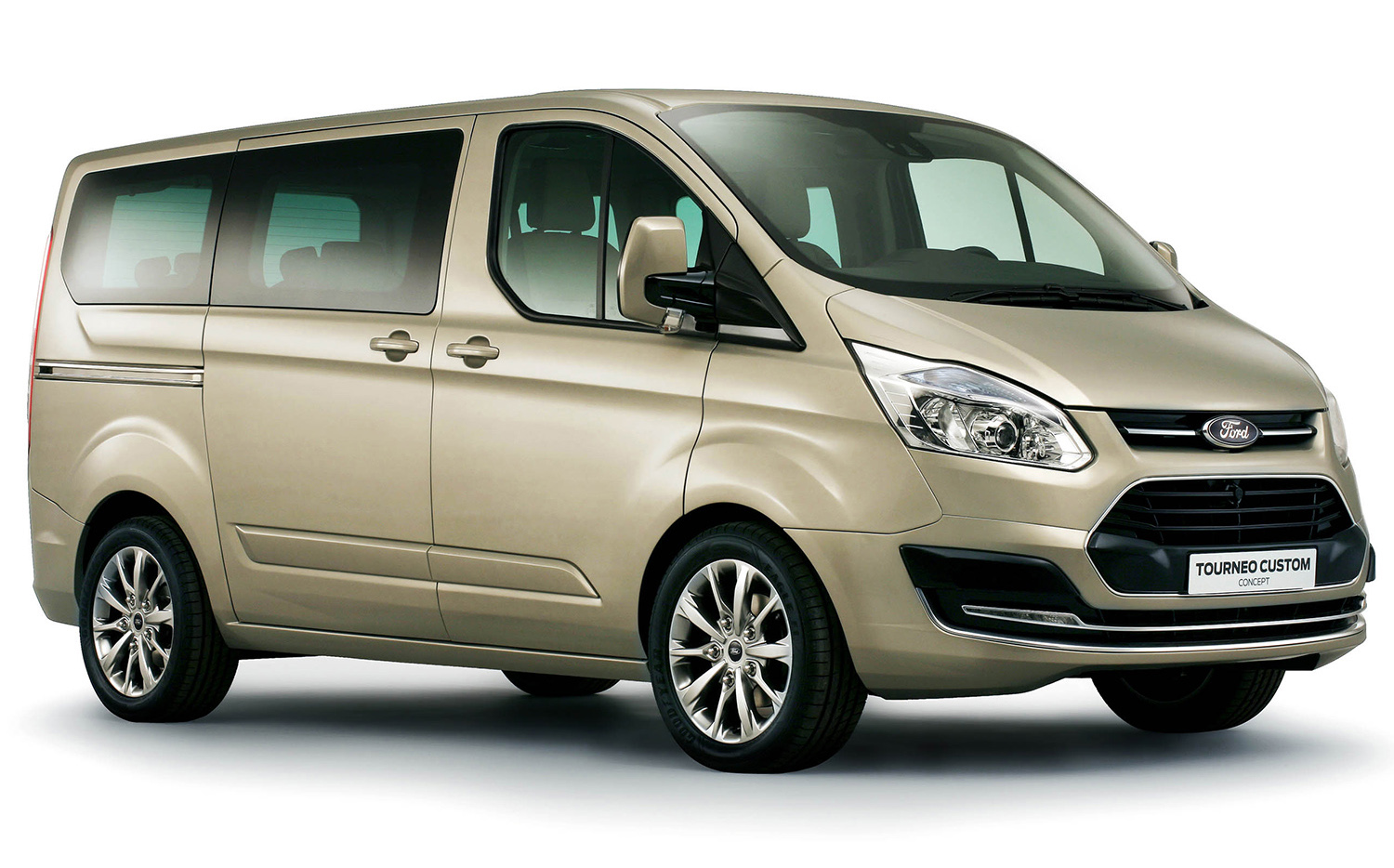 "I can't possibly drive that beast."  That was my first thought when confronted with Ford's nine-seat behemoth, the Tourneo, writes Beverly Herneman. I had not driven a manual car for six years and the prospect of manoeuvring one the size of a cross-Channel ferry through the car-choked streets of my home town made me blanch. The largest car I had driven before was a Citroën C8, chunky enough, but practically a bubble car next to the Ford.
However, once I'd climbed in I found the Tourneo a joy to drive. The six-speed gearbox is gossamer light and the steering responsive, while the high driving position affords an excellent view and gives a comforting sense of invulnerability — as long as you remember how high up the driver's seat is when you get out. My first exit was a rather undignified tumble onto the tarmac.
The cabin is truly vast, swallowing with ease a mountain of luggage, plus three feuding children and two grandparents, each cordoned off out of annoyance range in acres of space.
The sat nav is a doddle to program and gives clear, timely instructions, blissfully without the misplaced confidence and patronising tone of my husband. And it has the added advantage of confounding the bureaucrats — as a nine-seater it is exempt from the London congestion charge, as long as you register with Transport for London.
It has its idiosyncrasies: my teenage son managed to repeatedly toggle the central locking with his knee, and the sliding doors are heavy, but it has clever features, such as a rear-view camera built into the driver's mirror to help parking. The Tourneo is no beauty, but it's a well-designed gentle giant that will let you both transport your family and keep your sanity.
 The one we tested
Ford Tourneo Connect Zetec 1.6CDTi 
Price: £17,195
Engine: 1560cc, four cylinders
Power: 114bhp @3600rpm
Torque: 285 lb ft @ 1750rpm
Transmission: Six-speed manual
Performance: 0-62mph 13.8sec
Top speed: 103mph
Fuel/CO2: 58.9mpg / 130g/km
---
Browse the used Ford Tourneos for sale on Driving.co.uk
---