Paul Hollywood: from star baker to star racer
Bake horsepower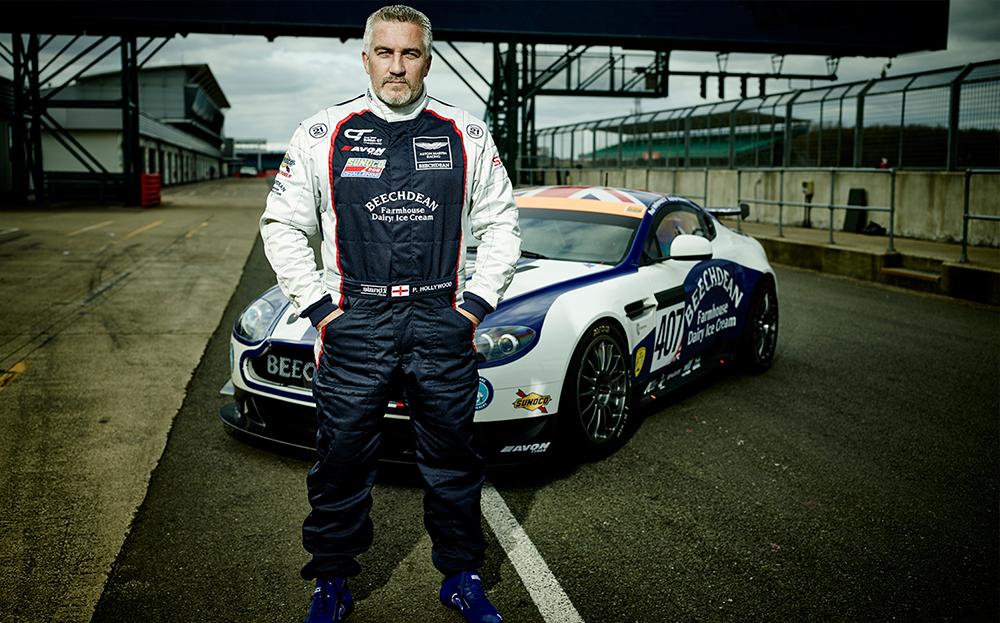 THE EXPRESSION on Paul Hollywood's face right now is best compared with that of a contestant on The Great British Bake Off who has just presented a collapsed soufflé to, well, Paul Hollywood.
The judge from the hit BBC series has begun a new sideline as an amateur racing driver, competing in sports car races. He is driving an Aston Martin Vantage GT4 with the aim of eventually racing in the Le Mans 24 Hours.
---
Search for and buy your next car on driving.co.uk
---
Hollywood might rule the Bake Off tent with an iron oven glove, condemning even a mildly overcooked muffin, but where racing fuel and slick tyres are concerned, the tables are turned. And today he is the one under scrutiny. As he sits in a motorhome at the Brands Hatch circuit, every one of his gearchanges and dabs of the throttle during an earlier practice session is being analysed by his teammate, the Aston Martin works driver Jonny Adam.
"You're in third gear when you should be in fourth," chides Adam. "That's costing you at least two seconds a lap. And look here where you're braking: at the same point on the track, I'm on the power and away while you're still on the brakes."
Hollywood looks dazed but exhilarated. "How lucky am I," he says. "I can go from eating cream cakes, straight into an Aston Martin and race it. It's a good life."
I can go from eating cream cakes, straight into an Aston Martin and race it. It's a good life
This is the 49-year-old's second weekend as a racing driver and he admits he has a lot to learn. The team is run by Beechdean, which makes ice cream, meaning his car figuratively speaking, is fuelled by dessert. "It's the pudding side of things," says Hollywood. "Very sweet."
It's a big change for someone who started out making tea at his father's bakery, although Hollywood has never been one for hanging around.
He moved on to become head baker at the Chester Grosvenor hotel, before taking the same role at the Cliveden House hotel in Buckinghamshire and then the Dorchester in London. He worked at resorts in Cyprus, then returned to Britain to set up his own bakery.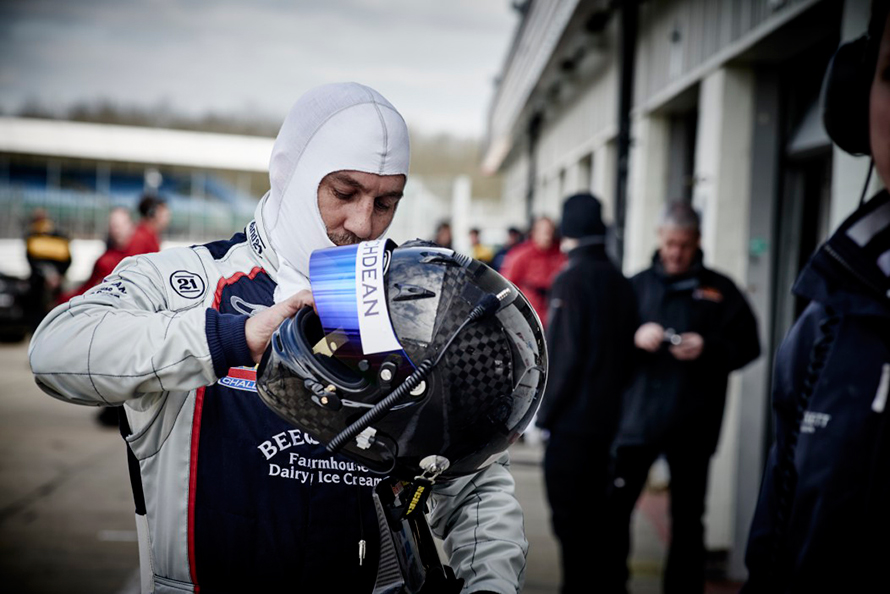 Although he had done some television work, Hollywood was relatively unknown when he was invited to audition for a new programme. He got the job and in 2010 The Great British Bake Off began on BBC2. The final of the fourth series attracted 9.1m viewers and the show was given a prime-time BBC1 slot last year.
Hollywood and his fellow judge, Mary Berry, became stars. "I'm a baker, for goodness' sake, I'm a fat northern baker who has just been lucky," says Hollywood.
"I know guys who were working with me who could do the job just as good. I'm one of millions who could do my job. Sit there and eat cake and criticise it. It's not difficult."
That luck has enabled Hollywood to indulge his passion for cars. Since becoming a TV star, he has splashed out on various sports cars, including an Aston Martin DB9 and then a DBS coupé. Next he bought a Jaguar F-type V8 coupé but it suffered an unlikely graffiti attack by Berry. At the end of a public appearance, the genteel grandmother scrawled a goodbye message to him on the wing of the car — not realising she was using permanent marker.
It wasn't long afterwards that Hollywood said goodbye to the car. "It's not that I didn't like it," he says. "I found that the handling was superb, it was very quick, it looked very nice, but I didn't love it. I love my Astons so I thought I'd have to go back to Astons."
He now drives an Aston Martin DBS Volante. This is something his childhood self growing up in the Wirral would approve of, he says as he recounts playing with his Corgi Aston Martin DB5 — the gold model with the ejector seat.
"I used to lie in bed, put my knees up and make the duvet like a mountain, then drive round the mountain in my DB5," says Hollywood in his soft Merseyside accent. "I was Bond and I was five. I never thought I'd be lucky enough to own one."
Like many youngsters growing up in the 1980s, getting on the road was a rite of passage and a gateway to freedom, and he remembers the date he passed his test — August 23, 1984.
"One of my first cars was a Ford Escort Mexico. It was orange with a black vinyl roof. I took the bumpers off and smoothed it off. I then had a Ford Escort XR3 in a foul Nordic blue, the most disgusting colour you've ever seen. We used to go camping and I'd sleep in the back of the car; six or seven cars going up to the Lake District or Wales and we'd have a riot."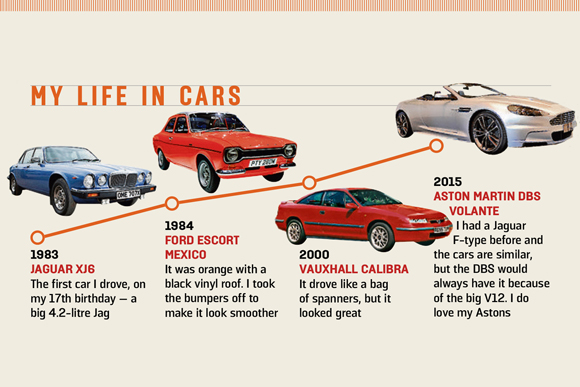 He has also owned Range Rovers, MGs, an Escort RS turbo, a Lotus Esprit, a VW Golf V5 and a Vauxhall Calibra, which he describes as one of his favourites because of the way it looked. His ownership of an MG F wasn't successful: he drove it into a ford and flooded the engine bay. "I wrote them all down once and lost count after 35. Yeah, I've always been a bit of a car nut.
A self-confessed car nut? A TV presenter with a gift for giving a hobby of niche interest a much wider appeal? Could the BBC persuade him to swap sachertorte for supercars and front a new-look Top Gear in place of Jeremy Clarkson? "I couldn't say I wouldn't be interested," he says. "It's how it would fit, how it would work. It's a bit of a poisoned chalice. You can't find anybody to replace Mary Berry. And this is the same thing. Those three lads made Top Gear. You can't mimic it — it would be a totally different programme.
"Would I love to do a car or bike show for the BBC? Yeah, I would — whether it's called Top Gear, probably not."
Would I love to do a car or bike show for the BBC? Yeah, I would — whether it's called Top Gear, probably not
Before that there is some serious racing to do, however. Hollywood came into racing when Aston Martin asked whether, as a valued customer, he wanted to test its GT4 race car.
"It was like a bucket list thing," says Hollywood. "I said yes and my first outing was with Darren Turner [an Aston Martin factory driver and a class winner at the Le Mans 24 Hours]. He's a racing god. I felt like a child."
Also there on the day was Andrew Howard, an amateur racer who became British GT champion and the founder of the Beechdean ice cream company. After a chat with Turner, Howard decided to take on Hollywood and the pair are now looking for sponsorship to take him through the ranks of sports car championships, with the aim of competing at Le Mans in four years.
Hollywood admits that racing has taken some getting used to — "I find racing has a laxative effect" — but, given that he owns a Kawasaki Ninja H2, one of the world's quickest superbikes, going fast is not a problem. "Speed doesn't scare me," says Hollywood. "Stopping quickly does."
He has a long way to go to be competitive, but says hard work doesn't worry him. "You always start at the bottom: when I started to train as a baker, one of my first important jobs was making the tea and cleaning the loos."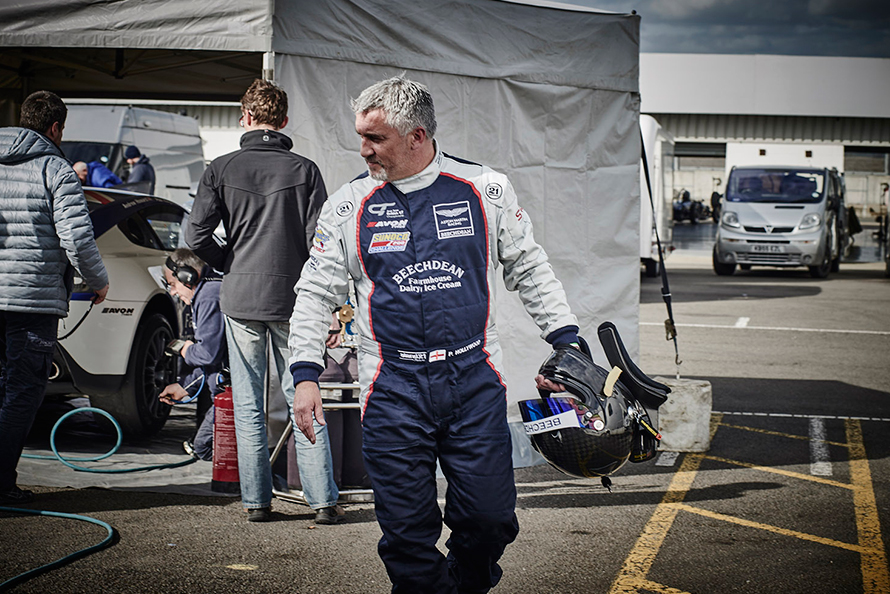 He won't be at the bottom for much longer, though. His next appearance on track will be at Le Mans, as part of an Aston Martin support race on Saturday, June 13, ahead of the 24-hour race later that day. Work comes before pleasure, so he'll miss practice on the Thursday because he'll be in Newbury, Berkshire, filming Bake Off.
"I'm trying not to think about it because I know I'll get too excited," he says. "But the moment they say, 'That's a wrap' after filming, then it'll kick in, then I'll know I'm going to Le Mans. It's the history. Pretty much every racing driver has raced that. Just to be a little part of such a huge history, for me, that's the thing that gets me excited."
It's boy's own stuff, but that's not the only reason Hollywood loves racing. He sits in the pits relaxed and joking. Several times during the interview he talks about his relief at putting on his helmet and becoming just another anonymous figure on the grid.
"When I come here with a helmet on with a mirrored visor, no one knows who I am. My name's on the car but that flashes by. For the first time I can be me, doing things I want to do for me, not for everybody else." Even so, Hollywood says it isn't unheard of for a gnarly mechanic to approach him in the pits and ask why his doughnuts aren't rising.
Hollywood has certainly experienced the rollercoaster of fame. Accusations of favouritism towards Bake Off contestants proved unfounded, but an affair with Marcela Valladolid, the presenter of the American version of the show, nearly destroyed his marriage when it hit the headlines two years ago. He doesn't need to think when asked if he would like to wind the clock back and avoid fame.
"Yes," he says instantly. "But the box is opened and once it's open you can't go back. I started out in my life to be a baker. Fame was coincidental. It's not something I hunted down, not something I necessarily wanted."
The interview ends and Hollywood goes back out to line up on the grid at Brands Hatch for the afternoon's race. As he guns his engine alongside the other competitors, he might be anonymous beneath the crash helmet, but you can just tell he is grinning. Not only that but he then goes and wins the race.
MY STUFF
ON MY PLAYLIST On long-distance drives, Coldplay to chill out to and sing along to, but I like classical music too
ON MY TV Rush — what a great film! The sense of speed is incredible
I WOULD NEVER THROW AWAY I love my coffee machine, which makes me cappuccinos and espressos first thing in the morning
---
Search for and buy your next car on driving.co.uk
---