News: Top Gear trio copy billionaire James Stunt in bizarre antiques shopping spree for new series
If you're three middle-aged presenters from Top Gear you'll think nothing of taking a trio of unfeasibly small and aged sports cars to an antique shop to purchase your oversized knick-knacks
TOP GEAR presenters Jeremy Clarkson, Richard Hammond and James May are at it again. Filming for the new series of Top Gear has begun and, judging by the picture above, the trio will be subjecting three small and aged sports cars to a series of gruelling challenges including this, carrying the biggest antiques they can find.
In contrast to the antics of the middle-aged Top Gear presenters, James Stunt, the young, dapper billionaire businessman who is married to Formula One heiress Petra Ecclestone, was recently seen arriving at his favourite art emporiums. The difference was, he had not one suitably large car but four, plus his answer to Top Gear's aged sports cars – a Lamborghini Aventador, worth around £300,000.
Stunt, 28, chose to do his shopping at top art dealers the Daniel Hunt Fine Art Gallery in Chelsea and Christie's Art Gallery in South Kensington. In case anything caught his eye his four large cars ‒ two Range Rovers, one of them a Mansory special edition, a Rolls-Royce Ghost and a Rolls-Royce Phantom ‒ were on hand to transport the odd triptych, if not an entire art gallery. ­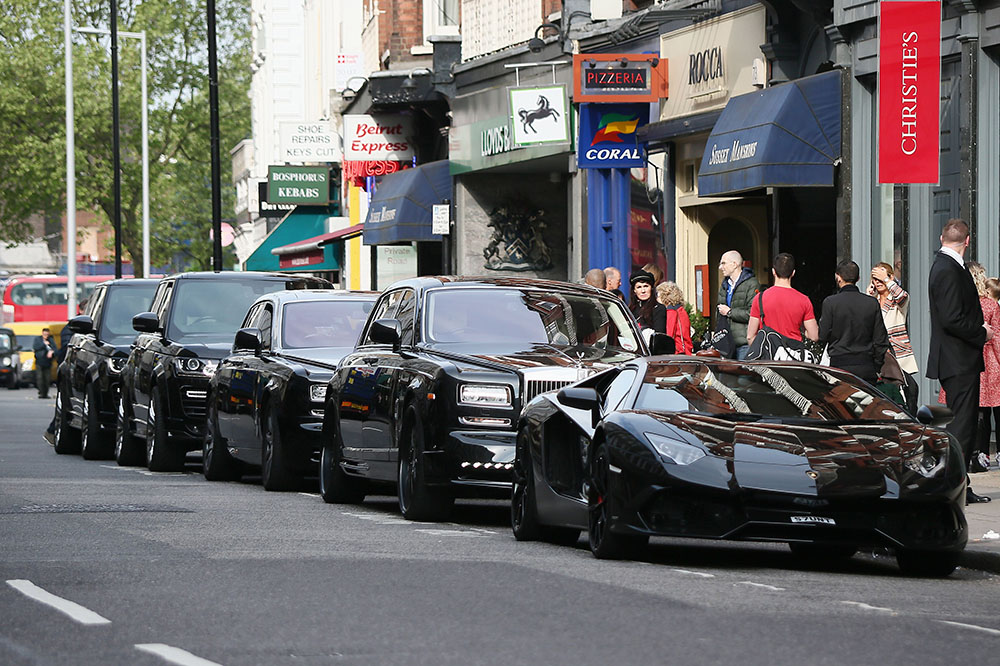 Meanwhile, his Lamborghini, a model more used to carrying old masters than Old Masters, was on hand to convey him in style from shop to shop. Together, the art lover's convoy was worth around £1m, or the price of one of his purchases.
Last Sunday, a version of the scene was re-enacted by Messrs Clarkson, Hammond and May when, as part of their next Top Gear challenge, the trio disturbed the peace in Stow-on-the-Wold, Gloucestershire, to "purchase" a collection of artefacts from one of the town's antique shops.
Naturally, they had arrived in a selection of unsuitable cars: an MGB GT, a Fiat 124 Spider and a Peugeot 304 cabriolet. And naturally, the artefacts the trio purchased were a little on the large side.
So Hammond, for example, was seen putting an antique hatstand into his MGB, while May achieved the almost impossible feat of installing a grandfather clock in his Peugeot. It only remained for Clarkson to attempt to put a fine old chair into his Fiat, which he eventually achieved with the help of a saw.
As he reduced its carved legs to dust he joked to horrified onlookers: "I've turned it into a flatpack."