News: London's electric car hire scheme set to switch to French hands with Bolloré
Les voitures de Boris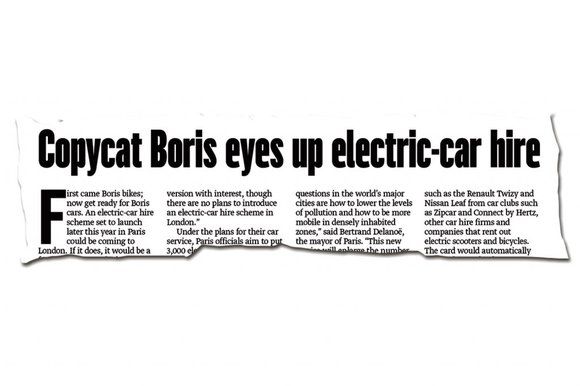 The Sunday Times's headline from June 5, 2011
BORIS JOHNSON has officially unplugged his electric-car revolution. After years of stalled initiatives and multimillion-pound taxpayer-funded investment in the capital's electric car scheme, the London mayor is to offload it to a private French company.
The move to sever ties between Transport for London (TfL), the body that runs the capital's transport network, and its electric car scheme seems in stark contrast to Johnson's proclaimed ambition four years ago to "make our city the electric-driving capital of Europe".
From this summer all 1,400 charge points in London will be taken over and run by Bolloré, the company behind the electric car-hire scheme in Paris. Bolloré will aim to increase the number of charge points to 6,000 by 2018.
The company also aims to ship in up to 100 battery-powered cars that Londoners will be able to hire by the half-hour to zip around town. The Sunday Times first revealed that talks about electric-car hire were taking place in 2011, although the mayor's office denied there were any plans to involve Bolloré in the London scheme.
The scheme will operate in a similar way to the "Boris bikes", with drivers receiving an electronic badge card that unlocks the vehicle. Bolloré is hoping to sign up 60,000 customers, who will pay a £10-a-month subscription and £5 per half-hour's hire.
The decision has been welcomed by battery-car enthusiasts, who have been dismayed by the slow take-up of electric vehicles in the capital despite huge public investment — TfL and the Department for Transport have spent more than £8m on installing charge points so far. Last summer it was revealed that three-quarters of London's charging points for private vehicles were not used at all during 2012.
A spokesman for TfL said: "We have pump-primed the market and it is time for a private company to take it on. We have gone as far as we can with public money."