New Ford Supervan unveiled and this time its electric ... with 1,973bhp
'A high-speed science experiment'
Ford has revealed a fourth instalment in its long-running series of madcap Supervans — promotional vehicles with similar bodies and silhouettes to standard Transits, but always packing quite a bit of extra power.
Unlike previous models however, the latest edition Supervan 4 isn't powered by a big V8 or a Cosworth Formula 1 engine, but by a battery-electric powertrain developing 1,973bhp.
Unveiled at the Goodwood Festival of Speed, the Supervan 4 is based on the recently-launched E-Transit Custom, but apart from their looks (sort of) they have very little in common.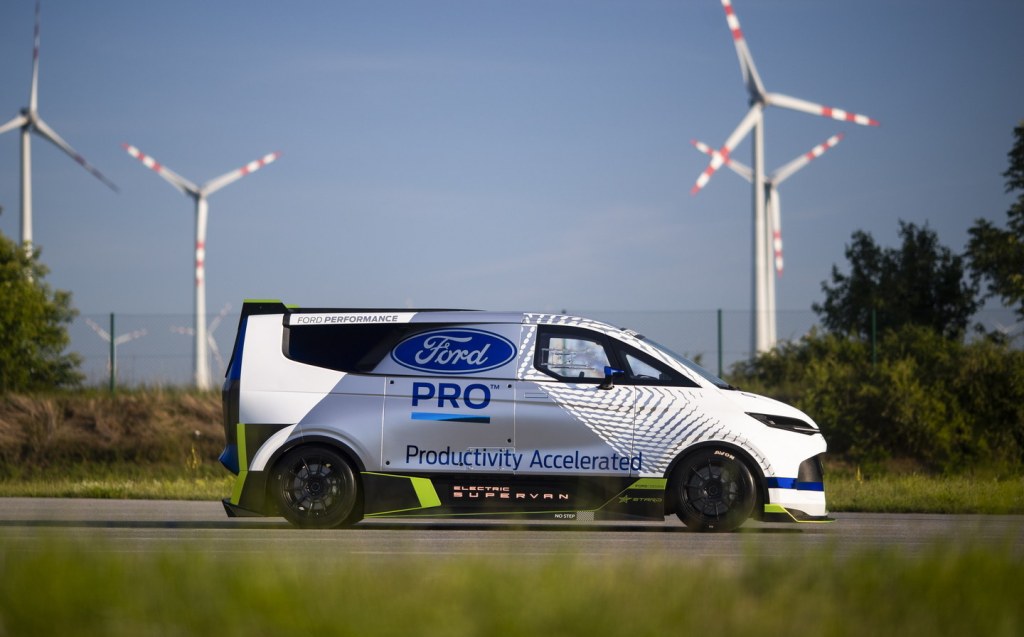 Taking the E-Transit Custom's floor pan as a base, Ford's engineers added a lightweight steel spaceframe structure, cladding it in composite body panels including flared wheel arches, a low front splitter, an aggressive rear diffuser and prominent rear wing, all of which do rather differentiate it from the standard van.
Those body modifications also hint at Ford's intention for the Supervan, which is to make it, at the very least, competent on a track or hillclimb course.
The Supervan's interior features a full FIA-approved roll cage and racing seats, while the large Sync touchscreen (the same as that found in the Mustang Mach-E) is used to access selectable drive modes that alter the Supervan's torque map, regenerative braking and control responses based on a given scenario.
Hinting at what the Supervan might be capable of, those drive modes are: Road, Track, Drag, Drift and Rally.
Further underlining the Supervan's potential track credentials are a pit-lane speed limiter and a "tyre cleaning mode", which locks one axle while spinning the other to "help clean and warm the tyres before performance runs".
A Supervan is, of course, nothing without its powertrain and this one features a bespoke 50kWh (about half the size of a current Ford Mustang Mach-e Extended Range, so it's not designed for long distances) liquid-cooled battery pack mounted low in the van for optimum weight distribution and a low centre of gravity.
This can be fully recharged in approximately 45 minutes using a standard electric vehicle fast-charger, it is claimed.
Four electric motors together deliver 1,973bhp through an all-wheel-drive system – enough to shoot the van from a standstill to 62mph in less than two seconds, which makes it the fastest Supervan yet with around the same power output as the Lotus Evija hypercar and more than the Pininfarina Battista hypercar we drove recently.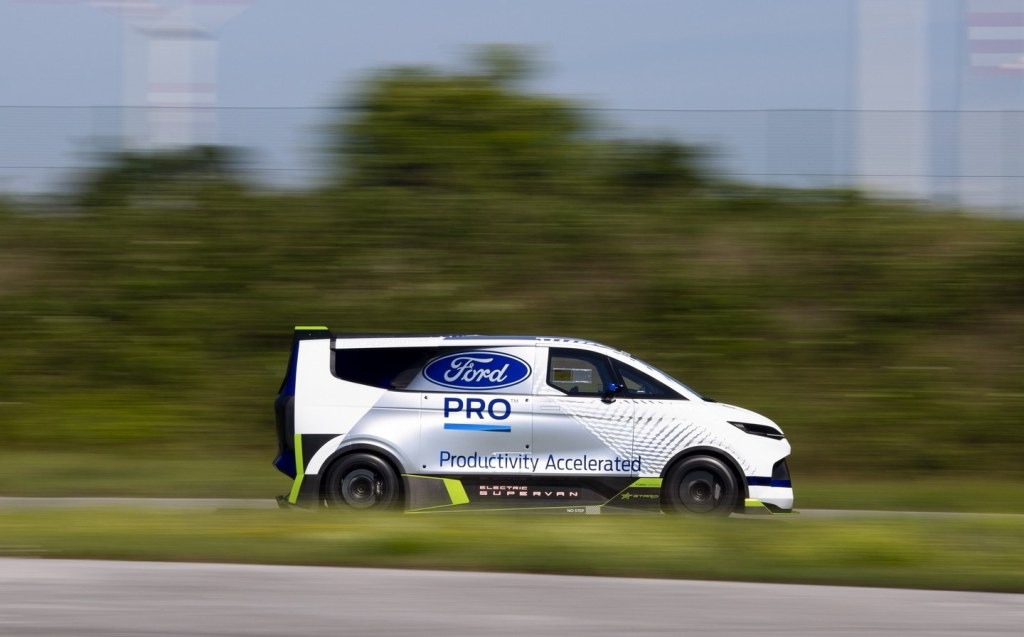 For all that, the Supervan still comes with a dose of practicality. The on-board touchscreen can be used when drivers want to "take a break from hustling the electric Supervan up hillclimbs and around racetracks to plot a route, find a charger, connect to WiFi and make phone calls."
There's a load bay behind the cabin and even a side door for access, though Ford hasn't given any details on how many pallets can be carried in one go.
A history of the Ford Supervan
The first Supervan was shown in 1971 and, although it was powered by a 400bhp V8 engine from a Ford GT40 racing car, it still used the original pressed steel body of the van on which it was based, albeit with a few modifications.
A Supervan 2 followed in 1984 with a Cosworth DFL engine from Ford's C100 Group C car featuring a fibreglass body modelled on that of the Mk2 Transit. During tests at Silverstone, the Supervan 2 hit 174mph.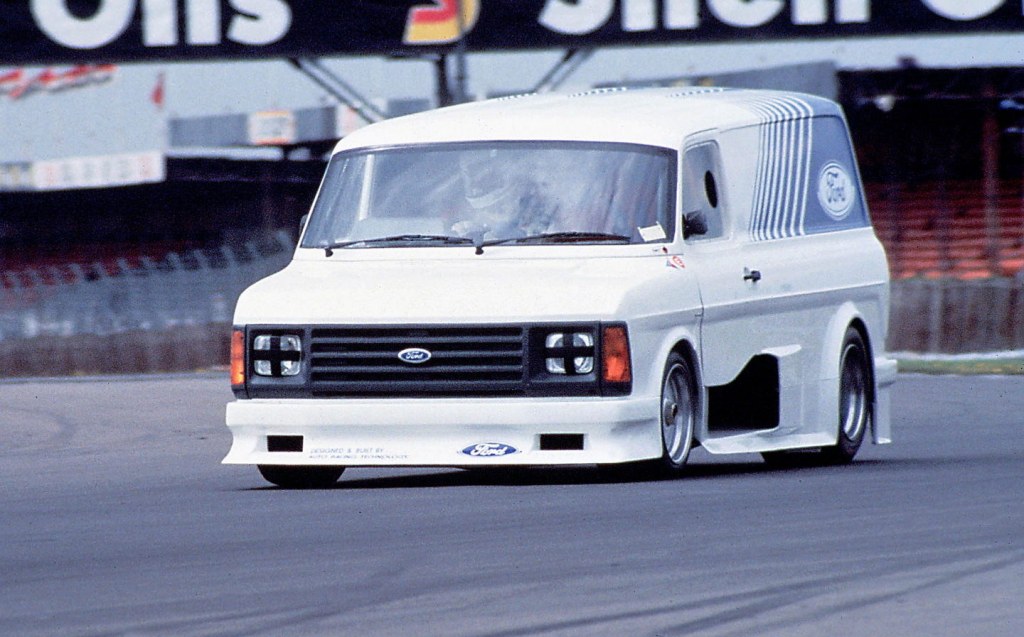 Between the second Supervan and the third, there was another vehicle built, not quite a Supervan, but something very much in the same vein.
In the late eighties Jaguar constructed a development mule to evaluate the performance of the new V6 engine it was planning to use in its 212mph XJ220 supercar and, to keep the project a secret, the company mounted the engine in a Transit which, from the outside, looked almost entirely standard.
This particular mule has seen some fettling by its current owners, with its engine now developing around 640bhp, and it has been a regular feature of the hillclimb event at Goodwood in recent years.
A Supervan 3 arrived in 1994 when, to promote a new facelifted Transit Mk3, Ford contracted DRL Engineering in Suffolk to build a lightweight body shell and a Cosworth HB V8 F1 engine. In the 20 years or so since the Supervan 3, Ford hasn't built another one — until now.
"The chance to be part of the iconic Supervan story and reimagine what it could be in the 21st century was a dream opportunity," said Amko Leenarts, director of design at Ford of Europe.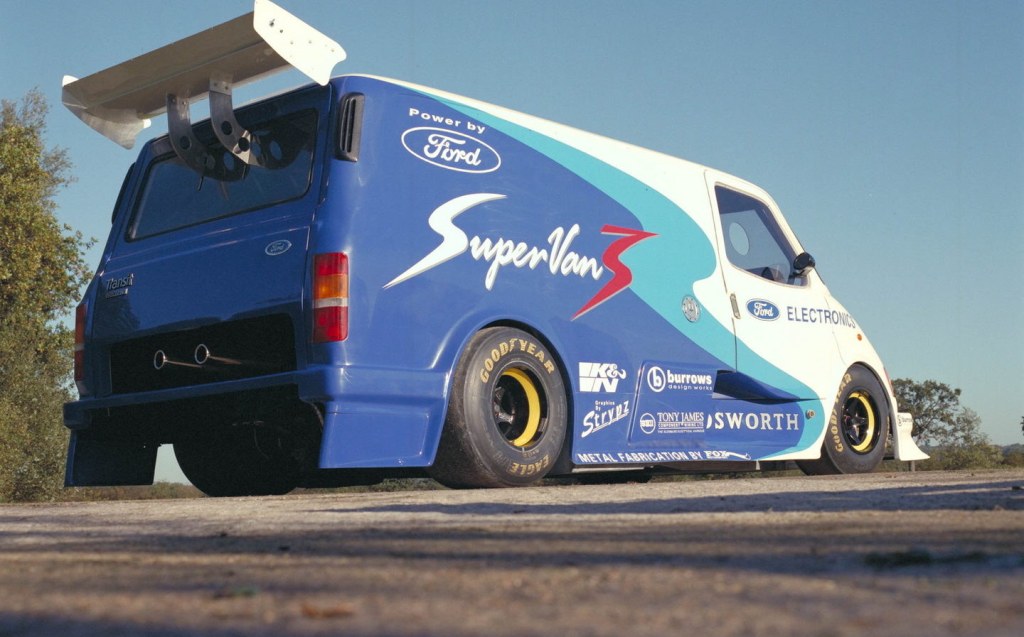 "The fourth chapter of the Supervan story is designed to be the fastest, most extreme yet while keeping the Transit DNA.
"The proportions are a more dramatic version of what we developed for the E-Transit Custom and the front light bar creates a futuristic expression, making the Electric Supervan the absolute pinnacle of Transit design language."
The Ford Transit Custom is, this year as last, Britain's best-selling vehicle. The Supervan 4 won't be adding much to those sales figures though — Ford only plans to build one.
Related articles
Latest articles