Motion sensor fobs are only short term fix for keyless car thefts, say security experts
'The goal for car makers must be to design out the vulnerability entirely'
---
Published 12 November 2019
A HIGH tech new key fob designed to end keyless car thefts may not be the panacea motorists were hoping for after it was described as only a "short-term option" by leading security experts.
Car makers including Audi, BMW, Mercedes, Ford and Volkwagen are introducing new key fobs with built-in motion sensors that automatically enter a "sleep mode" when they're left unattended for a certain period of time.
This means that relay attacks, which involve using two devices to pick up the fob's signal and trick the car into thinking it is close enough for the doors to be unlocked, were thought to have been impossible.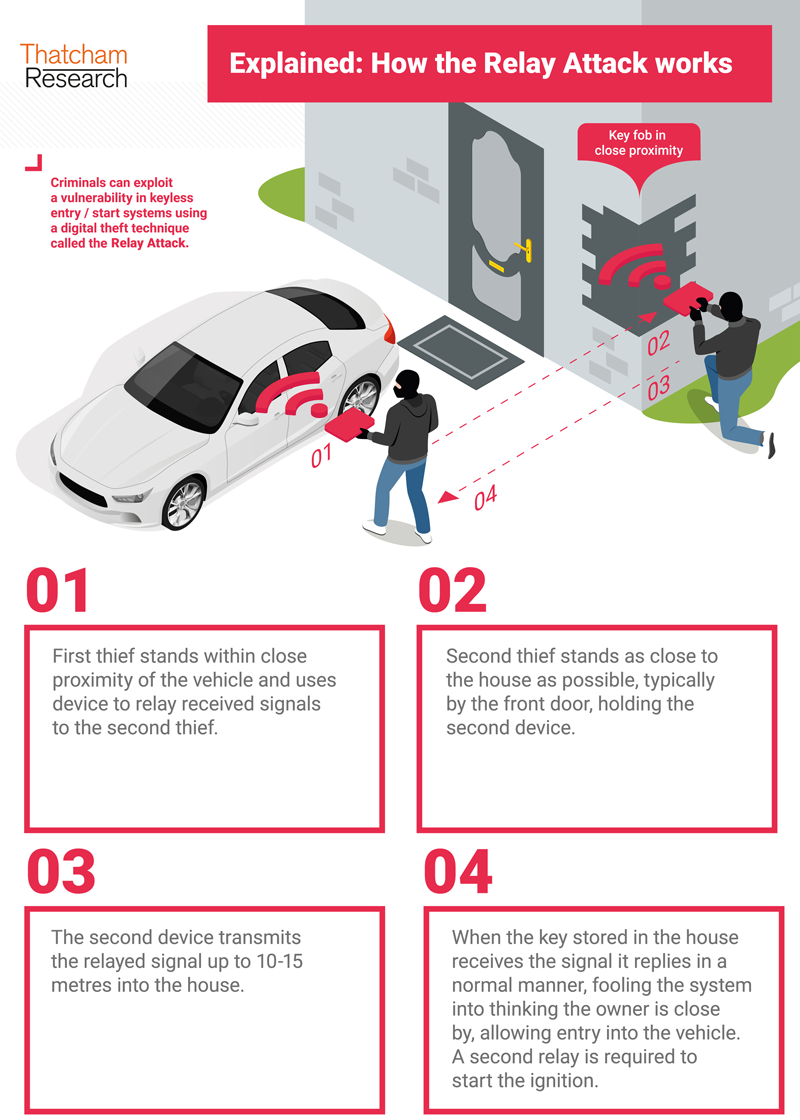 However, while many new cars are gaining 'Superior' ratings by Thatcham Research for "all-round security and the presence of a relay attack fix", the UK car safety and security assessor suggested criminals may still be able to access and steal the cars.
Richard Billyead, Thatcham Research's chief technical officer, said: "The motion sensor fob is a good short-term option but the goal for car makers must be to design out the vulnerability entirely. Until then, a fundamental security flaw remains."
He added: "We urge manufacturers to bring keyless technology to market in secure form and remove from drivers the onus to provide additional security."
Billyead advised drivers to check how long it takes before the sleep mode on their keyless fob is engaged. "Some fobs go to sleep in one or two minutes, others in 15 or even as long as 30 minutes," he said.
Billyead's comments come amid an apparent rise in the number of cars stolen in so-called relay attacks, where thieves use a relay device to amplify the signal from the car's key fob, and trick the vehicle's on-board systems into thinking the criminal's device is the actual key.
In April 2019, the AA suggested a 9% rise in the number of reported vehicle thefts in the UK can be at least partially attributed to the more widespread use of keyless start and entry tech by car makers.
Research carried out by the Association of British Insurers in May 2019 also noted a 22% rise in insurance claims could also be explained at least in part by "the vulnerability of some cars to keyless relay theft".
Despite the concerns, Thatcham Research has still praised some of the more recent efforts of some car makers in ensuring their models are as resistant to relay thefts as possible.
Of the 24 vehicles the body has assessed this year as parts of its Consumer Security Ratings initiative, 14 have been awarded Thatcham's highest possible "Superior" rating, as they're available with key fobs tech that managed to pass the assessor's relay theft test.
Of the 10 remaining cars, nine were given a "Poor" rating after failing Thatcham's relay theft test. One car, the Suzuki Jimny, was downrated as a result of "all-round security failings", despite not having a keyless entry and start system.
For drivers who opted for keyless entry and start vehicles before a motion sensor fob was issued, Billyeald had this advice:
1 Consider purchasing a Faraday pouch and using it to store their fob at night. Owners are advised to test that it works for themselves
2 Check the driver's manual to see if the fob can be switched off completely
3 Store fobs, spares included, away from household entry points
Tweet to @J_S_Allen Follow @J_S_Allen
The Sun reporters 'steal' 10 keyless cars in seconds with legal gadget