Like Boris bikes, but with four wheels: DriveNow and other 'drop anywhere' car-sharing schemes
How many drivers can fit into a Mini? Hundreds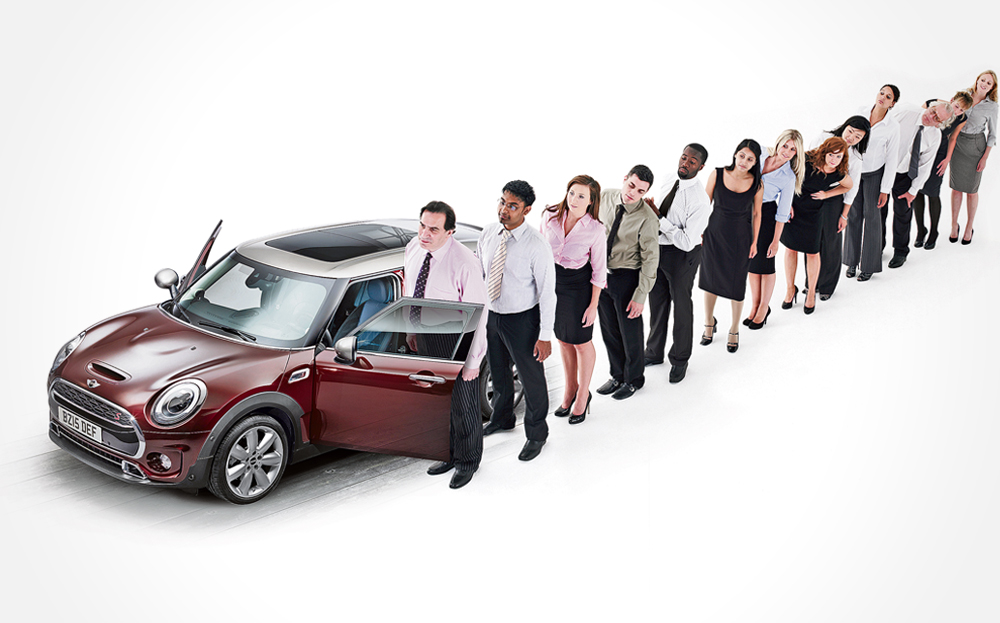 HE DOESN'T have a flashy house, hangar-sized garage or gated driveway, but when Guy Brandon steps out of his door each morning he can choose from a fleet of 270 cars.
---
Click to read car REVIEWS or search NEW or USED cars for sale on driving.co.uk
---
The 41-year-old from Islington, north London, was one of the first members of a new car-sharing scheme called DriveNow, a partnership between BMW and the car hire firm Sixt, that allows members to pick up a nearby car and drop it off at almost any on-road parking space in an area of northeast London.
"It has stopped us having to get a second car," says Brandon, a married father of two who owns an IT service company. "I spend around £15 a week and I've encouraged neighbours to use it too, which means the street is a hotspot of people dropping off and picking up cars, so there is usually one nearby."
Drivers find an available car using a smartphone app and unlock it using their phone or a smartcard that is swiped over a reader on the windscreen. They pay 39p a minute, which includes all fuel, insurance and parking charges, and can pick from a selection of Mini Countryman SUVs, BMW 1-series hatchbacks or BMW i3 electric cars. There is a one-off registration fee of £29.
Designed to appeal to a younger generation, DriveNow is more flexible than established car clubs such as Zipcar
DriveNow is one of several new car-sharing schemes that are being launched in London and are expected to spread to other large cities, including Bristol, Manchester and Edinburgh.
Designed to appeal to a younger generation who — allegedly — have more interest in social media than brake horsepower, and claimed to cut pollution and congestion in cities, the service is more flexible than established car clubs such as Zipcar. These require customers to pre-book their car, pick it up from a dedicated parking bay and return it to the same spot.
"It's all on-demand," says Joseph Seal-Driver, director of DriveNow in Britain. "You can park anywhere and there's no need to pre-plan. I could drive to the pub and then get a taxi home. If something's broken and I need to take it to the tip, it just takes a tap of the app and I've got a car."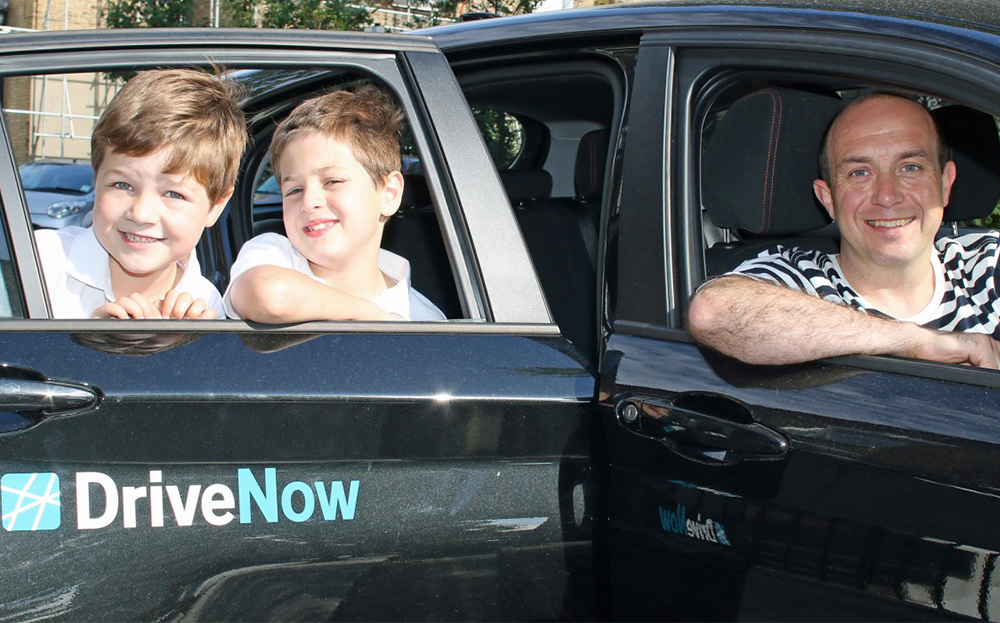 DriveNow was launched here last December and its 270 cars scattered across northeast London are the vanguard of a growing fleet. When drivers arrive at their destination, the cars can be parked in any standard pay-and-display or residents' bay within the boroughs of Islington, Hackney and Haringey, and part of Waltham Forest. BMW has not yet struck deals with other councils to allow its cars to be parked elsewhere.
That's not a problem for Ford's car-share offering, called GoDrive. It has a pilot scheme running 50 cars that are located in private off-street parking bays. This enables it to operate across London without needing agreements with councils, but available spaces might be some distance from where a user wants to go. Drivers use an app to book a Fiesta or an electric Focus for 17p a minute. They can also reserve a space near their destination. There is no registration fee.
Next year, a fully electric scheme has been promised by the French firm Bolloré, which operates London's cycle hire scheme. Drivers will be able to pick up a car — painted red like London's buses — from one of hundreds of charging points in the capital, and drop them off at any spare point.
"We have to have a robust car because you know people are not taking care of it like their own car"
It hopes to fill London with the sound of chattering crickets: the noise emitted by the otherwise quiet cars to warn pedestrians. The firm runs a similar scheme in Paris called Autolib, which has half a million users each month.
Bolloré has an ambitious goal of running 3,000 cars in Britain within four years but faces big challenges, not least from its users. "We have to have a robust car because you know people are not taking care of it like their own car," says Vincent Bolloré, chief executive of the company. It fired the passions of potential users last month when it revealed that two passengers in Paris had been spotted in flagrante in the back of one of its cars.
Some users see car-sharing as the only way of having access to a vehicle, as increasing numbers of city-centre flats are built without parking spaces or rights to a residents' permit. "I don't know where I would park a car if I had one," says Brendan Gill, 31, chief executive of a start-up tech company, also from Islington. "I use DriveNow to get to and from work. I don't have to worry about fuel, insurance or parking and it feels like I have got hundreds of personal cars available."
But other users have questioned the price of 39p a minute, particularly when they are stuck in traffic, watching the time go by. "Drivers are going to be extremely frustrated if they are sat in traffic watching the clock, knowing that their bill is growing every minute," says Pete Williams, from the RAC. "Of course, if there is a convenient parking space nearby, you might be able to park the car and get to your destination another way, but it would be great to see car clubs coming up with a way of adjusting the cost to take congestion into account."
According to the AA, the annual cost of owning a new small car is £1,913, taking into account fixed costs, including depreciation and insurance, but before any fuel bills are added. That would buy almost eight days' worth of solid 24-hour driving with GoDrive. DriveNow customers would have 3½ days' worth.
BMW claims that each shared car takes between six and 13 privately owned cars off the road. This is said to improve availability of parking spaces and reduce congestion, because fewer drivers have to circle in the search for a space. As many of the cars are electric, or use the latest engine technology, they should also help improve air quality in cities.
If you live in London or Birmingham, this might all sound familiar: Mercedes set up its Car2Go scheme in Britain in 2012 but closed it down last year after losing millions of pounds. Despite the claimed benefits, some councils were reluctant to allow the Smart cars operated by Car2Go to park in on-street bays, concerned that they could take up space that residents wanted to use.
But other companies have entered the marketplace and Mercedes is considering a return. London councils have set a target of having 1m car-sharing users by 2020 and young drivers are expected to sign up in droves: the theory is that they no longer need to travel as much because they would rather communicate through social media, and in a society where films and music are streamed, rather than bought, they are happy to use services on-demand rather than own things.
Official figures appear to back this up: in 1995, 44% of 17 to 20-year-olds in England held driving licences, according to the Department for Transport. The most recent data available, for 2013, shows that just 31% do so now.
In 1995, 44% of 17 to 20-year-olds in England held driving licences. Figures show that just 31% do so now
But some are questioning how many drivers are willing to share cars. Research published last autumn by the Centre for Transport Studies at Imperial College London put forward an alternative explanation. The study, called Carsharing: Evolution, Challenges and Opportunities, showed that real-term income of British adults in their twenties had fallen since 2000. "Falling incomes may have increasingly constrained their use of private cars, at the same time as new technologies have made car-sharing services more practical," it said.
The authors said that this, rather than a lack of interest in cars, could be behind the fall in the number of younger licence holders. The AA also doubts the popularity of car-sharing, though the basis is less scientific. "Drivers give their cars a name," says Edmund King, president of the motoring organisation. "For British drivers in particular, their car does take on a personality. They will spend hours cleaning and polishing it, and many still see it as their second living room, which they keep as clean or as messy as they like. You can't do that with a shared car."
Even so, car-sharing looks set to rise in popularity and may even evolve: BMW has announced that American Mini customers will be able to integrate DriveNow equipment into their new cars from next year. When owners are not using their car, they can make it available for hire using an app, allowing strangers to drive it. Mini said the option will be available outside America at a later date.
---
Click to read car REVIEWS or search NEW or USED cars for sale on driving.co.uk
---