Me and My Motor: Gordon Murray, design legend, on his type of car
From designing F1 racers to rethinking the city car
---
Published 26 September 2016
AS A young racing car designer, Gordon Murray helped Ayrton Senna, Nelson Piquet and Alain Prost to Formula One glory. He was also the brains behind the McLaren F1 road car, the fastest production car of the 1990s. Now he is using his expertise to transform your humble runabout.
Murray has recently completed work on a super-efficient city car, in collaboration with Shell (which designed lubricants to maximise efficiency) and the engine specialist Geo Technology. The Shell city car weighs just 550kg — half a conventional supermini — and does 107mpg at a steady 45mph. Although only a concept vehicle, it is designed to influence production models. "You'll see these engine developments, these Shell lubricants, these materials and aerodynamic designs on future cars," says Murray.
Another game-changing product is Murray's flat-pack truck — the Ox — aimed at the developing world. It can be assembled by three people, by hand, in just 12 hours. And then there are his designs for the new TVR — a V8 coupé — due for release next year.
---
Browse NEW or USED cars for sale on driving.co.uk
---
Murray set up a studio near Guildford, Surrey, in 2007, and his latest designs are underpinned by his production process iStream, in which a conventional metal chassis is replaced by fibreglass or carbon fibre panels, bonded onto a tubular steel frame. The frame can be formed, cut and welded together in a fully automated process, says Murray. The result is a light, low-cost chassis that will allow various types of vehicle to be built in the same factory.
If all goes to plan, the new TVR will be made with iStream, and Murray hopes the model will revive the once-great British marque (bought by a consortium after it went into administration in 2006). "It's really good fun, a nice muscle car, an antidote to all these nasty batteries and hybrids and things," he says mischievously.
"I have a rule: if I don't use a car in 12 months, I sell it."
Growing up in South Africa, Murray became obsessed with cars as a child. His father, a mechanic, would ferry him between the pit lanes of racetracks at weekends, and at 19 he built his own chassis and engine to race. Then, after a degree in mechanical engineering, he hitched a ride on a cargo ship to London in 1969, and was soon signed to the Brabham F1 team as a junior designer. "By 1974 I was running the team," he says.
Piquet joined Brabham in 1978, and Murray's designs helped him to his first two titles. In 1987 the designer moved to McLaren, aiding the rise of Senna and Prost.
---
Browse NEW or USED cars for sale on driving.co.uk
---
While Murray was in F1, his choice of road car depended on the team's engine supplier: he went from an Alfa Romeo to a BMW to a Honda to a Porsche. "I had a really quick prototype BMW 5-series. It used to terrorise Ferraris and Porsches."
Murray's driving terrifies his wife of 46 years, who refuses to go near any vehicle with him at the controls. "Never," he says earnestly. "She came on the back of a motorbike with me in 1976. That was the only time."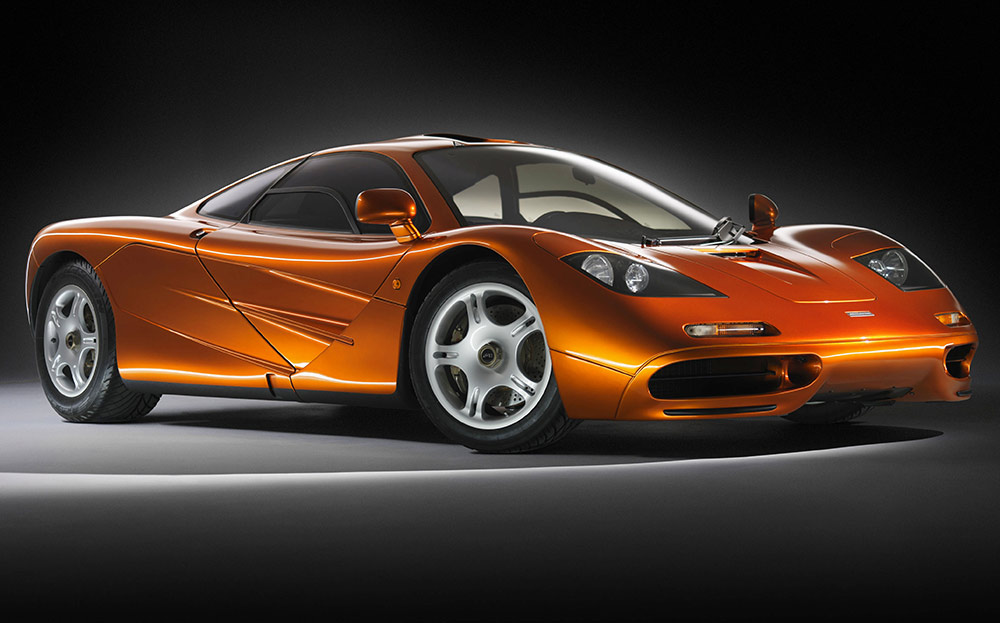 After leaving F1 in 1991, Murray worked on McLaren's road car venture, designing the groundbreaking F1. Its top speed of more than 240mph was not surpassed by a production car until the Bugatti Veyron in 2005.
His everyday car is a Smart roadster, but he has an eclectic collection of cars and motorbikes, ranging from the McLaren F1 to a 1966 Ford Cortina and a 1975 Triumph Spitfire. "I have a rule," he says. "If I don't use one in 12 months, I sell it."
Gordon Murray: My life in cars
1964 Hillman Minx (used)
1970 Lotus Elan (used)
1991 Honda NSX
1992 McLaren F1
2003 Smart roadster (daily driver)
2016 Lotus Eleven racing car (1950s classic)
My dream car 2009 Lotus Elise
You might also like…