Interview: Chris Hoy on why he has swapped cycling for motor racing
Hoy racer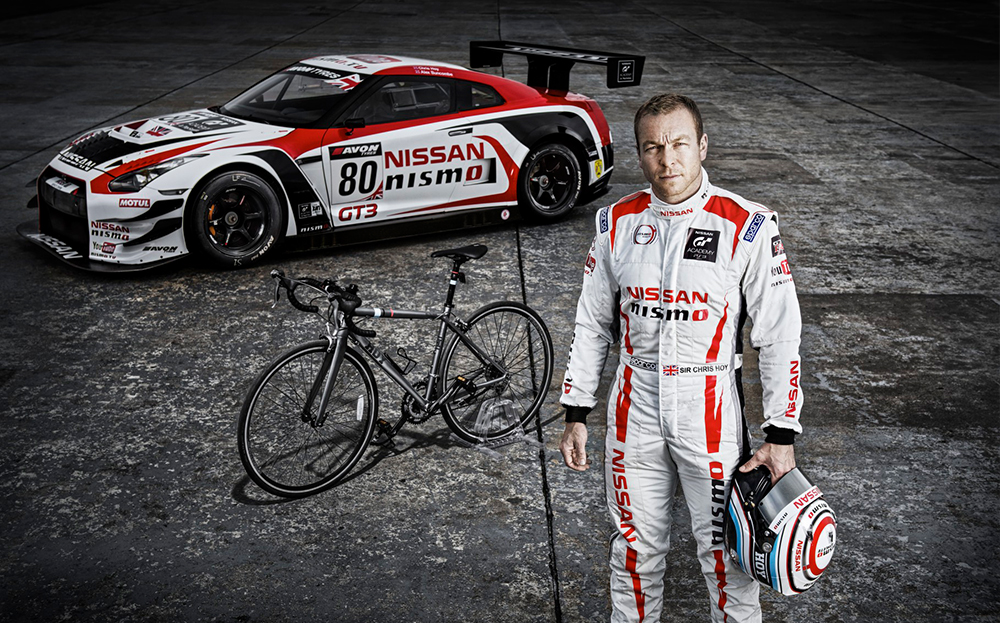 WHAT does Britain's most successful Olympian do when he retires from professional cycling? Far from resting on his many laurels, or even taking a break to concentrate on his business interests, Chris Hoy has put himself right back at the forefront of racing . . . this time on four wheels.
---
Click to read car REVIEWS or search NEW or USED cars for sale on driving.co.uk
---
Hoy, 39, entered motor sport late in life – most newcomers are barely out of training pants, let alone short trousers – but he has already proved himself behind the wheel (if you put to one side an incident involving a straw bale at last year's Goodwood Festival of Speed).
His first season, in the 2013 Radical SR1 Cup, saw him score his first podium, and he took a second place the following year driving a 542bhp Nissan GT-R Nismo GT3 in the British GT championship, after joining the Japanese car maker's driver development programme.
This year Hoy has taken another step up the racing ladder, driving a Ginetta-Nissan LMP3 car in the European Le Mans series. He and Charlie Robertson, his team-mate, are currently leading the class after winning the opening round at Silverstone and the latest race in Austria.
Hoy's goal? To compete at the 2016  Le Mans 24 Hours and, with a bit of luck, to win the LMP2 category.
Driving met the affable Scot to discuss his move from two to four wheels, and to find out a little more about where his passion for motor racing came from.
Driving: Have you always had an interest in motor sport?
Chris Hoy: It started probably in my late teens. Obviously, I played with toy cars when I was a kid, and was aware of motor sports from a young age, but it was really Colin McRae and rallying, when it was on Channel 4 back in the day, that got me into it as a teen. McRae's style was pretty engaging; he was just an awesome driver to watch.
So rallying kind of opened up everything: F1, the Dakar Rally, sports car racing, all these things. All of a sudden I was like, "I'll watch that, I'll watch that …" and I became a big fan of it.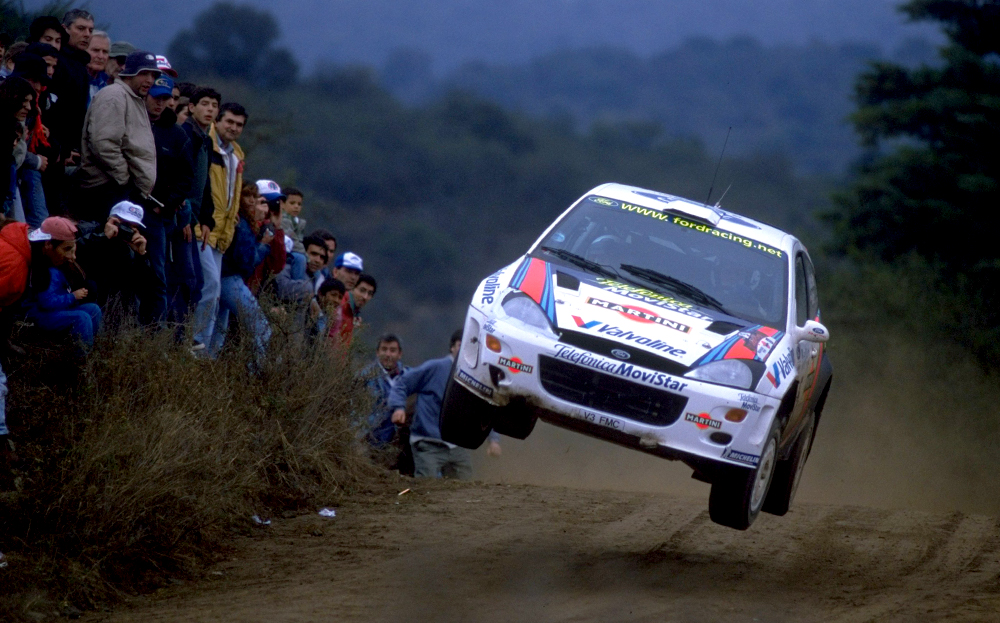 Colin McRae, one of Hoy's motor sport inspirations, pulls off a typically flamboyant manoeuvre  in the Rally of Argentina, May 2000 (photo: Grazia Neri /Allsport)
Driving: Why didn't you race cars or karts at a younger age?
CH: No idea how to get into it, really. It's one of these things that seem very tricky to get into, you know; you appear to need a lot of money to do it – even karting. BMX and bike racing was what I was doing as a kid, and I never even thought of motor sport as a potential activity; it was just something you watched. I didn't learn to drive until I was 21 and that was purely to get from Edinburgh to Manchester for my cycling training.
Driving: What motivated you to get into motor racing later in your life?
CH: I went to a track day at Bedford Autodrome – a PalmerSport day, in 2008. Up until that point I was just a fan and I never thought of driving. I drove a full day there and that was it,  I was hooked, so I spoke to Jonathan Palmer (PalmerSport's  chief executive and a former F1 driver) and I said: what do you reckon I should do? What car should I get? I wanted to get a car for track days and he said to get a Caterham, as it's nice and light and you can learn the basics.
So, I bought a Caterham and I used to go to Oulton Park two or three times a year at the end of the cycling season – whenever I had the chance – to do a few track days. I never thought beyond that, really, but then I got a couple of one-off race opportunities before it was suggested to me that I enter the Radical SR1 Cup, and then after that I got the opportunity with Nissan.
"The one thing I'm really keen for people not to get the impression of is that I'm waltzing in here thinking, 'Yeah, I can be a racing driver – give me a shot'"
Driving: Would you consider yourself a racing driver now, rather than a retired professional cyclist?
CH: After I retired from cycling I was asked on an immigration paper at an airport what my profession was … I didn't know what to say! I thought, "What am I now?" I suppose I can't call myself a racing driver first and foremost because I think it's almost disrespectful to pro racing drivers.
The one thing I'm really keen for people not to get the impression of is that I'm waltzing in here thinking, "Yeah, I can be a racing driver – give me a shot." And you win a race and it sounds as if that's down to me and I'm international standard.
My win at Silverstone in April (in a European Le Mans series race) was down to a great team, a great co-driver – Charlie Robertson was fantastic – and I did my job, which was just to keep the car on the track and get round doing consistent lap times. So I'm still an amateur but I'm trying to be the best amateur that I can be. I need to show the sport the respect that it deserves.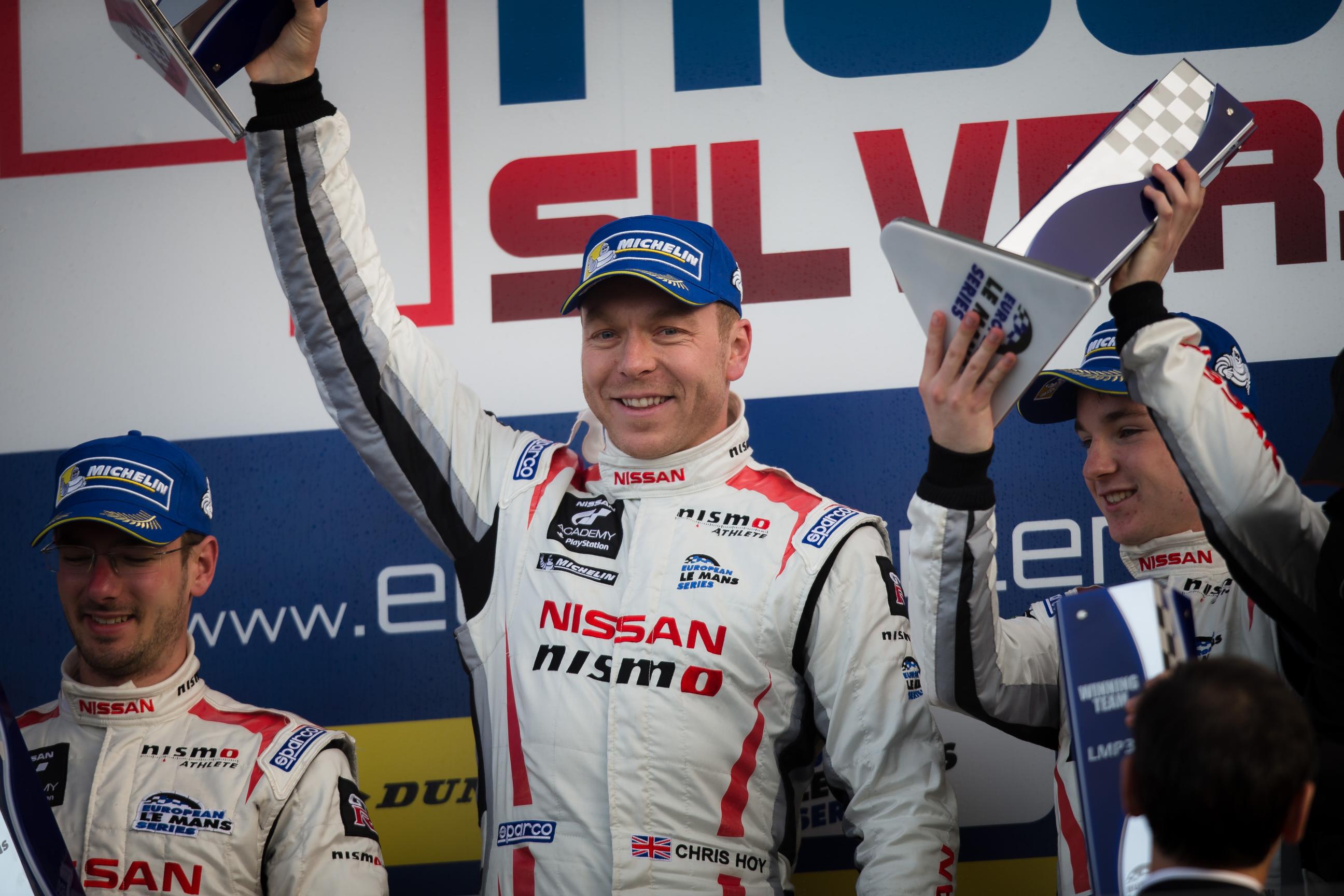 Chris Hoy after his European Le Mans series win at Silverstone in April this year
Driving: You've had a phenomenal cycling career. Did you reach a natural conclusion to it?
CH: Yes. You get to a point physically where you can't sustain that level of performance, so you either continue and watch yourself drop down in the ranks or you stop when you're at the top. And that's the hard thing to do: to know when to stop.  Most people would retire in their late twenties or early thirties but I went on until I was 36 so I managed to squeeze the last few weeks and months out of my career just in time for London 2012.
Driving: There are quite a few older guys in the world endurance championship …
CH: It's a sport in which experience and skill are the two most important things. The physical effort isn't the biggest factor in your performance.
---
Click here to read more exclusive interviews 
---
Driving: How's the training different? Presumably you've changed physically?
CH: It's just a lot less: a lot less training, a lot less physical effort required. It's the skill and the concentration.
Driving: Are you training different parts of your body, though?
CH: A little bit, but not really. The training comes from driving the car; it's not like if I got physically fit in a different way it would help me with driving. There's nothing there physically that has held me back – put it that way. I'm not doing sprint training any more so I suppose it's kind of gone towards endurance training, and I might do longer rides on the bike, but then I used to go on long rides on the bike anyway, so nothing has really changed.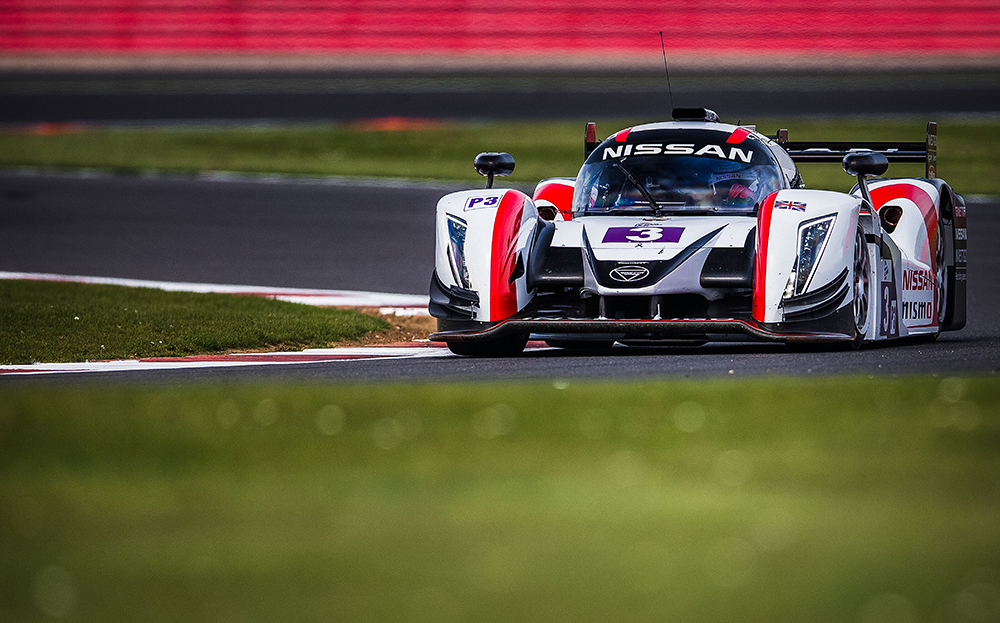 Hoy driving his Ginetta-Nissan LMP3 during the 2015 European Le Mans series
The driving is what gets you this specific fitness. If you have a long stint in the car, by the end of it you will feel it in your neck, you feel it in your arms and then after a month of doing that on a regular basis you hop in and you do it and you don't notice anything.  As you progress through the cars to the really high natural G-force cars –  the P1 cars – it's a different kind of load you are experiencing. There's progression through the cars to get there.
Driving: Has it been a steep learning curve?
CH: Yes, it has. Our first race was only two years ago, so to go from having never raced before to driving a test day at Le Mans has been very steep!
"If you are going to compete you may as well try to finish, and if you are  going to try to finish you may as well try to win"
Driving: How was the recent test at Le Mans for you?
CH: It's amazing, it's awesome, it's like nowhere else … it's really, really cool.
Driving: What are your goals in motor sport?
CH: Just to compete at Le Mans, that's the ultimate ambition. If you are going to compete you may as well try to finish, and if you are going to try to finish you may as well try to win, but there are so many variables that you never know [what will happen]. You don't aim to come second but at the same time you are realistic that there are a lot of things that you have no control over.
---
Click to read car REVIEWS or search NEW or USED cars for sale on driving.co.uk
---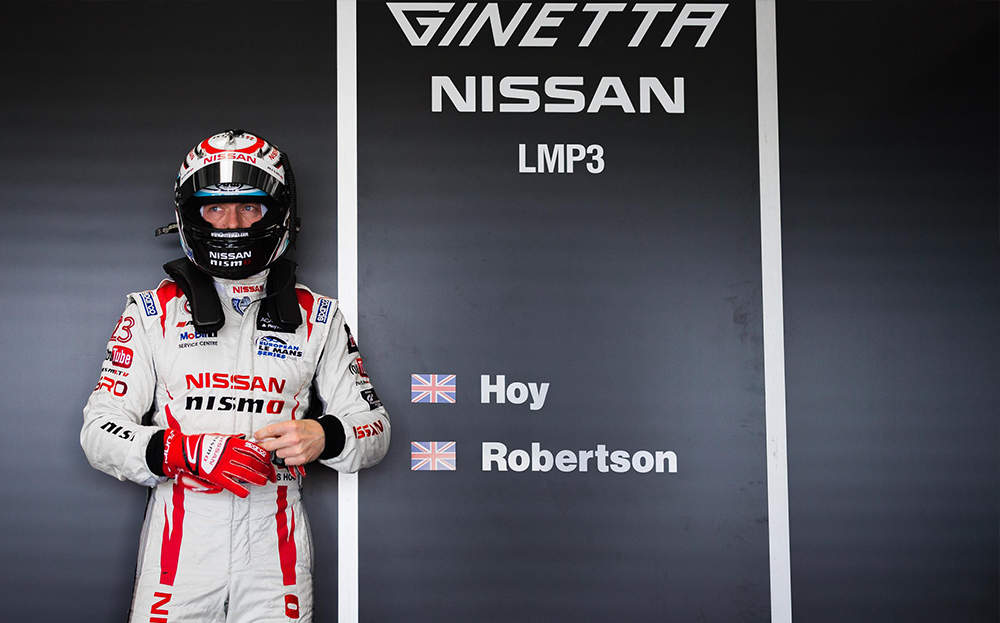 Hoy collects his thoughts during a race
Driving: Will you be driving an LM prototype or a GT car at Le Mans?
CH: A prototype. I think an LMP2 car is the most likely way to get into it. In the middle [of the pack] with not a massive speed differential from the P1 cars ahead or the GT cars behind, so it's probably the safest place to be, really.
Driving: What was your first car and what have you got in your garage right now?
CH: My first car was my parents' car, which I started using and then it became my car without them really noticing. It was a Citroën Xantia diesel and had about 130,000 miles on the clock. It was a big old barge and the air suspension used to go without any warning – you would be driving along and it would either go right up like a monster truck or become a low rider on the motorway. Terrifying! But it got me to the training and that was the whole point of passing my test.
The first car I saved up to buy was an old R-reg BMW 318i. That was my dream car – I was well chuffed with it. That was in 2001, so I would have been 25 or 26 at that point, so it was pretty cool.  But now a Nissan GT-R … that does everything for me at the moment because Callum [Hoy's nine-month-old son] fits in the back seat, so it's practical as well as exciting.
I don't have any interest in track cars now because I'm racing. I used to have a Caterham R400 but I sold that and bought a Lotus 2-Eleven.  Then I sold that when the Radical SR1 cup started. The exciting cars are all out on the racetrack.

Hoy's first car — a Citroën Xantia — was swiped from his parents' driveway. Its air suspension was less than reliable
Driving: Are you watching Formula One this season?
CH: Yes. It's getting a bit of flak at the moment but I'm still a big fan. There are obviously things that could be better about it but for the past 10 years I have been following it really closely.
Driving: You are passionate about getting young people into cycling; are you passionate about getting young people into motor sport as well?
CH: If you can get the opportunities for kids [you should do it]. That's why Nissan's GT Academy programme is so good, because it's a sport that's seen as being difficult to get into, but now there's this genuine pathway: if you have the talent in a virtual world, and you can be quick on a PlayStation, it's not unreasonable to dream that one day you can be racing for real.
There are so many great drivers out there who aren't getting the drives because there's only so many seats available. There are more drivers than there are seats. However, if you work hard and if you apply to the GT Academy as a complete novice, that could be a great way to get in to the sport.
Driving: Are you any good at the games?
CH: Not bad actually – getting better at them. I do a lot of sim work now. The graphics on the PlayStation are actually better than on the sims I use, but the steering wheel feedback and pedal feel are what make it really good on the sims.


---
Click to read the inside story behind Nissan's 2015 Le Mans  LMP1 attempt
---