Inside Nissan's 2015 Le Mans challenge: why coming last was really a victory
Triumph over adversity ... and promise for 2016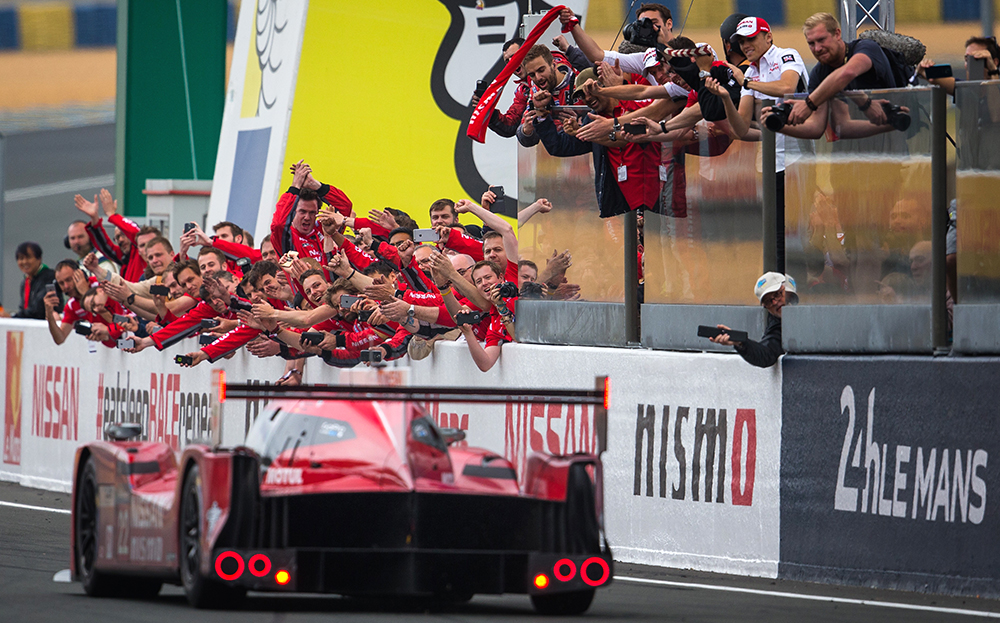 NO ONE ever said it would be easy. Last weekend Nissan returned to the Le Mans 24 Hours for the first time since 1999. Only one of its three GT-R LM Nismo cars made it across the finish line — in last place, 153 laps behind the winning Porsche. Officially, the Nissan was unclassified.
---
Browse the Nissans for sale on driving.co.uk
---
Yet there was joy in the Nissan garage. After 24 gruelling hours, Nissan had achieved a humble goal in its first year back – simply to complete the race. In a good-natured press briefing the day before the race, Darren Cox, Nissan's global motor sport director, had laid out his expectations: "This is all about data-gathering for next year. We need to get a car home, without a doubt."
The Le Mans 24 Hours is surely the best-known motor race in the world, famous for its history, glamour, that Steve McQueen film … and for pushing man and machine to the limit. The first race was in 1923, when modified versions of Bugatti, Bentley and Alfa Romeo road cars battled it out.
Today, it is part of the world endurance championship series, and the racing cars that take part are either derived from road cars, in the GT classes, or built purely for the race, in the Le Mans Prototype (LMP1 and LMP2) classes. A field of 55 cars started the race this year but only 40 managed to keep running flat-out around the 8½-mile course for a full day, and just 37 were classified finishers.
"If you're Audi, an engineer can say, 'Let's try this or that', and someone else will say, 'No, we tried that seven years ago and it didn't work.' We don't have that luxury."
Nissan has never won Le Mans. The Japanese company has been in pole position and reached the podium with a third place in 1998, but victory has eluded it.
When Nisssan announced the car for this year, there was no shortage of hype. Unlike competitors' machines, it had a front-engined, front-wheel-drive layout, dreamt up by Ben Bowlby, the team principal and technical director. The aerodynamics were ultra-slick, and 1,250hp hybrid powertrain would trump that of Porsche's 919. But these optimistic expectations were played down as time marched on.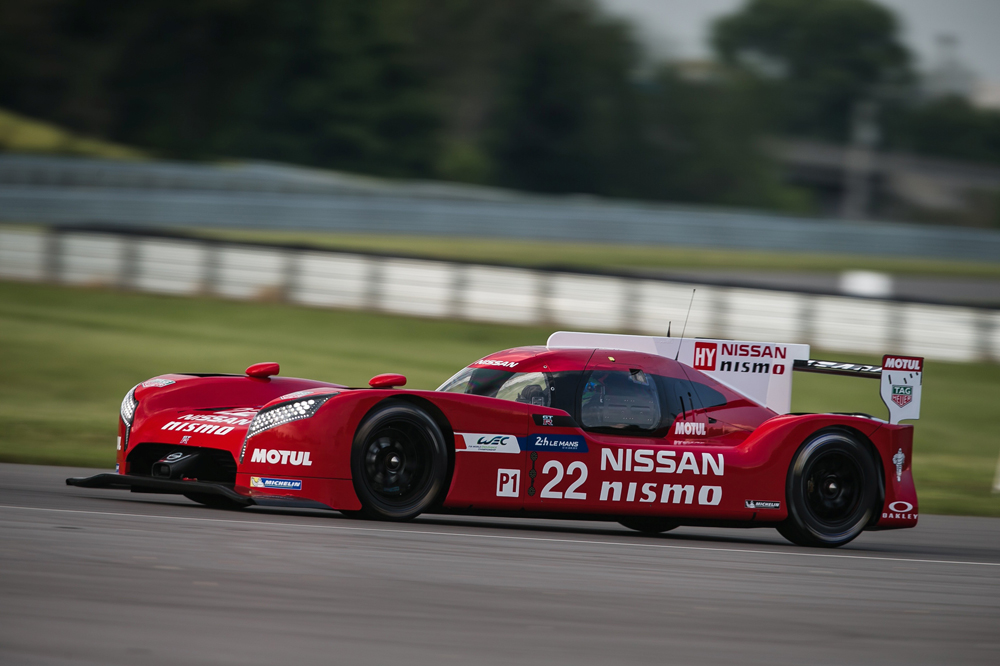 The Nissan GT-R LM Nismo is a radical design and has the potential to be fast, but its wings were clipped in its debut race at Le Mans
A failed crash test earlier this year set the project back a reported two months and the team missed the first two races of the endurance season. The car was to make its debut at Le Mans, where the stakes are highest."We're doing our testing in public, effectively," Cox said last Friday.
Nissan was developing its LMP1 cars on the fly at Le Mans, experimenting with setup right up until the race start. Cox gave one example: "The crown on the Mulsanne straight was causing some sparks, so we clearly had our rear ride height wrong on Wednesday evening. If you're Audi, an engineer can say, 'Let's try this or that', and someone else will say, 'No we tried that seven years ago and it didn't work.' We don't have that luxury."

Nissan's Le Mans drivers (left to right): Tsugio Matsuda, Lucas Ordonez, Max Chilton, Alex Buncombe, Jann Mardenborough, Olivier Pla, Harry Tincknell, Michael Krumm and Mark Shulzhitskiy
Nissan certainly didn't make it easy for itself. While cars from Audi, Toyota and Porsche all have their internal combustion engines mounted in the middle of the car, with power delivered to the rear wheels, and electric motors driving the front (Audi and Porsche) or all four wheels (Toyota), Nissan's front-engined and front-wheel-drive layout was novel.
Bowlby believed that by concentrating power, downforce and weight at the front, where the regulations allow more design freedom, he could create a faster car under current rules.
However, with the wick turned down on its hybrid drive – problems means that the hybrid drive was powering only two wheels – Nissan's LMP1 was proving some 20 seconds slower per lap than the leading Porsches. It was so slow that the Nismos were forced to start from the back of the field: 30th, 31st and 32nd.
Ahead on the grid were LMP1 rivals from Porsche, Audi and Toyota, as well as all of the lower LMP2 class runners.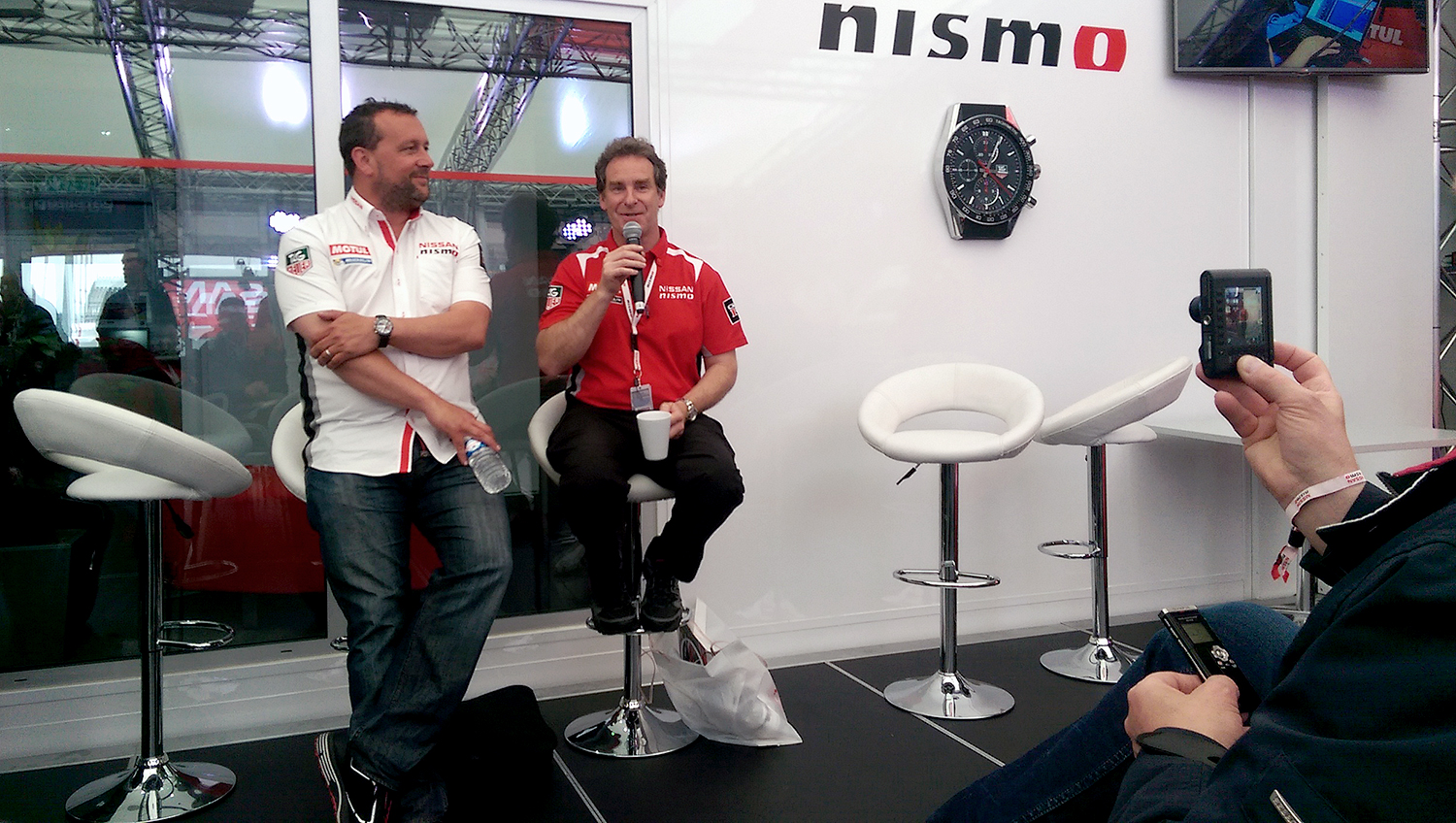 Darren Cox (left) and Ben Bowlby are typically upbeat as they brief journalists before the race, despite problems with the car
 Things got off to a bad start for British driver Jann Mardenborough, the exciting talent who had graduated from the PlayStation GT Academy (a competition to turn video gamers into real racing drivers), when his No 23 Nissan developed a clutch problem just before the race start. After repairs, Mardenborough finally pulled away from the pits on lap six of the race.
---
Click to read car REVIEWS or search NEW or USED cars for sale on driving.co.uk
---
Meanwhile the other two Nissans failed to make much headway into the LMP2 crowd as predicted, and proving Le Mans is not for the faint-hearted, other mechanical problems dogged the cars over the next 24 hours.
For one, Cox let slip for reliability reasons the cars were running with no electric power at all; they were being propelled solely by the internal combustion engine, rated at "just over 550hp" – nowhere near the power of the Porsches, Audis and Toyotas.
The @NISMO cars are just running on their internal combustion engines, I'm told. "Over 550hp" – ie not much. #LeMans

— Will Dron (@wdron) June 13, 2015
  What's more, with no regenerative braking the larger front brake discs were being worked to destruction and replaced far too often. There were several clutch replacements, too, and more than once the No 21 car required a "control, alt, delete" reset of the electronics to fix an issue that was locking it in fourth gear. That car was retired at 1am after it lost a wheel and stopped on track, unable to be recovered to the pits.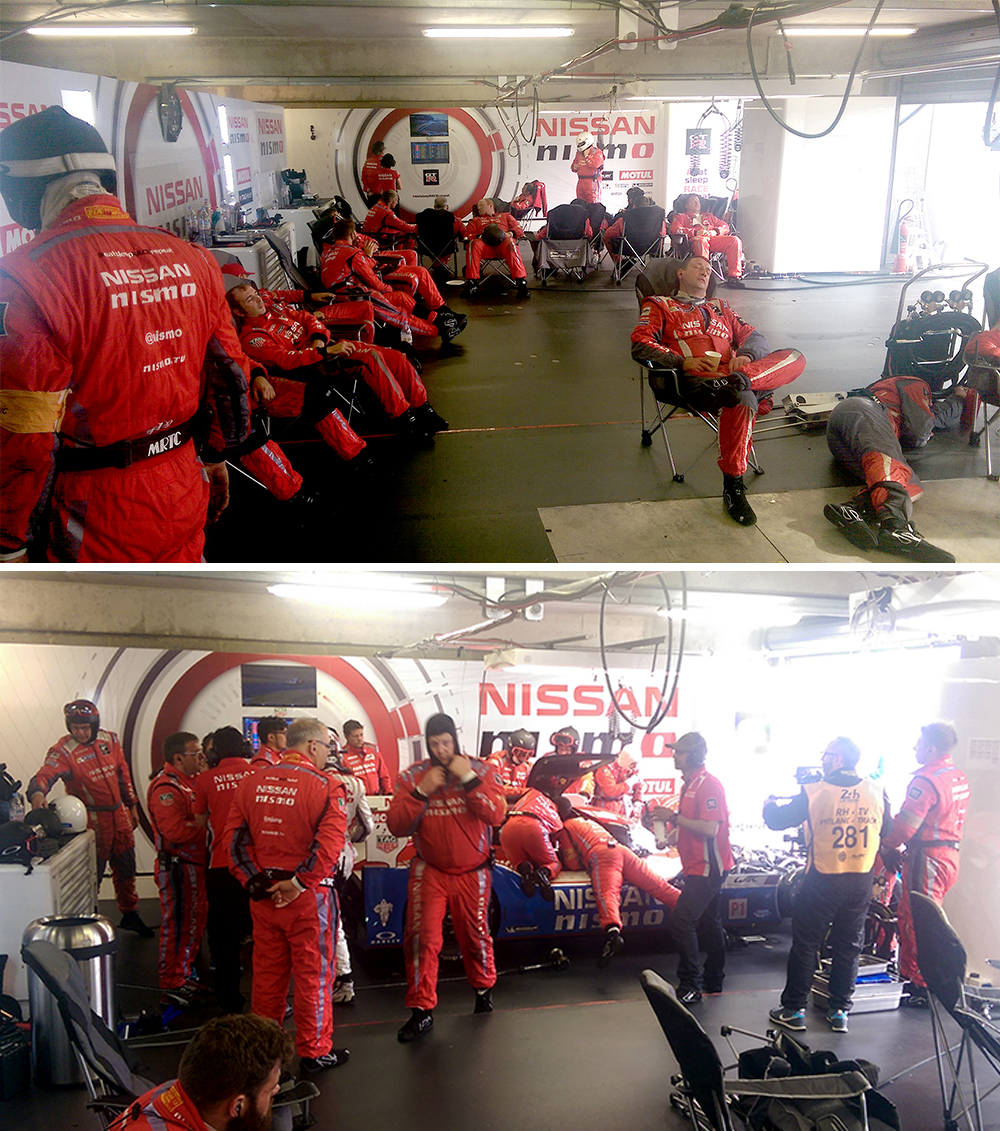 Exhausted mechanics take a much needed nap, then burst into life to resolve a transmission problem       A rear suspension issue on the No 23 car resulted in a heartbreaking retirement from the race with one hour remaining.  And so for the final hour all eyes were on the No 22 car, driven by Harry Tincknell, Michael Krumm and Alex Buncombe. After 242 laps over 24 hours, 2 minutes and 17.475 seconds, Krumm saw the chequered flag and a very exhausted team cheered, hugged and celebrated in the pit lane. After the race, Cox reflected: "The guys in the garage are the heroes this weekend, and the drivers have all done an incredible job – sometimes in very difficult circumstances. They needed physical and mental strength in equal measure this weekend and every one of the nine delivered for us. We have done exactly what we needed to do: we dug in, we solved our problems, we exploited the limits of our current performance and we finished the Le Mans 24 Hours."  
---
Nissan: the fan favourite
Given the setbacks pre-race, and the compromises required to run at all, the question had to be asked: why didn't Nissan just wait until 2016 and attack with full force? "We had to come this year," Cox explained. "Next year is the end of the regulations cycle so we had to be here in order to make the most of the investment in the car, and to prove our concept." Running twice around the clock at Circuit de la Sarthe would also provide invaluable data for the 2016 race. Even so, taking the car to Le Mans was brave – the risk that Nissan could come out looking a joke was high. Keeping the media close, and the fans closer, was a tactic employed from the start to help minimise any sniping. On top of inviting the world's press to Le Mans, Nissan was active on Twitter and Facebook, streamed live on-board footage from the cars via YouTube and published video diaries.    
"Shoot anything except our data screens." @NISMO is refreshingly open. #LeMans pic.twitter.com/viIDq4oQTS — Will Dron (@wdron) June 13, 2015
"Ben Bowlby says, 'The truth will save you'," Cox explained. "So that's what we do; we tell the truth. If we close the doors, like Formula One is doing, the sport will die. We've got to find new ways of doing it, so we're very active on social media, we're very active in video gaming, and we hope that we're improving the sport.
"Our brand is 'Innovation that excites' – it's not 'Be very serious and do engineering… or 'Vorsprung durch Technik', or whatever it is."
To illustrate just how open Nissan is prepared to be, Cox explained that he had even invited the Audi TV crew into the pit garage on test day at Le Mans.  "They were like, 'Ha-ha! English humour!'
"I said, 'No, really, do you want to come in?' They asked who I was and I said, 'I'm in charge. Do you want to come in our garage or not?' I brought them in and they asked if they could film the engine and I said, 'Yeah, sure!' Afterwards, the producer came up to me and said, 'We are not even allowed into our own garage!'"
---
Browse the Nissans for sale on driving.co.uk
---
That's not to say that Nissan isn't taking its LMP1 programme seriously; a tour of the pit garage proves how hard the team is working to squeeze whatever performance they can out of the car. Cox says that when they've got their "game face on", everyone can see how competitive Nissan is.
"Our brand is 'Innovation that excites' – it's not 'Be very serious and do engineering… or 'Vorsprung durch Technik'. When we're further forward we might even start publishing our set-up sheets… why not?"
And don't forget that Nissan has proven itself in LMP2 – 14 of the 19 cars in that class were powered by Nissan at Le Mans this year, and Nissan power has dominated the last five years. The company also recently entered two Garage 56 (experimental) projects, and has just signed a deal to be the single supplier of engines for the new LMP3 class.
For the record, at the head of the 2015 Le Mans 24 Hours field there was a relentless scrap between Audi and Porsche, resulting in a thoroughly deserved victory for Nico Hulkenberg, Nick Tandy and Earl Bamber in the No 19 Porsche 919. Second was the No 17 Porsche driven by Mark Webber, Brendon Hartley and Timo Bernhard, while the final podium spot went to the No 7 Audi of Andre Lotterer, Benoit Treluyer and Marcel Fassler.
Porsche and Audi are the most successful manufacturers of all time at Le Mans, with 29 wins between them, and it showed.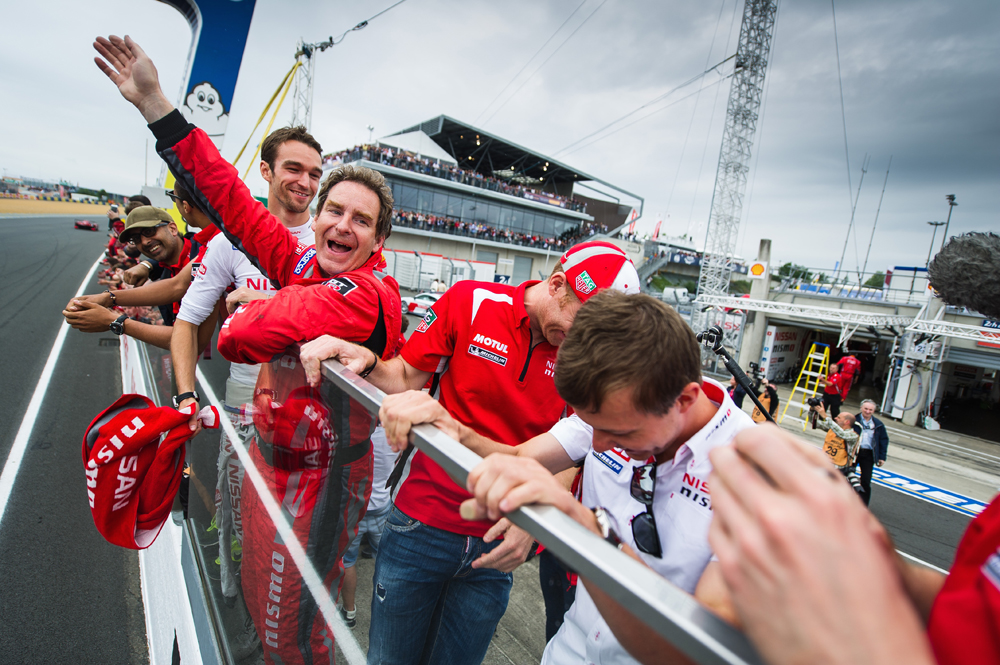 Ben Bowlby celebrates finishing the race
Nissan went into the 2015 Le Mans race knowing its chances of victory were slim to nil. It set a new goal – complete the race; see the chequered flag – and achieving that was some achievement.
Will Nissan be back next year with the same car? "We have learnt an incredible amount at Le Mans and our battles will only make us stronger. If the rules don't change too dramatically for LMP1 in 2016, that would suit us", says Cox. "If the playground is something we want to play in, we'll be here."
The world will be watching … and expecting great things. Pressure? What pressure?
---
Click to read car REVIEWS or search NEW or USED cars for sale on driving.co.uk
---