Fuel protesters target motorways with rolling roadblocks throughout UK
Demands for more fuel duty cuts
Police warned of "serious disruption" and "significant delays" this morning as demonstrators this morning took to motorways up and down Britain, driving in slow-moving convoys in protest against record-high fuel prices.
The protesters, many driving vans and lorries, targeted motorways in the west of England, South Wales, Scotland, Essex, Yorkshire and Lincolnshire in a series of rolling roadblocks that caused traffic in the affected areas to slow to a crawl or grind to a complete halt.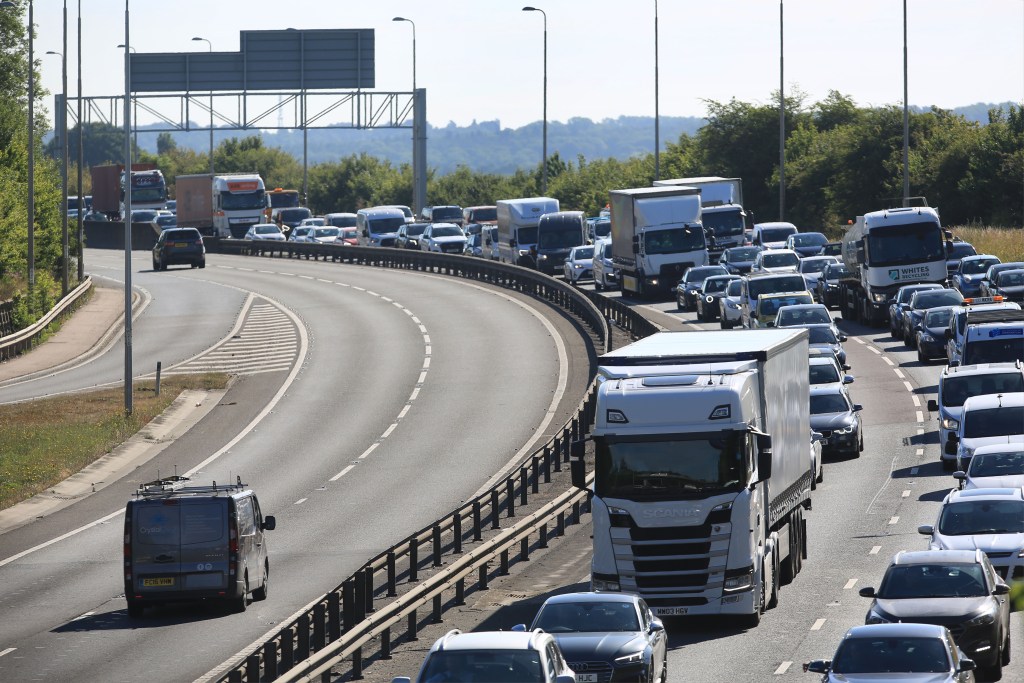 The motorway protests have been organised via social media under the banner Fuel Price Stand Against Tax, with demonstrators demanding that the government do more to combat rampant rises in fuel prices that have seen the average cost of a litre of petrol at UK forecourts hitting 191.5p and 199.0p for diesel on Sunday.
The protests have been primarily focused on three-lane motorways, with the two outer lanes occupied by the convoys of protesters, leaving the inside lane free.
Among the roads affected by disruption have been the:
M4 and Prince of Wales Bridge
M5 in Devon
M32
A38
M180 in Lincolnshire
A12 in Essex
A92 in Scotland
A64 near York
Particularly badly affected has been the area around the Prince of Wales Bridge on the M4, the Severn estuary crossing that links England and South Wales.
With convoys converging on the bridge from both directions, police closed the crossing in the eastbound direction and stopped the rolling roadblock approaching from the west before it reached the bridge. Gwent Police were aware of the plans in advance and served legal notices to the group, though the protest went ahead regardless. As a result, 12 arrests were made today for breaching the notice.
Superintendent Tom Harding said: "Over the last two weeks, we have been working jointly with a number of partners to ensure that emergency and critical services could continue and to prevent serious disruption to both road users and local communities.
"The right to protest under UK law must be balanced with the rights of the wider community who may be affected."
He added that Gwent Police are aware of other driving offences committed by the protesters, such as using mobile phones while driving. "These offences will be dealt with appropriately," said Superintendent Harding.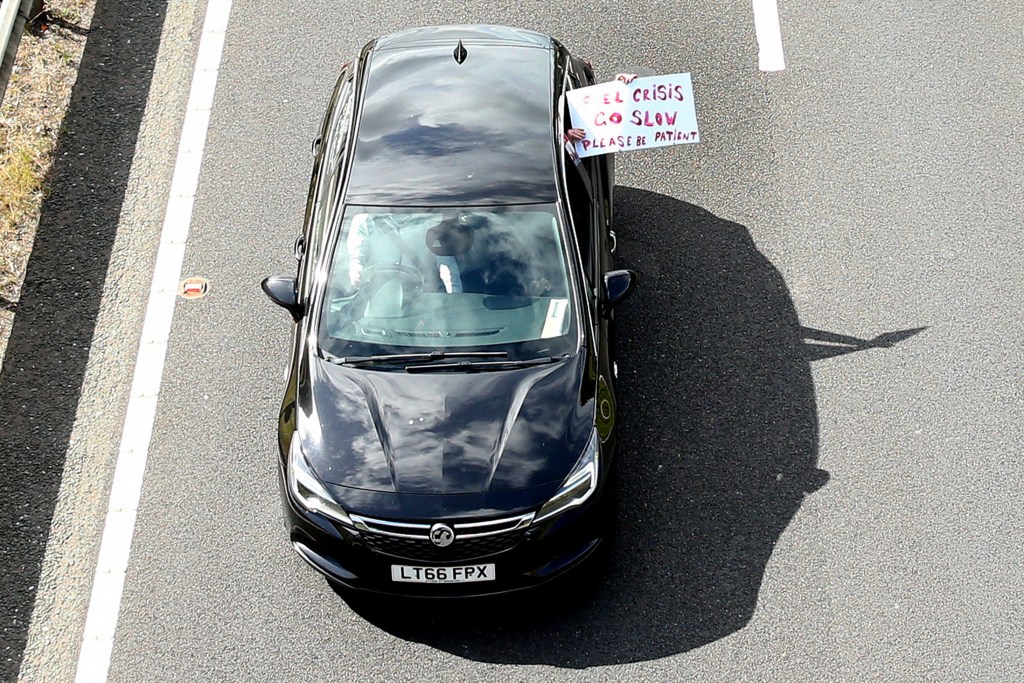 Devon and Cornwall Police said they were aware of a convoy heading northbound from Exeter services on the M5 this morning. As part of another protest in the region, one driver on the A38 near Ivybridge in Devon was arrested after failing to heed a warning from the police about driving dangerously slowly.
"Unfortunately, we have had unsafe driving on the A38 including vehicles travelling at a dangerously low speed," a spokesperson said.
In West Yorkshire, police said that officers had deployed a "single tyre deflation device" — better known known as a "stinger" — at the Ferrybridge services near the M62 and A1(M) in the initial stages of the protest. The device, the force said, had not been used, no damage had been done to vehicles and it had since been withdrawn.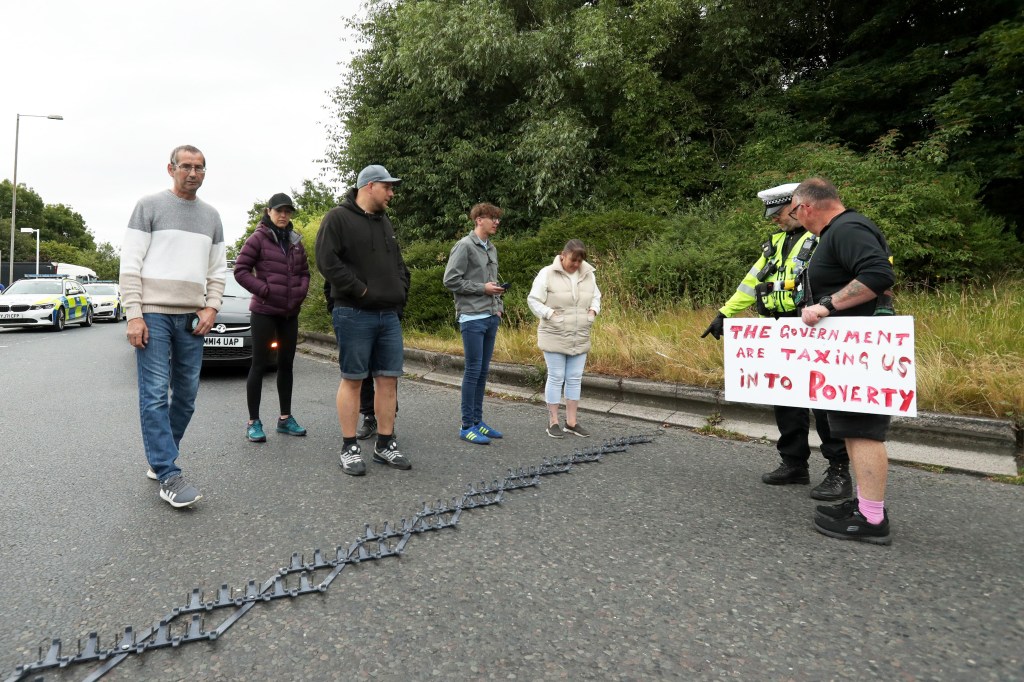 West Mercia Police criticised the actions of some protesters who took part in a convoy of approximately 20 vehicles near Telford in Shropshire, saying the demonstrators had "compromised the safety of other road users" and said it would take action against any who committed road traffic offences.
Rising price of fuel
Fuel prices have been driven upward over the past year by a wide range of factors including Russia's invasion of Ukraine and a refusal by OPEC countries to significantly ramp up oil production in light of renewed post-pandemic demand.
A 5p cut in fuel duty by the Chancellor, Rishi Sunak, as part of his Spring Statement mini budget in March, failed to halt the rise in prices and both protesters and motoring groups are calling on the government and retailers to do more.
The RAC's fuel spokesman Simon Williams said there did not appear to be any sign of retailers reducing forecourt prices despite weekly wholesale costs having fallen for five weeks. Last week the AA launched a campaign called Pump Fiction, which highlighted discrepancy.
Gordon Balmer, executive director of the Petrol Retailers' Association, a body that represents independent forecourts, said that rising prices were related to international events and the weakness of the pound against the US dollar as opposed to actions on the part of retailers.
While the Chancellor has said that he may consider further cuts to fuel duty, the government criticised today's protests.
A government spokesperson said: "While we respect the right to protest, people's day-to-day lives should not be disrupted, especially on busy motorways where lives are put at risk and resulting traffic delays will only add to fuel use."
Silverstone protest
Yesterday's British Grand Prix also saw a protest by a separate campaign group, Just Stop Oil, in which activists walked onto the Silverstone Circuit shortly after the race start.
Most motorsport insiders condemned the action as dangerous, putting the lives of drivers, marshals and members of the public at risk, though former footballer Gary Lineker defended the move, Tweeting "history will look back very favourably on these people."
F1 commentator Martin Brundle responded, "Gary please don't encourage this reckless behaviour," while F1 driver Sir Lewis Hamilton said he supported those who stand up for what they believe in but urged protesters not to walk onto racing circuits.
Related articles
Latest articles