Diesel motorists face variable charges based on emissions and aggression
Location, fuel consumption and driving behaviour will all be monitored to make polluters pay
---
Published 22 February 2017
DRIVERS of dirty diesel cars could be charged a variable fee based on the pollution they emit under proposals being considered by local authorities.
The "polluter pays" system involves installing a monitoring device in vehicles that tracks their movements and measures in real time the amount of toxic nitrogen oxides they produce.
Drivers could be charged a higher rate for taking routes near schools in pollution hotspots or for choosing to drive in city centres during periods of heavy air pollution.
---
Browse NEW or USED cars for sale on driving.co.uk
---
Unlike the flat-rate £10 "toxicity charge" being introduced for most pre-2005 cars this year by Sadiq Khan, the mayor of London, the system would penalise drivers who produced higher levels of pollution by failing to maintain their vehicles or by driving aggressively.
Those who kept emissions down by driving smoothly and ensuring that their pollution controls were fully working would be rewarded with a lower rate.
Tantalum, the vehicle tracking equipment company developing the system, said it was working with Capita, the operator of the London congestion charge, on a 1,000-vehicle trial of the system starting in September. The trial would involve vehicles in commercial fleets or owned by leasing companies.
Transport for London and Khan's officials have met Tantalum to discuss the system and the company said it was also talking to other interested local authorities.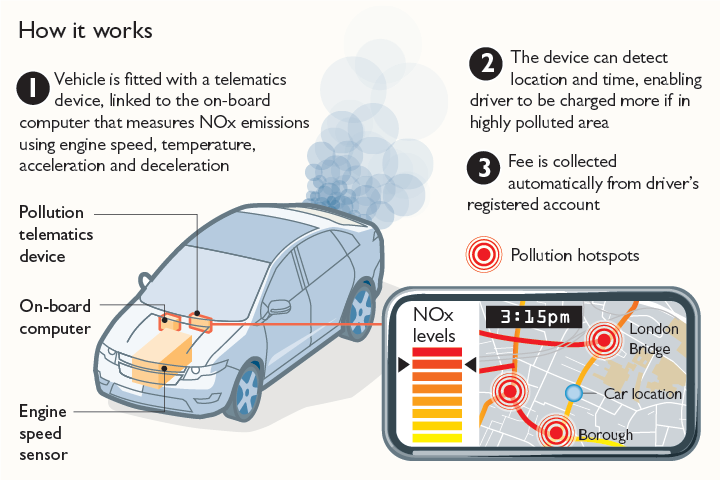 Edi Truell, the former pensions adviser to Boris Johnson when he was mayor of London, is the largest shareholder in Tantalum. He said that Khan's toxicity charge and Westminster city council's 50% higher parking rate for all diesel cars were "blunt instruments" that did not take account of the amount of pollution each car produced.
Some cities, including Paris, Athens and Delhi, respond to smog episodes by banning older cars on alternate days, depending on whether they have an odd or even numberplate.
Truell said Tantalum's system would allow a much more targeted approach, with drivers alerted in advance about pollution hotspots and given the chance to avoid them and pay lower charges by switching routes.
Tantalum has already installed equipment in several hundred thousand vehicles to monitor fuel consumption and driver behaviour to help fleet operators reduce fuel bills. Khan confirmed this month that he will introduce the £10 toxicity charge in central London in October this year for cars and vans that do not meet Euro 4 emissions standards, typically those registered before 2005. This will be on top of the £11.50 congestion charge.
---
Browse NEW or USED cars for sale on driving.co.uk
---
About a third of the 30m licensed cars in Britain were registered before 2005, but only a small proportion enter central London. Khan is expecting his £10 charge to apply to 10,000 vehicles a day. The charging area could be extended to the North and South Circular roads by 2020.
The Department for Environment, Food and Rural Affairs is working on a plan, due to be published in April, which could include charges for older diesel cars entering city centres.
A spokeswoman for Khan confirmed that talks had taken place with Tantalum. She said: "TfL is working closely with industry to ensure the most efficient advanced systems are deployed in all future plans."
Ben Webster, Environment Editor
This article first appeared in The Times