Dale Vince v Elon Musk: electric car tsars at war over motorway charging stations
Tycoons clash in an electrically charged scrap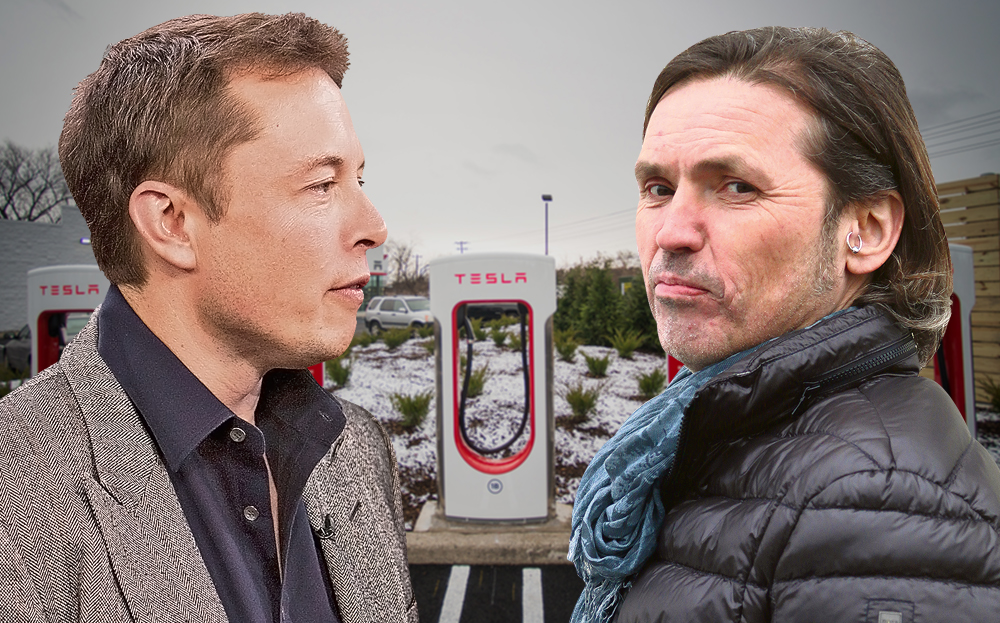 IN A windswept storage yard at a service station off the M25 lies a forlorn reminder of Britain's electric superhighway dream. Standing amid the discarded boxes from Burger King at the back of South Mimms services is a packing case festooned with faded shipping notices to say that it belongs to the electric car company Tesla.
---
Search for and buy your next car on driving.co.uk
---
Inside the case is high-powered charging equipment that not long ago was seen as the future of long-distance electric motoring. But it has never been used, the victim of one of the most extraordinary stand-offs in eco-friendly history and one that could end up costing the taxpayer millions of pounds in wasted government grants, as well as setting back by as much as two years Britain's lead in emission-free car travel.
The dispute is between two of the most high-profile green entrepreneurs. In one corner is Elon Musk, head of Tesla, a maverick billionaire with a buccaneering style and a penchant for big, ambitious projects. In the other is Dale Vince, the founder of Ecotricity, a one-time hippie from Norfolk who struck it lucky with a prescient move into wind power and is now worth more than £100m. His luck appeared temporarily on hold at the weekend when his ex-wife won a ruling to take him to the family court and claim a share of his earnings.
At the root of the dispute is Ecotricity's ownership of the rights to build recharging stations at motorway services. Having a way to recharge cars quickly and conveniently on the main road network is seen as the key to establishing electric cars in the mainstream. Ecotricity had entered into a partnership with Tesla, allowing the American firm to build its own, faster, rechargers on sites leased by Ecotricity. The hope was for Tesla to do what it had done in California, Germany and Norway, where rechargers have been installed at sites along motorways to create highways along which electric car owners can now travel free of so-called range anxiety.
But the idealism of the venture soon unravelled to reveal a tale of alleged corporate skulduggery that would be more at home in an episode of Dallas — except without the oil. And it began with an email.
It began with an email sent in error from a Tesla employee to someone at Ecotricity with the same first name as its intended recipient. The cost of the "fat-fingered" blunder has yet to be determined, but it could easily run into the millions
In the City they call them fat-fingered trades — when a trader inadvertently hits the wrong key on his computer and costs his bank millions. The price of the email — sent in error late on Sunday, May 18, last year from a Tesla employee to someone at Ecotricity with the same first name as its intended recipient — has yet to be determined, but it could easily run into the millions too.
The email allegedly made clear Tesla's plans to break up the partnership it had built with Ecotricity to install chargers in service areas and instead to make a direct approach to their operators. Ecotricity says that the email — written in haste after an article last year in The Sunday Times that disclosed Musk's concept of an electric superhighway in Britain — also revealed Tesla's intention to blacken Ecotricity's name with politicians and the media. Instead of being sent to Simon Sproule, then Tesla's head of corporate communications, the email was sent by mistake to Simon Crowfoot of Ecotricity, alerting the company to Tesla's plans.
Vince said the email was evidence not only of underhandedness but of a "brutal" corporate culture within the American firm.
"I have never seen anything approaching Tesla's behaviour and we have been around 20 years this year and we've had some run-ins, you know. I do think it's cultural — I just think that's how they operate."
Tesla had wanted to install charging points on a route from Dover along the M20 and another from Bristol along the M4, converging on the M25 before following the route of the M1.
It has declined to comment on Vince's specific allegations, but in a published interview Musk dismissed Ecotricity's behaviour as outrageous. It said the British company was making excessive demands that in effect blocked Tesla's access to motorway sites.
"I've never even met the guy," he said of Vince. "Initially when we tried working with him he started making all sorts of outrageous demands, so we thought, 'Well, OK, we'll just not work with you' — and then he sued us."
It has been whispered that ideological differences may underpin the row. Musk was appointed Britain's "electric car tsar" with a brief to advise the present coalition government. Vince, the boss of Ecotricity, is a Labour supporter and recently donated £250,000 to the party.
Regardless, the stalemate is real. The two sides are locked in a battle at the High Court that could go on for another year, with Musk countersuing to fend off Vince's demand for damages. And while lawyers rack up fees, the dream of electric motoring in Britain is starting to fade. Not just because Tesla owners can't recharge quickly on motorways, but because Britain's role as a leader in emissions-free car technology is under threat.
There is anger at the apparent intransigence of the two companies, but even more so at the government's failure to intervene. The Office for Low Emission Vehicles, a quango with links to the Department for Transport, has £900m to spend by 2020 on promoting electric cars, yet seems powerless to act, even though the government controls the motorways next to which the chargers are needed. It also seems oblivious to the fact that unless electric cars gain credibility soon — something Tesla's supercharged network has achieved elsewhere — the millions of pounds in green subsidies it has already invested in electric schemes will have been wasted.
A model for the UK? Watch our test of Tesla's Californian supercharger superhighway
Baroness Kramer, the transport minister who is in charge of public spending on Britain's electric car charging network, said the government could not get involved in the dispute and appeared to dismiss Tesla owners' concerns as the interests of a wealthy elite.
"I can't comment on a legal dispute. We can't get into the middle of the fight. I hope they will go away and have their fight and sort themselves out. My focus is on the bulk market, on the ordinary person buying the ordinary EV, and making sure that they get what they want. People who are paying super-premium prices for super-premium services, that's… I think there are others who will take that role on."
Kramer's focus may be on the "bulk market", but she risks being accused of backing the wrong horse. Although there has been an upturn in the number of electric cars sold in recent months — 728 vehicles eligible for the government's £5,000 plug-in grant were registered in February, against 122 in February 2014 — the proportion is still tiny: a total of 76,950 cars were sold in February. In fact just over 25,000 electric cars have been sold since the plug-in grant was introduced in 2011.
Many in the industry claim that attempting to change driver behaviour from the ground up with small, slow-charging city cars aimed at the mass market is a mistake. Instead, they say, new technology will be adopted only from the top down: if it becomes desirable in exclusive, top-of-the-range cars, the technology will gradually filter down of its own accord. This is part of the reason why many see cars such as the BMW i8, Tesla Model S and plug-in Porsche Panamera S E-Hybrid as our best hope for the wider adoption of battery power.
Many in the industry claim that new technology will be adopted only from the top down: if it becomes desirable in exclusive, top-of-the-range cars, the technology will gradually filter down of its own accord
Tesla's plan for fast chargers on motorways to supplement overnight charging at the owner's home appears to offer the best hope for an electric future, yet the government seems wedded to another philosophy — that of chargers on urban streets. So far this has failed to ignite the public's interest. A sample study of 30 charging points in London and Bristol found that 18 had problems and seven others were blocked by non-electric cars. Critics say urban chargers are best suited to an early generation of electric cars whose maximum range of about 100 miles has failed to impress car buyers. Models such as the Citroën C-Zero and the Peugeot iOn sold in tiny numbers, despite huge discounts. By contrast, Tesla's Model S, with a maximum range of 300 miles and the ability to recharge much faster than rivals, is a bestseller in the US and Scandinavia.
Edmund King, president of the AA, summed up the frustration of electric car owners and taxpayers. He said the government had failed drivers by giving up control of strategically vital service areas. "Motorway service areas are in a monopoly position and should be obliged to provide services for all road users — that includes Tesla road users as well as other EV road users," he said.
"We think at a time when the government is talking about lower emissions and when government taxation is based on emissions, it seems to be shooting itself in the foot if it can't intervene to help drivers get the resources they need to drive their cars. In a rush to give up responsibility for motorway service areas, the government left open various loopholes whereby the consumer, the driver, isn't getting the best deal."
Critics also point out that Ecotricity's contracts with the operators of motorway service areas — some lasting 10 years — give the company in effect a stranglehold on motorway car charging. Though electricity is free at the moment, Vince warned in a radio interview last week that motorists would probably have to pay from early next year. The operators defend the arrangement, saying that Ecotricity saw a commercial opportunity and seized it.
Andrew Long, chief executive of Extra, which operates nine motorway services in Britain, confirmed that Tesla was unable to install its chargers at Extra motorway services "without a renegotiation of existing arrangements". Long said that Ecotricity had been a "straightforward company to deal with", adding: "Tesla I felt was very slow off the mark to be able to offer a commercial product so it basically got left behind, in my opinion, by Ecotricity."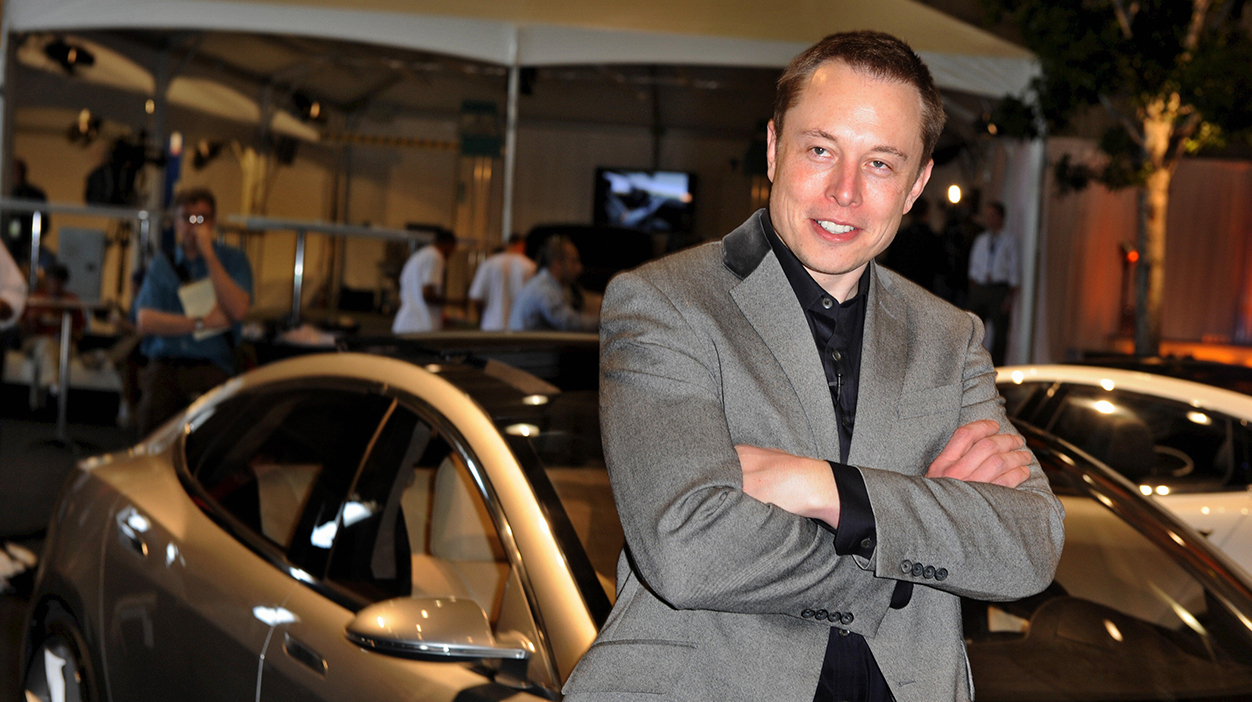 Without government involvement, there seems little immediate prospect of a resolution, unless one or the other side backs down. That seems unlikely: the last hearing took place in November in the High Court Chancery Division and during exchanges between the two sides, there was more than a little sense of posturing.
Even the judge — Master Bowles — appeared to lose patience: "I am troubled in this case. There is a large chunk of me which wonders how much this litigation and perhaps even this application is position-taking [for] commercial negotiations. I am afraid obviously I will treat this as a piece of purist litigation, but I am just troubled that there are these — how can I put it? — undercurrents knocking about."
For now at least the battered equipment at South Mimms service area — once the great white hope of electric motoring in Britain — remains very much out of order.
---
Search for and buy your next car on driving.co.uk
---