Classic Ferrari dealer John Collins enters The Rich List with £103m fortune
From school drop-out to Mr Supercar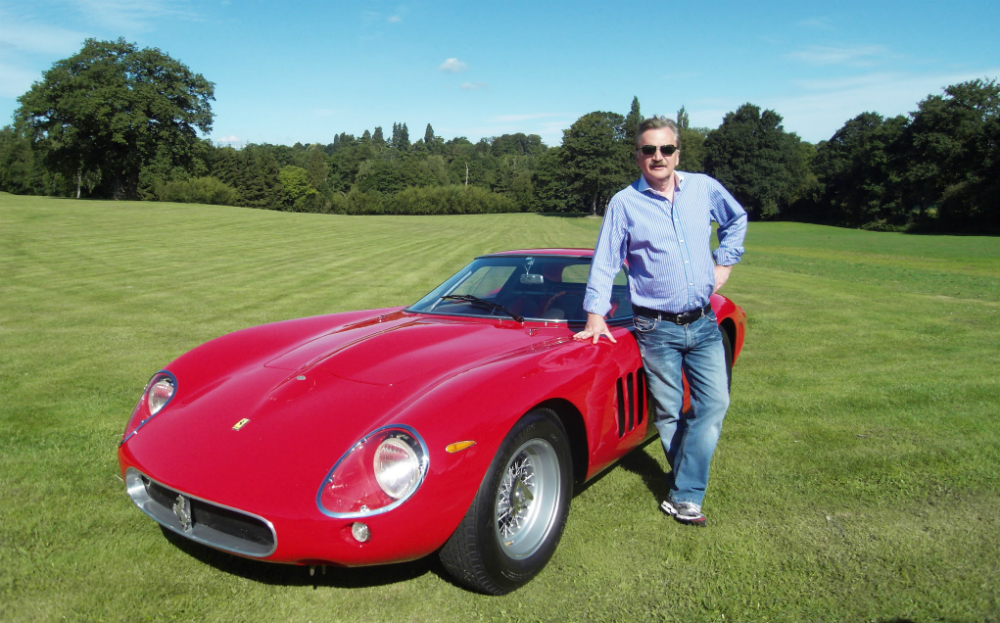 SAVVY investors have for some time viewed classic cars as even more lucrative than property — Driving shined a light on the matter nearly two years ago — and on the evidence of one such British businessman, there's no sign of a slowdown in the market.
The 2016 Sunday Times Rich List, which lands in full on April 24, will show John Collins is a fast riser in the world of motoring tycoons thanks to his company, Talacrest — one of the world's most successful dealers in classic Ferraris.
Today, Talacrest is valued at £100m; a far cry from its humble beginnings based on modest loans from Collins' friends.
Talacrest 2000AD, the parent company owned by Collins, made £15m profit on £113.3m sales in 2014-15. Based in Ascot, Berkshire, it sells historic cars at an average price of £2m to customers from around the world. To date, the company claims to have sold more than $1 Billion (£702m) worth of Ferraris, or 1,700 in total, and is worth £103m.
---
View the Ferraris for sale on driving.co.uk
---
Collins grew up on a council estate in Glasgow and left school at the age of 15, before managing to get a foot in the door of The Daily Express newspaper, where he worked "as a teaboy." That led to a successful stint as a photojournalist, travelling to assignments around the world for national newspapers in Britain and the National Enquirer in America.
Collins lived life in the fast lane, photographing Joan Collins or the Pope one day, and flying to war zones the next. The job was glamorous and well paid, through the 1970s and '80s, but it was to be a love of fast cars that would set him on the road to riches.
In 1976, Collins paid £7,000 for a Ferrari Dino 246. Collins has admitted that, "You could buy a house for £7,000 at that time," and said that no other car maker has the allure of Ferrari.
"Suddenly, all these dealers phoned up saying, 'You can't advertise my car!' So, I told them to check with their lawyers."
After losing his savings in the 1987 stock market crash, he was forced to sell another Ferrari, this time a Testarossa. The next day, the dealer that bought it from him, for £50,000, advertised the car for sale at £80,000, and after letting his feelings be known to the dealer, Collins had his lightbulb moment.
Borrowing money from friends, in 1988, he placed 10% deposits on £3m worth of rare classic cars, and said he'd settle the outstanding balance in six months time when an inheritance came through, then promptly advertised the cars for sale.
"Suddenly, all these dealers phoned up saying, 'You can't advertise my car!' So, I told them to check with their lawyers." Collins had done his homework and knew that he would own the cars so long as he settled the balance on time.
"The ones who did check with lawyers found out that I was right. So, I sold all the cars and made half a million in profit in the six months before I had to pay for them."
The rest, as they say, is history. Today, Collins counts the likes of Chris Evans as a close friend and helped source Ferraris for Evans' personal collection. He even sold Evans his house after half-heartedly brokering a deal during a night of drinking.
Collins believes that the market for so-called modern classics – cars from the '80s and '90s that today's wealthy individuals dreamed of driving as they grew up – will continue to rise in value.
"People continue to get wealthier and the supply [of cars] is not increasing any more. That bodes well for prices in the near term."
The Sunday Times Rich List 2016 will be published with The Sunday Times on April 24. Details of the motoring millionaires will be published on Driving.co.uk.