Hammond's fiery crash could have been fatal for Jeremy Clarkson or James May
Modest height may have saved his life
RICHARD HAMMOND's fiery crash could have been fatal for James May or Jeremy Clarkson had they been driving the same supercar. Sources close to The Grand Tour say that Hammond narrowly missed sustaining more serious or possibly fatal injuries because at 5ft 7in he had sufficient head clearance to avoid a serious head injury. Clarkson and May, Hammond's co-presenters on the Grand Tour, are 6ft 5in and 6ft respectively. The car rolled down a mountainside in Switzerland, earlier this month, and came to a stop upside down on the roof.
In what Clarkson described as "the biggest crash I've ever seen and the most frightening," Hammond, 47, lost control of a Rimac Concept One electric supercar at high speed while filming the second series of The Grand Tour in Switzerland. The car skidded off the hillclimb course, which ascends 157m over 1.1 miles, on a left-hand turn shortly after the finish line and landed on a road directly below before rolling down the hillside.
Richard Hammond was involved in a serious crash, but very fortunately suffered no serious injury. pic.twitter.com/4Oib32IJvj

— The Grand Tour (@thegrandtour) June 10, 2017
A source close to the production team told Driving that if May, who is 6ft tall, or Clarkson, at 6ft 5in and a full foot taller than Hammond, had been inside the car, it's unlikely they would have survived as their heads would have struck the low roof. Photographs of the wreckage show the structure of the £2m Rimac's cabin held up relatively well to the severe impacts but there was extensive damage around the crash structure.
---
Browse NEW or USED cars for sale
---
In a video interview released this week, Hammond said that the car "took a beating" and described the experience as "like being in a tumble dryer full of bricks going down a hill."
He said that he was fully conscious thoughout the accident, and thought he was going to die. Looking at photographs of the crash site, he said: "I was aware that the car was taking just such a beating. I mean if you look at those craters, that's a big hole. That's just impact and it looks like the thing has been dropped from space to leave a hole that big. So yeah I was probably going, 'Well this is it.' In fact, that is what was going through my mind. I thought, 'I've had it.'"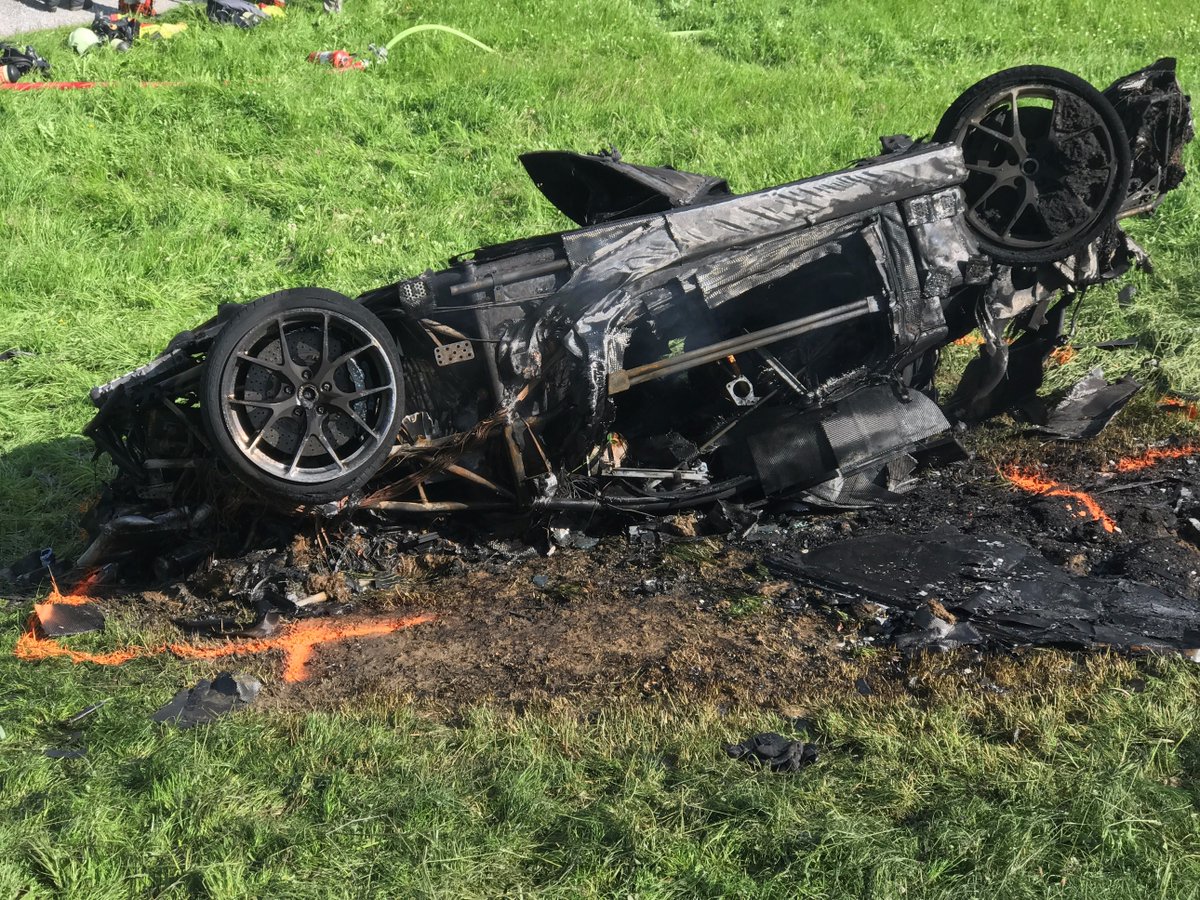 Regarding the tight fit inside the cabin, he said: "Even with me in it, with a helmet on … it's a small car; it's not massive. There's only about that much [indicates around 1.5in above his head] clearance. Which means if it had collapsed by more than that, that's my head."
It was the biggest crash I've ever seen and the most frightening but incredibly, and thankfully, Richard seems to be mostly OK.

— Jeremy Clarkson (@JeremyClarkson) June 10, 2017
Another question is whether a taller driver would have been able to climb out of the wreckage, which quickly burst into flames, so easily. "Obviously because I was upside down, I was hanging off the seatbelt, resting my head on the crash helmet," Hammond said. "It was difficult to get out."
Mindy Hammond, Richard's wife, wrote of the accident: 'Most of us are fortunate to escape looking death in the face. Richard's done it twice – and that's two times too many.'
The accident will be shown when The Grand Tour returns to Amazon Video later this year. The full feature pits the Rimac against a Honda NSX hybrid and a Lamborghini – representing the future, present and past of supercars.
"My swiss army knee" https://t.co/bBx2HEW3W6 via @drivetribes

— Richard Hammond (@RichardHammond) June 13, 2017
Hammond, meanwhile, is back at work and says there will be no delays to the schedule as a result of his accident.
Clarkson on Hammond: he'll forget how to remove his clothes if paramedics keep doing it for him