Chris Evans v Jeremy Clarkson in clash of the car shows
Two big men of TV are revving up to do battle. So is rehashing Clarkson's best wheezes really a good tactic for Chris Evans?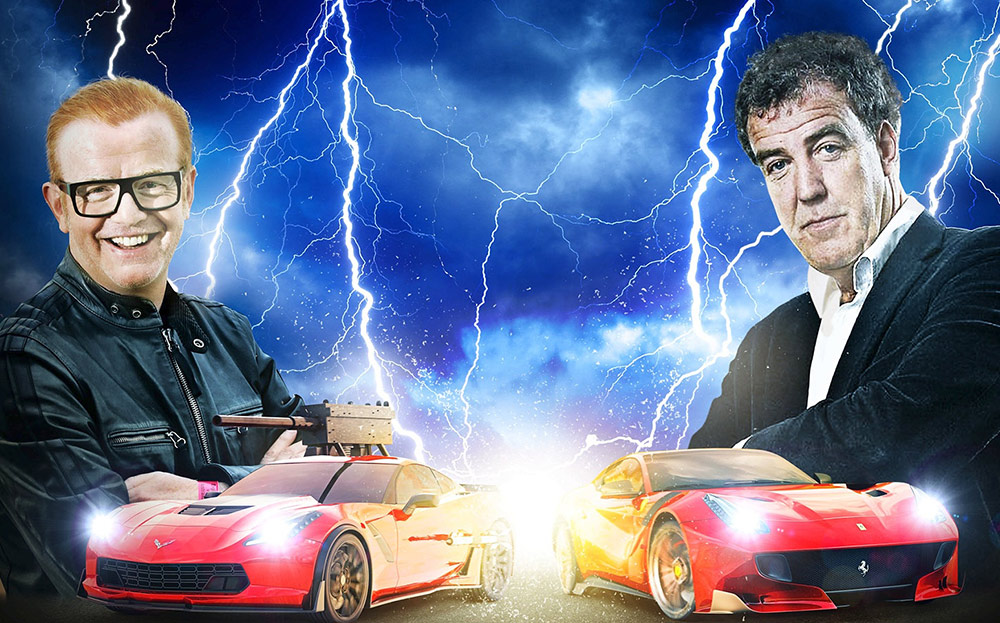 IT IS a wet Wednesday in Surrey and the ageing airfield at Dunsfold is buzzing, just like it used to in the old days when Jeremy Clarkson and the Top Gear mob were bombing round the tarmac on screeching tyres with a masked racing driver known as the Stig.
The mystery racer is still there and so is the draughty hangar that doubles as a studio for the world's most popular car show. A new series of Top Gear starts next Sunday but the three hosts who turned a chaotic assemblage of motoring miscellanea, exotic locations and laddish bromance into the BBC's biggest money-spinner will be conspicuously absent.
The unfortunate affair of the cold supper and the over-heated argument that led to Clarkson's departure last year not only put paid to his celebrated run as television's loudest motormouth; it created the prospect (either enticing or appalling, depending on your view of cars, or of Clarkson) of the testosterone-fuelled duel of the decade.
---
Browse NEW or USED cars for sale on driving.co.uk
---
Forget Ferrari taking on Lamborghini, or even Ford against Vauxhall. Top Gear's return under new management marks the opening round in a television battle for global entertainment supremacy worth hundreds of millions of pounds in broadcast and licensing fees.
It is Clarkson's past versus his future, his old show versus his new one, which is to be unveiled to Amazon Prime subscribers this autumn.
More formally, it is Top Gear versus The Grand Tour, the blandly subversive name (TG versus GT — get it?) chosen for Clarkson Mk 2, with Richard Hammond and James May also making the move to Amazon to reprise their sidekick roles.
Most of all, it is Clarkson versus Chris Evans, the popular, bespectacled radio presenter and longtime car nut who has been drafted in to save the now Clarkson-free Top Gear franchise. Expect to see a lot of this headline next weekend: "Gentlemen, start your engines."
At stake in the upcoming weeks of new-look Top Gear shenanigans is not only the BBC's pride and its need to cling on to the estimated £50m the show collects annually in merchandising and other revenues.
It must also somehow find a post-Clarkson formula that frees the programme from the carping, sniping and all-out abuse from erstwhile Top Gear fans who have long been smothering the internet with comments such as: "I'm not going to bother. It won't be the same without Jeremy."
How can Evans pull this off? Can he find a way of making the show his own without putting off an audience reared on Clarkson's stunts? Or will Top Gear turn into a car crash?
The early indications from Dunsfold suggest Evans and his new-look Top Gear crew have hit upon a brilliant wheeze. They are making the new show just like the old one (without Clarkson, of course).
Trailers for the 23rd series suggest that its energy-packed filming and action-filled stunts will continue. The new presenters have raced to Africa's highest pub, dabbled with exotic cuisine and thrashed some of the world's greatest cars to their limits.
The show's familiar theme tune — Jessica by the Allman Brothers Band — remains intact, as does the studio-based banter between the hosts, interspersed with filmed segments.
To any youngsters tuning in for the first time (Top Gear's former producer Andy Wilman always said that the series was targeted at nine-year-olds) it may all seem new and exciting. Yet veteran fans may detect something distinctly familiar about much of the new show.
In the opening episode there is a special appearance by Reliant Rialtos, the three-wheel successor to the notorious Reliant Robin, long a running joke on Clarkson's Top Gear.
Then there's a segment combining cars, haute cuisine and Italy. Clarkson did it with a Bugatti Veyron and Italian truffles in 2005; this year Evans does Venice and a Michelin-starred dinner.
There is also a future episode in which new American celebrity co-host Matt LeBlanc — of Friends fame — is taken for a tyre-smoking ride in a souped-up Ford Mustang by the US rally driver Ken Block. It bears more than a passing resemblance to the old Top Gear show in which May was subjected to a white-knuckle ride, also courtesy of Block.
In several other segments, viewers may well be struck by an uncanny sense of Clarksonless déjà vu. Perched on a studio set that has acquired a bigger audience but appears mostly unchanged from the old Top Gear, Evans last week ran through a first-episode script loaded with smart gags that could have been written for his predecessor.
Predictably, there were jibes at Clarkson's expense, notably when Evans declared that the staff of his local curry house were in the audience. When one of them mentioned they were there to do the catering, Evans swiftly retorted with a dig at Clarkson's doomed dinner that ended with him punching a series producer, saying that references to catering were banned.
"Both Clarkson and Evans are represented by the London publicity agency Freuds, which has often proved itself adept at generating attention-grabbing headlines"
There appears to be one notable change: the Star in a Reasonably Priced Car feature has been scrapped in favour of a star in a rallycross car, in which celebrities in a Mini will race around a circuit complete with a water splash and a jump. The first victim, who was filmed last Thursday, was Gordon Ramsay, the TV chef.
One thing the BBC can be sure of is a huge audience for the first episode, which includes an appearance by the Hollywood actor Jesse Eisenberg. Joining millions of diehard car lovers who will almost certainly give the new show a try will be an army of Evans fans — his BBC Radio 2 breakfast show attracts more than 2m listeners. Yet since Evans emerged last year as Clarkson's successor, barely a week has passed without a negative news story about the new Top Gear.
Last December Lisa Clark, the senior producer brought in by Evans to refresh the show, quit after just five months on the job. The pair had previously worked together successfully, on The Big Breakfast and Don't Forget Your Toothbrush.
Clark's departure came around the same time that Tom Ford, a script editor, also made his exit. There have since been claims, dismissed by Evans as ridiculous, of bullying and inappropriate behaviour.
There were also reports that Evans was having difficulty talking to camera while driving — a skill that Clarkson routinely performed with death-defying abandon. "The professional drivers are doing a lot more to cover for [Evans] and the camera crew are getting frustrated," one source disclosed.
Then he was forced to distance himself from an apparent PR blunder when LeBlanc scorched noisily around the Cenotaph, the monument to war dead in central London.
But not everyone joined in the carping and some motoring journalists noted that both Clarkson and Evans are represented by the London publicity agency Freuds, which has often proved itself adept at generating attention-grabbing headlines for its clients.
In one sense at least the new Top Gear will be quite different: Clarkson, Hammond and May have been replaced by six presenters.
---
Browse NEW or USED cars for sale on driving.co.uk
---
Alongside Evans and LeBlanc will be Chris Harris, a little-known but "quite gobby" motoring journalist who once got himself banned from test-driving Ferraris after being rude about the company's cars; former racing driver and Formula One team owner Eddie Jordan; Rory Reid, an online car reviewer selected after a public audition; and Sabine Schmitz, a German racing driver and television presenter.
If Jeremy and his mates are flattered that it now takes six presenters to do the job of three, they are not saying. The Amazon Prime-bound trio are not short of their own challenge: building a subscription-paying audience on a limited internet platform with an all-new show that is legally bound not to infringe on Top Gear's trademark features.
When fans of Clarkson bombarded him with suggestions his new show be called Gear Knobs, he tweeted, "for legal reasons, we cannot use a name with the word 'gear' in it".
Thanks for your suggestions. But be aware: for legal reasons, we cannot use a name with the word "gear" in it.

— Jeremy Clarkson (@JeremyClarkson) 8 April 2016
Clarkson has revealed that each episode of his Amazon show will be filmed in a different country. Instead of being studio-based, the trio will travel with a big tent, like modern-day nomads, having been kicked out of the BBC and lost their test track.
Asked on Facebook whether the team would be sleeping in the tent, Clarkson replied: "No. We will be sleeping in very expensive hotels."
That is the kind of riposte that viewers have learnt to expect from Clarkson, but will peerless British wit be enough to repay Amazon for the millions of dollars it has sunk into a series it hopes will turn it into a huge television player?
Strap on your safety belts. It could be a wild ride.
Additional reporting: Will Dron, James Mills and Nicholas Hellen
Top Gear: more BBC repeats
The one with the three wheelers
Old Top Gear: One of Jeremy Clarkson's most notorious stunts involved throwing the much-mocked Reliant three-wheeler into such a vigorous turn it rolled several times on its roof. He later admitted the car had been doctored
New Top Gear: Chris Evans and Matt LeBlanc race to Blackpool in a pair of Reliant three-wheelers
The one about getting high
Old Top Gear: Jeremy Clarkson drives along the world's highest road in South America, complete with altitude sickness and terrifying scary local motorists. He makes a joke about George Michael, who had just been caught in his car under the influence of cannabis
New Top Gear: Evans, LeBlanc and co-presenter Eddie Jordan drive to the highest pub in Africa, where their passengers are due to perform. The passengers include the rapper Tinie Tempah and blues musician Seasick Steve
The one with a race against an aircraft
Old Top Gear: Clarkson tries to outrun a stunt plane in a Lexus LFA supercar
New Top Gear: Evans tries to outrun a fighter pilot in a Dodge Viper ACR
The one with the Abu Dhabi sprint
Old Top Gear: Clarkson stages a drag race down a strip of desert highway
New Top Gear: Evans's sidekick Chris Harris smokes an Aston Martin Vulcan around the Yas Marina racetrack
This article appeared first in The Sunday Times. To subscribe, visit store.thetimes.co.uk/membership-packs/