Car buyers value quality and style over green credentials and insurance costs
Style over substance?
---
Published 25 January 2022
A NEW study has revealed the factors that most motivate buyers purchasing a new car, with quality and style high on people's list of requirements while green credentials feature low down on motorists' list of priorities.
In the Autovia Driver Power study of 1,245 motorists who bought a new car in the last two years, 61% cited a brand's reputation for quality as the top factor influencing their choice of vehicle.
Out of 17 other motivators, 53% of respondents said that model styling was the most important element in choosing their car, with 51% ranking a positive previous experience with the brand.
Some 40% of buyers also said that brand image and value for money were the important factors in their choice of car, which, according to Autovia, shows that a wide range of financing options reduces the significance of cost when it comes to buying a car.
Good resale values (25%), a good dealership experience (25%), safety (24%) and conveniently located dealerships (22%) were also claimed as elements that influence buying decisions.
A reputation for good customer service (22%), innovation (18%), a buyer's partner or family liking the brand (15%) and the fact that a brand's cars have won awards (14%) came next.
All of these rank well ahead of a brand's reputation for being environmentally-friendly (9%), a reputation for low insurance costs (9%) and word-of-mouth recommendations from family and friends (6%) as key motivators.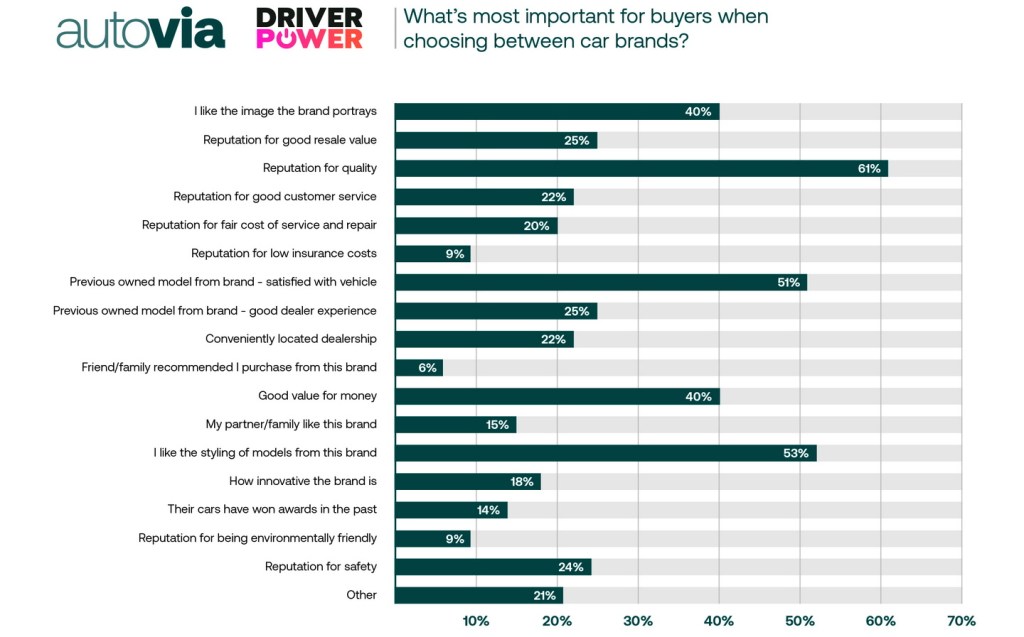 Along with investigating what turns window shoppers into drivers, the study looked at what keeps buyers on the wrong side of the glass.
Respondents said that a brand's poor reputation for quality, as well as a brand's poor image were major turn-offs when it came to choosing a car. High service and repair costs were also seen by many as deal breakers.
"Brand perceptions are a very subjective phenomenon and yet they are key to success or failure in Britain's car market, so manufacturers will be fascinated to understand how they are viewed by car buyers," said Autovia's Editor-in-Chief, Steve Fowler.
"Two of the most unexpected findings in this latest research are that environmental credentials and the influence of family and friends score so low, suggesting that customers feel much more strongly about an enjoyable and stylish car ownership experience that they have discovered through their own research.
"Dealers will also note that looking after the customer properly is key to retaining loyalty, with women in particular citing a previously good experience as the best reason to stick with a brand."
Tweet to @ST_Driving Follow @ST_Driving
Related articles
Latest articles