Car sales hit nine-year low but electric vehicle registrations continue to rocket
Industry concerned for longterm future of dealers as new lockdowns begin
---
Published 05 November 2020
REGISTRATIONS of new cars fell 1.6% last month compared to October 2019, according to figures released today by the Society for Motor Manufacturers and Traders (SMMT), making it the least successful October for new cars since 2011, and around 10% less fruitful than the decade average.
The SMMT said demand for new cars had initially been maintained due to a raft of new models and financial incentives. However, the "firebreak" lockdown in Wales, designed to regain control over rising coronavirus cases and introduced on October 23, contributed to registrations there falling by a quarter.
This does not bode well for the industry in November, with a UK-wide lockdown coming into force from today and set to last until December 2 at the earliest. While non-essential car retailers are still allowed to maintain an online click-and-collect service, showrooms will once again close their doors and test drives have been banned.
As a result, the SMMT further downgraded its annual outlook, estimating November will see a loss of 100,000 new car sales. That brings its prediction for the number of cars sold this year to 1.56m, down three-quarters of a million on 2019.
This year is now likely to be the weakest year for new car registrations since 1982, and the exit of the UK from the EU on January 1st — likely without a trade deal, although negotiations are ongoing — has darkened the outlook for 2021.
Mike Hawes, president of the SMMT, said: "When showrooms shut, demand drops, so there is a real danger that with England today entering a second lockdown, both dealers and manufacturers could face temporary closure.
"When showrooms shut, demand drops, so there is a real danger that with England today entering a second lockdown, both dealers and manufacturers could face temporary closure"@MikeHawesSMMT on October new car figureshttps://t.co/VnYR8ffMdu pic.twitter.com/pr3nme0Xlx

— SMMT (@SMMT) November 5, 2020
"What is not in doubt, however, is that the entire industry now faces an even tougher end to the year as businesses desperately try to manage resources, stock, production and cashflow in the penultimate month before the inevitable upheaval of Brexit.
"Keeping showrooms open — some of the most Covid-secure retail environments around — would help cushion the blow but, more than ever, we need a tariff-free deal with the EU to provide some much-needed respite for an industry that is resilient but massively challenged."
Private registrations in October actually saw a small increase (0.4%), although this is made to look better by an abnormally poor performance for private buying in October last year, which saw sales drop by 14% due to supply issues and an anticipated withdrawal from the European Union. This month's poor performance was due to subdued fleet purchases, with around 2,500 fewer cars joining large fleets than in October last year.
Electric cars buck the trend
One silver lining last month came in the form of continued popularity of pure-electric and electrified vehicles. October saw sales of pure-electrics (called battery-electrics, or BEVs, by the SMMT) outstrip even the average year-on-year change of 168.7% between 2019 and 2020, hitting 195.2% as order books opened for new electric models like the Volkswagen ID.3, a Golf-sized hatchback.
Mercedes will also look at the latest report with glee, with the A-Class surging in sales to become the month's most popular car — a rare feat for a luxury car maker. Some speculated that its popularity in October could be thanks to the fact that it is the only car in its class currently available for delivery as a plug-in hybrid, making it an attractive proposition for fleet buyers due to tax incentives for buyers of cars with electrified powertrains.
Pure-electric, plug-in hybrid, hybrid and mild-hybrid cars combined took a 35.7% share of the total market, with 50,300 registrations — up nearly 144% year-on-year. The biggest increase was with mild-hybrids, as most car makers add small electric motors to their petrol cars to help do some of the engines' heaving lifting, thereby reducing emissions and improving fuel economy. Mild-hybrids are unable to run on electric power alone and for most car buyers, the driving experience is no different to a more traditional combustion engine car.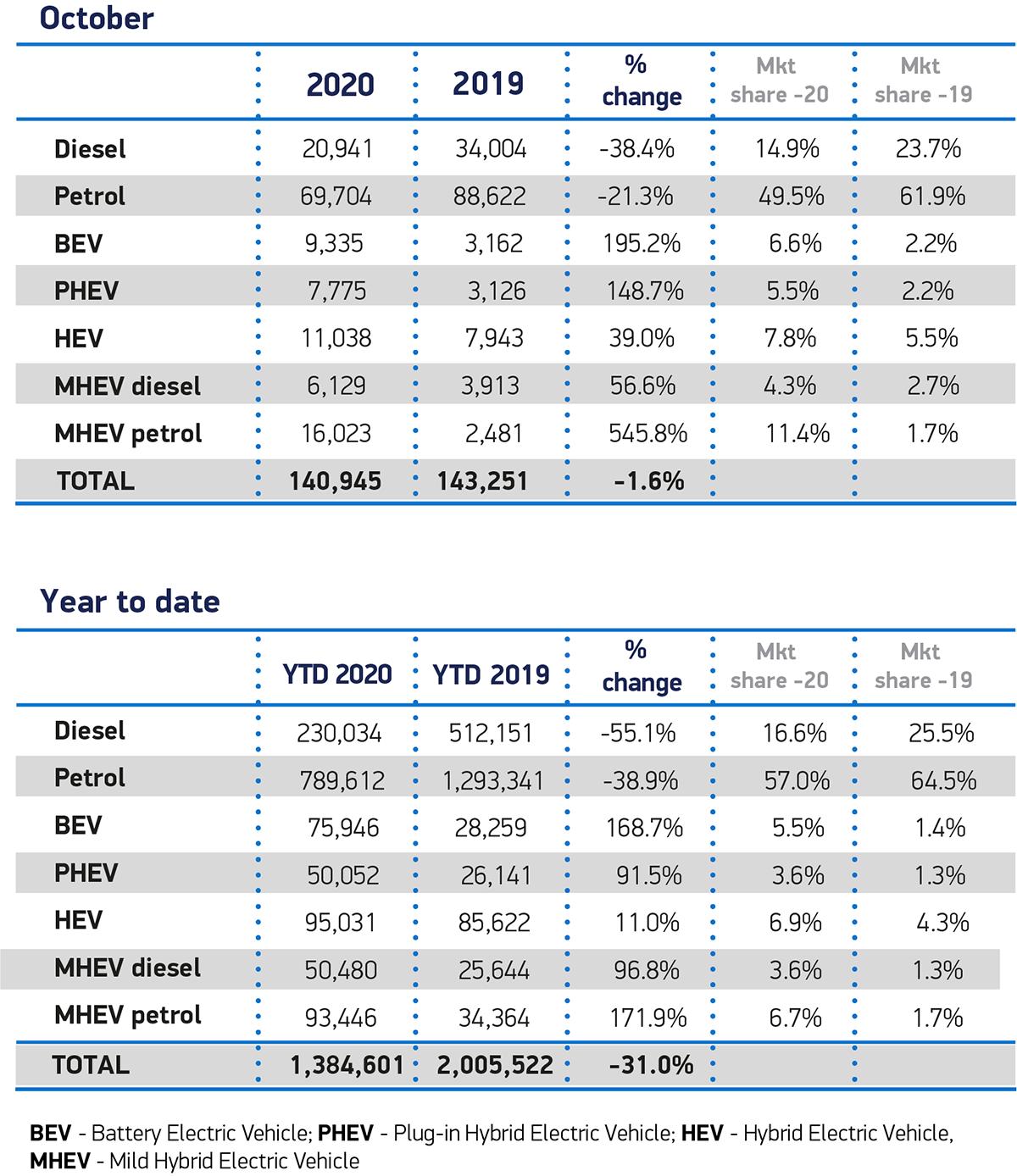 What have the experts said?
An overriding message among commentators was that the car industry is far better equipped to deal with the challenges posed by the lockdown this time around, with online purchasing and click-and-collect systems in place. Many also noted that the looming possibility of a no-deal exit from the EU in less than two months' time could compound the issues faced by car makers, and that sales of new cars were dropping in favour of buyers opting for used models.
James Fairclough, CEO of AA Cars, noted that the pandemic was still heavily affecting buying behaviour: "October's small slump in new car sales marks a third successive decline for the market, with registrations slowing significantly since the high point in July when pent-up demand lifted sales by 11%."
"The steady decline in sales is a sign that consumers are holding onto their money, with many concerned about their job security and what may happen to their finances in the future.
"This, along with November's new lockdown, suggests that recovery is likely to be slightly more challenging in the latter part of 2020, and that dealers may need to find innovative ways to entice customers to forecourts.
"The pressure on new car sales may also be the product of the rising popularity of used vehicles."
Rachael Prasher, Managing Director of What Car?, said that research had found a steady demand for new cars despite the pandemic: "The UK's new car market is heading for another tough couple of months, with a lockdown forcing dealerships to close doors for at least four weeks and Brexit looming just around the corner.
"At What Car?, we've been tracking in-market buyer trends since March, and our latest research at the end of October of more than 6100 in-market buyers found one-in-five were looking to buy a vehicle in the next four weeks. With showrooms shut, this is likely to create another backlog of demand, though not as significant as we saw in the first lockdown.
Alex Buttle, director of Motorway.co.uk, said: "After the reg-plate change in September failed to light a rocket under new car registrations, sales expectations weren't too optimistic for October.
"Under the circumstances, a 1.6% decline in registrations could be considered a good result, particularly against the backdrop of rising COVID-19 cases and economic uncertainty.
"The new car industry is now facing even more issues as we go into a month-long lockdown. But despite the bleak picture, we don't expect to see a similar slump in new car sales like we witnessed back in March through to June. This lockdown feels very different.
"The general mood amongst dealers and buyers feels quite bullish. The car industry was taken by surprise in March but with established click and collect and delivery processes in place, this time dealerships are far better prepared to take any disruption in their stride."
Karen Hilton, chief commercial officer at heycar, commented: "The roller coaster of 2020 continues – but the automotive industry is much better set up to deal with what lies ahead. Things don't feel as uncertain as they did back in March.
"The reason we feel that we can all weather the storm is that dealerships are no longer defined by their four walls and forecourt – their digital offering is just as important. Online models have developed quickly and staff have adapted to this new way of working."