This brand has been voted most-trusted for self-driving cars
Would you trust any of them?
---
Published 15 November 2018
WILL WE ever see fully self-driving cars on UK roads? The jury is still out, but as all car makers, tech companies and law makers gear up for a potential autonomous revolution, it appears one brand stands head and shoulders above the rest for perceived safety: Volvo.
DriveTribe asked its community of car enthusiasts, "Whose autonomous cars would you feel safest in?", and the Swedish car manufacturer stands out well ahead of the competition, despite the likes of Google and Tesla regularly making headlines with their advances in AI car tech.
Over half (51.1%) of the 2,520 respondents said they'd put their trust in Volvo – a car maker synonymous with safety and reliability.
The result underlines the importance of a track record for safety, formed over time; Volvo doesn't have anywhere near as many fully-autonomous test miles under its belt as motoring newcomer Waymo, Google's driverless car division.
Waymo vehicles have driven 10m autonomous miles since 2009, 5m of which have been in 2018 alone, and is set to become the first paid-for driverless ride-hailing service next month, according to Bloomberg, albeit on a small scale covering just 100 square miles around Phoenix, Arizona. Despite this, only 0.2% of DriveTribe's respondents said they'd feel safest in a Waymo.
Richard Beech, DriveTribe Chief Strategy Officer, said: "Safety is a key concern for most people when considering which car to buy, particularly for a family car. As disruptor brands such as Google and Tesla use their autonomous testing to win big PR points, they still have a big battle on their hands in winning the trust of consumers.
"This data shows that as autonomy turns mainstream, we could start to see traditional family car brands do well off the back of reputations built over decades. People trust Volvo, and that's a huge factor when deciding which car to buy."
Jon Wakefield, Volvo Car UK's managing director, said: "Autonomous drive and safety are intrinsically linked, and the technology has the potential to deliver the biggest improvement in automotive safety since Volvo Cars invented the three-point seat belt in 1959.
 "Our recent call for a universal standard of future autonomous car communication, combined with our vision that no-one should be killed or seriously injured in a new Volvo from 2020, shows that we are committed to the highest levels of safety for anyone using or interacting with our cars in the years ahead."
Tesla Motors is seen as the second safest brand for autonomous car technology, with 20% of the vote, perhaps unsurprising given its much-publicised Autopilot system is already available on its customer cars, with data feeding back into the cloud; it learns as it goes. However, although Teslas can steer, accelerate and brake on its own, it still requires a drive to be in control at all times and doesn't use the advanced LIDAR laser sensors found on Waymo vehicles.
Audi, which runs DriveTribe's biggest electric car tribe "Audi Electric", and whose first fully electric car, the E-tron, is packed with new technologies, is viewed as the third safest brand for autonomy, with 13.5% of the vote – far ahead of Porsche (2.9%), Ford (2.5%), VW (2.2%) and Toyota (2.1%). Audi's German rivals BMW received just 1.8% of votes.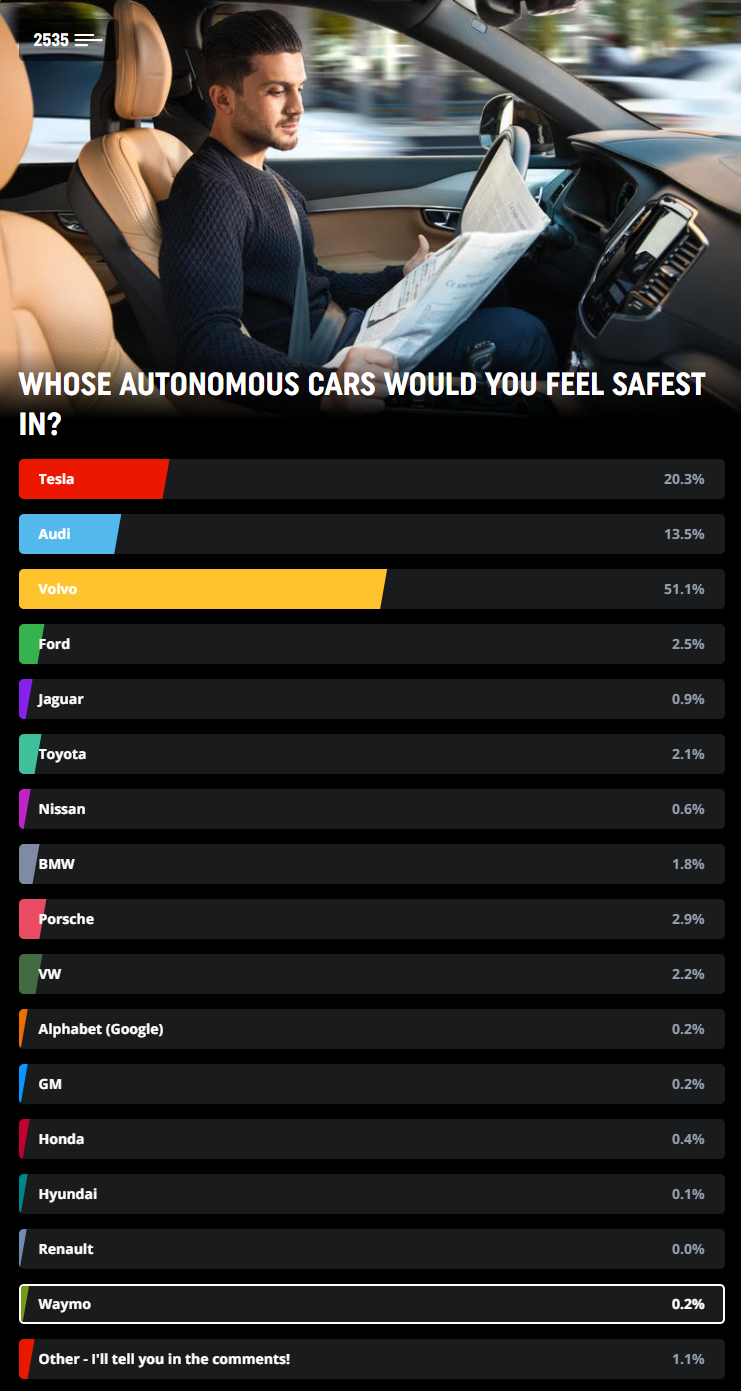 According to DriveTribe, Volvo, Tesla and Audi make up the top three even when breaking down the results by country, age or gender of the voter, with only minor fluctuations in the share of the vote.
Mercedes didn't feature on the list, despite an executive famously vowing that its future autonomous vehicles would be programmed to run over a pedestrian rather than crash into a tree and risk the life of a customer. A DriveTribe spokesperson said Mercedes wasn't included "as they haven't made many actual steps into autonomy" and are "further behind the likes of Volvo and co."
Also not appearing in the survey were Uber, which caused headlines when one of its self-driving development vehicles hit and killed a pedestrian last year, and Apple, even though the tech company is now relatively advanced in its own plans to launch autonomous electric vehicles, with testing of Lexus-based vehicles underway on the roads of California. Apple is a newcomer to cars but is one of the most trusted, valuable and well-resourced companies on the planet.
The DriveTribe spokesperson said this was because "Uber are using Volvo and Ford, and Apple are more about the software that goes into cars". However, they said DriveTribe will look to repeat the survey in the future to monitor changes in consumer sentiment, at which point it may "make sense to include Mercedes, Uber, Apple and potentially others".
Driverless cars 'will not be allowed' on most roads, says BMW chief
Switch to Autopilot: at the wheel of the self-driving Tesla Model S
Motorists warned of over-reliance on automated driver assist technologies