Audi S8 Plus is a 595bhp Porsche-eating stealth saloon
Fast but not furious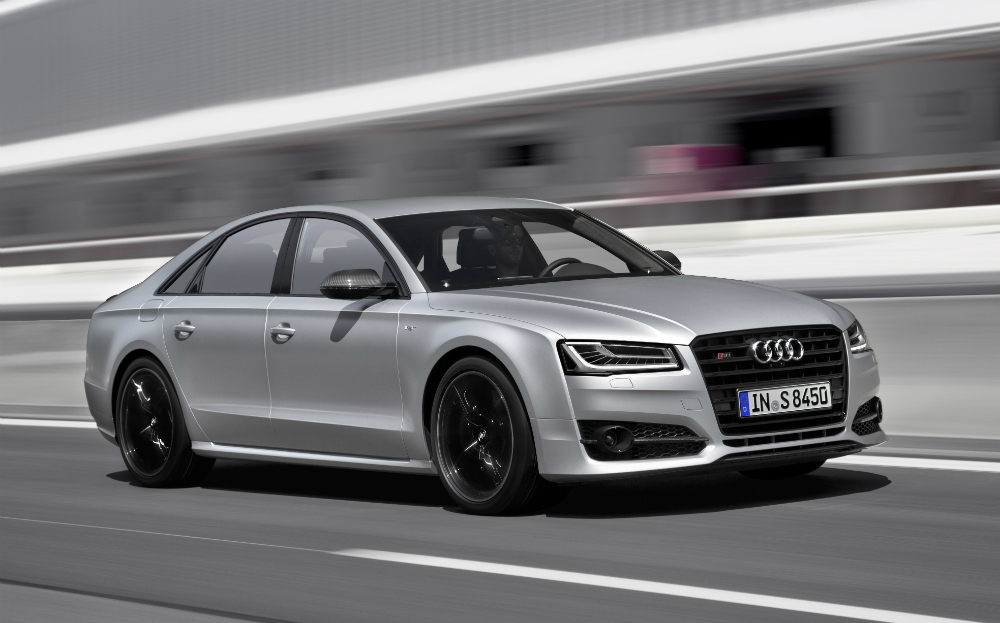 AT FIRST glance this large silver Audi may appear to be a lumbering luxury saloon that ferries fat cats or celebrities to meetings about corporate mergers or red-carpet premieres. But in fact it's the new Audi S8 Plus, a supercar in disguise, capable of leaving a Porsche 911 standing and making other drivers wonder what on earth is under the bonnet.
---
Browse used Audi S8s for sale on driving.co.uk
---
The answer is a 4-litre V8 engine that features not one but two turbochargers, tuned from a none-too-shabby 512bhp in the existing S8 to a frankly dizzying 596bhp. Or, to put it another way, this sensible-looking saloon is more potent than Porsche's 911 Turbo S, a car long considered the epitome of the sports car.
If raw power isn't your thing but rather torque – a measure of how effortlessly an engine will pull from low in the rev range – the news is equally good. The bi-turbo engine summons 553 Ib ft. That is officially a lot.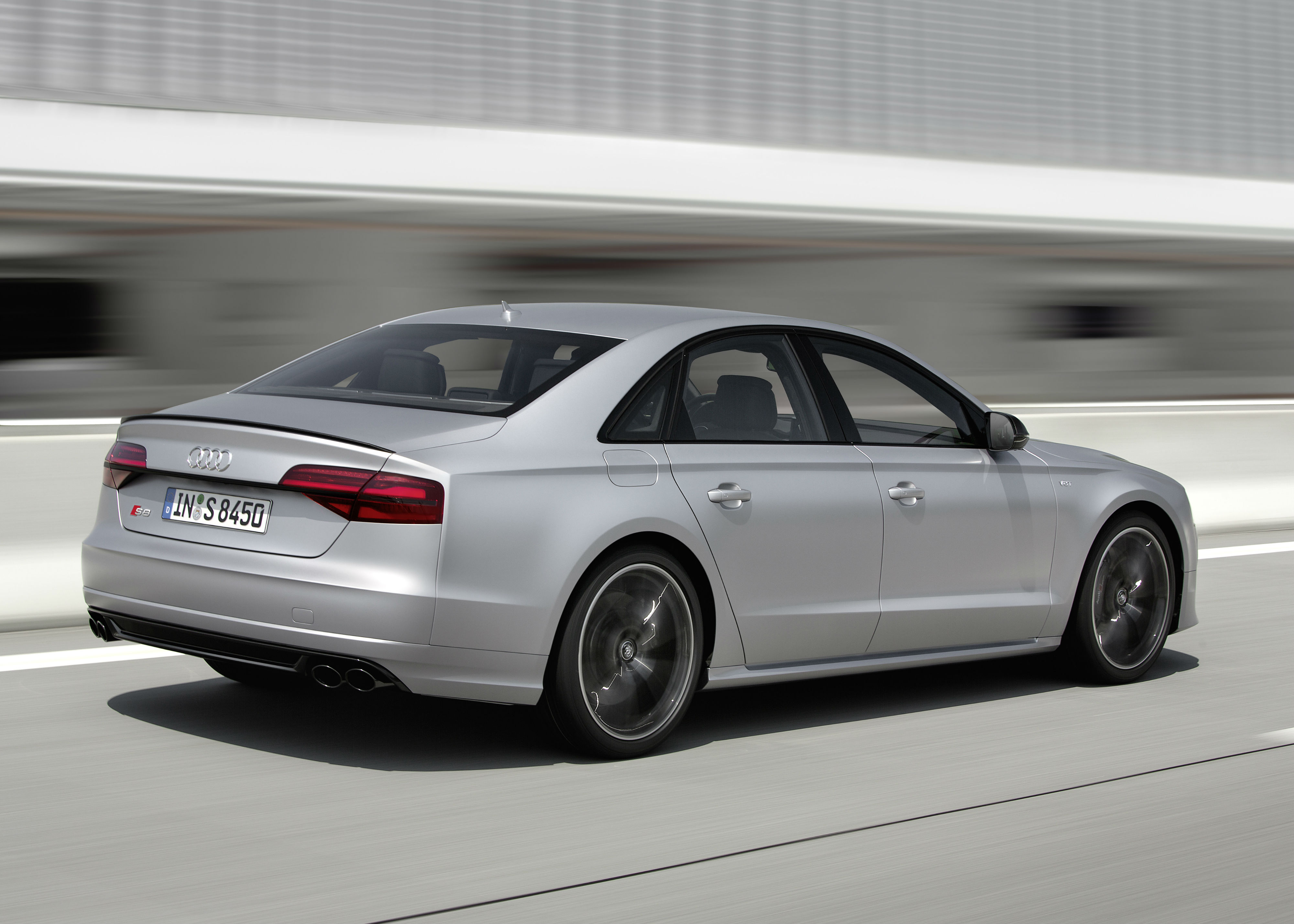 With all that oomph comes, unsurprisingly, performance. The 0-62mph sprint takes just 3.8 seconds, and drivers who opt for the Dynamic Package have the top speed raised from an electronically limited 155mph to 189mph. Failure to order this option is likely to result in teasing at the petrol station when aficionados wander over and ask the inevitable question, "What'll she do?"
Failure to order the 189mph Dynamic Package is likely to result in teasing at the petrol station
As an added incentive, the Dynamic Package includes carbon-fibre reinforced ceramic brakes, so that when Audi S8 Plus drivers find themselves on an unlimited autobahn or racetrack, they can rest assured that a sociable and safe speed can be resumed in an instant.
Further managing the car's speed is quattro permanent four-wheel drive with a rear differential, an eight-speed tiptronic gearbox, adaptive air suspension and dynamic steering. A modified sports exhaust take care of the car's soundtrack, just in case its 14-speaker Bose stereo doesn't quite cut the mustard.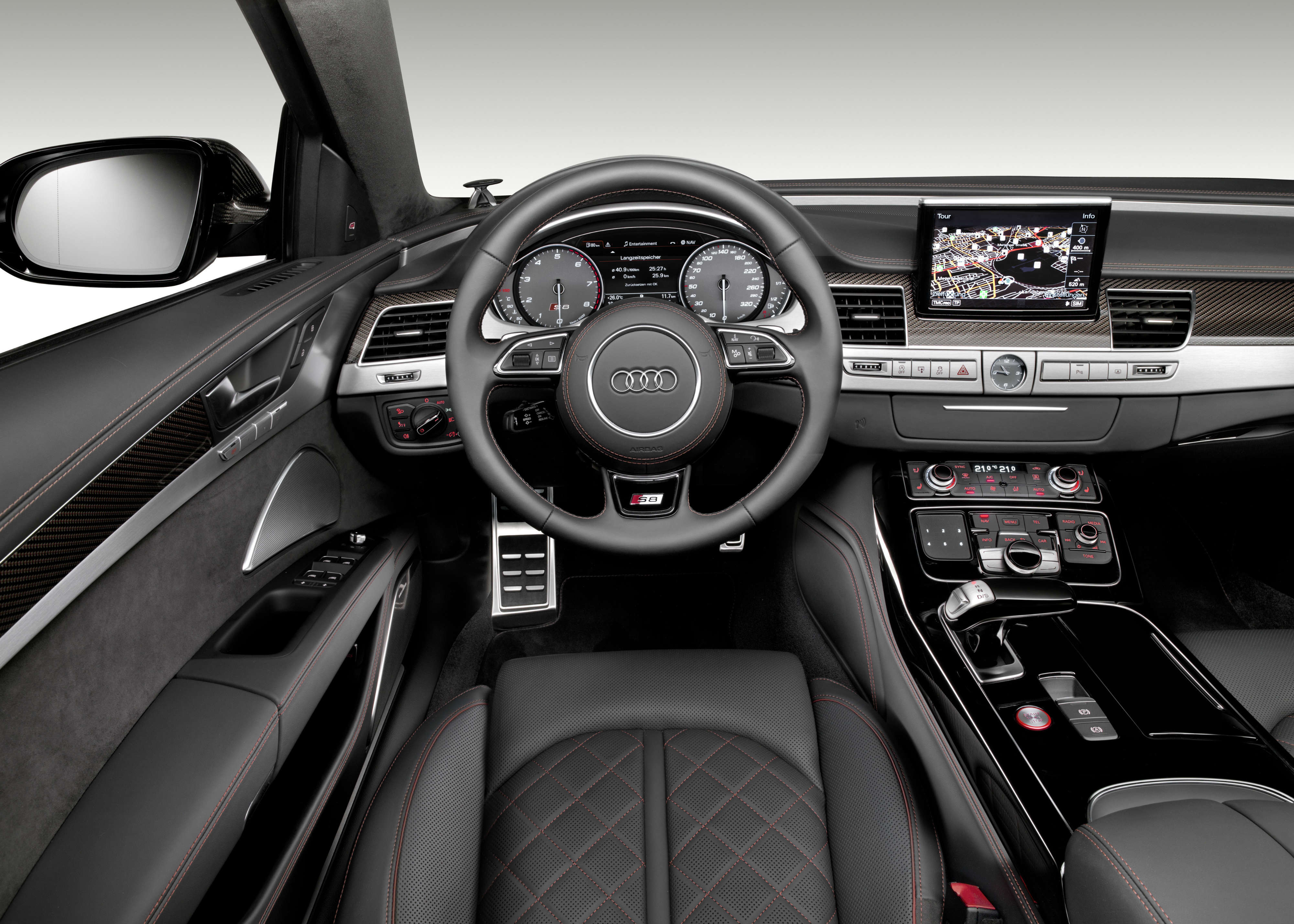 Audi stresses that the S8 Plus doesn't skimp on life's little luxuries. There are "maxtrix LED" headlamps that consist of 25 individual lights and can adapt the light pattern according to mapping data from the navigation system. Inside, the cabin features 22-way adjustable seats trimmed in black leather with contrasting red stitching and piping, a hands-free boot lid opening function, smart key, surround-view parking cameras, tinted glass and self-closing doors.
The S8 Plus is more powerful and considerably less expensive than a Mercedes-AMG S 63. It will go on sale to British drivers in October, priced from £97,700, and the first customers should take delivery of their super-saloon in January.
---
Click to read car REVIEWS or search NEW or USED cars for sale on driving.co.uk
---