First drive review: Mercedes-Benz S 63 AMG (2013)
It's your lucky night, James
---
Published 12 October 2013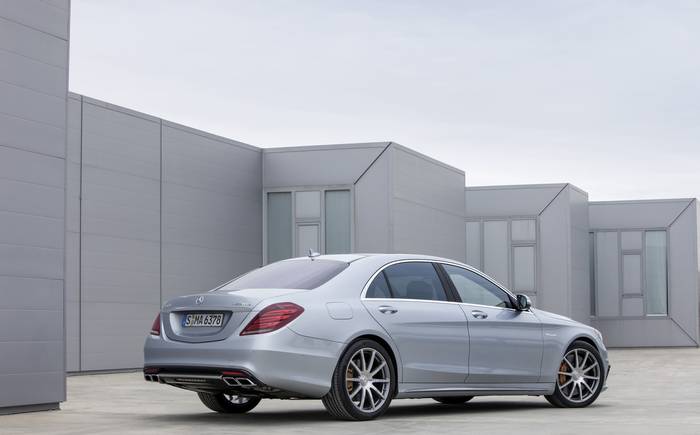 Though Mercedes has made no compromises on comfort, its flagship limo is now such fun to drive that chauffeurs could find themselves at a loose end
WHEN cars are delivered to journalists for assessment, they often arrive with a press pack to help us better understand what we are dealing with, and perhaps a bottle of spring water in the cupholder. But you know it's going to be a different kind of day when a car is delivered complete with a chauffeur called Gary to take you wherever you please.
---
Search for and buy a quality used Mercedes-Benz S-Class on driving.co.uk
---
Mercedes said the smartly suited Gary needed to be outside my house with an S 63 AMG limousine — refusing all offers of tea, coffee and Hobnobs — because unless I spent some time in the back of the car with a professional driver at the wheel, I'd not experience it as most owners would. Needing no further encouragement, I grabbed Mrs Frankel and headed out to dinner, with Gary, a veteran of 31 years on the police force as both traffic officer and bodyguard, doing his stuff up front.
The view from the back was splendid, at least once Gary had summoned up the correct mood lighting for the occasion. All S 63s sold in the UK will be long-wheelbase models, so Mrs F and I sprawled in our individual chairs, fiddled with individual computer screens from which it seemed possible to do anything short of actually driving the car and tried not to be disappointed when we discovered the minibar between our seats was bare.
The ride was comfortable, even though the camera system that reads the road and tells the suspension where the bumps are doesn't work in the dark. Silently we glided through the night, resisting the urge to turn the Burmester surround-sound system up to 11 to find out whether 24 speakers at maximum volume would be enough to blow the double- glazed side windows clean out of their frames.
But something was wrong. I found myself shifting uneasily in my multifunction reclining, heating, cooling and gently massaging seat. Swaddled deep inside the most luxurious interior yet from a mainstream car company, I found myself looking enviously at Gary, unable to shake the feeling that he was having more fun than me.
The Mercedes S 63 AMG is the fastest limousine out of the blocks that money can buy: the only reason it takes 4.4 seconds to hit 62mph is that the British version has only two-wheel drive. In America the all-wheel-drive S 63 takes four seconds flat to reach 62mph. Wherever you buy it, its twin-turbo 5.5-litre V8 will have more torque than the 6.3-litre unit of the SLS AMG GT supercar, and nearly as much power.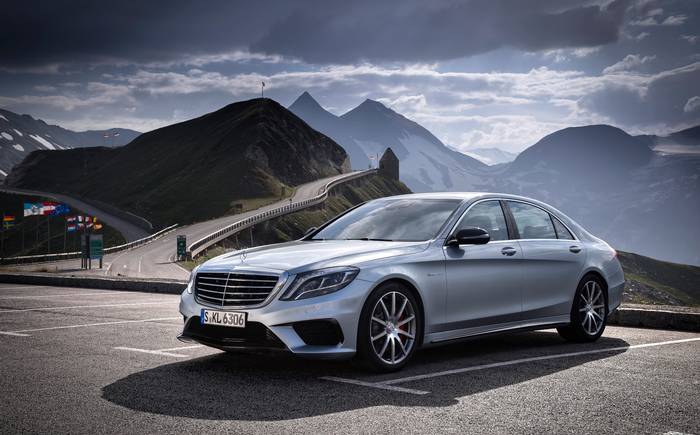 And don't think all that power will be blunted by a mass to rival that of the Brandenburg Gate: this S 63 is 100kg lighter than the last, weighing in at about two tons. The result is a limousine that poses an unexpected question: should you drive or be driven? Any Rolls-Royce — except perhaps the new Wraith — will be enjoyed more if someone else is at the wheel, and the new Bentley Flying Spur has been reconfigured towards the interests of passengers. So I discharged Gary of his duties, dropped Mrs F at home and went driving.
At first it's a slightly disconcerting experience. All around you lie the trappings of luxury: the wood, the thick leather, the polished metal, the gadgets and, above all, the space — acres of it in every direction. Everything suggests progress of a slow, regal quality in a stately schloss-on-wheels whose controls should only be stroked or nudged. And the S 63 can play that game for as long as its driver likes, never giving any hint of the volcanic eruption bubbling away just beneath its upper crust of comfort.
One kick of your right foot shatters the illusion. The forces the car generates are surprising, and it feels Ferrari-fast. What's hard to explain is how Mercedes also managed to make a barge-sized saloon handle so capably. Despite its lightweight 10-spoke alloy wheels and AMG body kit, the S 63 AMG still looks the kind of car that will have a hissy fit if you try anything as uncouth as firing it down a decent road. And it's true: in slow corners it does feel a little like an ocean liner negotiating its way around a yachting marina.
But when given the space it needs, it is nothing less than riotous. It spears its way through quick corners with a speed and commitment unlike that of any similar car. It is every bit as good as a Porsche Panamera to drive, and achieves the unlikely feat of being a long-wheelbase luxury limousine that you'd be happy to drive simply for the hell of it.
What it cannot do — despite its £119,565 price — is provide the sense of occasion that comes as standard in the more expensive Bentley Flying Spur or even the Aston Martin Rapide. For all its refinements, the S 63's interior still looks like one crafted by a company that makes cars by the million rather than by the handful. Its technology is deeply impressive, especially the new screen that appears to cover half the dash, but it's not discreet. You experience no little leap of the heart upon remembering it's parked outside.
Usually there is a trade-off between comfort and dynamism: the more of one you seek, the less of the other. But not here. This is a capable luxury limousine that is better to drive than its main rivals by some margin.
Yet this does leave it in an odd position. Almost all cars are designed to please most the person who wrote the cheque. Not this one, though. It's the chauffeurs who are going to have all the fun. That probably explains why Gary was smiling so much.
Verdict
★★★★☆
The only limo worth sacking the chauffeur for
Factfile
Release date:

November 2013

Price:

£119,565

Engine:

5461cc, V8, twin turbo

Power:

577bhp @ 5500rpm

Torque:

663 lb ft @ 2250rpm

Transmission:

7-speed automatic

Acceleration:

0-62mph in 4.4sec

Top speed:

155mph (electronically limited)

Fuel:

27.9mpg (combined)

Road tax band:

L (£840 per year)

Dimensions:

L 5246mm, W 1899mm, H 1496mm
The rivals
Bentley Flying Spur, £133,200
For

More comfortable and refined than ever

Against

A lot less fun to drive
Buy a quality used Bentley Flying Spur on driving.co.uk
Aston Martin Rapide S, £146,035
For

The best-looking four-door car in the world

Against

Rather cramped in the back; antiquated gearbox
Buy a quality used Aston Martin Rapide S on driving.co.uk