A guide to the 2014 car festival season (part two)
Worldwide car festival guide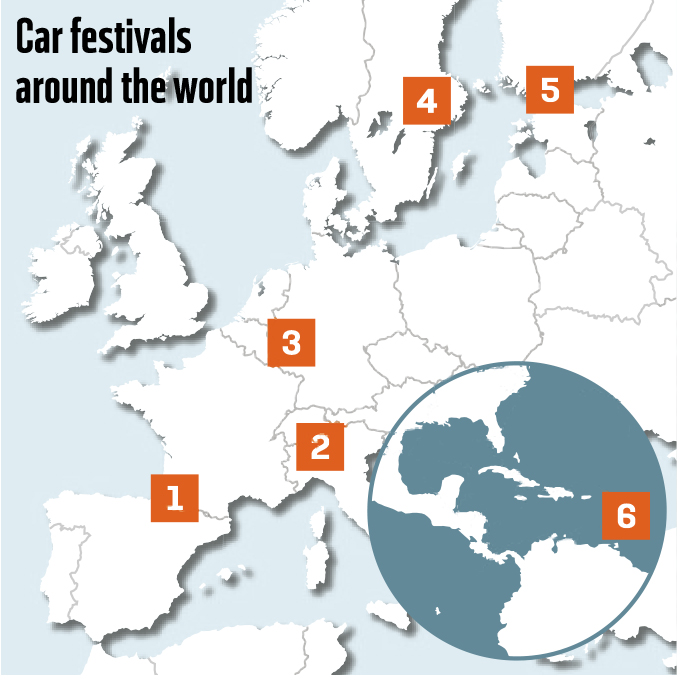 WHAT'S FRENCH for petrolhead? And how do you say doughnut in Swedish? This summer Europe is awash with car festivals, where visitors can witness historic racing, browse concours d'élégance or watch a thrilling rally. While homegrown car shows, detailed here last week, are great for a family day out, more adventurous drivers should set their sat navs for a cross-Channel foray, even if they don't know their Peugeots from their Paganis.It is not just the destination that matters: many of the events listed here give you the excuse for a breathtaking drive along some of Europe's best roads. So, if Goodwood sounds tame, take inspiration from our guide. Now all you need is an old-school V12 grand tourer to transport you there in comfort.
1 Grand Prix de Pau Historique
Pau, France, May 17-18
At this circuit, which dates back to 1933, you'll see more overtaking, spins and smashes next weekend than in a whole F1 season.
There are races for pre-war cars, Formula Ford single-seaters and classic sports cars, but expect the mini category to be most manic. The race is open to small-engined models built before 1978, and Minis, Abarths and Trabants will be swapping paintwork as they dart through the street circuit in southwest France.
The lack of sophisticated aerodynamics and the narrow track make for close racing while spectators bask in the sun in front of the Pyrenean foothills.
Turn it into a great drive Drive through central France and across the spectacular Millau viaduct, 800ft above the ground. Stop at a rural Languedoc beach then head west to Pau.
Tickets €30 (£25) for grandstand access all weekend.
2 Concorso d'ElegAnza Villa d'Este
Cernobbio, Italy, May 23-25
On the shore of Lake Como, in the grounds of a five-star hotel, this concours d'élégance features classic cars that have been restored with no expense spared — right down to authentic nuts and bolts that can cost more than £100 each.
It's no wonder this year's theme is the decadent Roaring Twenties, with a series of events based around The Great Gatsby — the latest film version of the book will be shown on an outdoor screen on the Friday evening. The festival is celebrating 110 years of Rolls-Royce and 100 years of Maserati and the line-up of primped cars is likely to be more exclusive than ever.
Turn it into a great drive Head towards Dijon in France, then over to Lake Geneva before crossing the Alps over the St Bernard Pass and descending into Italy.
Tickets Free on Friday evening, €8.70 (£7) on Saturday and Sunday.
concorsodeleganzavilladeste.com
3 Nurburgring 24 Hours
Nurburg, Germany, June 19-22
For some, it's the chance to sense the ghosts at one of the world's most terrifying and deadly racing circuits. For others, it's the challenge of trying to see the cars from as many spots as possible on the 16-mile course. Some just see it as a four-day party with howling engines as the background music.
More than 200 cars typically cram the grid and it's virtually impossible to keep up with the nuances of the race, so don't bother: sit back and watch the cars — from Renault Clios to Audi R8s and Aston Martin Vantages — zoom by competing for the win.
With bratwurst and German beer aplenty, you'll have a great time.
Turn it into a great drive After Brussels, choose between the derestricted sections of the A4 and A61 autobahns through Germany, or head past Spa in Belgium for some great twisty roads.
Tickets €64 (£52) for a weekend pass.
nuerburgring.de/en/events/automobile/ adac-zurich-24-hour-race
4 Power Big Meet
Vasteras, Sweden, July 3-5
You might expect the biggest American car show in the world to be held in the sprawling deserts of Texas or the plains of Wyoming rather than a small Swedish industrial town with a population of just over 100,000.
But that's where 20,000 American cars and many times more spectators from 44 countries descend each July, along with enough car-part sellers to form a three-mile chain of stalls. Kjell Gustavsson, the organiser, doesn't know of a bigger event and says he's a victim of its success. "It's uncontrollable — it takes over the city because people cruise around and leave their cars there," he says. "People come for the whole weekend and never pay to go into the showground."
Turn it into a great drive Take a ferry to Denmark and head east, crossing into Sweden via the dramatic Oresund bridge. Then track the beautiful west coast of Sweden north before heading northeast.
Tickets 100 kronor (£9) on Thursday, 150 krona on Friday and Saturday.
5 Rally of Finland
Helsinki, Finland, July 26-August 3
Finland's annual festival of power-sliding begins five days before the rally itself when rally drivers including Juha Kankkunen and Tommi Makinen take on current World Rally Championship contenders in a time trial around the streets of Helsinki. It's free to watch and should whet your appetite for the rally itself.
It's the most exciting event on the calendar, thanks to stages full of jumps that leave cars airborne for chunks of the routes through woodland on gravel roads.
Turn it into a great drive Spend a few days exploring the winding, undulating rural roads that have trained a series of F1 champions including Keke Rosberg, Mika Hakkinen and Kimi Raikkonen.
Tickets €65 (£53) for rally pass giving access to all special stages.
6 Barbados: Top Gear and Lewis Hamilton go totally tropical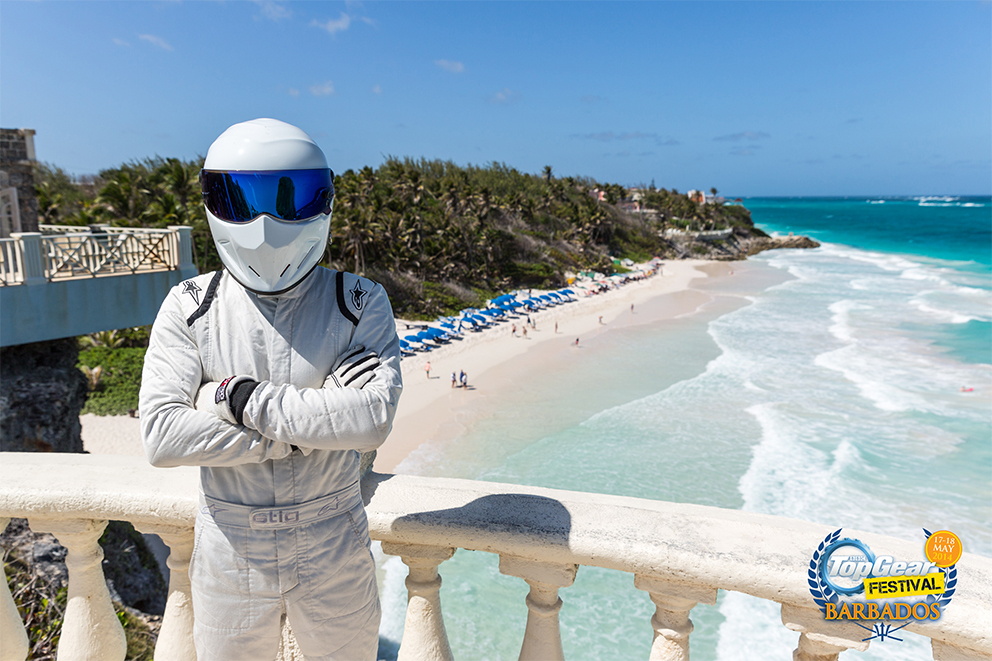 If even Europe is too tame and you fancy some petrol-powered adventure in more exotic climes, then you're in luck. Jeremy Clarkson, Richard Hammond and James May are swapping the drizzle of Dunsfold aerodrome for the sun, sea and supercars of Barbados, writes Ivo Tennant.
Top Gear will be visiting the Caribbean island for the first time next weekend and will transform a dusty old racetrack into a crucible of cars. "The Top Gear team has appeared live in Finland, Poland, Russia, Scotland, Denmark and Norway," says Clarkson. "It'll be nice to get some sun for once. I have holidayed in Barbados for 18 years. It will be strange to put 'work' on my visa form."
One of the biggest draws will be Lewis Hamilton, whose paternal grandparents are from Grenada, a neighbouring island. This will be his first Top Gear Festival and the first time he has driven an F1 car — a 2013 model — in the Caribbean. "I have been on the show a few times and love the island," he says.
What else can visitors expect? Kicking the show off will be a drift challenge, where the presenters take it in turns on a figure-of-eight course in three identical cars. Tiff Needell will be on hand to act as judge. Then there is the Top Gear Race, which sees the three presenters in a full track race in some of their favourite cars. The presenters also pay tribute to the cars of their youth by recreating stunts they excelled at when they were younger — not to be tried at home.
Other attractions at the festival, which runs from May 17-18, include demonstrations of the fearsome Group B rally cars of the 1980s, Le Mans racers and a fine selection of supercars. The event will also host the first stage of the Global Rallycross championship — an American series featuring heavily modified production cars.
Hammond is keen to emphasise that this is no junket. "This is not a paid holiday, even though the key word is 'festival'. Many Bajans will not have watched Hamilton live before. This will be a big moment. In an ever more global world full of analogue events, craning one's head at a live meeting becomes more exciting.
"All the ingredients are there. To watch the first round of the 2014 Global Rallycross will be electrifying. And I look forward to a match of car football. This will be Top Gear brought to life."
Tickets are priced at 75 Barbadian dollars (about £22) for general admission, $200 for a club house ticket and $500 for a marquee ticket. Children's prices start from $50. Visit topgearfestivalbarbados.com
Click here to read A guide to the 2014 car festival season part one