How the 2021 F1 season went down to the wire in Abu Dhabi: race results and final championship standings
Hamilton v Verstappen in one of the all-time classic F1 seasons
---
Published 12 December 2021
THE EXTRAORDINARY 2021 Formula One world championship hinged on the final race, Abu Dhabi Grand Prix, with title rivals Lewis Hamilton and Max Verstappen heading to Yas Marina Circuit level on points.
But there could be only one victor, and it was Verstappen who clinched the crown on the final lap of the season.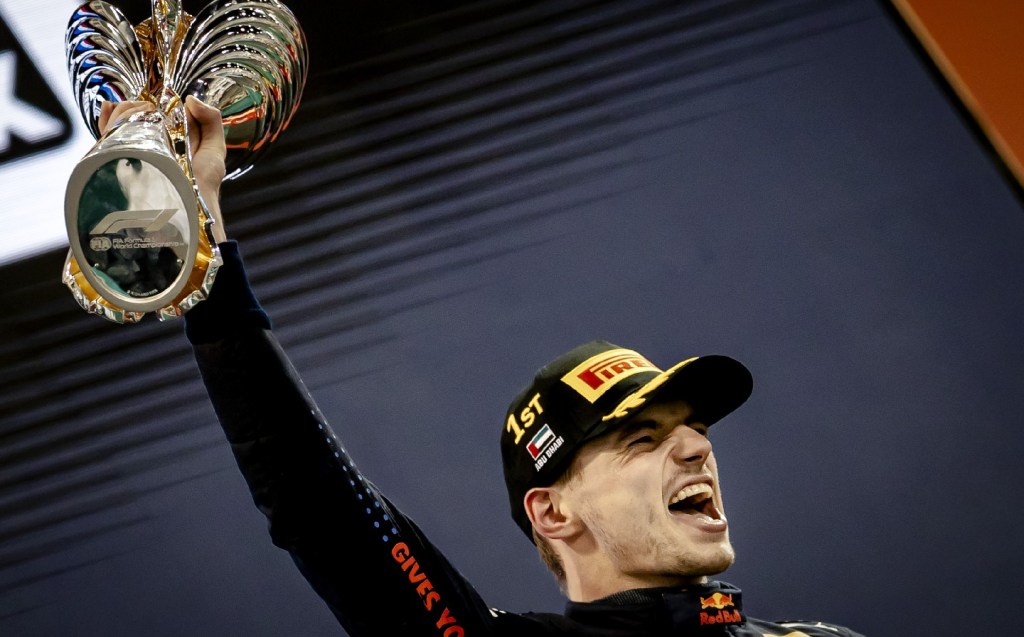 Jump to: F1 race calendar and summaries 2021 | Final F1 drivers standings 2021 | Final F1 teams standings 2021
The result was controversial and a fitting end to a rollercoaster of a year; one shaken up by the coronavirus pandemic, with races cancelled and replaced due to restrictions, but also easily one of the most exciting and dramatic we've seen in decades. It's more than 40 years since two drivers had entered the final round on equal points, and many believe Verstappen and Hamilton's titanic battle to be one of the all-time great F1 rivalries.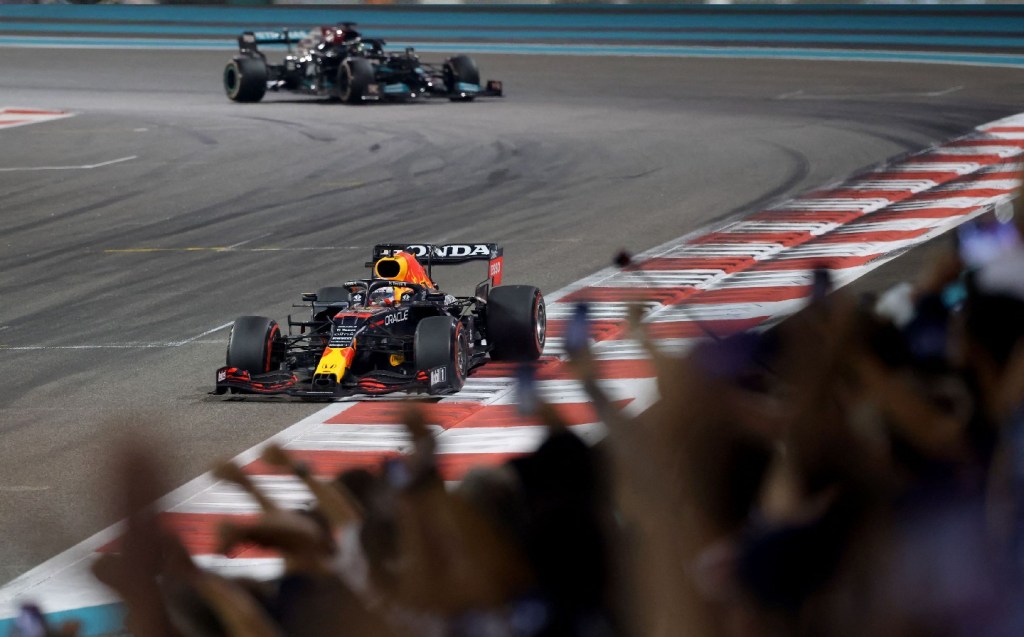 While the fight between the two lead drivers has been intense, the likes of Scuderia Ferrari and McLaren have been much closer to the top teams this year and fighting it out for best-of-the-rest honours. McLaren scored a sensational one-two at the Italian GP and Lando Norris had the chance to make it back-to-back victories for the Woking team in the next round at Sochi, Russia.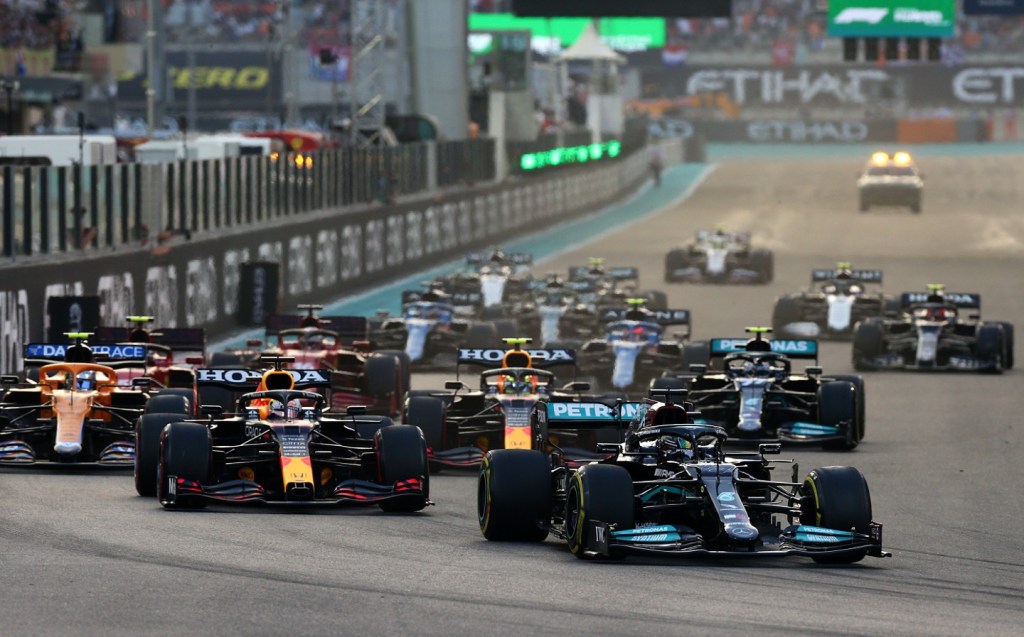 Pierre Gasly was back on form in his Alpha Tauri — Red Bull's B-team — while names such as Fernando Alonso, Carlos Sainz and Esteban Ocon all shined brightly at various stages.
And 2021 marked the final season for F1 stalwart Kimi Raikonnen, who sadly retired from the Abu Dhabi GP, but over a record 352 grands prix the Finn leaves the sport having racked up 1,873 points and one world championship.
Here's our guide to the 2021 F1 season, as it happened.
F1 calendar and race summaries 2021
Coronavirus-related disruption has meant that, as in 2020, we saw cars powering around tracks that don't usually appear on the Formula 1 calendar, such as the race in Portimão. The calendar was subject to change throughout the year.
However, the 2021 season saw the return of some races that weren't possible last year, including many of the far-flung "flyaway" venues. These include USA, Mexico and Brazil.
We also got back the jewel in the crown of F1: the Monaco GP, which was won this year by Max Verstappen.
After initially being abandoned due to travel restrictions, the Turkish Grand Prix was brought back in to replace the cancelled Singapore Grand Prix on October 10.
The Australian GP was cancelled for the second year in a row, replaced by the Qatar GP.
1. Bahrain Grand Prix, Sakhir, March 28
In a thrilling season opener we saw the rivalry between Hamilton and Verstappen as close as it's ever been, with the two drivers swapping the lead throughout the race.
Verstappen attempted a pass Hamilton on the 53rd of 57 laps but was forced to give the place back after being deemed to have contravened track limits.
Hamilton eventually won the race by 0.7 seconds, leading Verstappen and Mercedes teammate Valtteri Bottas.
2. Emilia Romagna Grand Prix, Imola, April 18
Another action-packed race saw Hamilton start on pole, only to fall victim to a second-gear lunge from Verstappen on the rain-soaked first lap. Attempting to lap George Russell on the 31st lap of the race Hamilton fell further back, after struggling to find grip on a still-wet track, ending up in the gravel and dropping to eighth.
However, a high speed collision between Valtteri Bottas and George Russell, which saw each driver blame the other, brought the pack back together and Hamilton recovered to second. Fellow Brit Lando Norris completed the podium after an ace drive that took him from seventh to third.
3. Portuguese Grand Prix, Portimão, May 2
After a poor qualifying performance in San Marino, Valtteri Bottas earned a spot at the front of the grid for the Portuguese Grand Prix in Portimão. Both Mercedes started well, with Bottas building a comfortable lead over second-placed Hamilton until a crash between Alfa Romeo teammates Antonio Giovanazzi and Kimi Raikkonen brought out the safety car.
On the restart Hamilton hesitated, allowing Verstappen to overtake him, but regained second place just a few laps after, and moved swiftly up to first on the 20th lap. Things were made worse for Bottas when a sub-par pitstop allowed Verstappen the time he needed to enter the DRS zone, with the Finn falling down to, and finishing, third.
4. Spanish Grand Prix, Barcelona, May 9
Hamilton earned the 100th pole position of his career in Barcelona, but duly gave up first position on the first corner of the grand prix, having no option but to sacrifice the spot to an aggressive move by Max Verstappen. A tense, race-long battle then commenced, but it was ultimately Hamilton and Mercedes, making excellent use of a two-stop strategy, who came out on top, overtaking Verstappen with six laps of the race to go for his third win in the season's first four races.
5. Monaco Grand Prix, Monte Carlo, May 23
It's unlikely that 2021's race will go down in the annals of Monaco Grand Prix history. Qualifying was cut short by a Q3 crash by pole-sitter, Monaco native and Ferrari driver Charles Leclerc, causing a drivetrain issue that would ultimately prevent him from starting the race.
That left Max Verstappen on pole, enabling him to take a lead from the start that he never looked like relinquishing. It was a notable off-day for Mercedes, with world champion Lewis Hamilton finishing seventh (in doing so allowing Verstappen to overtake him in the standings) and Bottas forced to retire after mechanics were unable to remove his front-right tyre during a pitstop. The Ferrari of Carlos Sainz came in second while Lando Norris claimed his second podium of the season, in third.
6. Azerbaijan Grand Prix, Baku, June 6
The drama dutifully returned on the street circuit of Azerbaijan's capital, with a joint-record four red flags brought out during Saturday's qualifying session. Ferrari's Charles Leclerc managed to grasp pole position for the second race in a row but failed to keep it beyond lap two, when he was overtaken by Lewis Hamilton. After that the Monegasque went backwards down the order but recovered to fourth.
However, the real drama came in the latter part of the race, when leader Max Verstappen suffered a tyre blowout at high speed on lap 45 of 51, becoming the second driver after Aston Martin's Lance Stroll to suffer the same issue. That triggered a red flag, with Red Bull's Sergio Perez and Mercedes' Lewis Hamilton lining up on the first row of the grid.
However, a lock-up from Hamilton sent him into the turn one run-off, and he could only manage to recover to 15th, leaving Perez to take the win. It was a stellar day for former champion Sebastian Vettel, who claimed second place in his Aston Martin, while Pierre Gasly once again proved he can make it count on race day with the third podium spot.
7. French Grand Prix, Le Castellet, June 20
Max Verstappen equalled Lewis Hamilton's trio of wins in the 2021 season at Le Castellet, in a race that defied many people's expectations — the track, located near Marseilles, is often cited as one of the most boring in the F1 calendar.
After initially ceding his place at the front of the pack to Hamilton on the first corner of the race, the Dutch driver overtook Lewis Hamilton with just two laps of the race remaining, thanks to the utilisation of a two-stop strategy by Red Bull that left Hamilton attempting to fend off a fresh-tyre-clad Verstappen on worn tyres.
Verstappen took an extra point for snagging the fastest lap time, and was also awarded the Driver of the Day award. Hamilton had to settle for second, with Verstappen's teammate Perez completing the podium.
8. Styrian Grand Prix, Spielberg, June 27
A more sedate race followed the French Grand Prix, with Max Verstappen dominating proceedings across the weekend. The 23-year-old took his third win at the Red Bull Ring, with his RB16B comfortably outpacing Lewis Hamilton's Mercedes throughout the race.
The seven-times world champion again had to settle for second place, although he did snatch an extra point for the fastest lap thanks to a late pit stop. Mercedes Boss Toto Wolff admitted that, for the first time in the turbo-hybrid era that his team has dominated, Mercedes had "no weapons in our armoury". Hamilton agreed, estimating that Red Bull had an advantage of a quarter of a second on every lap of its home circuit.
9. Austrian Grand Prix, Spielberg, July 4
The second of the back-to-back races at the Red Bull Ring saw Verstappen pick up where he left off, delighting the Austrian crowd with pole position and then leading every lap of his team's home grand prix. A huge number of Dutch fans also mad there way to Austria to watch their hero dominate proceedings.
Behind Verstappen, things were a but more complicated. At turn three, Esteban Ocon's Alpine was squeezed between Mick Schumacher and Antonio Giovinazzi, damaging his suspension and bringing out the safety car. Lando Norris had surprised everyone with second place on the grid in his McLaren, just a fraction of a second off Verstappen's lap time, and he did well at the restart but was soon after handed a five second stop-go penalty after Red Bull's Sergio Perez tried to overtake around the outside of turn four and ended up taking a trip across the gravel.
It was a controversial stewards' decision that later Perez himself was handed after Leclerc, in his Ferrari, tried a similar move and also ended up run off the road. The Mexican finished sixth as a result of his tumultuous race.
Lewis Hamilton had started fourth but struggled after picking up damage, and failed to capitalise on Norris's penalty, finishing fourth. Mercedes team-mate Bottas had a better run from fifth to finish second, while Norris managed to clinch the third podium spot.
10. British Grand Prix, Silverstone, July 18
At a hot Silverstone circuit, temperatures in the cockpits were high on race day. After the first Sprint Qualifying trial on Saturday, Verstappen lined up on the grid first with Hamilton second.
The Brit got the better start but couldn't edge fully in front and continued to pressure the leader all the way round the first lap before sending his Mercedes down the inside at Copse, clipping the rear of the Red Bull and sending Verstappen heavily into the barriers. Red flag and race over for the Dutchman.
Hamilton received a 10-second penalty as a result but raced his heart out from second to chase a superb Charles Leclerc, who had led in the Ferrari from the restart. Hamilton hunted down Leclerc a second a lap over the final 10 laps before diving down the inside of the Ferrari at Copse on lap 51 of 52, in a brave repeat of the first lap incident.
This time his opponent yielded, Leclerc running off the track to avoid contact, allowing Lewis to take the lead and his eighth British GP victory.
Bottas completed the podium after a strong drive but with the championship in mind was asked to let Lewis past in his pursuit of the win. With Verstappen picking up just three points from his Qualifying Sprint win, Hamilton's win put him nine points behind in the driver's championship.
11. Hungarian Grand Prix, Budapest, August 1
After the first lap drama at Silverstone, we had carnage at the start of the Hungarian GP. Rain fell just before the formation lap and after a slow getaway from second, Bottas locked up into turn one and hit the back of Lando Norris who ricocheted into Verstappen.
Bottas also managed to slide into Perez. Meanwhile Stroll was by the accident ahead and drove into the side of Leclerc. After a safety car, teams were told there would be a standing start from the grid, but just beforehand all the drivers except leader Hamilton dived into the pits for slick tyres, as the track was drying.
The Englishman started from the grid alone, with fellow countryman George Russell somehow getting the jump on everyone else in the pitlane. Russell's Williams slowed halfway round the lap, though, allowing Ocon's Alpine to lead while Hamilton pitted, putting him in 15th on lap five. Verstappen made the restart but also had work to do from 12th position.
A masterly undercut pit stop on lap 20 allowed Hamilton to pass both Verstappen and Ricciardo into 10th and in clear air started producing fastest laps to claw back a fantastic result, finishing third (after a classic battle with Alonso), though it took everything out of him — he was checked out by doctors after feeling dizzy following the race.
His championship rival, though, in a damaged Red Bull had a worse afternoon and only scored a single point. It was Ocon's day to shine, though, winning the race from eighth on the grid in his Alpine after a close battle with Vettel, who finished second in the Aston Martin, though his result was later deleted due to there being below the required litres of fuel in his tank post-race, which promoted Hamilton to second and Sainz to third.
12. Belgian Grand Prix, Spa-Francorchamps, August 29
This race will go down in history for all the wrong reasons. It's the new shortest ever F1 grand prix, lasting just three laps over eight minutes, all run behind a safety car with no overtaking, due to torrential rain.
It was "won" by Max Verstappen, who had qualified on pole, with a delighted George Russell in the Williams finishing behind him after a sensational lap on Saturday. Lewis Hamilton, who qualified third, completed a podium that many fans argue should never have taken place; the cars seemed to have been sent out on track purely to complete the two laps necessary for the event to be classified as a race, meaning the organisers needn't refund spectators' tickets. Hamilton called it a "farce".
As less than 75% of the race had been run, only half points were awarded.
Lando Norris deserves a mention for being easily quickest driver in the wet in Qualifying 1 and 2, before a heavy crash at Eau Rouge at the start of Q3 ended his session, and the chance of points in the race.
13. Dutch Grand Prix, Zandvoort, September 5
Max Verstappen delighted his home fans, who turned the Zandvoort grandstands into a sea of orange, by taking pole position and the race victory on Sunday. He led almost all the way on Sunday, only dropping to second behind Bottas after his pit stop.
On ageing rubber, the Finn's job was to slow Verstappen's progress to allow Mercedes teammate Lewis Hamilton, running in third, to catch and perhaps outmanoeuvre the Red Bull driver, though Verstappen was only slowed momentarily and retook the lead before his championship rival had a chance to pounce.
The final podium order was Verstappen, Hamilton and Bottas, with Hamilton taking an extra point for fastest lap. It was a tough weekend for McLaren, particularly Norris, with Alpha Tauri, Alpine and Ferrari mopping up the best-of-the-rest-honours.
14. Italian Grand Prix, Monza, September 12
The return of Sprint Qualifying saw Valtteri Bottas lead from the front, with Max Verstappen second and Daniel Ricciardo third in his McLaren, so those drivers picked up 3, 2 and 1 points respectively on Saturday.
Sprint Qualifying then determined the grid for the Italian Grand Prix on Sunday, though Bottas was forced to start from the back due to changing his power unit, putting Verstappen on pole. He was outdragged to turn one by Ricciardo, though, who managed to lead until his pitstop.
Verstappen came in a lap later but a wheel change issue lost him time, and after Hamilton pitted the two championship rivals arrived at turn one side-by-side. Wheels touched and the Red Bull mounted the Mercedes, with replays showing Hamilton's life was clearly saved by his rollover loop and Halo device, as Verstappen's rear wheel came down on the British driver's cockpit.
The Dutchman was later penalised for the incident, with a three-place grid penalty to be applied at Sochi. With both those cars retired, McLaren swept to a very popular one-two victory, with Ricciardo taking the win and finally showing his form of old. Bottas drove superbly through the field to clinch third place on the podium.
15. Russian Grand Prix, Sochi, September 26
Heavy rain on Saturday mixed things up in Qualifying, with a sensational pole for Lando Norris in his McLaren, second for Carlos Sainz's Ferrari and George Russell third quickest in his Williams. Verstappen, facing his three-place grid penalty from Italy, took the opportunity to replace his power unit and started from the back.
In the race, Sainz took the early lead while Hamilton dropped from fourth to seventh. The Ferrari driver was passed by Norris, while Russell hung on to third until an early, slow pitstop dropped him down the order.
Norris led for much of the race, and regained the advantage shortly after a late stop for a set of fresh rubber. But rain began to fall on part of the track with around five laps to go, and while its increasing intensity meant most drivers pitted for treaded tyres, Norris believed he could stay out on slicks and overruled the team's request for him to do the same.
It was an error that cost him his first victory, with Hamilton slipping by on the final lap to claim an historic 100th race win and return to the top f the driver's championship.
Verstappen had been making incredible progress through the field and his tyre change allowed came at just the right moment, and he managed a sensational second place. Sainz hung on for third.
16. Turkish Grand Prix, Istanbul, October 10
A wet circuit in Turkey meant the question was how quickly would it dry, and so thinking on your feet was key for the teams. Bottas led from the front and drove an almost perfect race to take the win.
Verstappen started second and finished second, after a steady performance. Hamilton started from 11th, but was so fast in the middle section of the race, and managed to drag his Mercedes up to third before the team brought him in for new intermediate tyres (Vettel had tried slicks and it was clearly the wrong choice) towards the end of the race, but the British driver felt the benefits were not worth the track positions lost.
He finished fifth, behind Leclerc in fourth and Perez in the final podium position, which meant Verstappen retook the championship lead (by six points).
17. United States Grand Prix, Austin, October 24
The Red Bulls seemed to be firing on all cylinders in Austin, and Max Verstappen managed to drive to victory from pole position. Lewis Hamilton was the closest man to the Dutchman in the race, though better rear end grip and a "super aggressive" pit strategy from Red Bull saw Verstappen stop for much earlier than the Mercedes expected, while Hamilton tried to manage tyre wear for a shorter final stint.
It proved a mistake for the German team, and Verstappen was simply too fast on fresh rubber. Hamilton closed on the lead in the final laps but it wasn't enough to outgun the Red Bull.
Elsewhere, Ferrari showed excellent pace and battled hard with McLaren, Perez picked up vital points to move to fourth in the drivers' championship ahead of his home race, while Alonso was clearly the most frustrated driver of the day, with tricky battles and a penalty for overtaking off the track.
18. Mexican Grand Prix, Mexico City, October 31
Valtteri Bottas qualified on pole for the Mexican GP but Verstappen out-braked him into the first corner to take the lead. Adding insult to injury, Daniel Ricciardo clipped the Finn's rear tyre to send him spinning, effectively ending his hopes of a win.
Verstappen then dominated proceedings, with Hamilton unable to catch the Dutchman from second place, though the Brit did manage to hold off a charging Sergio Perez in the closing stages of the race to secure second on the podium, and keeping his title chance alive. Not the best day for Mercedes, though, with Red Bull coming within a single point in the constructors' championship.
19. Brazilian Grand Prix, São Paolo, November 14
Despite a stellar performance in the season's final Sprint Qualifying race, driving from the back of the field to finish fifth, Lewis Hamilton found himself in tenth on the grid in São Paolo as a result of a penalty due to an engine change, leaving teammate Valtteri Bottas and title rival Max Verstappen to fill out the front row.
Hamilton was in the form of his career in Brazil, though, and an excellent start saw the Brit claw back his way back to fifth in five laps, and by lap 44 only Verstappen stood between the 36-year-old and first place.
It took three attempts to overtake Verstappen, who did not cede easily — stewards reviewed Hamilton's first overtake attempt amid claims that Verstappen had forced him off the track, though no action was taken. Hamilton succeeded in taking first position with 12 laps to go, clinching his third win at the Brazilian Grand Prix and narrowing the gap between himself and Verstappen to 14 points.
Crucially for the constructors' title, Bottas completed the podium for Mercedes while Verstappen's teammate Sergio Perez was able pit for fresh tyres with two laps to go without giving up his fourth position, enabling him to secure an extra point for fastest lap as he passed the chequered flag.
20. Qatar Grand Prix, Doha, November 21
Verstappen started seventh but made a storming start to reach fourth by turn one, but Hamilton capitalised on pole position and kept his lead. By lap five, Vesrtappen was up into second place, driving the doors off his Red Bull (well, if it had them), with Bottas and Perez also driving through the field to make up for lowly grid positions.
Sadly for Bottas, a puncture on lap 33 dropped him out of the race from third position. Both Williams cars later suffered punctures, though Perez had pitted to avoid the same fate to finish fourth. The final podium was Hamilton, Verstappen and then Alonso, in a brilliant drive for Alpine.
21. Saudi Arabian Grand Prix, Jeddah, December 5
A new track for F1 and the fastest street circuit on the calendar, this race was fraught from the start with two red flags in the early stages and multiple virtual safety cars, and Hamilton and Verstappen showing uber bravery and determination as the championship goes down to the wire.
Both Mercedes took the front row of the grid but during the first safety car period, Verstappen took the lead when both Mercedes pitted for fresh tyres.
The tyre barrier damage from Mick Schumacher's crash was more severe than thought and that brought out the first red flag, meaning advantage Verstappen at the restart, as he was able to change tyres at that point, too.
However, Hamilton made a move down the inside into turn one, with Verstappen retaining his lead only by driving off the track. Meanwhile Ocon took advantage by squeezing past Hamilton into second.
But further accidents down the order brought out a second red flag, and Verstappen was penalised before the second restart and moved back to third, behind Ocon and Hamilton.
Then the Dutchman got a stormer of a start to retake the lead on the medium tyres versus Hamilton's hards. The Brit made it past Ocon then got a slipstream behind Verstappen into turn one on lap 37 and the two almost tangled at turn one, with Verstappen asked to give the place to his rival as he had retained the lead having driven off the race track once again.
But when the leader slowed on the straight to hand back the place, Hamilton ran into the back of the Red Bull, causing damage to his front wing – a result of poor communication between teams and race control, it is thought. Both cars were able to continue and Verstappen yielded again but immediately re-took the position at the next corner.
On lap 43, Verstappen was handed a five second penalty for his off-road infraction (upgraded to 10 second post-race) just before Hamilton passed on track anyway, despite his damaged front endplate.
Verstappen complained of having worn tyres with five laps to go, but he couldn't pit without losing second place to Ocon. Hamilton nursed his own car home to take the win, with Verstappen 7sec behind – his time penalty making no difference to the order. Completing the excitement, Bottas passed Ocon metres before the chequered flag to complete the podium.
Channel 4's commentator called the inaugural Saudi GP "an incredible day of confusion," which is an understatement – this will go down as one of the most contentious races of all time. But it delivered on thrills and means a final race of the season with the two leading drivers tied on points, as the incredible 2021 season reaches its conclusion.
22. Abu Dhabi Grand Prix, Yas Marina, December 12
Hamilton had started second behind his Dutch foe but got a better start, and it looked like the first corner was his. Verstappen had other ideas and sent his Red Bull car down the inside of the Mercedes, forcing Hamilton off the track. Hamilton cut the corner and held the lead, with the stewards deeming the incident unworthy of investigation.
Hamilton controlled the race, though was held up a little behind Verstappen's teammate Sergio Perez after the Briton's first pit stop, and even though Verstappen pitted for fresh tyres during a virtual safety car two-thirds of the way through the race, it still looked like Hamilton had the advantage.
Then, with five laps to go, Nikita Mazepin's Williams hit the wall, bringing out a full safety car. Verstappen changed for new tyre again they had nothing to lose at that point.
Then, a twist of fate. The stewards initially held the backmarkers, who sat between Hamilton's lead car and Verstappen in second, behind the safety car. But with the Williams wreckage cleared away, just before the safety car pulled off the circuit on the penultimate lap, the backmarkers were released, moving Verstappen directly up to the leader's rear wing.
With the Red Bull riding on brand new rubber, Hamilton could do nothing to keep it behind him and it was Verstappen who crossed the line first, and in doing so clinched his inaugural F1 drivers' world championship. Hamilton was understandably deflated but gracious in defeat.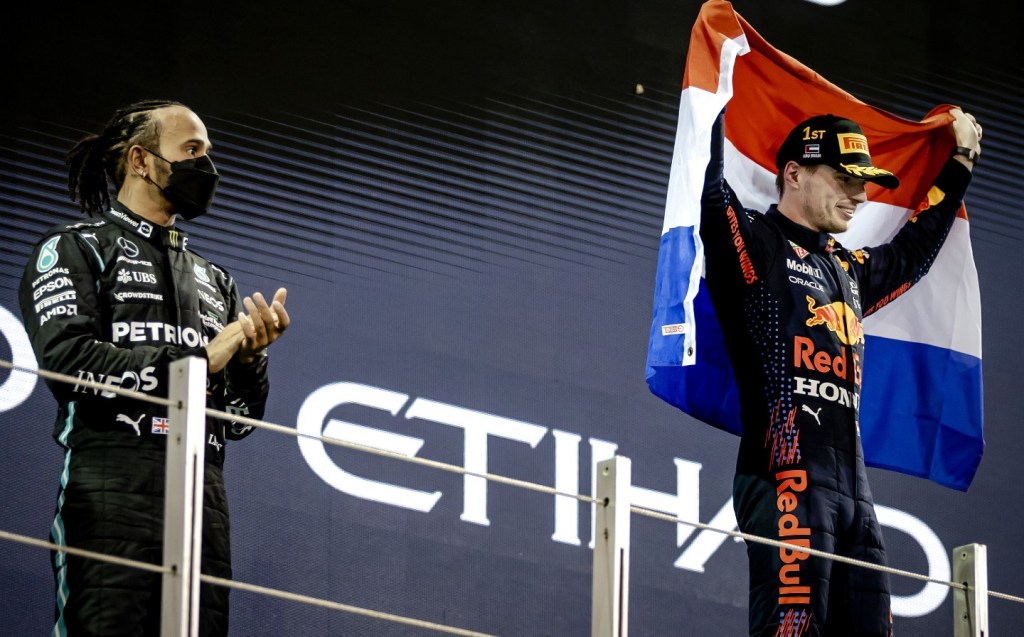 This sets the stage for 2022, with Hamilton and Verstappen staying at their respective teams, though the former will have a new teammate in fellow countryman George Russell, who moves from Williams. And major changes to the cars for 2022 means all bets are off.
Final F1 driver standings 2021
Max Verstappen (NED) RED BULL RACING HONDA 395.5
Lewis Hamilton (GBR) MERCEDES 387.5
Valtteri Bottas (FIN) MERCEDES 226
Sergio Perez (MEX) RED BULL RACING HONDA 190
Carlos Sainz (ESP) FERRARI 164.5
Lando Norris (GBR) MCLAREN MERCEDES 160
Charles Leclerc (MON) FERRARI 159
Daniel Ricciardo (AUS) MCLAREN MERCEDES 115
Pierre Gasly (FRA) ALPHATAURI HONDA 110
Fernando Alonso (ESP) ALPINE RENAULT 81
Esteban Ocon (FRA) ALPINE RENAULT 74
Sebastian Vettel (GER) ASTON MARTIN MERCEDES 43
Lance Stroll (CAN) ASTON MARTIN MERCEDES 34
Yuki Tsunoda (JPN) ALPHATAURI HONDA 32
George Russell (GBR) WILLIAMS MERCEDES 16
Kimi Räikkönen (FIN) ALFA ROMEO RACING FERRARI 10
Nicholas Latifi (CAN) WILLIAMS MERCEDES 7
Antonio Giovinazzi (ITA) ALFA ROMEO RACING FERRARI 3
Mick Schumacher (GER) HAAS FERRARI 0
Robert Kubica (POL) ALFA ROMEO RACING FERRARI 0
Nikita Mazepin (RAF) HAAS FERRARI 0
Final F1 team standings 2021
MERCEDES 613.5
RED BULL RACING HONDA 585.5
FERRARI 323.5
MCLAREN MERCEDES 275
ALPINE RENAULT 155
ALPHATAURI HONDA 142
ASTON MARTIN MERCEDES 77
WILLIAMS MERCEDES 23
ALFA ROMEO RACING FERRARI 13
HAAS FERRARI 0
F1 race UK TV coverage in 2021
Sky Sports F1
Subscribers were able to watch every race, as well as the qualifying and practice sessions, live on Sky Sports F1, which cost £18 per month for people already paying for Sky TV, or £43 per month alongside Sky TV. As part of the package you also got exclusive documentaries and interviews from the Sky Sports F1 team, as well as historic races.
Now TV
You could also watch using Sky's Now TV on demand service, which offers Sky Sports Day Passes for £9.99 or monthly passes for £33.99.
Channel 4 coverage
For those on a budget, once again there are extended highlights of all F1 races on Channel 4, with additional live coverage of the British Grand Prix in July. A last-minute rights deal meant the Channel 4 also showed live coverage of the Abu Dhabi finale, though using the Sky Sports F1 feed and commentary. Highlights were also available on the channel's on-demand service, All 4.
Formula 1: Drive to Survive
The third season of Netflix exclusive series Formula 1: Drive to Survive went live on March 19, 2021, with a brilliant behind-the-scenes look at the 2020 F1 season, showing much more of the drama, tantrums and tears that are often unseen by the regular TV cameras.
Series three covers the shortened 2020 F1 championship, focusing on Lewis Hamilton, Daniel Ricciardo and other top drivers as Covid-19 turned the world upside down.
Just hearing F1 team members swearing was quite the revelation when the first series aired, and the emotions captured make the characters involved in the sport seem much more human than the sanitised live coverage suggests.
We can't wait for Formula 1: Drive to Survive season four, which no doubt will be released in March 2022.
What was Sprint Qualifying?
Another exciting element of the 2021 F1 season was the debut of Sprint Qualifying. The 100km races determined the starting grid for Sunday's grands prix and awarded championship points to the top three drivers.
The first Sprint Qualifying took place at the 2021 British Grand Prix, the second at the Italian GP and the final one at the Brazilian GP.
Sprint Qualifying was being trialled in 2021, with F1 management to decide whether or not it should stay for good, based on feedback from drivers, teams and fans. For more info, read our Sprint Qualifying guide.
Tweet to @ST_Driving Follow @ST_Driving