Great Drives: Ice ice baby. . . lapping Iceland in a Mazda MX-5 Icon
It's hard to imagine a better way to discover Iceland than tackling its epic Route 1 in a racy little roadster
---
Published 23 November 2016
AS RING roads go, Iceland's Route 1 is pretty spectacular. The 830-mile lap of the Land of Fire and Ice seems as far removed from the M25 or the Boulevard Périphérique as it's possible to be.
Just three hours from London on a plane and you are in a landscape of glaciers, geothermal pools, beaches of black, volcanic sand and cascading waterfalls. Thirty-five active volcanoes continue to stir with menace. You can take guided walks inside the Thrihnukagigur volcano (it's been dormant for 4,000 years but that may just mean an eruption is overdue).
The scenery of the sparsely populated island — it has about 336,000 people, barely more than Newcastle upon Tyne — could have been created for the photo-sharing era. From one valley to the next, it continually changes and continually takes your breath away. If you came here during the days when the cost of film — and developing it — forced you to ration your pictures, bad luck.
Then there's Route 1 itself, which makes Iceland as much a driver's paradise as a sightseer's wonderland. The eastern, southern and western parts of the road hug the coast. There are no motorways or dual carriageways in sight; just one lane for clockwise traffic, and another for anticlockwise.
At a stretch, you can drive it in a weekend. So that's what I did. I set off from Reykjavik, in the west, with the roof of my Mazda MX-5 Icon down, spent the night in Egilsstadir, in the east, and didn't put the roof back up until I was back where my Icelandic road trip had begun.
Within minutes of leaving the island's capital, you will find yourself pulling over for the first of hundreds of pictures. The road arcs around the waters of Hvalfjordur, a whaling station until 1988. Tourists park their cars next to a life-size fin whale, painted on the wall of the local museum cum petrol station cum woolly jumper outlet.
In places, Route 1 tracks arrow-straight along valley floors. In others, such as the mountains of Breiodalsheioi, it meanders incoherently, like a drinker stumbling from a bar on a Saturday night in Reykjavik.
"You'll be faced with the spectacle of hairpin after hairpin descending into the valley below, with not a guard rail in sight. If you ever wanted to confront a fear of heights, this is the place to do it"
There's the added challenge of unmade sections that resemble a rally stage. Closed to traffic in the winter months, they follow the route of Iceland's earliest roads, built by hand in about 1870. If you can visit in spring or, as I did, autumn, you'll be faced with the spectacle of hairpin after hairpin descending into the valley below, with not a guard rail in sight. If you ever wanted to confront a fear of heights, this is the place to do it.
This is, at times, a brutal landscape. As I zip through in the open-top MX-5, with the cold winds numbing my ears and the heated seat warming my bottom, I encounter parts where there are no signs of life. No shops, petrol stations, houses; heck, there aren't even any McDonald's Drive Thrus.
I fill up the petite MX-5's equally petite fuel tank with petrol at every opportunity, and keep a jerry can of fuel in the boot, alongside blankets, safety equipment and, most important of all, food.
It would be a great place to stretch the car's legs and wind its free-revving 1.5-litre four-cylinder engine to the red line in every gear. But the speed limit on most stretches is 90kph (56mph), and the police hand out hefty fines to anyone caught breaking it, as though they were one of the Icelandic bankers who lost them their pensions.
Every now and then you'll cross single-lane steel bridges that look like fighter launch tubes from Battlestar Galactica. Everyone here is so unfailingly polite that they all give way and the MX-5 never has to slow.
Tourist buses with comically large tyres tower over my two-seater, and even here, where most people drive 4x4s, they stand out like beached killer whales.
At Jokulsarlon, on the southeast coast, I stop at the Glacier Lagoon, where icebergs congregate before glacial meltwaters carry them out to sea. You can park right at the water's edge, with the icebergs framed in the windscreen and the heated seats keeping you snug.
Back on Route 1, when I can genuinely see for miles ahead, the temptation to put my foot down in the zippy MX-5 proves impossible to resist. It's hard to imagine how you could have more fun on this epic road, unless you are a hardy soul who prefers two wheels to four.
Typical of those who pedal "for the hell of it" is Eric Petersen, a 27-year-old geophyscis PhD student from Austin, Texas, whom I meet cycling around Iceland on his custom-made touring bike. For him Iceland is a living textbook. "I've never been happier," he says.
So the Land of Fire and Ice has something to offer everyone. Tackling Route 1 in an open-top sports car makes it unforgettable.
The route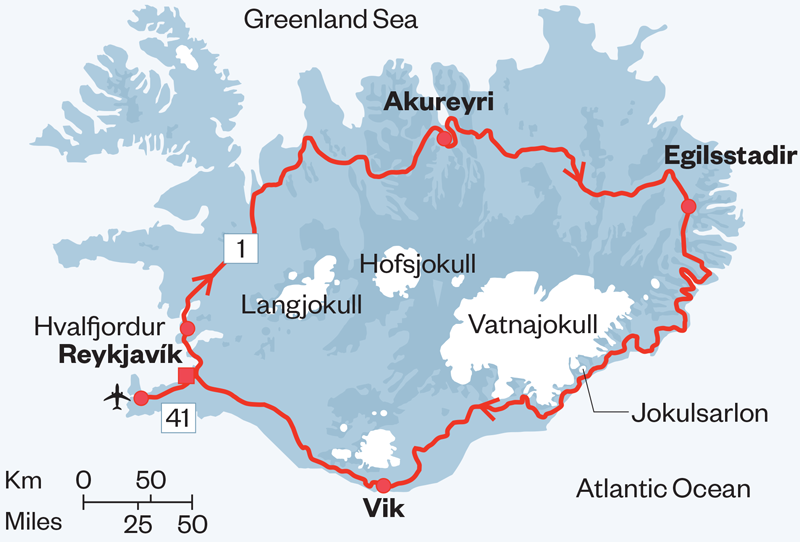 Iceland road trip travel guide
When to go: Spring or autumn
Stay at: Hotel Borg, Reykjavik; Hotel by the Lake, Egilsstadir
Pack: Thermos flask of coffee
Listen to: Motorcrash by the Sugarcubes
Bring home: Woolly jumpers
More information: visiticeland.com; mazda.co.uk