Volkswagen ID.7 2023 review: Sleek Tesla Model S rival is the perfect SUV antidote
Seventh heaven
---
Published 17 November 2023
Cast your mind back some 11 years: London played host to the Olympic games; Felix Baumgartner stepped off the ledge on the edge of space and (successfully) fell to Earth; and Somebody That I Used To Know by Gotye featuring Kimbra was the biggest song of the year. Europe's best-selling car was the Volkswagen Golf while the German marque also held the third and tenth spot in Europe with the Polo and Passat, respectively. Nobody had yet heard of Dieselgate, while in the US, a little-known company called Tesla began production of an electric car called the Model S.
A seismic shift in the automotive landscape was about to unfold and Volkswagen, tail between its legs after cheating those diesel emissions tests, scrambled to play catch-up in the suddenly burgeoning electric vehicle market. An electric version of the Golf was a toe in the water, but Volkswagen realised it needed to vastly scale up its ambitions with a whole family of dedicated EVs.
That began with the Golf-sized ID.3, for which the carmaker designed a new vehicle structure that would go on to underpin a multitude of new EVs.
Those included the larger ID.4 and ID.5, as well as the terrific-looking ID. Buzz — one of the coolest electric vehicles on the market (and our best-designed car of the year in 2022), if slightly compromised.
Moving on from SUVs
Now Volkswagen is getting serious with the introduction of the ID.7, a large electric car that's not only an alternative to the Passat but a model capable of taking on rivals from Tesla and Hyundai, and even premium alternatives from BMW and Mercedes-Benz.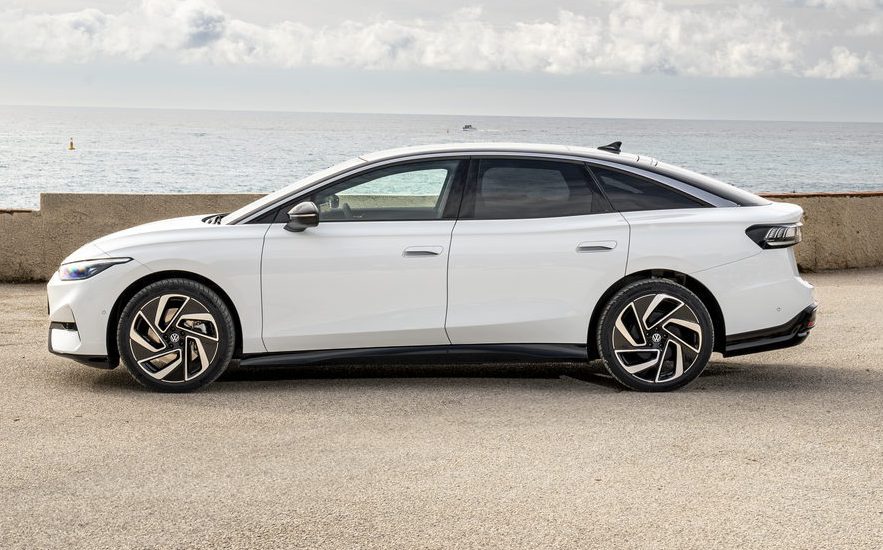 The ID.7 uses the same 77kWh battery as the ID. Buzz, but whereas that has a driving range of 254 miles before it needs to be recharged, the sleek and slippery shape of the ID.7, combined with powertrain efficiency improvements, mean that the range increases to a far more useful 385 miles.
While the ID.7 is hardly what you'd call drop dead gorgeous, it is a less challenging design than the bug-like Hyundai Ioniq 6 streamliner. Yet both cars' aesthetics have been primarily shaped by aerodynamics, ensuring they create as little drag as possible through the air to extend the range.
Volkswagen has always been a conservative company in designing its cars, so we shouldn't be surprised that the ID.7 is far from radical in how it looks. There are already enough whacky looking EVs on the market and not everybody wants to drive a car that looks like something George Jetson would own.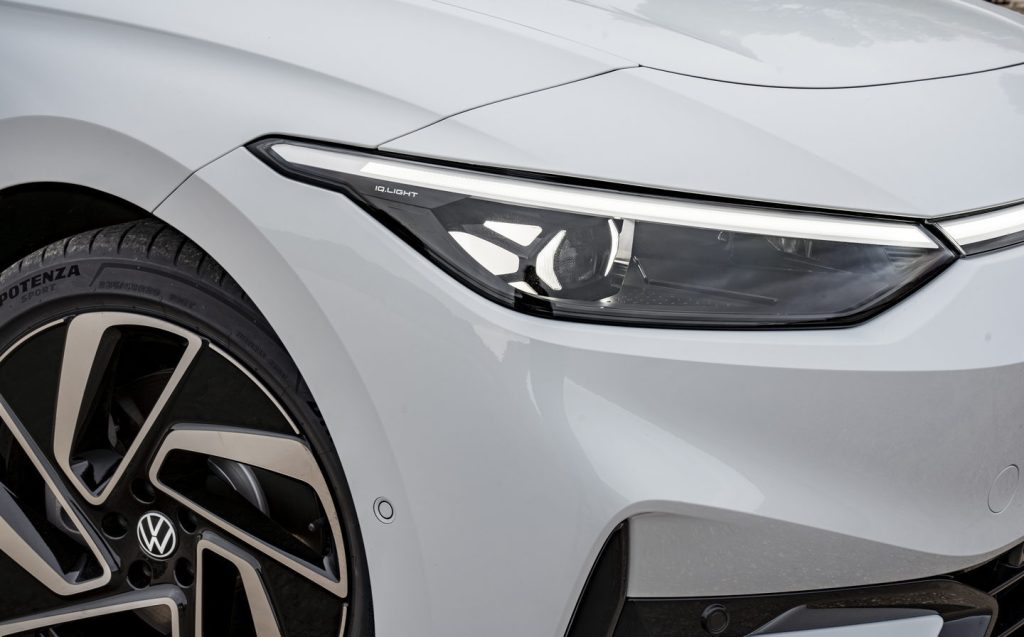 Spacious interior dominated by touchscreen
If the ID.7 is one thing, it's long. Measuring just less than five metres in length, it's longer than the Volkswagen ID.5 SUV and the popular Tesla Model 3, though actually marginally shorter than the Model S.
While the ID.7 might not have the high roofline of an SUV, the curved roof extends further back than in a traditional saloon and features a hatchback opening, making it easier to get bulkier items into the boot.
Other rivals, including the Chinese BYD Seal, retain a separate boot lid that can limit access. You get a voluminous 532 litres of luggage room in the ID.7, and Volkswagen will add an estate variant in 2024 for even more load-lugging ability.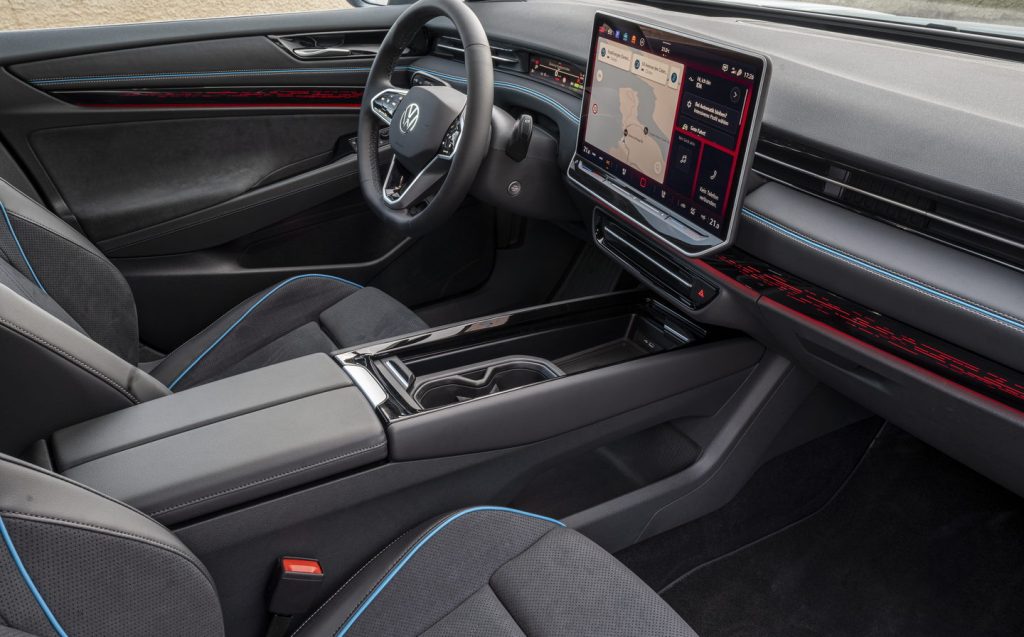 As you slip your hand under the flush-fitting door handle and access the interior, you'll first notice the 15in touchscreen display affixed to the centre of the dashboard. It is unapologetically large and is the centrepiece of what is otherwise a stark-looking interior.
Perhaps the bigger news is that, following widespread criticism of the previous ID. models, the lower touch bar element of the display (used for volume and temperature adjustment) is now backlit so you can see it at night.
Material and build quality inside are to the typical standard we expect from Volkswagen. Everything feels solidly made, and any areas you frequently come into contact with feel nice to the touch.
There are remarkably few physical buttons, though, most of which are on the door and include VW's wimpy rotary switch for adjusting the door mirrors. The ID.7 is not as minimalist as a Tesla for its lack of actual buttons, but it continues a concerning trend of making drivers spend more time using a touchscreen instead of buttons and knobs they can locate and twist without ever taking their eyes off the road.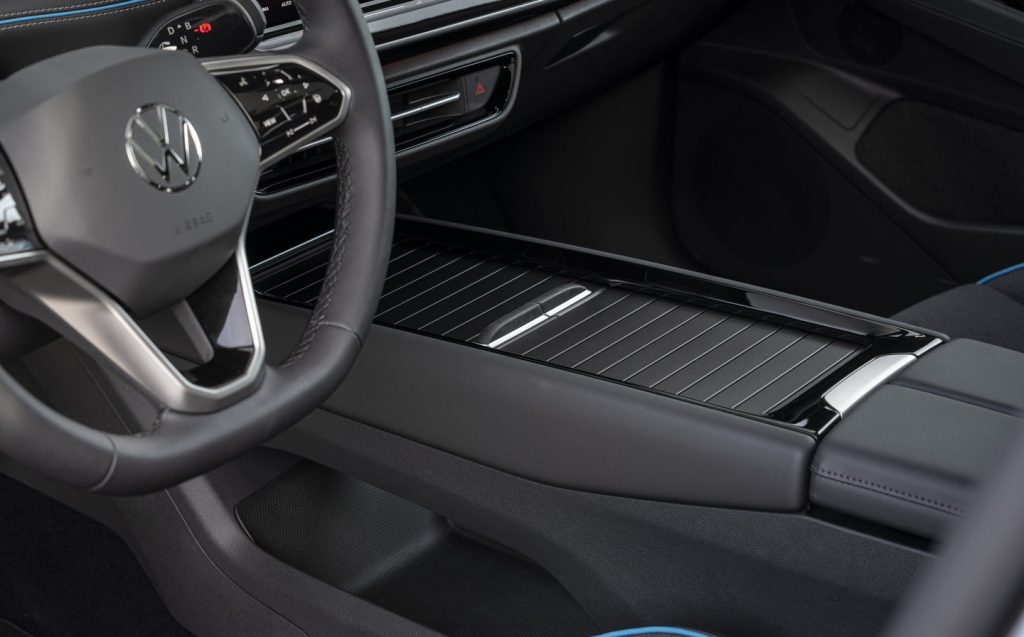 Volkswagen also sticks with haptic controls for the multifunction steering wheel that click and pulse as your finger slides across them, often accidentally. The steering wheel is a standard size and feels good in your hands, while the drive selector is mounted on the steering column to create more space between the front seats.
The long, sloped roof provides generous headroom for all passengers, while the stretched distance between the front and rear wheels helps open up cabin space and means plenty of legroom to stretch out on a longer journey in the back, too.
Plenty of power from new motor
Volkswagen has fitted its newest electric motor to the ID.7, driving the rear wheels with up to 281bhp. Not only is this motor more powerful than previous units from the firm, but it's more efficient, too.
Only a light touch of the accelerator pedal is needed for quick progress, and although the ID.7 doesn't feel overtly sporty, you sense there's always plenty of performance in reserve should you need it. By Tesla acceleration standards it's a sedate driving experience, but the ID.7 is certainly quick enough by any other measure.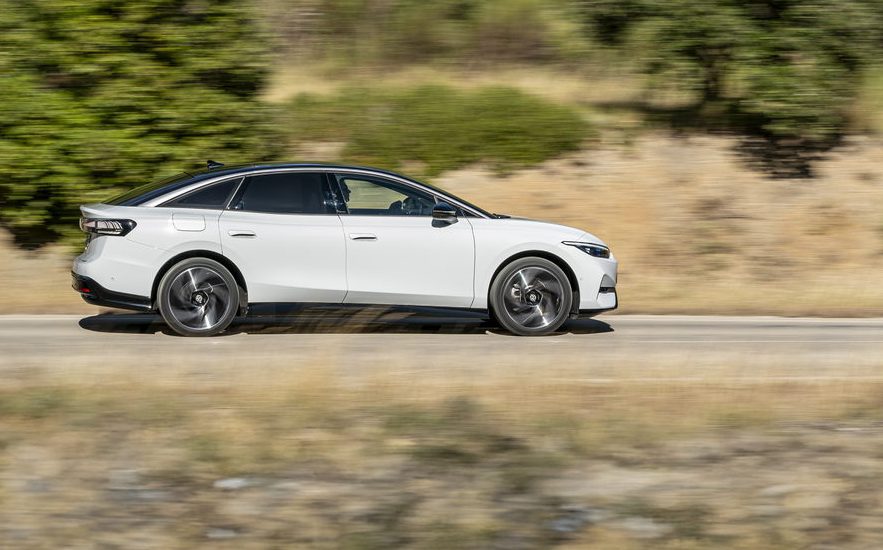 That's not to say the Volkswagen is dull to drive. Despite its size, the ID.7 doesn't embarrass itself when you show it a series of bends, and with power going to the rear wheels, there's no corruption of the steering feel, either.
It will cover ground at a healthy clip when switched to Sport mode — you even get some red ambient lighting inside for added effect — but the ID.7 is a more mature package that focuses on comfort and refinement. Indeed, with the adaptive damping left in its default setting, the car is notably plush and comfortable.
The interior remains appreciably hushed as the speed builds up, with little in the way of road or wind noise bleeding into the cabin on the motorway to interrupt your driver's seat massage.
Nevertheless, you will need to stop at some point, so it's helpful that the native navigation software can not only show the nearest charging stations but also indicate the maximum speeds of the chargers. That can be valuable information when making a call on where to stop.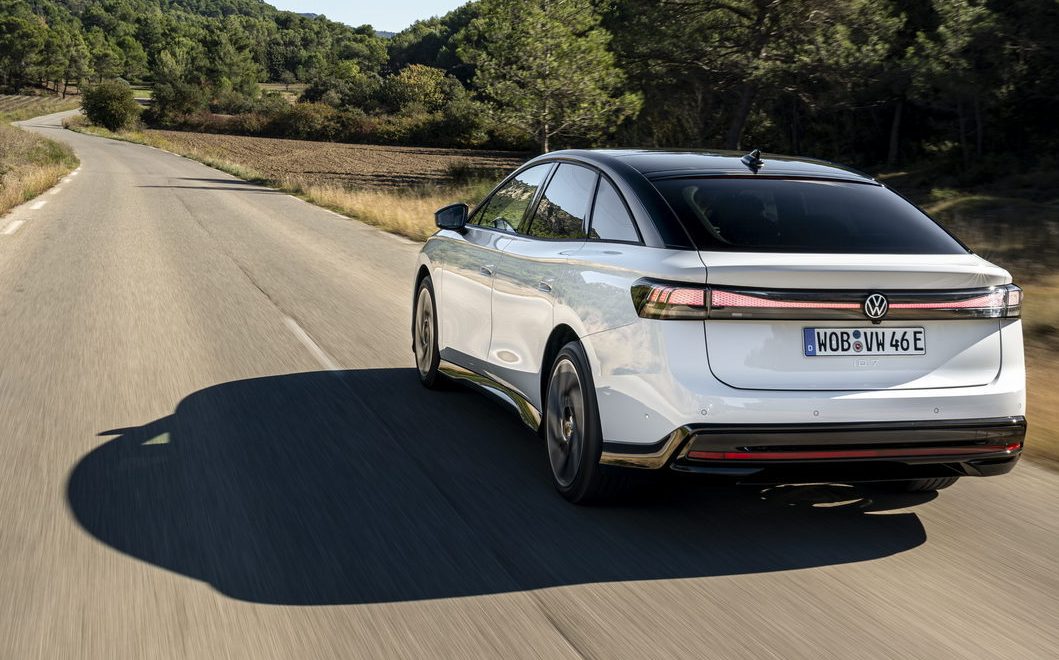 Fast-enough charging
And the ID.7 charges at up to 175kW using a DC rapid charger. Now, that isn't as fast as the Hyundai Ioniq 6 manages, but Volkswagen sensibly states that it can add 126 miles of range in just ten minutes, with a recharge from 10 to 80 per cent taking 28 minutes.
In typical VW fashion, in some ways the ID.7 is almost too sensible. You won't find snazzy seats that turn into recliners as you would in a Kia EV6, for example, and there aren't built-in games to keep the kids occupied while you charge as Tesla offers. Instead, Volkswagen has taken a very grown-up approach to the ID.7, perhaps because it wants to be taken more seriously for its EV efforts.
There is plenty of useful technology included, though, such as the neat, augmented reality head-up display providing navigation support, as well as Android Auto and Apple Carplay (neither of which you get on a Tesla).
Less impressive is the assisted lane change function that's part of the Travel Assist pack. Owners can have the car perform lane changes on a motorway at speeds above 55mph with just a tap of the indicator stalk. Great in theory, but as with Tesla's Autopilot system there were several instances where it didn't perform as desired in our test of the car. When it did, the manoeuvre was drama-free.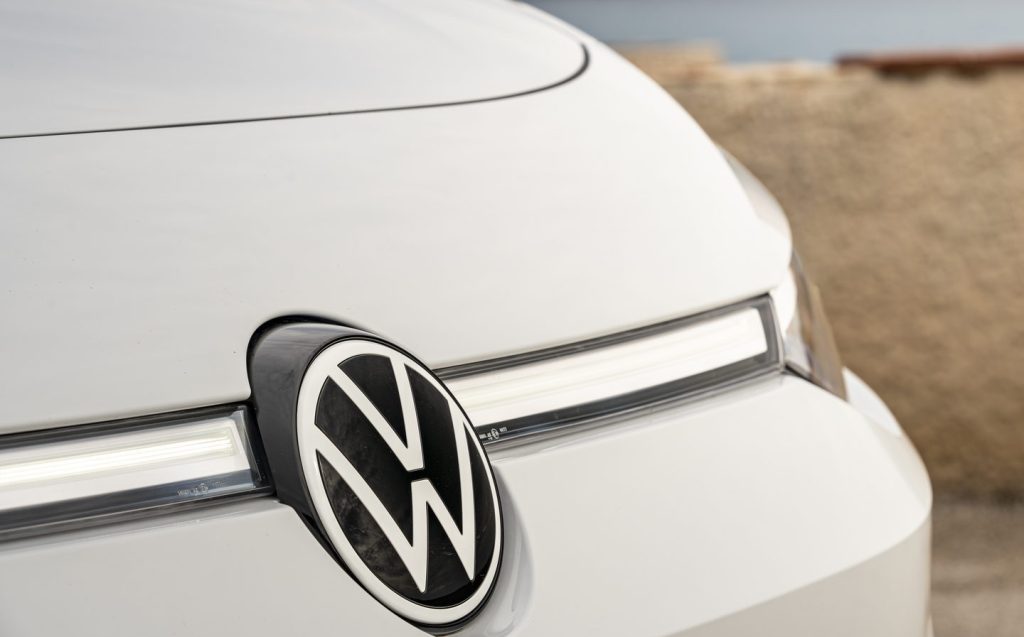 There is plenty to like about the Volkswagen ID.7, even if it isn't the most striking-looking car to go on sale this year. Sure, it's more relaxing than thrilling, but there's absolutely nothing wrong with that. It feels like a car its owners will enjoy driving day in, day out because of its quietness and comfort.
It has taken a decade, but Volkswagen now has the products to be taken seriously in the electric car world. Now, if only it could sharpen its pencil when it comes to pricing — especially when the Tesla Model 3 now starts at under £40,000.
Related articles
Latest articles