Vauxhall Zafira Tourer review (2012 - on)
Sharp, flexible and modern
What is it?
When the original Vauxhall Zafira appeared, it revolutionised MPVs. Before the Zafira, people carriers' seats had to be physically removed if you needed lots of carrying capacity, and when we say physically, we mean it: the chairs were so heavy that removing five of them felt like a workout with Mike Tyson. Vauxhall solved that problem by designing lighter, more compact seats that could be folded flush into the floor of the cabin.
Other manufacturers soon cottoned on, and now Vauxhall is trying to regain the upper hand with the Zafira Tourer. It is on sale alongside the second-generation Zafira, and rivals the Ford S-Max and VW Touran. The range starts at £20,575. Although it doesn't offer much innovation on the inside, its fixtures and fittings are noticeably more upmarket, and the Tourer is slightly bigger than the outgoing Zafira. It's also a lot more adventurous in appearance than the bland-looking model it is replacing.
The drive
To keep costs down Vauxhall has built the Zafira Tourer on a base that's a combination of Insignia and Astra. The result is a car that doesn't handle as keenly as an S-Max but is still quite responsive. The ride can feel a little choppy over rough tarmac but the trade-off is that it corners without leaning too much and the steering feels precise and surprisingly lively for a car that's carrying everything including the kitchen sink.
Petrol engines range from a 1.4-litre turbo to a regular 1.8-litre. There's also a 2-litre diesel with three power outputs. It's this engine that will make up the bulk of the sales. It's a bit noisy but most people will overlook that in favour of less frequent trips to the pumps — up to 62mpg should be possible with the ecoFlex edition. The mid-level 128bhp model is probably the one to go for as it offers a reasonable compromise between pulling power and economy.
The interior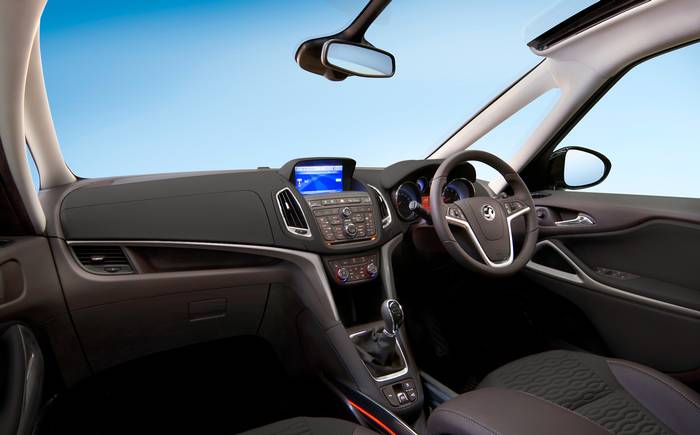 One of the main criticisms of the previous Zafira was over the quality of the interior, something that this car addresses with a pleasing ambience to the cabin. Standard ES specification is pretty generous, with air-conditioning, cruise control, DAB digital radio and electric front windows and door mirrors.
The main interior innovation in this new Zafira involves the middle row of chairs. No longer a single bench, it is now three individual seats, which split, fold and slide in seemingly endless configurations, depending on your requirements. And because this new model is larger than the outgoing car there's more room for people inside too. Continuing the theme of a family-friendly model are seemingly endless cubby-holes to stop belongings rattling round the car.