Porsche Boxster review (2013-on)
The new Porsche Boxster is a two-seat roadster that is a rival to the Audi TT Roadster, BMW Z4 and Mercedes SLK. And boy is it good.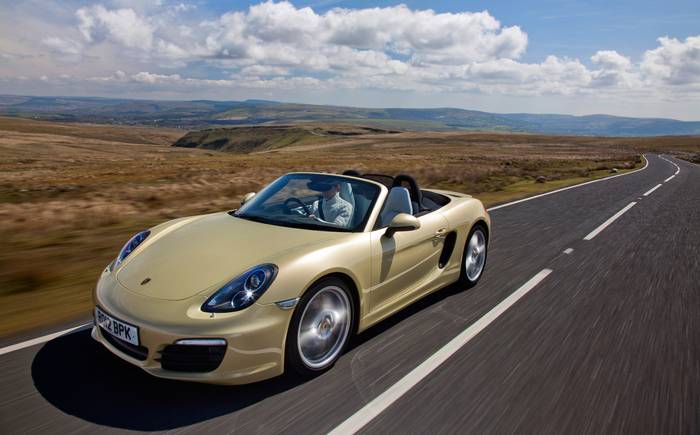 What is the Porsche Boxster?
The new Porsche Boxster is a two-seat roadster that is a rival to the Audi TT Roadster, BMW Z4 and Mercedes SLK. And boy is it good.  A sports car is supposed to be all about the thrill of driving, about precise handling and connection between driver, vehicle and the road surface below; if you like, it's man and machine in perfect harmony. Like wielding a racquet, a skateboard or skis, driving is a physical business that can be thrilling, although in these days of super-refined, almost anaesthetised cars, many driving experiences are quite forgettable.
That's not the case with the Porsche Boxster, though, which allows these connections and sensations without making its driver's nerves raw, and does so by offering much more than the mere thrill of open-topped driving. Audi's TT Roadster, BMW's Z4 and the Mercedes SLK are all drop-top sports cars too, yet none is even a close match for the sheer tactile delight that is the Boxster. Their duller controls are more suited to long-distance wafting than rapid B-road excitement, and one reason for this is that it is almost unique in having a low-slung, mid-mounted engine – like a race car – for superior handling balance.
Boxster pleasures start at £38,237 for the 2.7 and run to £48,034 for the seven-speed 3.4 S, and there's plenty of scope for blowing even more money by browsing the list of options. A new GTS version (with a 3.4-litre engine tuned to 326bhp) goes on sale from May (2014) and is priced from £52,879.
The drive
The thrill of a fast blast along a snaking road is generated by the whooping enthusiasm of the Boxster's engine, the feedback through its seat and steering wheel, and its body-roll-free cornering precision. It all combines to deliver a driving experience that costs many thousands of pounds more in other cars. Indeed, the Boxster S offers the lion's share of the Porsche 911 Carrera's dynamic thrills for a mere two-thirds of its price, and throws in an electric soft-top for good measure.
The S version develops a mighty, meaty 306bhp while the lesser Boxster manages a still more-than-potent 262bhp, costs usefully less and is almost as good a drive. The S has dazzling performance, particularly when it has the optional paddle-shift transmission and Sport Chrono pack, whose launch-control feature makes it feel as if it could catapult you into next year. If there's a flaw, it's just the one: the fuel-saving electro-hydraulic steering is a slightly less sensitive reader of the road surface than the previous Boxster's steering – but it's no great shakes.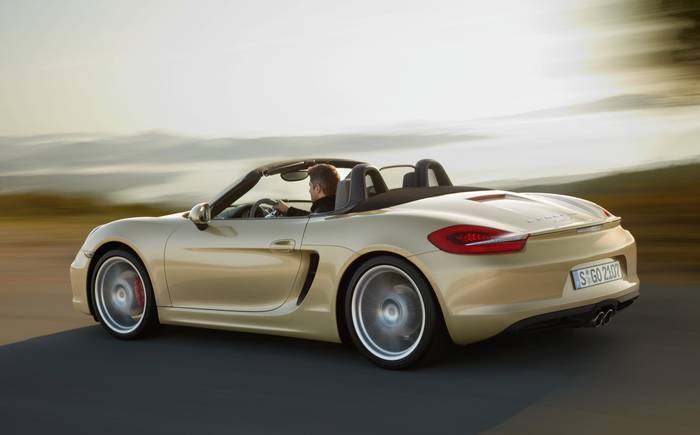 From this enthusiastic description you may be thinking the Boxster is something of a wild child, but on the contrary, it's very civilised, the electronically adjusted dampers (annoyingly also an option) serving up an unexpectedly pliant ride for one so nimble, its seats fabulously supportive and the engine so subdued at cruising speed. And scuttle-shake, the body quiver traditionally generated in open-top cars when they hit bumps in the road, is totally absent from this one. The Boxster is very easy to live with on an everyday basis, particularly as it's reasonably economical to run.
The interior
Anyone familiar with earlier Boxsters will be impressed at how much improved the latest car's interior is, from the satisfying architecture of the dashboard to the calibre of the furnishings. Just as important are the fine driving position, high-quality, noise-free soft- top roof and the driver's very decent outward view – at least forward. To the rear and the side, however, seeing out is partial guesswork, when the roof is up.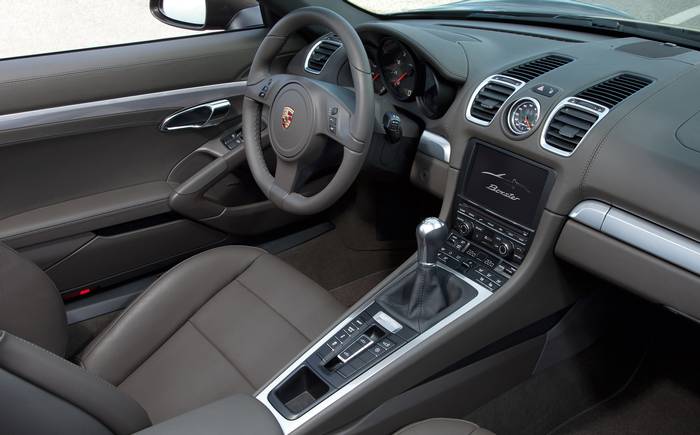 Other negatives include an expensive sat nav that won't accept full postcodes, excessive tyre noise and the absence of cruise control as a standard feature. But these are trivial in the face of the Boxster's ability to convincingly play the part of a stimulating, thoroughbred sports car.
The One to Buy
Porsche Boxster 3.4 S
Factfile
Price:

£46,112 (correct at first publication)

Engine:

3436cc, flat-six

Power:

306bhp @ 6700rpm

Torque:

266 lb ft @ 4500-5800rpm

Transmission:

6-speed manual

Acceleration:

0-62mph in 5.1sec

Top Speed:

173mph

Fuel

32.1mpg combined

CO2:

206g/km

Road Tax Band:

K (£600 for first year, £270 thereafter)

Dimensions:

L 4342mm, W 1801mm, H 1294mm
Porsche Boxster rivals
See prices of Porsche 911
See prices of Audi R8
See prices of BMW M3