Lexus GS Mk3 review (2005-2012)
Perfect for tech-heads

What is the Lexus GS?
The Lexus GS is one of the most anonymous contenders in the hard-fought executive segment — but it's also one of the most capable. Well, at least in certain areas. If you want driver involvement you're looking in the wrong place, but if you want ludicrous amounts of standard kit, along with peerless reliability and refinement, then look no further.
---
Search for and buy a used Lexus GS
---
Ever since the original GS300 of 1991, Lexus has tried to give the BMW 5-series, Audi A6 and Mercedes E-Class a bloody nose — but it's never even got close. The German triumvirate has a hold over the segment, thanks to their excellent build quality, wide choice of engines, transmissions and body styles, plus a reputation for reliability and driver-friendliness.
The Lexus offers many of these attributes, but if you don't want a hybrid saloon, you're snookered. Lexus has never offered a diesel GS, or an estate, and it's these choices that make the Germans so compelling. When the third-generation GS arrived in April 2005 there were conventional petrol-powered GS300 and GS430 editions available, with the GS450h hybrid making an appearance two years later.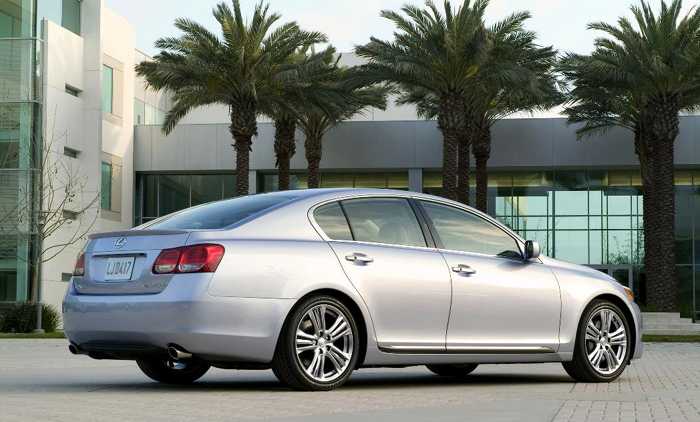 Targeting a market that wasn't really there, Lexus's next move was to introduce a super-quick edition in January 2008 — the 4.6-litre V8 GS460, of which just a handful were sold. If you want a fantastically reliable Q car, you could aim for one of these, but there's no advantage over the GS450h. Both cars have a 155mph top speed and dispatch the 0-62 sprint in under six seconds, but the hybrid officially achieves 35.8mpg compared with the GS460's 25.7mpg. As a result, the hybrid is a lot cheaper to tax, even though its real-world fuel economy is an unspectacular 30mpg.
So with no choice of body styles and only one engine making any real sense — the GS300 and GS430 are slower, thirstier and less clean, but cheaper — it's really just a question of working out which GS450h to go for. There were three trim levels from the outset — standard, SE and SE-L — but a Sport edition arrived in March 2008. All come with an automatic transmission, and with even entry-level cars featuring ample standard kit, there's no need to stretch yourself.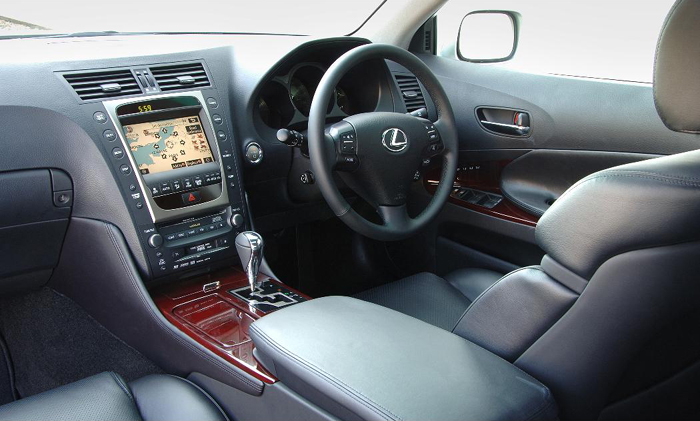 As a result, you're better off spending your money on a car that's done as few miles as possible than one that's towards the top of the range. Even entry-level cars come with tyre pressure monitoring, touchscreen 10-speaker multimedia, Bluetooth, keyless go, cruise control, dual-zone climate control, electrically adjustable front seats and xenon lights.
Opt for a range-topping SE-L and Lexus threw in adaptive cruise control, parking assist, a 14-speaker hi-fi, leather trim, a glass sunroof plus heated and cooled front seats. But unlike many other fully-loaded execs, that Lexus badge means everything will just keep working, so there's no need to be frightened by this mega-spec machine, even if it's done mega miles.
What to look out for when buying a used Lexus GS
Predictably, the GS isn't perfect when it comes to reliability, although it gets closer than most. Porous alloy wheels can strike, as can failure of the tyre pressure sensors — although this is usually because of ham-fisted mechanics when the rubber is replaced. The xenon light bulbs fail too, and so do the ignition coil packs, leading to lumpy running. And just to cap things off, some cars have suffered from creaks, squeaks and rattles. The GS450h has been recalled because of the possibility of engine failure. The GS300 has been recalled because of airbag glitches, potential fuel leaks, failed brake master cylinders and engine running problems.
The One to Buy
GS450h SE-L
Specifications
Engine:

3456cc, 6-cylinder

Power:

341bhp @ 6400rpm

Torque:

272 lb ft @ 4800rpm

Transmission:

6-speed auto

Acceleration:

0-62mph in 5.9sec

Top Speed:

155mph

Fuel

36.7mpg combined

CO2:

180g/km

Road Tax Band:

I

Dimensions:

L 4850mm, W 1820mm, H 1430mm
Lexus GS rivals
Audi A6 (click here for used prices on driving.co.uk)
BMW 5-series (click here for used prices on driving.co.uk)
Jaguar XF (click here for used prices on driving.co.uk)