Lamborghini Gallardo review (2004-2014)
Visual flair and mechanical theatre aplenty... yes, this is a Lamborghini, alright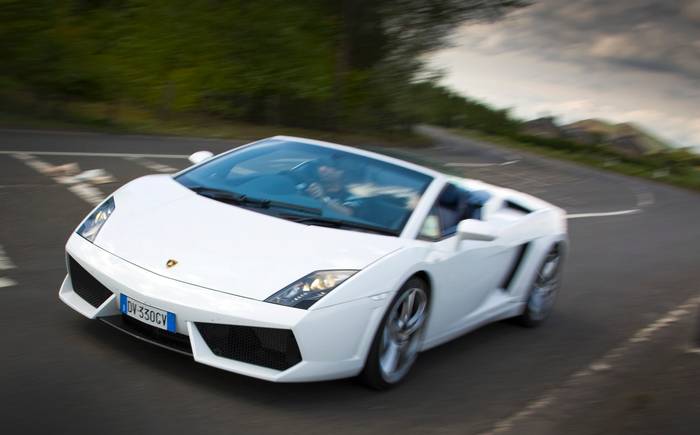 What is the Lamborghini Gallardo?
The choice of wheels for rappers, footballers and showy celebrities alike, the Gallardo was by far the bestselling product in the history — nearly half a century — of Italy's most enigmatic supercar manufacturer. Production ceased at the end of 2013.
---
Search for and buy a used Lamborghini Gallardo on driving.co.uk
---
The secret of its success is to combine the visual flair and mechanical theatre of the traditional Italian supercar with the hard-nosed German engineering integrity of Audi under whose auspices Lamborghini has fallen since it was bought by Volkswagen in 1998. A substantially modified second generation was introduced in 2008 still featuring an aluminium space frame and body panels but modified in every other area from engine and brakes, to suspension and steering.
The drive
There are a bewildering number of available specifications including two and four-wheel drive, three different power outputs (though only 20bhp between the most and least powerful) and coupé and Spyder configurations. All however are fitted with a 5.2-litre V10 engine with either a sweet-shifting manual or a disappointingly coarse paddle-shift auto.
Given that even the slowest Gallardo on sale can hit 62mph in four seconds, you're not going to be lacking in performance whichever you choose, though we incline towards the Spyder version, because the noise of that V10 with the roof down adds a completely new dimension to your driving pleasure. All versions of the engine develop maximum power at 8000rpm, at which stage the V10 engine will be filling every space between your ears with its wonderful offbeat howl.
Compared with its McLaren and Ferrari rivals, the Gallardo is actually the easiest to drive fast thanks to failsafe handling even from the two-wheel drive versions. On the other hand it's a little heavier than its opponents and slightly less focused on pure driving response. There is an upside here because its more compliant suspension provides an excellent ride but ultimately it's a shade less rewarding to drive very, very fast. The Gallardo comes as standard with steel brakes, though carbon ceramic discs are an option. They're exceptionally powerful but come with poor pedal feel and progression so unless you're going to be doing a lot of track work, save yourself the money.
The interior

Perhaps this is where the Audi influence is most apparent. On the positive side it has the best driving position in Lamborghini history and clearly labelled and laid out switchgear. Less impressive is the presence of too many components obviously derived from Audi, which will count among the last thing you'd want to see in an Italian supercar costing as much as this. At least the interior is spacious and civilised, though boot space in the nose is rather restricted.
The one to buy
Lamborghini Gallardo LP560-4 Spyder
Specifications
Price:

Engine:

5204cc, V10

Power:

560bhp @ 8000rpm

Torque:

398 lb ft @ 6500rpm

Transmission:

6-speed manual

Acceleration:

0-62mph in 4.0sec

Top speed:

201mph

Fuel:

20mpg (combined)

CO2:

330g/km

Road tax band:

M

Dimensions:

L 4345mm, W 1900mm, H 1184mm
Lamborghini used car rivals for similar money