Hyundai Kona review 2024: Petrol, hybrid or electric, this compact crossover is a class act
Eye-catching Kona brings the glamour
---
Published 19 October 2023
Just over 40 years ago, a little-known car company called Hyundai arrived in the UK with its Pony II hatchback. The first Korean vehicle sold officially on these shores, it was deliberately cheap and dynamically rather basic, and sneered at as a result. It certainly wasn't considered a serious rival for the European alternatives.
But over a relatively short period of time Hyundai managed to transform its public perception from those inauspicious beginnings. How? Simply by delivering products that just got better and better.
Over the intervening decades, as Hyundai's cars developed and improved, the perceived quality gap to the leading European competition got smaller every year. And now, it would appear that Hyundai hasn't just equalised with its rivals from the Old Continent — instead, it has arguably moved ahead of them.
Galactic design effort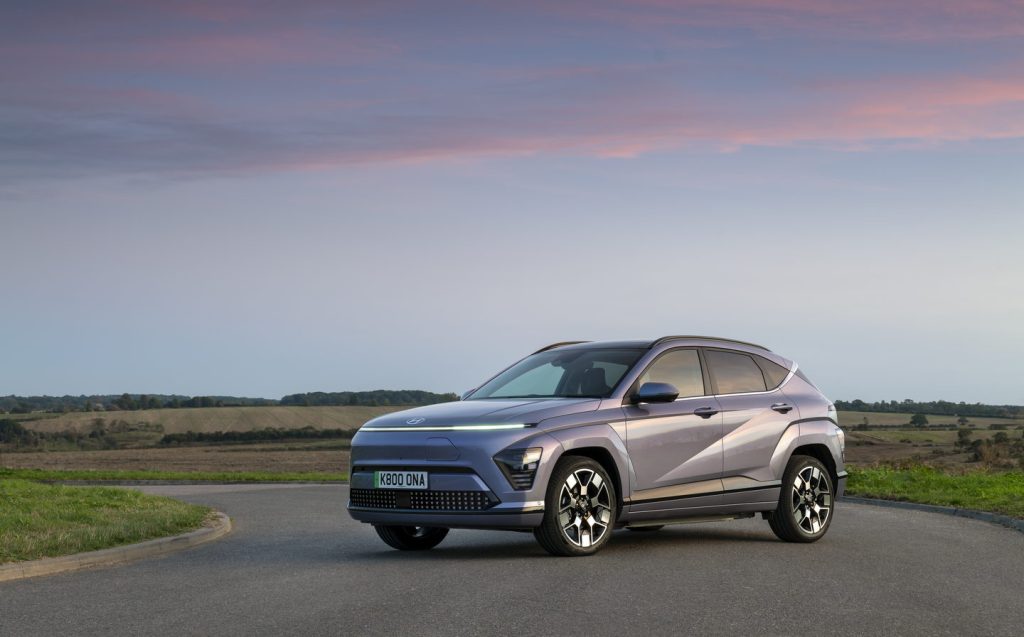 The new, second-generation Hyundai Kona crossover is an excellent case in point. Looking like something from Battlestar Galactica, with perfectly horizontal, super-narrow light strips front and rear, the Kona is futurism taken to the extreme. The side is a riot of dramatic diagonal lines, as well as that intersection where the window lines cross over each other behind the rear doors. Chunky SUV-like body cladding helps give the Kona a rugged appearance.
Thankfully, when you step inside the Hyundai, the allusion to quality is not shattered. There are one or two minor areas where the plastics feel like they hark back to the company's budget beginnings, but you have to go searching high and low for them. Otherwise, you're greeted — in all models, regardless of specification — by a twin-screen instrument cluster and infotainment panel.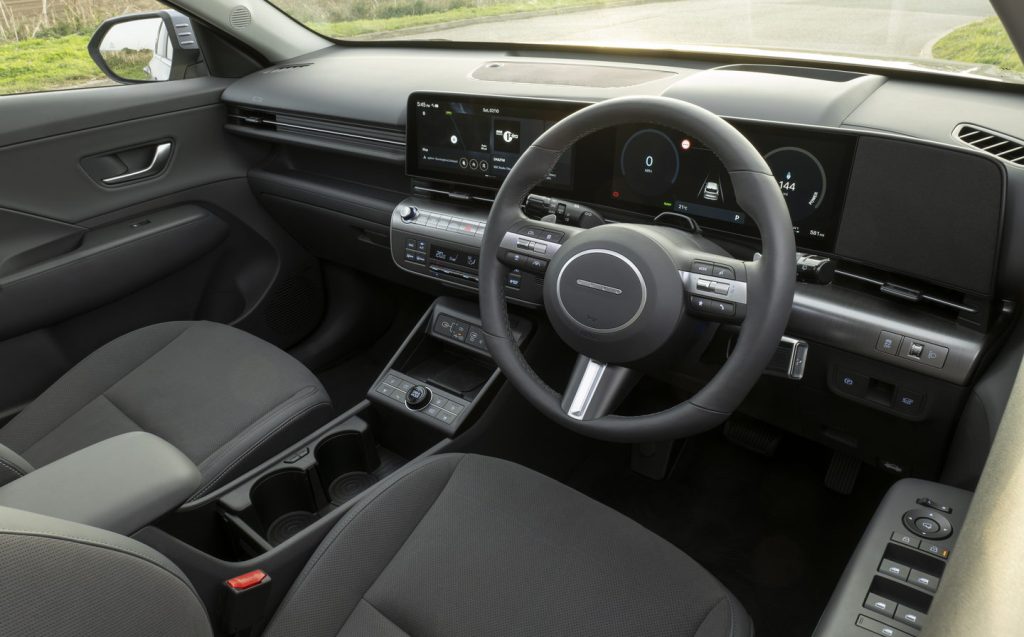 The switchgear layout is sensible and easy-to-use, without looking or feeling cut-price, there are nice strips which house the air vents, and most of the main touchpoints in the Kona's cabin exude a quality feel.
There are slight differences between the models fitted with combustion engines or hybrid gear and the pure-electric version, mainly to do with the positioning of the gear lever, but it doesn't matter if you're in a basic-spec petrol or a fully loaded Kona Electric, the cabin of the Hyundai is of superb quality. You also get loads of equipment in a basic Advance, Hyundai just layering on the toys as you walk up the model grades, as well as the manufacturer's excellent five-year warranty.
Not stodgy, just delicious
In terms of the driving experience, the previous-generation Kona was the automotive equivalent of a baked potato — it provided sustenance, and you could enliven it a bit with various toppings of your choosing, but in essence nobody was ever going to pick it as their favourite meal. This new model, though, feels like fusion food that's pushing for the recognition of a couple of Michelin stars.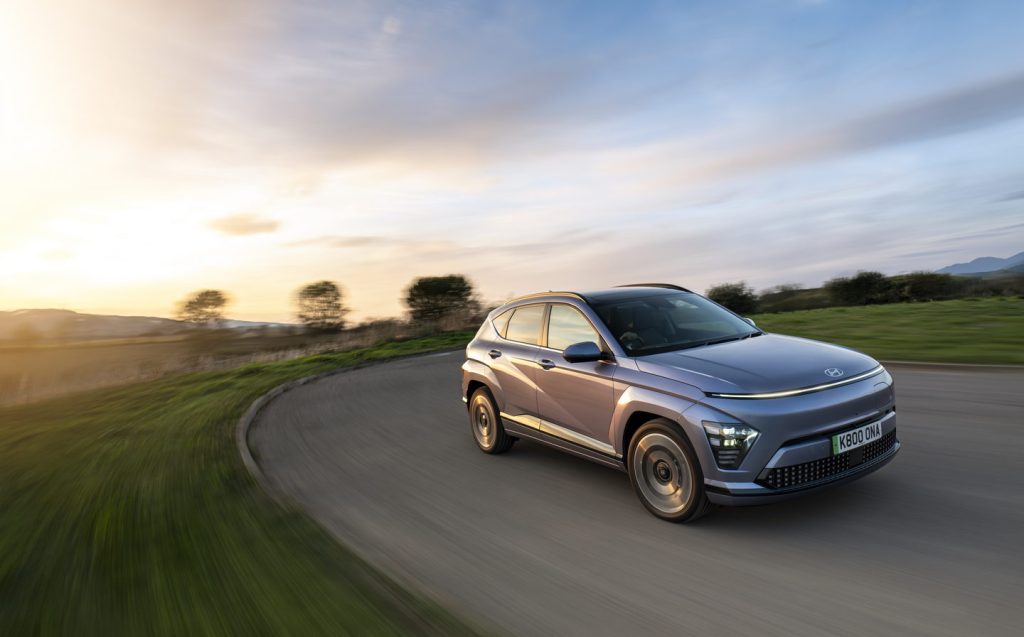 There are two petrol engines to choose from: either a three-cylinder, 1-litre with 118bhp or a more powerful 1.6-litre, four-cylinder unit delivering 195bhp. Both are turbocharged and can be equipped with a six-speed manual gearbox as standard, or a seven-speed dual-clutch automatic as an option.
There's also a full hybrid model, which uses a slightly different flavour of 1.6 petrol with some electric augmentation to deliver diesel-like economy stats — useful, as there are no diesel Konas this time around — which means you can expect around 60mpg if you're particularly saintly.
The big success story of the original Kona range, though, was the Electric model. It arrived in 2018 and, as Hyundai's second electric vehicle (EV) after the Ioniq hatchback, what it did was democratise zero-emissions driving with decent range: you could theoretically go around 300 miles on a charge, without having to remortgage your house or sell your spleen.
London to Newcastle on one charge
With the grander Ioniq 5 and Ioniq 6 EVs now in its portfolio, Hyundai has repeated the trick for the second-gen Kona. There are again two battery sizes for the Kona Electric, a smaller 48kWh unit and a more generous 65kWh pack. While the former is only available on the entry-level version of the Kona, the larger battery is available at all four of Hyundai's trim levels of Advance, N Line, N Line S and Ultimate, and provides up to 319 miles of range — in theory more than enough to get you the 280 miles from London to Newcastle in one go.
Hyundai has upped the power of the electric motor to 215bhp, which trims the 0-62mph time down to 7.8 seconds, but you don't really need to focus on that. Instead, you'll be marvelling at just how impeccably refined the Kona Electric is.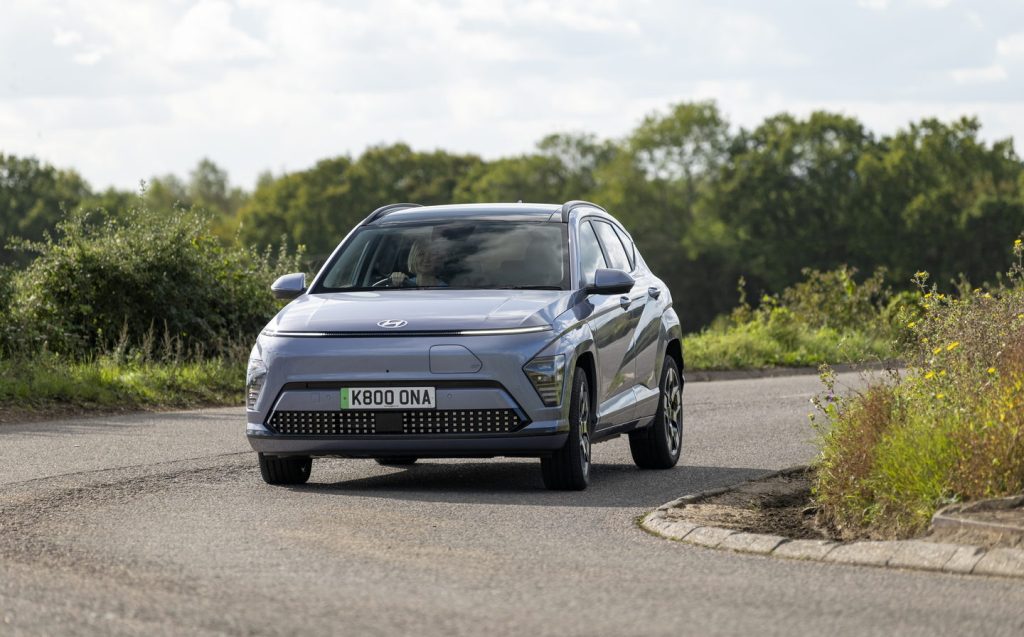 It whirrs around town in near silence, providing no audible thumps and bangs whatsoever from the suspension, with super-smooth ride quality to match. Visibility is good in all directions, the major controls like the steering and brakes work exactly how you'd both expect and want them to, and travelling in the Kona is nothing short of a delight.
You even get to learn a bit of Morse code, because the four dots on the Hyundai's steering wheel are the accepted international symbol for Hyundai's initial. Useful, if you ever find yourself stranded on a vessel at sea. Maybe.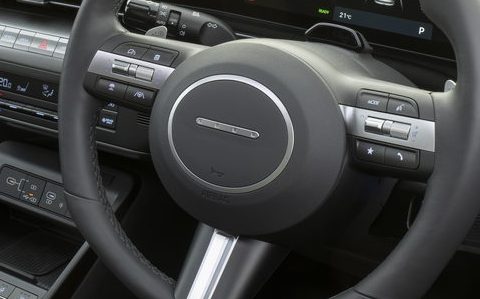 Luckily, the Kona's handling isn't like being trapped on a yacht, although by the same token it's also not any great shakes. It's fine for body roll and grip but not exactly exciting if you throw it around in the corners. Then again, most drivers won't mind that when the car's so comfortable and civilised.
Meanwhile the Kona Electric has just the right amount of EV performance: strong enough to make it feel special, yet delivered serenely enough that it doesn't feel like the car is trying to lightly stir-fry your brain if you use too much throttle.
It's practical, too, with good space in the rear for taller occupants and a 466-litre boot for your troubles, while the interior is littered with neat touches for passengers, as well as plenty of storage cubbies for odds and sods.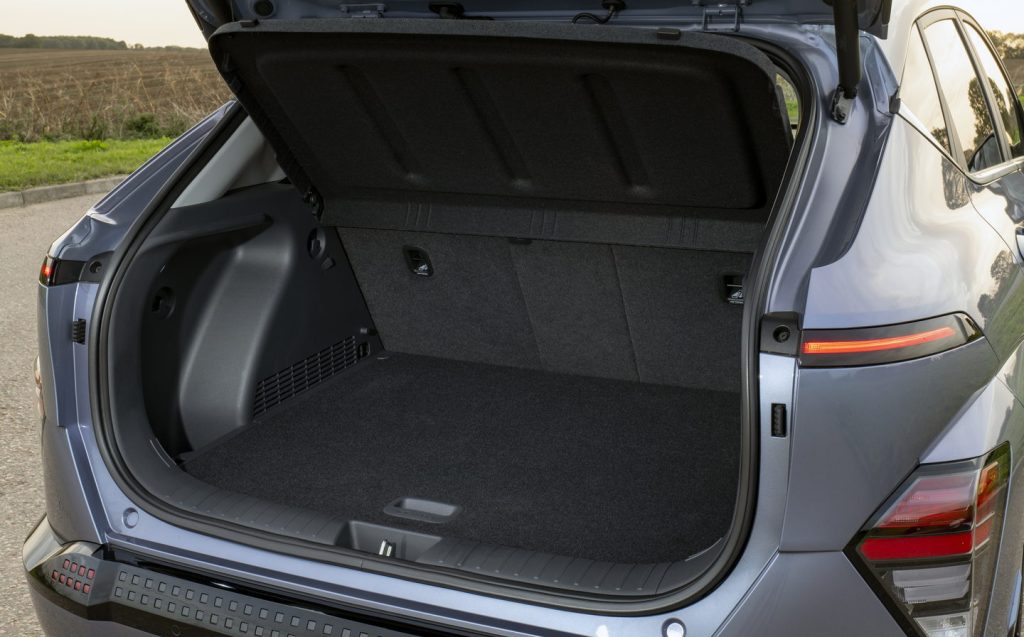 Petrol Kona is just as loveable
Perhaps more impressive even than the Kona Electric is the model at the other end of the scale. Having driven the EV, we sampled a 1-litre turbocharged petrol model in basic Advance spec with a manual gearbox, and it was just as loveable as the one with no tailpipe emissions — quite an achievement, when shorn of the headline-grabbing characteristics of an electric car.
A slick action to the gearshift and pleasing rumbles from the willing engine change the Kona petrol's driving dynamic somewhat, although this is still no hot-hatch-on-stilts. But, by the standards of a class including the best-selling Ford Puma, Vauxhall Mokka, Toyota Yaris Cross and more, the Kona is perfectly acceptable for roadholding, and it feels every bit as classy and refined as the electric version. A different dish, basically, but just as tasty.
Are there any drawbacks? Well, while the new Kona's line-up begins from a reasonable (for this day and age) £25,725 for the 1-litre manual Advance we tried, but the Kona Electric is a totally different fiscal proposition.
It doesn't matter which specification or engine you go for with any other Kona model packing an engine of some sort, they're all cheaper than the lowest asking price for a 48kWh Advance, which is a chunky £34,995. Three out of the four versions of the 65kWh Electric offered are the wrong side of 40 grand.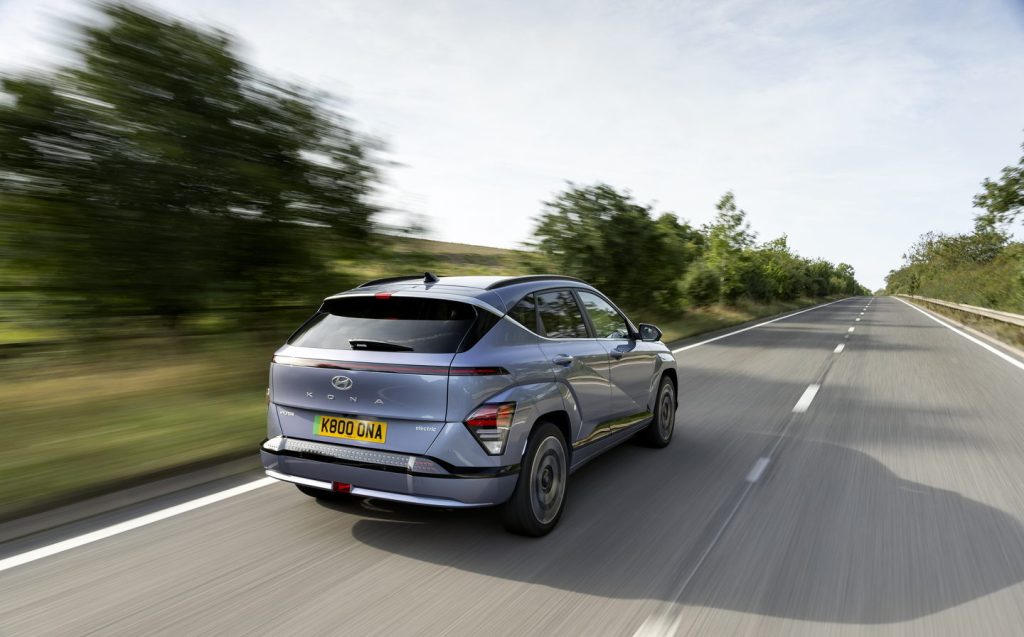 However, that is the going rate these days for compact EVs that are as good as the Hyundai Kona is, and if you've been missing the appearance of Daft Punk's robotic headgear ever since the band went their separate ways in 2021, then this is definitely the compact crossover for you.
Although it's a lot better than just being a substitute for a French musician's stage mask — in and among the present compact-crossover crowd, the Kona is one the most talented vehicles of its type. Hyundai has come a very long way since the days of the Pony.
Related articles
Latest articles