Volvo EX30 2024 review: Swedish carmaker's smallest and most affordable EV so far ... but also its fastest
Pint-sized Chinese Swede packs a punch
---
Published 06 November 2023
A small Volvo really ought to be a contradiction in terms. After all, even for those of us born relatively recently, the Volvo brand still triggers mental images of a car that's large and sensible, practical and useful. The idea that a Volvo can't be small, or that a small Volvo can't be good, has been disproven over the years.
Now, though, Volvo is plunging itself into the overflowing pool of small crossovers. Ironically, given that these cars are in large part displacing traditional family hatchbacks in the sales charts, it's very much the case that buying a small crossover is like buying a hatchback, but worse. In so many cases, you're getting less for your money (for example, a Ford Puma costs as much as a Focus but is based on the Fiesta).
It's actually Chinese
Does the new Volvo EX30 do that? In a word, no; the mechanical bits under its crisp, understated styling are all-new, though they are shared with other cars and car makers. Most notably, the EX30's underpinnings — the Sustainable Experience Architecture 2 (SEA2) platform if you must know — has been developed by Geely, the giant Chinese car-making company that has owned Volvo since 2010. So the same bits that underpin the EX30 will also be used by the Zeekr X (a brand that Geely owns, and which will shortly come to the UK) and the Smart #1 (which is already on sale here). It'll also form the basis of the new Polestar 4.
So, while the EX30 looks Swedish, has a Swedish badge and has a dinky little Swedish flag stitched to the passenger seat, it's actually made — and largely designed and engineered — in China. Which makes EU moves to tax Chinese electric cars (for the reasons claimed here) to try and protect British and European brands a little complicated.
But still feels like a Volvo
Small it may be, and born in China, but the EX30's aesthetic exudes a very Volvo-like sensation of blocky strength. The styling is really very plain and it's the lights — clever LED units, front and rear — that give it character. It probably helped that our test car was painted in 'Cloud Blue', a colour that varies in appearance from baby blue to flat grey depending on the ambient light.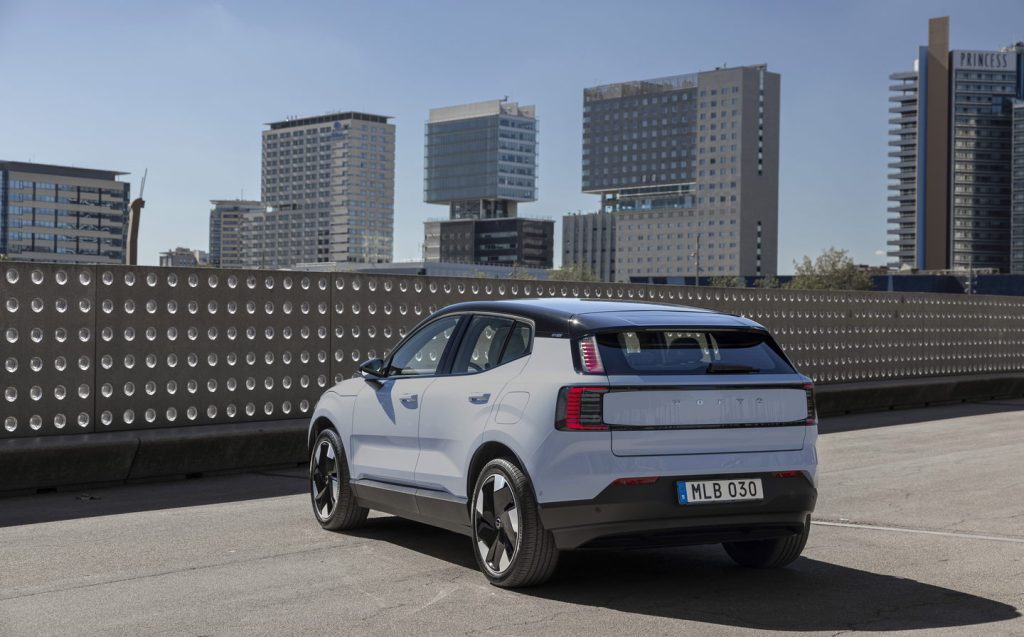 Underneath, the EX30 can be had with a choice of batteries, not just in terms of their size, but also their chemical composition. Without the need for a local college night course in battery chemistry, it's probably enough to know that the cheapest EX30 has a lithium-iron phosphate battery which is cheaper, but less efficient than the more expensive, more powerful lithium-ion battery used by the pricier Extended Range and Performance versions.
It's not right to suggest that the basic EX30 battery comes from Lidl while the more expensive one comes from Waitrose. But it paints a picture that's not far off the truth. The cheaper one has an energy capacity of 49kWh (useable) which gives it a range of up to 213 miles. That's not massive mileage, but for a price tag of £33,795 it's none too shabby for a car with a Volvo badge.
Nearly 300 miles of range
The pricier £38,545 Extended Range and £40,995 Performance versions use a 64kWh battery, and the Extended Range can theoretically stretch to 295 miles between charges. That seems like a realistic figure, as our test car (Volvo didn't have a cheap-o model on hand at the launch event to try out) was showing 279 miles of range on a 99 per cent charged battery with the air conditioning going.
The smaller battery can be charged at up to 150kW from a DC fast charger, while the larger one will handle 175kW and can be optionally fitted with 22kW AC charging.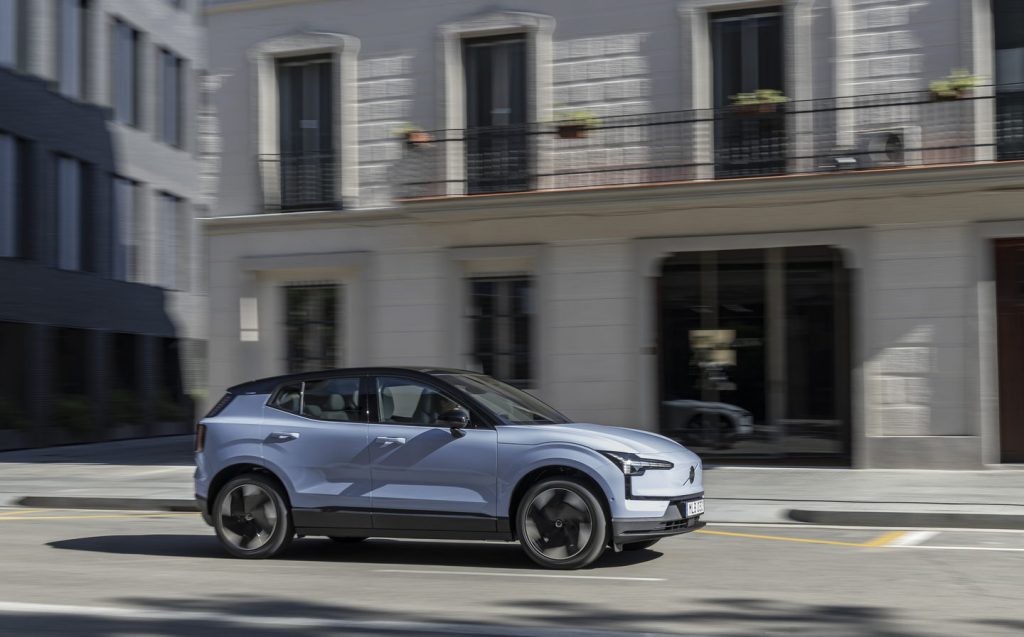 Both the Extended Range and the basic single-motor model share a common electric motor — a 268bhp unit, which also produces 252lb ft of torque. Those are pretty senior figures for a car which is (a) this affordable and (b) a small crossover aimed at families and latte-swilling hipsters.
It's not so long ago that those figures wouldn't have disgraced a mid-range Porsche, and the Extended Range EX30's 0-62mph time of 5.3 seconds is enough to outpace a Volkswagen Golf GTI Clubsport.
That's nothing compared to what the Performance model can manage, but let's stick a pin in that thought for a second, and turn to the EX30's interior which — arguably — is its best asset.
Reliant on a single touchscreen
Volvo has been a dab hand at making really good car cabins for years. The EX30, though, has almost no buttons at all. The only truly physical controls are the column stalks (which manage the wipers, lights and gear selection), the electric window switches (annoyingly they use the Volkswagen ID principle of just having two switches and a selector that allows you to control the rear windows) and hazard light and (oddly) max-defrost buttons mounted on the roof.
Everything else is controlled through the 12.3in touchscreen in the centre of the dash. This is both a good thing and a bad thing.
It's good in that the software, which is based on a Google Android system, is impressively easy and responsive to use. The screen is divided up into four sections. At the top is a permanent display of your speed, gear selection and any vehicle-specific data that you need to know, including a surrounding traffic graphic.
Below that is a big navigation display, which of course runs Google Maps. Below that are two small panels for your chosen music player (Spotify and TuneIn Radio are built into the car's infotainment) and your phone status, and finally at the bottom there is a bar which has shortcut buttons for the home screen, vehicle functions and settings, plus the air conditioning system.
It all looks impressive, but there are issues. Not least of which is that the big central screen is also your only instrument panel — there's no screen for the driver behind the wheel, nor a head-up display projected onto the windscreen. Volvo's safety experts swear that they've carefully researched where your eyeline naturally falls and all that, but surely it must be more distracting to keep looking at the big, feature-filled screen every time you want to check your speed? It certainly feels that way.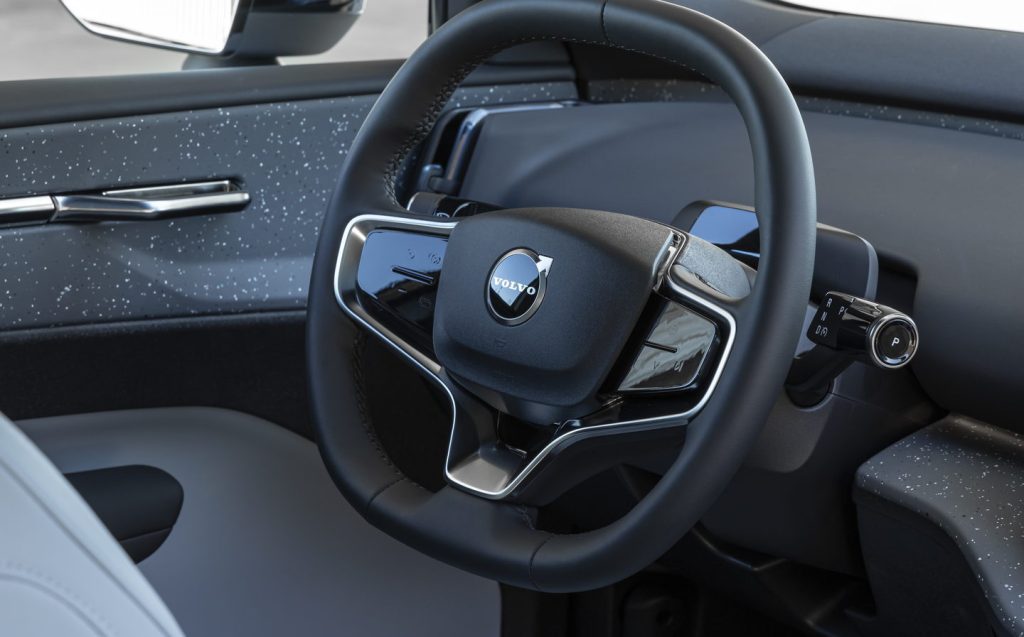 There are other irritants, such as actions that ought to be simple — adjusting your door mirrors, changing the stereo volume, opening the glovebox — being buried deep within menus and needing too many clicks and swipes to get there. Again, for a company built on a dogged devotion to safety and practicality, surely this can't be as safe nor as intuitive as actual physical buttons.
Volvo claims that the one-screen set-up helps to save on resources, and is part of the EX30's claim for a very low whole-lifecycle carbon emissions figure, but there must be cost savings behind some, or all, of this, too, suggesting it's as much a business decision as anything else.
At least those savings have been spent elsewhere, because the rest of the EX30's cabin looks and feels terrific, especially for a car with its pricetag. From the all-metal door handles to the squared-off steering wheel, to the exceptionally comfortable seats, the front of the EX30's interior really is beautifully designed.
It's spacious and cleverly-packaged, too, with lots of handy storage areas in the centre console, neat slide-out cupholders and door bins lined with soft fabric to cut down on rattles. The centre section of the dash and a big section of the door trim is made from recycled plastics, which in our test car had an odd, mottled effect that made it look slightly like the floor of a soft-play area.
There are, thankfully, other finishes but at least you can be lightly smug that your car isn't over-using precious resources.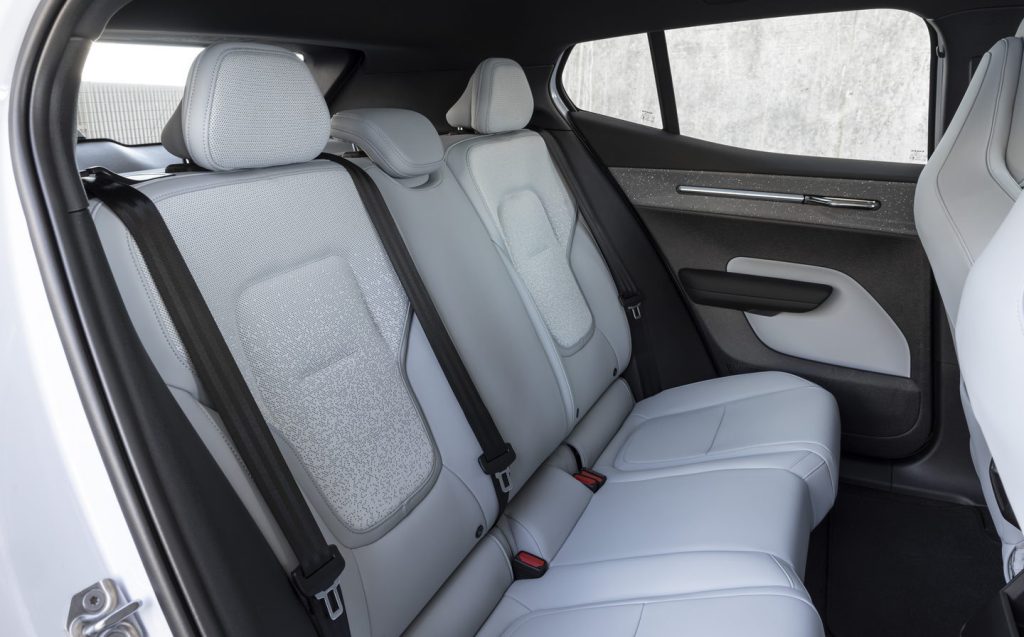 It's a shame that the EX30 isn't as impressive in the back. Headroom, even with the optional big glass roof, is good but there's just not enough kneeroom for anyone over five-foot-five, and the high-set floor means your feet and knees are too jacked-up.
The boot is OK, but at 318 litres (below the luggage cover), stretching to 400 litres (if you pack the boot to the roof) it's hardly in keeping with Volvo traditions. There's a small storage space in the nose that'll hold charging cables, mind you.
While people try to justify buying SUVs and crossovers by claiming that they're practical, it's probably worth pointing out that the old Volvo V40 hatchback had a bigger boot than this EX30.
Great visibility in town
At least the EX30's compact exterior, and its inherently good all-round visibility (backed up by an optional all-round camera system) means that it feels nippy and agile in town, so it's perfect for ducking and diving through early morning rush-hour traffic.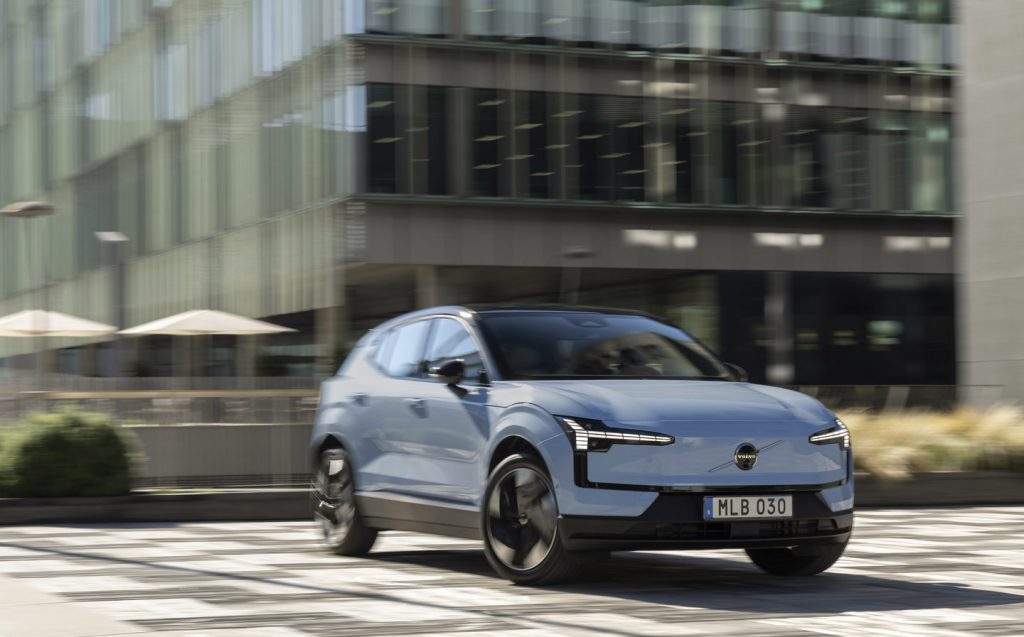 The light, fast steering really helps here, but it's less good on the open road if you're a keen driver.
That said, the EX30 never feels less than eager, and it's sweetly balanced through corners as long as you avoid the optional 20in alloy wheels, which induce too much rumble-thump.
It's fast, too. That 0-62mph time is backed up by an ability to accelerate in a manner you'd almost describe as vicious when you need it.
Which brings us back to pulling the pin out of the Performance model, hand-grenade pun most definitely intended. This EX30 gets an extra electric motor up front, which brings its power total to 422bhp and its torque output to 400lb ft.
Stamp hard with your right foot, and this EX30 will rocket to 62mph from standstill in just 3.6 seconds. In old money, it'll to 0-60mph in just 3.4 seconds. That's proper Ferrari speed — enough to keep pace with a V8-engined Roma for instance — yet in a supposedly family friendly small crossover with nothing on the outside to give notice of its venomous acceleration other than those optional 20in wheels.
Too much performance?
Is it fun? For about five minutes, yes. Then, when you've tired of wrapping your stomach around your spine, you realise that Volvo hasn't changed the suspension of the EX30 Performance, so it's no more fun to drive when you get to a corner, but it's way, way less efficient than the (still quick, let's not forget) Extended Range model. In the Extended Range, we recorded a decent 3.45 miles per kWh battery use. In the Performance, it was more like 2.4 miles per kWh.
So, once you've finished mopping up the child vomit from the back seat, you'll be left wondering where your range went. At least we can say this of the EX30 Performance — at £40,995 it's one of the most cost-efficient ways of embarrassing the owners of large, exotic Italian cars that we can think of.
So, definitely go for the standard version. The Extended Range EX30 seems to offer a decent balance of solid range, pleasant handling and steering, plus that exceptionally lovely cabin. And then again, the entry-level version still has a range of over 200 miles, which will suit most drivers.
OK, so the touchscreen is a mixed blessing at best, and the rear seat space is actually quite poor, but here's an opportunity to get a proper premium Volvo badge on your driveway for less than the price of a Volkswagen ID.3. Whether or not you care that it's possible to do so because Volvo is part of a Chinese mega-conglomerate is up to you.
Related articles
Latest articles